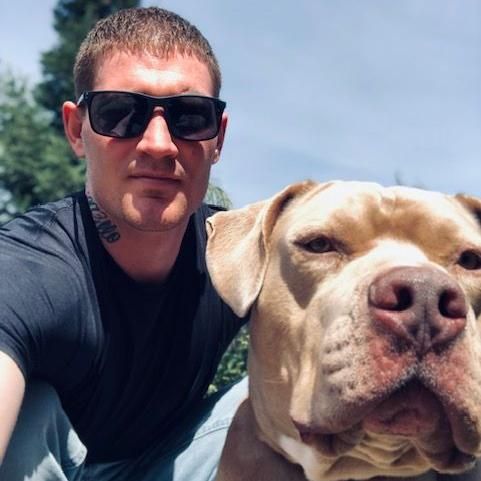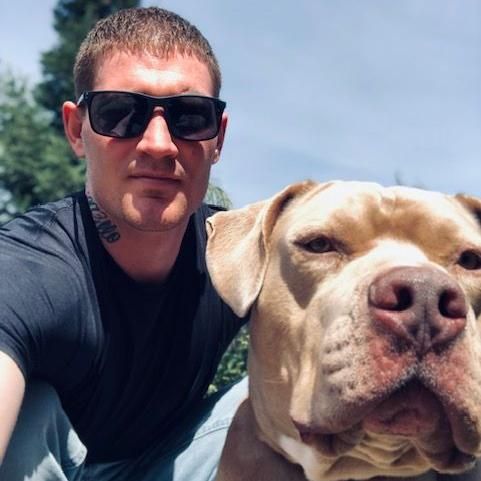 Introduction:
I am a Master Trainer, in Canine Behavior Modification. I am certified with the International Boarding & Pet Services Association. I have successfully completed over 60 dogs doing "in boarding training" I'm experienced training all breeds, all sizes, all ages and all sorts of different problems. Aggression with people, aggression with dogs, socialization, fear/anxiety, potty training, puppy training, and your 5 basic commands. Sit, Down, Come, Heel, Stay. I also do agility training, teaching how to swim, pulling on bikes, roller blades, skateboards or any dog pulling device. Also any small issues like walking on a leash, off leash training, proper house behaviors such as greeting guests, digging, getting into the trash, barking, getting on furniture, chewing, or any other unwanted behaviors. I can fix them all, but not by myself. I like to have the household to be a part of the change in your dog to better improve their progress. Often many of your dog's problems may have to do with small changes in the household. The most important aspect of our program is alphamanship. Dogs by nature are den dwelling pack animals and instinctively seek hierarchy in their pack. We will make it possible to become the alpha in your dog's life. It is very necessary that we fulfill the role as the alpha as quickly as we can, otherwise the dog will try to take the role simply out of their innate pack animal tendencies. In our program we will give you the necessary tools to be your dog's alpha, to build a foundation to your dog, bettering the chances of a happier trained canine. My training theory is a combination of "Positive reinforcement" and "Avoidance conditioning". Some trainers are the old school "pound and jerk" to where your dog is traumatized and obeys out of fear. And some schools are all positive, teaching that it is always wrong to ever correct your dog. Which will unfortunately leave very frustrated dog owners. My Training Theory will fall into the middle of the training spectrum, like anything in life, the balanced perspective is the most effective and fastest. The best choice will be to use positive, motivational methods. However, we will also be dealing with dogs that have years of established behaviors. Therefore, we may also combine positive reinforcement with a correction to change the dog's behavior. We offer different types of programs, including in home visits with the dog and the family. I need to get an idea of the dog's lifestyle to better improve any wanted or unwanted behaviors. We will build a foundation for your dog and set up a 1-6 session home visit plan giving your dog all the training and tools for you and your family to have the dog you never knew you could have.
Payment methods
This pro accepts payments via Cash, Check, and Venmo.
Featured Projects
11 photos
Reviews
Customers rated this pro highly for professionalism, work quality, and responsiveness.
Read reviews that mention:
---
·
Hired on Thumbtack
Hired on Thumbtack
Derek is a miracle worker. Our
dog
Louie has been a stubborn walker for years (sitting down multiple times on walks, constantly stopping and sniffing, tugging back if we walk in a direction he doesn't want to go). We had worked with other
trainers
with little to no impact. One afternoon session with Derek transformed the way Louie walks on leash - Derek quickly understood the issue(s) and identified ways to adjust our and Louie's behavior to correct them. Walking is now a completely different and much more enjoyable experience for all of us. I cannot recommend Derek enough for others dealing with persistent behavioral issues with their
dog
.
Details: 2 - 10 years old • Large (41 - 70 lbs) • Private lessons • General obedience training • My home, venue, etc.
·
Hired on Thumbtack
Hired on Thumbtack
I've had 5
trainers
for my 90lb, highly reactive pup. While there was some improvement it had become difficult to walk him. I was skeptical but desperate when I contacted Derek at Bad
Dog
Solutions. After 2 hours the change in my pup was amazing. We ended the session with me walking my pup right by other
dogs
with no reaction. The change in my pup is really unbelievable.
Details: 1 - 2 years old • Extra large (70+ lbs) • Private lessons • General obedience training • My home, venue, etc.
·
Hired on Thumbtack
Hired on Thumbtack
Derek was amazing! We just adopted a yr old Med size mix breed who liked to bite. I've always had small
dogs
& I just couldn't control him. Bad
Dog
Solutions didn't come up in my first search so he was the 2nd
trainer
I hired. the 1st one cost more & did less - & nothing changed, so I searched again & found Bad
Dog
Solutions. In under an hour Derek had our
dog
obeying all his commands. He used a one syllable command, which I started using with a spray bottle as backup. Now if our dog needs to be corrected I just say the command & he immediately stops the behavior. He's much more obedient, but he's still young so we're still working with him. Overall, he's like a different new dog! Derek also offers a money back guarantee, but I can't imagine anyone needing to use it. He promises results & he lives up to his promise.
Details: 6 - 12 months old • Medium (26 - 40 lbs) • Private lessons • General obedience training • My home, venue, etc. • At the pro's location
·
Hired on Thumbtack
Hired on Thumbtack
If you have a difficult
dog
, Derreck is your guy! We have 2 difficult but adorable pit bulls who need some extra special help, and Derreck INSTANTLY knew how to handle them. His instructions are easy to understand and follow and provides reasoning behind it, Derreck instills confidence in you handling your
dog
(s)
training
on your own. Can't wait to work with him again!
Details: 2 - 10 years old • Large (41 - 70 lbs) • Private lessons • Aggressive behavior modification • Barking • Destructive behavior • My home, venue, etc.
·
Hired on Thumbtack
Hired on Thumbtack
Derek is amazing! Our phone consultation was informative and gave me hope that my dog could someday start behaving better on our walks. Well, that someday is already here! During our first session (just a week and a half after our consult), Derek decided to focus on prepping her to go on a walk because her reactivity to other dogs was so extreme (which he got to witness soon after arriving when a neighbor walked by with their
dog
). He demonstrated how to walk her and set the appropriate boundaries. And after observing him walk her and deal with passing dogs, I was able to walk her back home. Following his guidance, we had a very successful experience, even when another dog passed us. Two days later, after getting the right collar, I walked her and she did amazing. She stayed at my side, with only minor corrections along the way. And when we passed dogs two different times, I was able to completely keep her under control. It was incredible!! I'm so grateful to Derek, and I can't wait for our next session in order to learn even more!! I also really appreciated that Derek never made me feel bad about my dog's behavior, he simply focused on how we're going to fix it I have been trying to
train
her for 2 years (the whole time we've had her) and although I had previously tried some of the things that Derek suggested, I was not doing it with the right collar, exact technique and with enough consistency. In 1 session, Derek already
trained
us and our
dog
to do so much better!! I'm so excited and grateful to have found Derek - it's already making a huge difference for my
dog
and our family!!!
Details: 2 - 10 years old • Large (41 - 70 lbs) • Private lessons • Aggressive behavior modification • Leash pulling • My home, venue, etc.