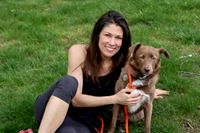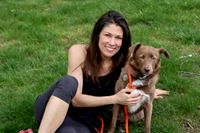 ---
It's free with no obligation to hire
Introduction:
We take a very holistic approach to training and behavior. Behavior is quite contextual and heavily layered; various factors and ingredients feeding into, influencing, and impacting it. What most people see and begin to address is the symptom and by-product of an underlying need not being met and fulfilled, and the stress, frustration, insecurity, and anxiety created due to this. The symptom is the problem, yes; but the symptom is also the expression and extension of the problem. We're also heavily schooled, experienced, and educated in all these ingredients (e.g. Nutrition, Dog Psychology and Behavior, Human Psychology and Behavior, etc), so our programs are incredibly well-rounded and address both ends of the leash (after all, there are two; each directly impacting the other). "Behavior" is a web of many things that are interconnected and influencing the next. Much like with people, unfulfillment leads to neurotic behaviors (excessive digging, barking, jumping, chewing, whining, aggression, etc). Dog training is, what I refer to as, "inadvertent life coaching". We are our dog's primary source of information, and we're helping to shape and develop their self and world concepts. Once we understand how to meet and fulfill a dog's instinctual needs as a member of a completely different species of animal, most misbehaviors tend to decrease in intensity or resolve themselves. Dogs look to us for their cues, guidance, directives, and how to feel about every situation they enter into, and they're not born understanding what we consider to be appropriate, polite, or respectful behavior. The onus 100% falls upon us to teach them this and help them connect those necessary dots. Dogs are constantly communicating with us, everything is a conversation; but most people don't understand how to read or interpret what it is they're conveying. We can't teach, lead, or guide, without understanding how to best and most effectively communicate first. My goal is to help bridge the gap between human and canine, and build a foundation based upon mutual trust and respect ~ the platform from which all successful training stems. To help people step up and into the role their dog needs them to play, therefore enabling the Dog return to calm and balance. Gosh, this work is so rewarding on so many levels. Everything learned in working with our dogs literally ripples out into every other arena and aspect of our lives. Showing up as calmer, more grounded, better versions of ourselves. Becoming more aware of ourselves and the energy we're bringing into each space. Learning how to communicate more effectively. Helping the human to realize his or her strength, influence, and confidence. Through empowering the human end, we enable people to become the leaders their dogs absolutely need them to be. This inevitably and directly affects the canine end. Teaching and empowering the human, training and guiding Dog. Vastly improving quality of life and peace of mind for both. After all, there are two ends of the leash. This works lends itself to positive shift and change, and even complete transformation. What we offer, you simply can't put a price tag on: Hope. Possibility. Relief. Peace of mind. And quality of life.
Photos and Videos
11 photos
Specialties
Dog training type
Private lessons, 

Board and train at a facility
Reviews
Customers rated this pro highly for

value

,

punctuality

, and

work quality

.
Read reviews that mention:
Dog Training

Kimberly was awesome to meet with! We met virtually and it went great. Our Zoey is a nervous/sensitive girl and Kimberly gave us such great guidance for helping her and helping us become more confident dog owners! She also gave us a wealth of resources to use to be better dog parents and give Zoey everything she needs to be happy and healthy! I would highly recommend PackFit.

Dog Training

Our experience with Packfit was truly enlightening and transformative. I did quite a bit of research and interviewed multiple dog trainers in the DMV area before deciding to seek out Packfit for help. I knew enough about dog training, or handling (whatever you want to call it) to be dangerous, but I could not find a trainer that sat right with my gut. When I asked about others' training approaches, I wasn't sold – so many offered what seemed like bandaid methods. I could tell my dog and I had a deeper problem, and reached the limits of my own knowledge. Although obviously important, all the obedience training was mere mechanics. I couldn't understand why my dog had morphed into a reactive, aggressive dog, but she sure knew how to 'sit', 'stay' and had fantastic recall.. As our situation snowballed from frustration and miscommunication, I knew I was sending my dog all the wrong signals, but I did not know how to fix it. Packfit's holistic approach to "dog training" was something I immediately trusted and wanted to know more about. When we initially met with Kim to discuss options, I already felt so much relief and we hadn't even started working with the dog yet. Kim is confident, grounded, and extremely knowledgeable – all of which was evident within the first few minutes of talking with her. Kim genuinely reassured us that our dog's reactive/aggressive behavior could be changed. After meeting us and our dog, Kim recommended private sessions and her online course. I was thrilled with her recommendation, because I really wanted to work through these challenges with my dog and in our home/neighborhood. I'll admit, there was a part of me that thought paying to work one-on-one with a private dog trainer might be too expensive. However, I just can't stress enough how important this investment was. Knowing what I know now, I wouldn't even blink an eye at signing up to train with Packfit. I can't think of another purchase that I have made that has given me more bang for my buck! The results are remarkable - the knowledge, understanding, confidence, and balance in my home, in my pack, was a direct result of Packfit's guidance. We were so lucky to find Packfit and have the opportunity to learn from Kim. Above all else, our dog and relationship with our dog is happy, healthy, and balanced. For those who are researching for the right trainer, here is a list of the behaviors we were seeing gradually worsen over time in our dog: leash reactivity, fear of children, fear of tight spaces, freezing up during walks, pulling on the leash, barking out the window of our home, barking in the back yard. These eventually snowballed into: fear of all strangers, aggression toward kids, protecting our home, snapping at kids and strangers, snapping at our cat, snapping at other dogs, guarding her food bowl/chew bones, barking at everything. The thing is, we started training and "socializing" our puppy at 10 weeks. We "worked" with her every day. We thought we had checked all the boxes. But very gradually, our nice little puppy turned into a gremlin. We were so frustrated and blind-sided – we thought we had done everything we were supposed to do. Turns out, so many of her behavioral issues were rooted in our human behavior and lack of understanding. There is so much information out there on how to train your dog, but so much of it is misleading. The combination of Packfit's online course, the private sessions with Kim, and Kim's book "My Dog, My Buddha" provided the comprehensive and holistic approach that is needed to genuinely understand dog needs and behavior, and to align the relationship between you and your dog. In other words, to make your pack fit. Each component (the course, book, and sessions) was equally necessary to bring it all together. First, the online course provides extensive information about all aspects of the animal you are trying to share a home with. These lessons lay the foundation to better understand the root of your dog's behavior and your dog's need. The knowledge gained from the online course not only helped me understand my current dog, but gives me so much confidence in my ability to understand our future pups as well. I'll carry those lessons with me for a lifetime. Kim's book, "My Dog, My Buddha" hones in on the human aspect of the pack equation, or as she says, the human end of the leash. This book genuinely improved my life and my dog's life in so many ways. The book is organized in short, easy to read lessons. The very structure of the book allows you to read one or a few lessons and then walk away, giving you the break to really stop and reflect. Often, I would read just one lesson and then spend days pondering my self-improvement. This book is positive, realistic, inspiring, and in some ways was a wake-up call for me. The book was not overwhelming, cheesy, or intimidating. I have already re-visited it and will likely continue to re-read lessons. Our private sessions with Kim were incredible. Kim shows up ready to teach, and is genuinely present in every interaction. She is a realistic person, and doesn't judge or shame. The sessions were entirely customized to fit us and our dog. In each session, we gradually pulled apart layers of behavioral issues and worked them out as we went. After each session, Kim followed up with a detailed explanation of what we worked on and why, and then gave us "homework" to work on daily. While we practiced our "homework" we would send Kim videos of our progress and she would provide immediate feedback. In addition, we could contact Kim at any time to ask questions – which was amazing! Kim is always, always responsive and professional. She has been there with us and for us every single step of the way. She genuinely cares about us and our dog and wants us to succeed. Her actions speak to this, plain and simple. Working with what I believed at the time to be a reactive/aggressive dog made me nervous. I had convinced myself, prior to finding Packfit, that my dog was so reactive that I could never trust her to walk by other dogs, some people, and kids. I would cross the street to avoid other dogs and people, which was proving to be quite difficult in a city, and was frustrating me and the dog more. During our sessions with Kim, she created a safe space for me to challenge myself, regain trust in my dog and confidence in myself while working in the exact situations I had come to fear. Even after just 3 sessions our dog was an entirely different dog and our home was at peace. Among the wealth of knowledge gained, quite simply put - we learned how to meet our dog's needs. It turns out that reactivity/aggression was actually our dog's cry for help. We learned what it truly means to have a socialized dog, versus what we had been misled to believe "socialization" meant. We were speaking a language our dog didn't understand, and/or telling our dog things we didn't understand at the time. We gained awareness of how our actions and energy (body language, emotions, tone of voice), subtle or not, directly influence our dog's behavior. We now understand that our dog looks to us for leadership, and we know how to step up and be a consistent pack leader. Packfit holds true to its very name. Packfit's holistic approach recognizes the uniqueness in every dog and human, allows you to carefully pull apart and understand the reason behind your dog's behavior, and guides the human end of the leash into leadership and balance, allowing your pack to truly fit together.

Dog Training

Kimberly Artley is a godsend. We reached out to her after our dog had attacked our elderly cat and we weren't sure what we could do to ensure it never happened again. At six years old Daisy could sit, lay down, roll over and understood the all-important "leave it" command…but we couldn't figure out how to calm her down, how to get her to stop howling whenever we left our house, or to stop barking at anyone who visited. Most importantly we had no idea how to break her cycle of obsession when it came to our cat. A cat (believe it or not) that didn't try to provoke the dog or really show any interest in her but was the victim of her sudden outbursts. How can we create a safe space for our cat without giving up on our dog? When I reached out to Kimberly via email, I sat back thinking I would probably get a response in the next day or two…wrong. She responded within the hour, and it wasn't some kind of canned "thank you so much for reaching out" response, it was an actual "I'm a person and I'm going to fix this" response. An instantly calming response that let me know she understood where I was coming from, recognized my fear and that time was of the essence. We immediately booked an Initial Behavioral Assessment and Consultation (I.B.A.C.). The two-hour session that we had with Kimberly was amazing in that right away she could recognize where the deep-rooted issues were with our dog, as well as the deep-rooted issues in how we had learned to treat dogs in general. In our past we both had well adjusted, rather large doofy dogs who were happy to just lie on the floor and wag their tail whenever someone walked by. Daisy, on the other hand, is a high-energy speck that's probably smarter than a fifth grader. Simply hugging away the neuroses wasn't going to work, and it showed in her behavior. We opted for the Stay and Learn program so that Kimberly could rebuild Daisy's foundation. Two weeks of doggy boot camp where we feared Daisy would wreak havoc inside the Casa de Artley. Wrong again. Kimberly sent us constant photos and videos showcasing our dog walking calmly on the leash rather than pulling. Sitting down next to another dog without snarling or nipping. Being walked by a child without having a total meltdown. Kimberly sent me a video of Daisy sitting down, calmly minding her own business while the dreaded vacuum cleaner was being run in the same room. Seeing our dog behave like this in such a short time gave us such hope that inside that tiny little weirdo was a well-adjusted little weirdo just waiting to get out. Her methods don't just include the dog either. She has worked closely with us, answering all of our texts and emails with patience and informative guidance. Kimberly has been our best investment and I cannot recommend her enough. She has done what we thought was impossible: taken away a timid, obsessive dog and returned a confident, calm dog that no longer thinks our cat is the devil himself. She's taken the hope we had for a happy fur-family and made it into a reality. A reality that involves work from us but work that we're more than happy to put in based on the return we're getting.

Dog Training

After searching multiple sites and trying out two other trainers, we found Kimberly on Thumbtack and liked what we read. Her "holistic" approach to dog training really appealed to us and aligned perfectly with our view of the connection between nutrition, physical and mental health, and behavior. When we did the IBAC, we immediately felt a click between the three humans (Kimberly + puppy parents) and Lucy (puppy). Through our work with Kimberly during the training sessions and our practice at home, Lucy has become more calm, responsive, and seems now to recognize us as the "pack leaders". One of the most important lessons we learned is that adjusting on our own energy and behavior is key to effect change in our dog's energy and behavior. It is important to bear in mind that no trainer - no matter how good - can make a dog's behavior change consistently and permanently after the training program without the owners' follow-through. With Kimberly's guidance and our constant practice, we're confident that we will continue making steady progress and nurture a balanced, well-behaved dog and a loving, respecting bond between us.

Kimberly and Packfit have been a worthwhile invest for our growing pack! We adopted our dogs Sol and Tito. Sol as a puppy and Tito after he had been adopted and returned a couple of times. Tito, was thrilled to have another puppy join him on his journey but he was shy and hesitant of strangers which led him to react in aggressive ways toward my husband (initially) and towards others. But since working with Kimberly, both my husband and I have not only grown as "parents" of Sol and Tito, but both of them have also grown. We have been working hard to have Tito manage his anxiety and Kimberly's training sessions and wealth of knowledge have led us to a point where we can go on walks together and have visitors without being anxious of Tito's reactions. Tito is growing in his confidence everyday. We recommend Kimberly and Packfit for anyone who wants to have impactful and meaningful change and growth in their relationship with their doggies!
FAQs
What should the customer know about your pricing (e.g., discounts, fees)?

The gateway to working with us through what's called the IBAC (Initial Behavioral Consult and Assessment) which lasts approx. 2.5 hours in length. The information collected from this serves as the foundation from which our training approach is based. The IBAC is highly, highly detailed, quite thorough and extremely informative. During this, we're assessing and viewing all the contributing factors and ingredients playing into the dog's behavior, choices, and practices. We get the human side of the story, as well as the dog's. More often than not, the two are quite different. Immediately following the IBAC, a follow-up email is sent recapping and highlighting everything that was discussed during the IBAC for the client's records. While this is sent, note-taking is always encouraged. Our pricing is not generalized, as no dog and human-dog dynamic is the same nor is our approach for every client.

What is your typical process for working with a new customer?

Please see above : )

What education and/or training do you have that relates to your work?

I've trained with some of the most incredible and notable people in the industry (to include the "Dog Whisperer" himself, Cesar Millan), and have also nurtured the natural gifts and instincts I was born with. Instinct and intuition is something that no book or human can teach.