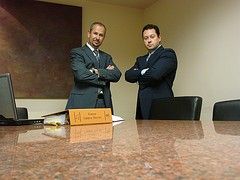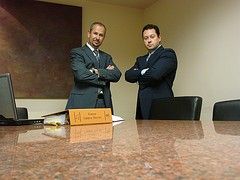 Gurovich, Berk & Associates
---
Sorry this pro can't do your job, but we know other pros who can.
Introduction:
Gurovich, Berk & Associates has offices in Los Angeles, Beverly Hills, Pasadena, and Sherman Oaks, California. We provide cutting edge, client-centered, and cost-effective legal representation in all areas of criminal defense. Our mission is to offer help in these difficult times by providing clear and prompt communication, paying close attention to your objectives, and offering continuous awareness of the cost/benefit trade-offs that are inherent in any legal representation. Whether it is to settle or dismiss your matter, we at Gurovich, Berk & Associates strive to get the best possible legal resolution in your case.
Reviews
---
The Glendale PD does not tolerate too- too much especially, the biker ones. I got a DUI near Glendale and South Pasadena with a little bit more on me than just some beer. I was expecting the hammer to come down especially for my second time but all- in all the experience was not that bad looking back. I panicked at first. I thought I was banned from everything and was about to lose everything (which is common in Los Angeles so). None of that mattered because Elon Berk and Dmitry Gurovich are tough criminal defense attorneys. They pleaded my case and I received a far lesser sentencing than what all of my friends and family ever expected. Before court them and their office staff were easy to talk to and get along with. Mr. Gurovich is more than a genius and he was my lead defense lawyer. He is wonderful and I highly recommend him and the entire defense firm.
Awesome dude. He got my charges lessened from a public intoxication charge. The judge was being a real until I got Elon. Then things got way better.
Elon & Dmitry were truly great attorneys and we with me every step of the way from start to finish. I'm still in shock and even suffer from PTSD over the fact that I got arrested for a DUI because of a an older marijuana wrapper and bag. The officer was a real jerk. Elon mostly handled my case and he seemed to have a good standing with a judge. Long story short it ended with a very happy ending and I lived happily ever after.
Words cannot convey how truly appreciative I am of GBA. This is a great law firm. I shopped around and called many other firms before I decided to go with Gurovich, Berk, and associates. They seemed like the best all around choice for what I was having to deal with and I was right. Elon and Dmitry, I owe you guys big time!
5 star experience and great defense lawyers. I was advised by Elon and had Dmitry to represent me in court. They got me off the hook from some bad charges and I highly recommend them.
FAQs
What types of customers have you worked with?

As Criminal Lawyers we are proud of our small firm size and selectivity in choosing our clients as well as their criminal defense cases. The fact that we are a small, selective, yet powerful team allows us to stick to our core belief that our criminal defense clients are best served with our lawyer's personal attention and dedication. Our criminal defense law firm is not a mill. You will never find us advertising our top criminal attorney and then sticking you with an attorney with less experience

What advice would you give a customer looking to hire a provider in your area of work?

Retaining an aggressive, experienced and knowledgeable Criminal Defense Attorney is the most important decision you can make.  A qualified Criminal Defense Lawyer can educate you as to your options, assist you in making critical life altering decisions, investigate the factors that led to your arrest, skillfully examine law enforcement personnel, and litigate the case.  Our firm has the qualified Criminal Defense Attorneys that will be in your corner, aggressively defending your rights with the goal of successfully fighting your criminal charges.  Criminal cases, specifically, require an exhaustive investigation into all aspects of the criminal allegations against you.  It is necessary to have a qualified Criminal Defense Attorney with experience in criminal cases to oversee your investigation of the entire case so that weaknesses in the government's case can be identified and exploited for you benefit