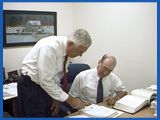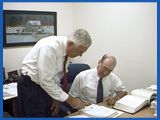 Introduction:
I solve the hard problems that other water treaters cannot figure out.
Overview
1 employee

28 years in business
Photos and Videos
8 photos
Reviews
Mike F.

I was very glad to place an order with a veteran owned business...thank you for your service Dick. Dick continues to provide service, but now it's to his customers, and he does an excellent job. I couldn't find plastic test equipment and he searched his vendors and found it for me. I've called him on several occassions and was surprised when he answered his own phone, how nice to not get a machine. He provides a personal service, your order feels like it is the most important one he is dealing with. Thanks again for all the help.

Steve M.

I've recently had the good fortune to talk with Dick about the treatment of water towers. He was very generous with advice being very helpful. I also purchaced a test kit at a very competitive price.

Janet S.

Dick Hourigan is a dynamic and multi-talented individual. He is a world-class water treatment professional. I would highly recommend his services! Janet E. Stout, Ph.D. Director Special Pathogens Laboratory

Jack W.

Dick is a source of unique knowledge on water treatment. I go to him for advice whenever I encounter an uncommon problem that has no "text book" solution. Dick is able to use his knowledge of chemistry and his water treatment experience dating back to 1972 to solve difficult problems and explain the solution in easy to understand non technical terms. I highly recommend Dick to solve any water treatment problem that you may have.

Judy M.

As the owner of a small diaper service start-up, Dick was a great help to me answering the questions I had about water testing for laundry, even when it was an area outside of his normal expertise. I won't hesitate to contact him with any future questions or recommend his services to others.
FAQs
What advice would you give a customer looking to hire a provider in your area of work?

There are some water treaters with no experience. Avoid them since they are learning at your expense. There are some water treaters who have a "Certification" from some trade organization. They sought to get this "Certification" as a tool to gain credibility. They may or may not be knowledgeable. Be skeptical. They only had to properly answer the majority of 100 questions to get "Certified". They may be "fact memorizers" who retain knowledge only long enough to pass a test. They may not understand the concepts. Try to find and work with chemists or chemical engineers since they are able to solve one of a kind problems that no one thought to put on an examination sheet. Ask for references.