1. Tile gets a glow-up.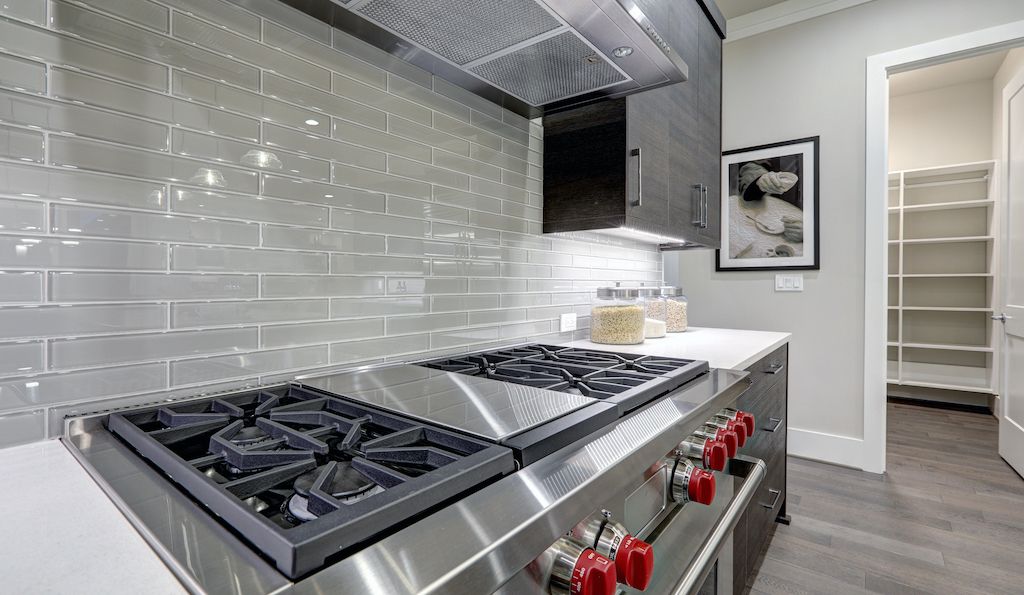 Do you love a glossy tiled backsplash as much as we do? Available in colors from subtle neutrals to bold and saturated hues, glossy tile works in most kitchens. "For clients not looking to do a total kitchen makeover, I have been recommending more bespoke tile options to help elevate the space," says Courtney Scott, interior designer and owner of design firm V. James & Co. Interiors.
The tiles' reflective surface lets light travel and move around the room to brighten up the kitchen and make it appear larger. Configure tiles in the classic subway style, turn them vertical or even install a mosaic pattern. Go tonal to match your countertops, or choose something on the opposite side of the color wheel for dramatic contrast.
Related: How much does tile installation cost?
2. Two kitchens are better than one.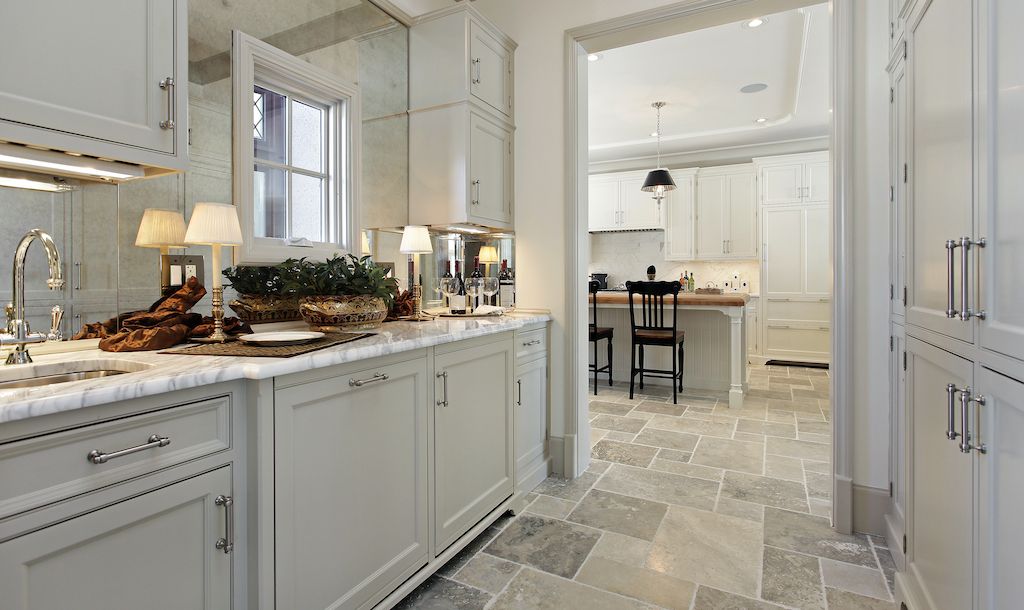 What's better than a beautiful new kitchen? Why, another one, of course.
When planning remodeling projects, households are taking stock of how much space they need in a kitchen — and finding that it's usually more, especially if they have growing families or entertain often. A prep kitchen or butler's pantry is a smaller space off the main kitchen that acts as another workstation. Think of it as a mini bonus kitchen that can store small appliances, additional serveware, glasses and dry goods. The main kitchen's design typically extends to this space so flooring, cabinet color, and countertop material are consistent.
Interested in a prep kitchen? Get a quote from a professional kitchen designer near you.
3. Say it with art.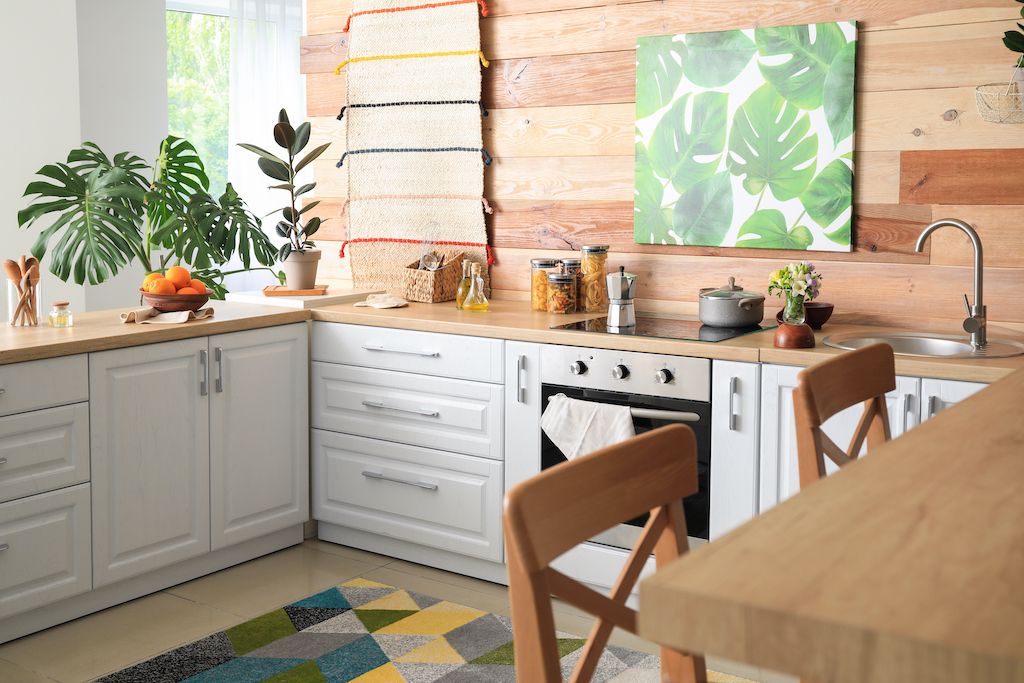 Art in the kitchen is a fun way to infuse your space with a theme, some color and even a bit of playfulness. When it comes to choosing artwork, the rules are that there are no rules. Simply go with your personal style. You'll be looking at your selections every day, so choose pieces that really speak to you. At the same time, artwork is a relatively low-commitment way to add color and contrast to your kitchen. If you're feeling like a change, simply swap out the pieces for something new down the line.
4. Kitchens get colorful (finally).
The days of playing it safe in the kitchen are over. As people spent more time at home during quarantine, they started to want more personality and pizazz in their high-traffic rooms. As the heart of the home, kitchens were at the top of people's remodeling to-do lists.
Don't be afraid to show off some personality in your kitchen with color. Add a little or a lot — it's up to you. Go big with a bold cabinet, island or backsplash color like cobalt blue, hunter green or even red. If smaller pops of color are more your style, opt for bright textiles like a rug, curtains or shades — or think about displaying colorful dishware on open shelves.
Related: How much does it cost to paint kitchen cabinets?
5. Go au naturale.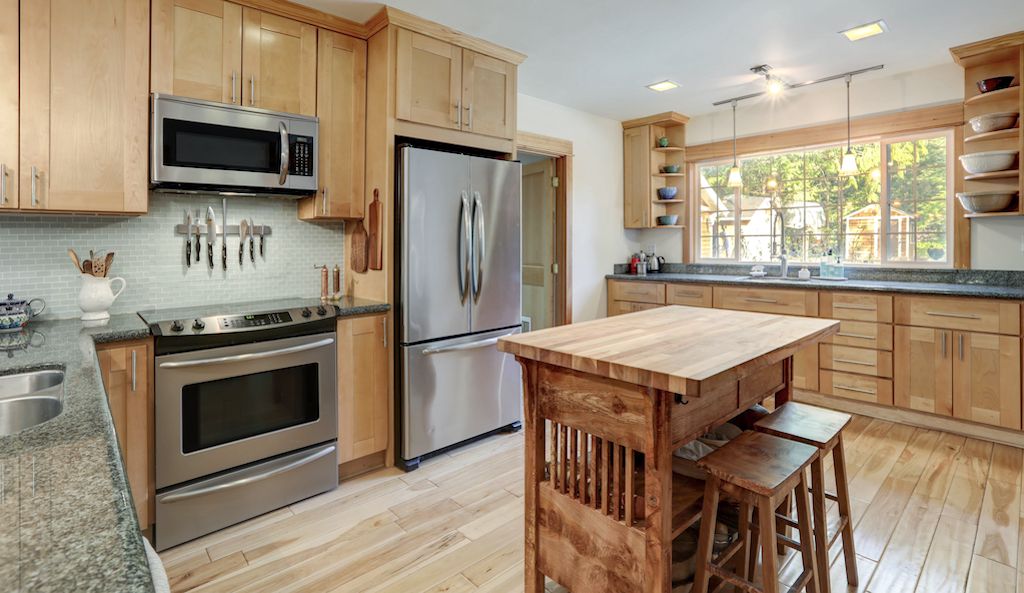 Emerging kitchen design is bringing more of the outdoors in. Study after study shows that we're happier in nature, so it makes sense we'd want to incorporate natural and organic themes into our homes.
Larger windows that bring lots of natural light and warm color palettes are becoming popular in the kitchen, according to a recent report by the National Kitchen & Bath Association. There's also a movement toward lightly stained wood cabinetry with visible grains that further emphasize an organic theme.
6. Just add green.
Nature-inspired design extends to color palettes in the kitchen, and what's more outdoorsy than green? It's the calming color of trees, plants and foliage. Green is full of vitality, and it's everywhere these days. In fact, most leading paint manufacturers selected a shade of this earthy hue for their 2022 color of the year.
From soft greens with hints of gray to bright lime or a rich avocado, there's a shade to suit almost any preference. And in many cases, green can act as a neutral base or eye-pleasing contrast. Pair with a crisp white or inky black, or bring warm things up by putting it alongside light or honey-toned woods.
7. Let there be white.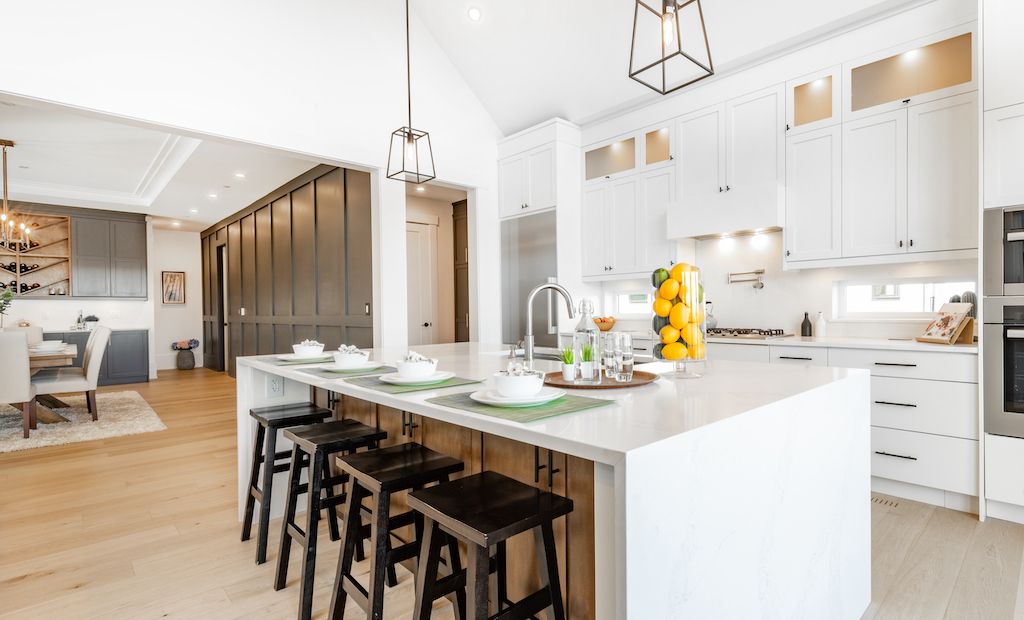 Calm, clean and crisp, a white kitchen is timeless and will never go out of style. So if you want to go white on white on white — cabinets, counters and backsplash — we say, bring it.
White is a perennial favorite in the kitchen for lots of reasons — especially its ability to reflect light. White encourages light to bounce around the room, making a kitchen look larger. It's also a fantastic neutral and base layer for any other color or design theme. Make it a high-contrast space with black, add splashes of vivid hues, or play with patterns and textiles. Cozy it up with warm wood touches, like a butcher block countertop, wood ceiling beams and wood-plank, water-resistant flooring.
8. Panel-ready appliances.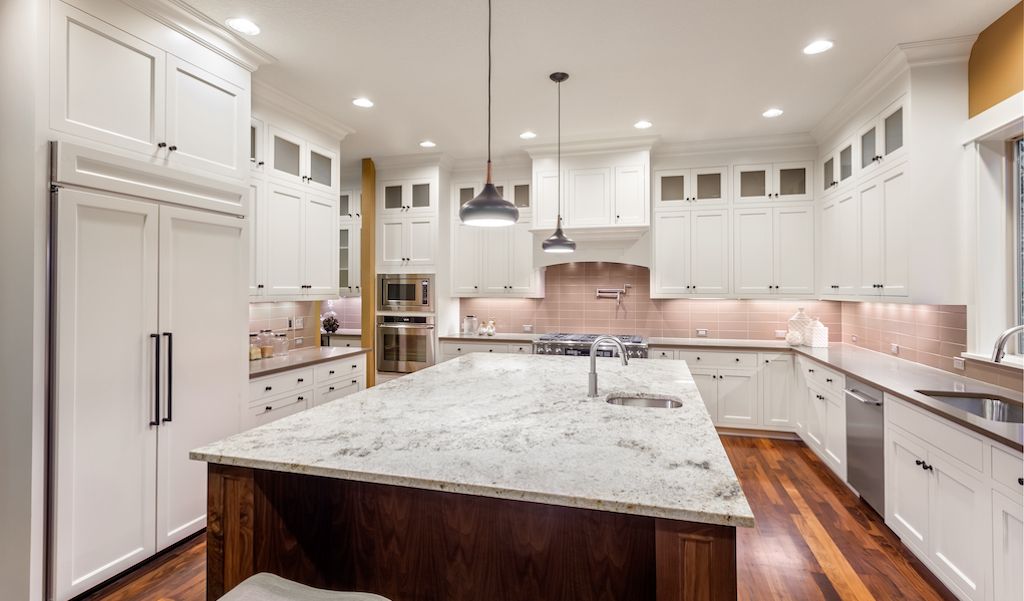 Due to their size, appliances make a big visual impact in a kitchen. For a truly bespoke, high-end look, consider panel-ready appliances customized to match your kitchen cabinets.
Refrigerators and dishwashers are the most common panel-ready appliances (panelized ovens aren't an option due to their high heat levels). Some manufacturers offer a small selection of panels, but you may have to go custom to match your current cabinet style and color. Simply provide appliance dimensions to your cabinet maker, and they'll take care of creating and installing the panels.
9. Warm it up with wood.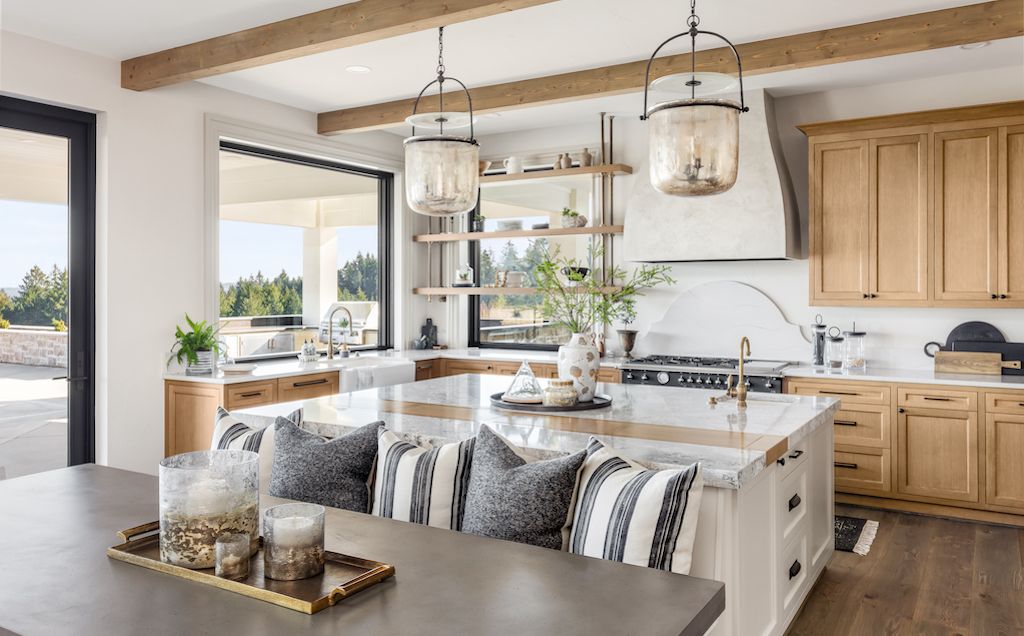 One way to cozy up a bright white or neutral kitchen is by adding a few wood elements. Incorporating natural materials in the home connects us more to nature and the outdoors.
If you're a fan of modern farmhouse style, wood ceiling beams are a natural fit. They look lovely in traditional and transitional kitchens, too. Wood-grain cabinets are also reappearing on the scene. "I'm surprised to see natural wood cabinets making a comeback," says Scott of V. James & Co. Interiors. "However, I am noticing more people incorporating elements of nature into their home design, so this actually falls in line with that concept."
10. Easy-to-clean kitchens.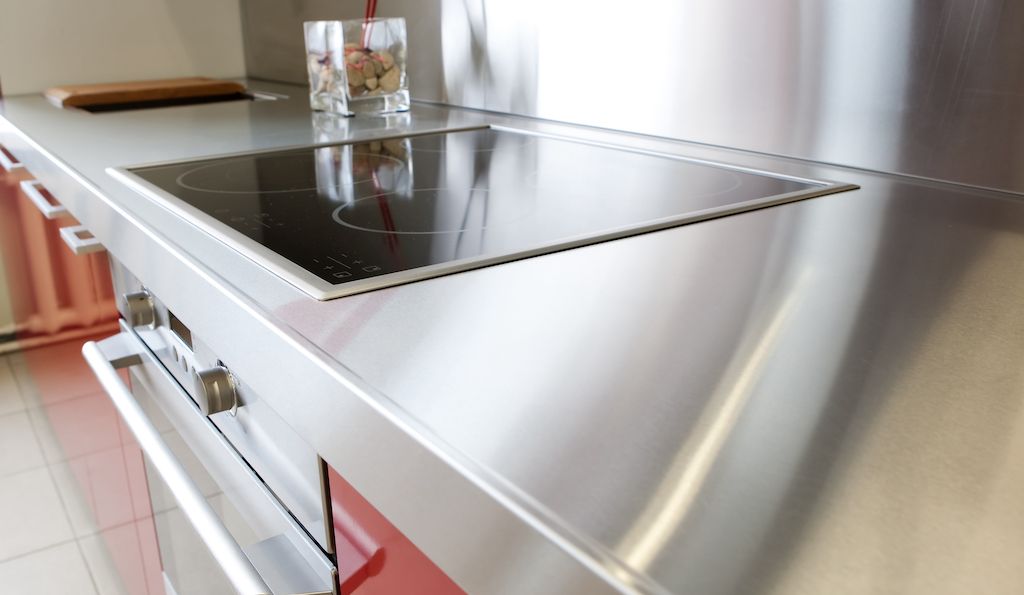 With its high amount of foot traffic and food preparation, the kitchen can easily become the dirtiest room in the house. Throw in a pandemic, and it's easy to see why people are interested in kitchen features that are easy to maintain and keep clean.
Non-porous countertop materials like stainless steel, engineered quartz and Corian are on the rise. And in kitchens where raw poultry, meat and seafood are handled, touchless faucets and lights have also become more popular to reduce germ spread in the kitchen.
11. Going beyond recessed lighting.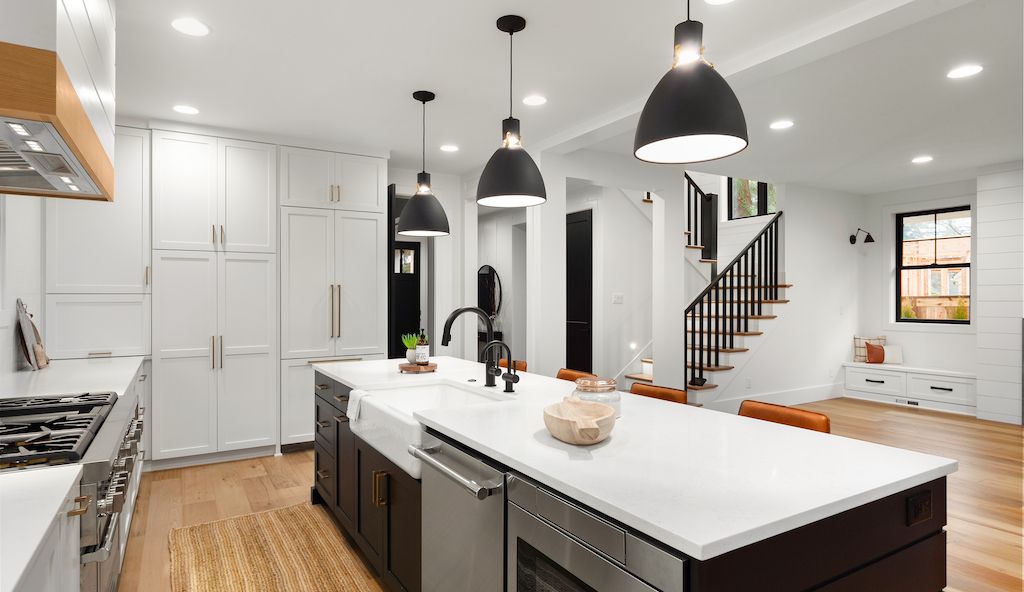 In the kitchen, you'll need a good source of overhead lighting to not only illuminate the work areas but also set the mood for the space. While recessed lighting is a great staple, adding another source of ambient lighting can tie the kitchen design together.
One or multiple pendants hanging above the kitchen island or a large, semi-flush mount in the center of the ceiling are a couple of examples of eye-catching lighting. The good news is you can find bold and beautiful fixtures in almost any style or theme.
Related: How much does it cost to install light fixtures?
12. Bolder backsplashes.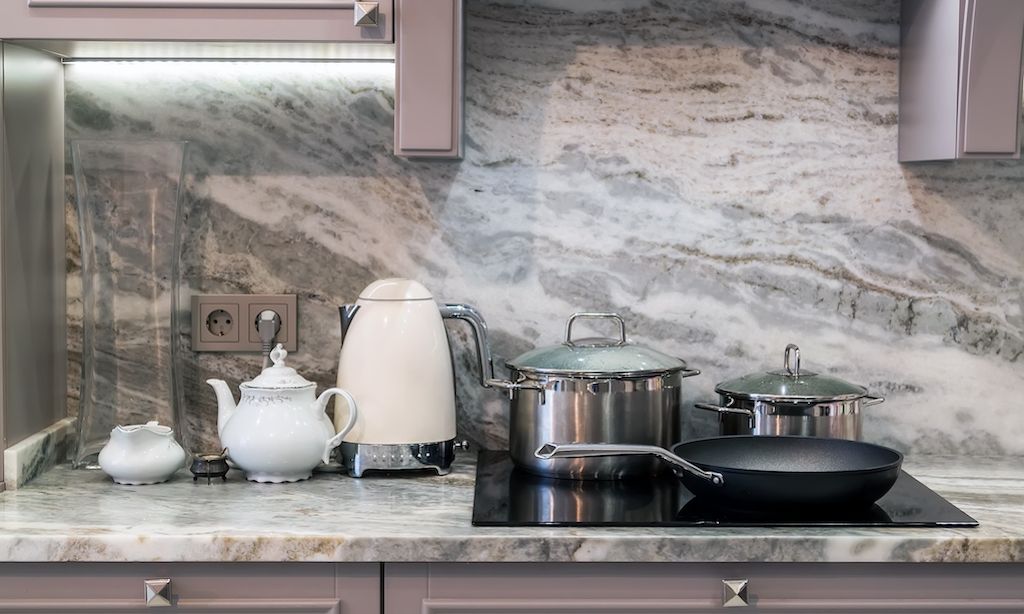 The kitchen backsplash is getting reimagined in creative ways. If you love the look of your kitchen counters, why not take the material up the wall for the backsplash? Using a large stone slab instead of tile can add intrigue and drama. A lovely grained marble, for example, can create a striking focal point. By eliminating tiles and grout, the backsplash is easier to clean, too — something we can all appreciate in the kitchen.
Related: How much does it cost to install a tile backsplash?
13. Increase a kitchen's IQ.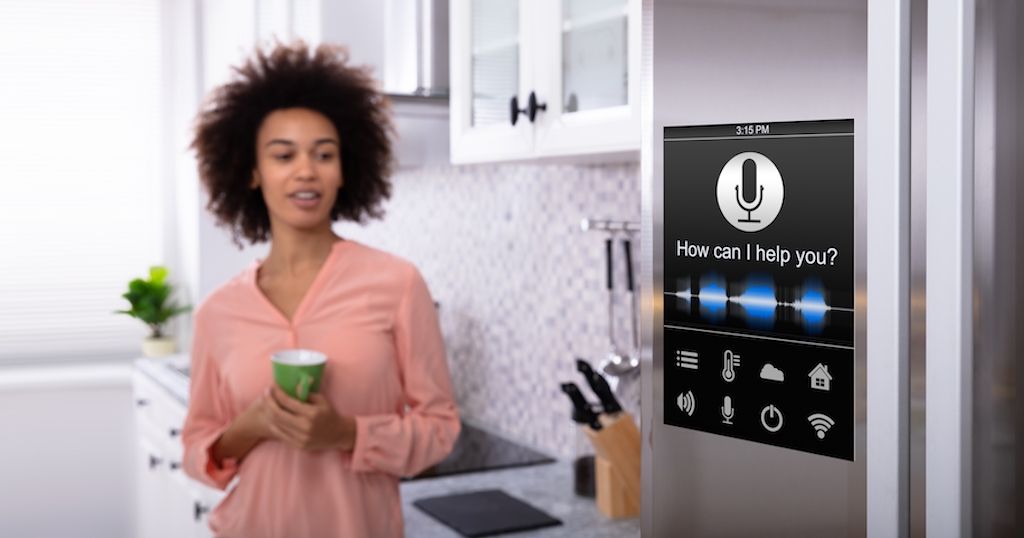 People are busier than ever and want their kitchens to keep up with their hectic schedules. Smart and automated technology in the kitchen can make people's lives easier. More cabinet manufacturers offer drawers with built-in charging stations. Wifi-enabled appliances like refrigerators, ovens and dishwashers allow you to control and manage operations on your devices. Some refrigerator models include a touchscreen that acts as a household management system. These systems can notify you about expired foods, help you manage grocery lists, look up recipes for you and even play your favorite music and TV shows.
14. Getting checkered.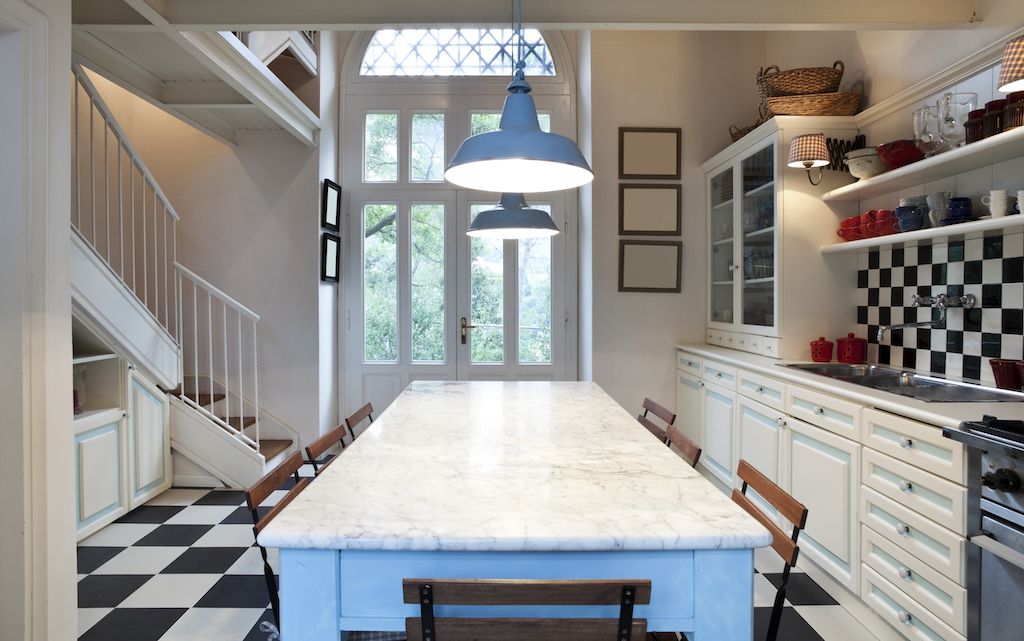 This classic retro flooring style is back, and it's trending in the kitchen. We usually recommend against getting too trendy in the kitchen, but this flooring is classic and has longevity. In other words, checkerboard tile will still look great in your kitchen five years from now.
When it comes to flooring material, go for porcelain or ceramic tile that can withstand spills and moisture. For a kitchen, you'll want your tile squares on the medium size, 12 to 18 inches, to achieve that high-contrast drama. Anything smaller than 12, and you risk your kitchen flooring looking too busy.
On a tight budget? Get this look for less with checkerboard sheet vinyl available in a variety of colors to match your kitchen's palette.
Related: Installing vinyl floors? Here's what you need to know.
15. Vintage that's always in style.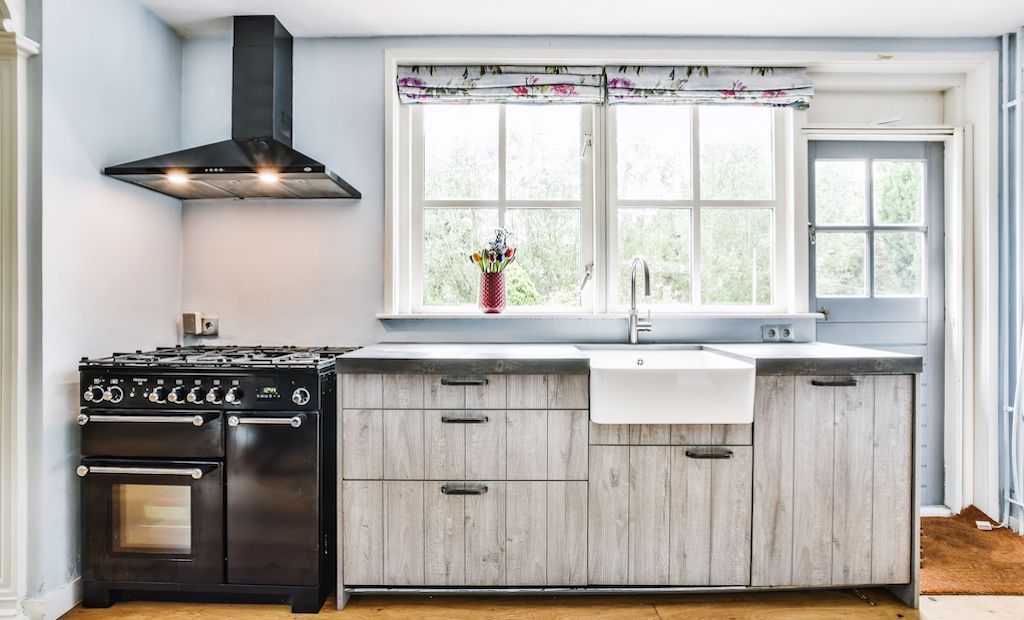 If you want to give your kitchen a one-of-a-kind feel, try looking to the past for inspiration. Adding vintage elements adds character to a kitchen. Give a contemporary or transitional kitchen a refresh with a few well-considered features or fixtures, like a retro-inspired stove, pot filler faucet or farmhouse sink. If you're on a tight budget, play up the vintage charm with textiles like under-cabinet curtains, cafe curtains or dish towels.
16. Creative counters.
Looking for something different for your kitchen counters? Consider butcher block counters. Constructed from fused planks of edge-grained wood, a butcher block creates a warm-looking surface that works great for a large counter or kitchen island. Think of it as a high-style cutting board that does double duty as a counter.
Butcher blocks are commonly made from wood species like walnut, maple, teak or birch. Keep your butcher block to a single wood species for a uniform look, or select a few for an interesting pattern.
Keep in mind that a butcher block counter can stain and scratch easily, so it will require more cleaning to maintain that warm wood appearance. Use a food-grade sealant after installation and before use. To clean, wash the butcher block with a rag of warm soapy water, then rinse and dry completely.
Related: How much does it cost to install countertops?
17. Shelve it.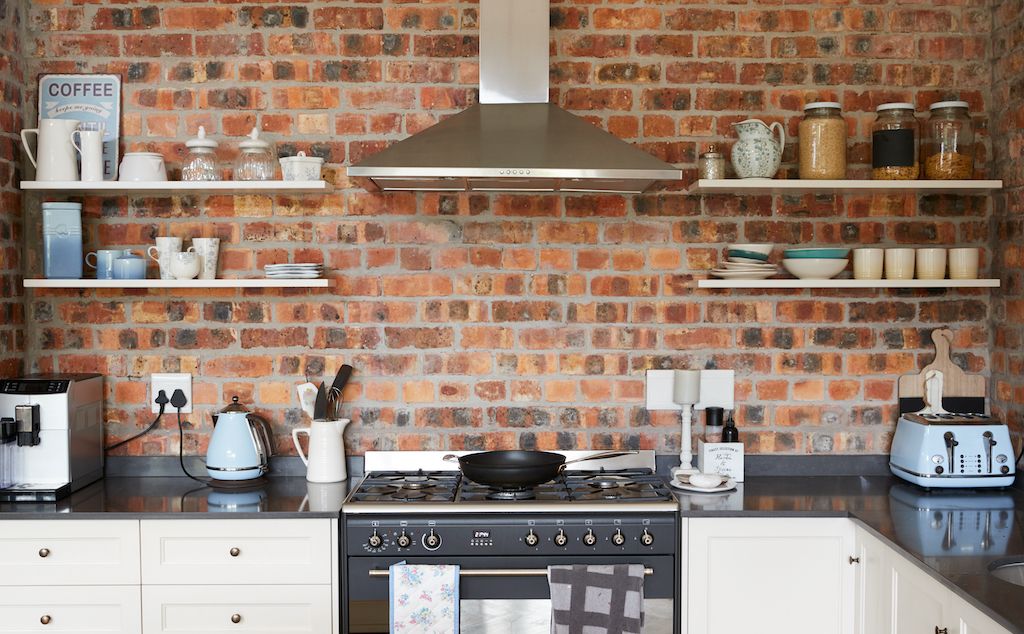 Exposed shelves open up a kitchen to allow the eye to travel more around the room, giving the appearance of more space. By breaking up a wall of cabinets, open shelves give you space to add unique and personal touches to your kitchen.
Create a design feature with chunky floating shelves in a warm-wood grain — or paint them to match or complement your cabinets. Display colorful dishes, decorative pieces, framed art or potted plants. If space is at a premium, keep shelves small or tucked in a corner to achieve the look without taking away too many storage opportunities.
Some design rules are meant to be broken, like using a single metal finish in the kitchen. Mixing metals imparts a more custom look, but be careful — using too many finishes doesn't look great either (two or three for best results). The trick to mixing metals is pick one metal as the main finish and round it out with one or two complementary metals to add interest. For cohesion, use one finish for each type of fixture. For example, select one finish for cabinet hardware, one for lighting, and one for the faucet.
Want a timeless or trendy kitchen style? Thumbtack can help.
While kitchen trends are fun, being mindful of how they'll look five years from now will help you balance more classic features with of-the-moment design elements.
"I encourage anyone embarking on a kitchen renovation or makeover to think about the things that they are drawn to, how they live in their home, and the things that make them smile as a good starting point for developing design direction," says Scott.
Ready to start your kitchen remodeling project? Contact a local professional kitchen designer today on Thumbtack for a custom quote.
More articles you might like: