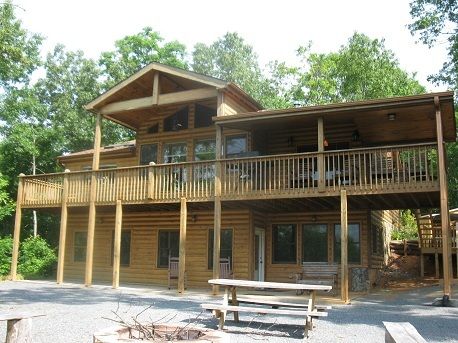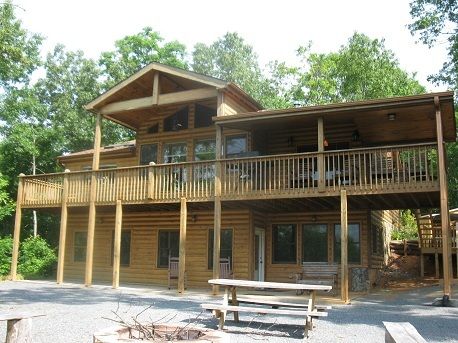 Mountain Escapes Property Management, Inc.
---
Sorry this pro can't do your job, but we know other pros who can.
Introduction:
Vacation rental property management is all we do! Service to our cabin owners and guests is our only priority. We aren't in the business of selling and buying real estate. We aren't in the development or construction business. All that we do is managing, maintaining and marketing your cabin! A family-owned business, Mountain Escapes is located in Ducktown, TN. We're just a few miles from the TN, GA and NC border. Before we moved here from the Metro Atlanta area, we were vacation cabin-rental owners. We decided to sell our cabin and begin our own cabin rental business after some frustration with our property management company. Our main goal was to treat both guests and cabin owners the way we would like to be treated. Eight years later, Mountain Escapes is the oldest management company in Polk County, TN, and the third oldest in Fannin County, GA.
Featured Projects
2 photos
Reviews
---
Cares about the customer and is responsive to customer needs. Knowledgeable about the area. Well versed in his area of expertise, cabin rental management. Has good contacts and does an excellent job of maintaining the properties and communicating with the owners. Switched to Mountain Escapes from another cabin rental agency 12 years ago and have been a very satisfied customer for those 12 years.
Easy & enjoyable to work with, very responsive. Mountain escapes took care of our cabin as if it were theirs.
Bryan McMillian is very rude and aggressive when replying to inquiring emails. He left out very important pricing info on the Denali listing, and when I inquired about it, he had the rudest things to say and tried to make it seem like it was our fault. Cabin owners would be horrified and alarmed at his replies. Take your business elsewhere because he lacks customer support and respect for potential guests. Sorry owners of Denali, you had a great cabin but Bryan's aggressive emails just turned us off completely. You may want to look for a new manager.
Mountain Escapes Property Management, Inc.'s reply
Guests attempted to rent a 5 bedroom cabin while claiming to have only 2 guests. When I questioned why 2 needed such a large cabin they finally admitted they had 8 guests. I adjusted the invoice for the REAL number of guests which increased the total they said they couldn't afford it and they needed to cancel, so I cancelled the reservation with no charge. Had they been honest from the beginning none of this would've transpired. This person has been questioning my integrity and posting on various social media when they were the ones being dishonest about their guest count from the very beginning. Yes I became aggressive at this point. Be careful, if you rent a property to these folks as there is no telling how many people they will be dragging into your property or what they will do to it.
Where are your guest testimonials on your actual website? There is a link in google, but it takes users back to the main page? Anyway, my family and I recently stayed at a cabin managed by Mountain Escapes; the cabin was dirty and dusty and the manager was extremely rude. If you don't like people or guests, get out of the hospitality industry. I would give this review 2 stars because of the wonderful cabin views, but that is for the owner NOT the manager. There are plenty of places in Blue Ridge that will appreciate our business, you sir did not. Owners of this cabin should be aware.
Mountain Escapes Property Management, Inc.'s reply
This guest only mentioned that the internet wasn't working and there was a water leak while they were there but when I offered to go out and check it out she didn't want me to. But after they arrived home she hits me with this list of complaints and how she DID'T like the cabin. I asked her why she waited until she left she said she didn't want to bother me. (Here's where it get's good), the cleaning crew were waiting in the driveway for them to leave and noticed they had 2 dogs (which she denied). This cabin was NOT pet friendly and probably explains why she didn't want me to come to the cabin. If a guest has a problem at a cabin we need the ability to address/verify the issue while they are there. But when a guest waits until after they leave, then it must not have been that important or they didn't want me to see something I shouldn't or be able to verify the complaint. We didn't find the excess dirt and dust as she claimed but did find pet hair. Renting a property is no different eating a meal at a restaurant. If you had a problem with your visit, you need to address it while you are there so management can address and verify the complaint. This is why we have the following listed on the website "Upon your arrival, please report any damages, shortage of supplies, or housekeeping issues immediately. " and a similar statement is on the rental rules issued upon arrival.
FAQs
What advice would you give a customer looking to hire a provider in your area of work?

Make sure your property manager is accessible. Look for established companies with a good reputation. Ask for references from other property owners. What are all of their fees? Who pays what?