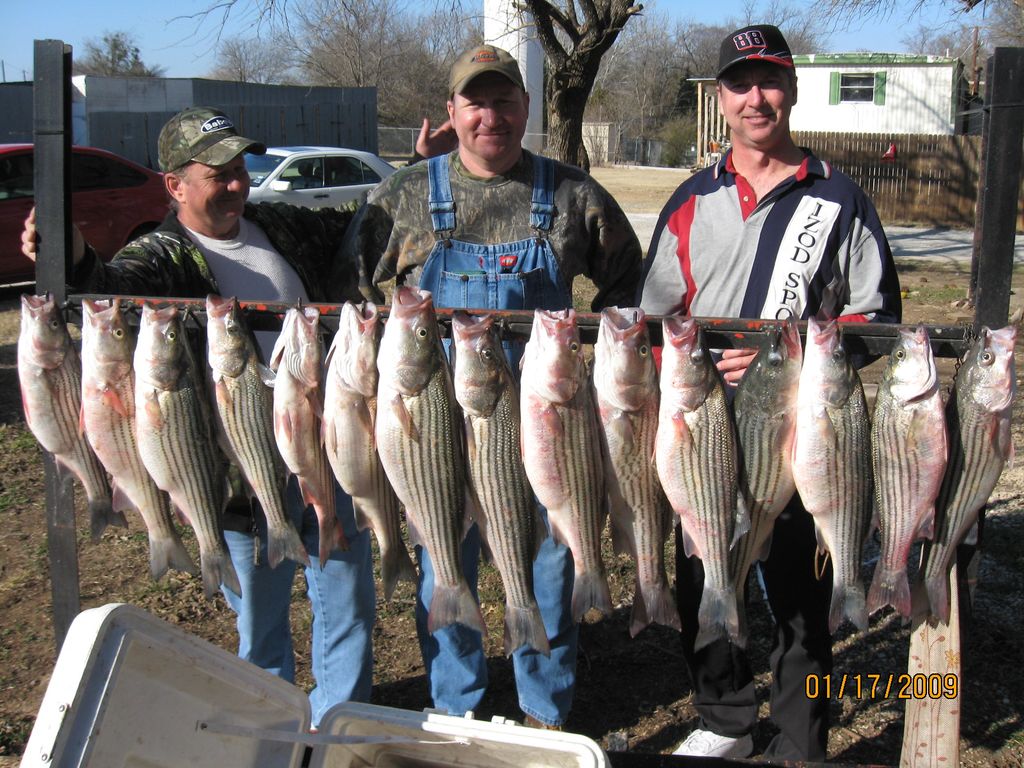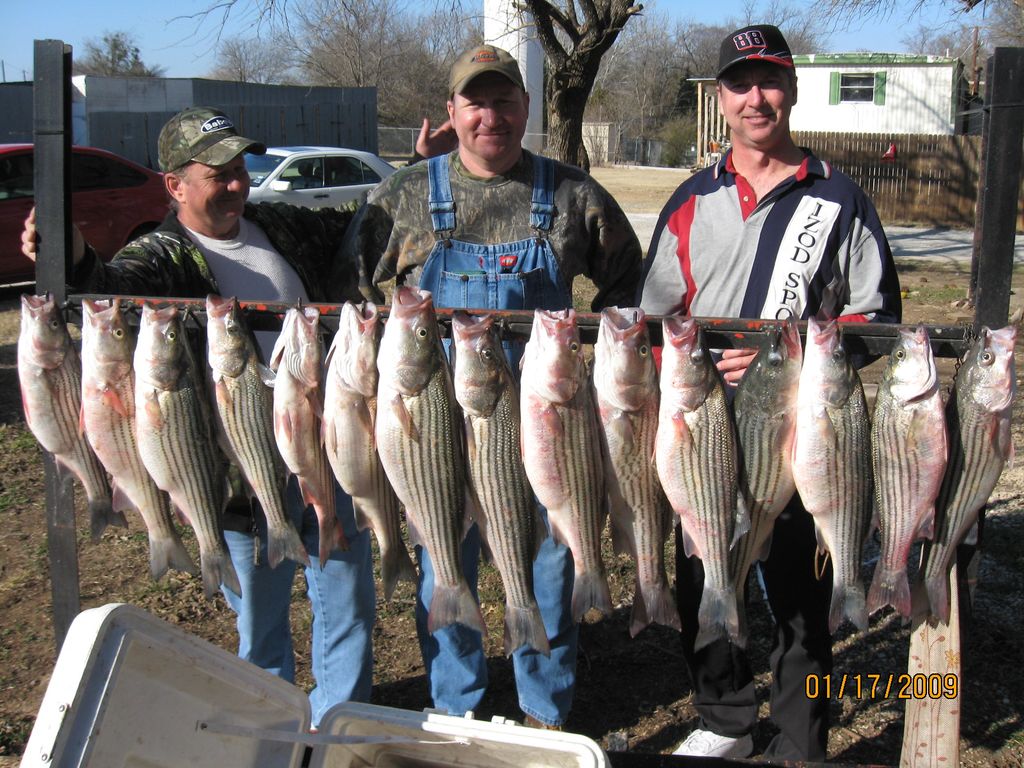 Doug Shaw's Striper Guide Service
---
Sorry this pro can't do your job, but we know other pros who can.
Introduction:
I fish exclusively with artificial lures. I can recommend excellent live-bait guides. I enjoy the people I get to meet and the excitement of catching fish. I've been blessed by having many good friendships develop over the years. I've got some that bring their sons when they were their age when I first meet them.
Payment methods
Ask this pro about their preferred payment method.
Featured Projects
5 photos
Reviews
---
Doug Shaw knows his business, and his business is striper guide fishing on Lake Texoma. Doug always seems to know where they're biting, what they're biting, and how to coax 'em to bite even on the roughest days. Whether you're a novice or an experienced fisherman, you'll be at ease with Doug. I've fished with Doug for years, and enjoy the fellowship during the outing as much as the fishing. His "people skills" match his "fishing skills". Doug's selection of rods, reels, and lures will suit any angler and any skill level. The boat is well equipped, serviced, and maintained, and gets you easily, comfortably, and safely anywhere on the lake you need to be, and back, regardless of the weather conditions. As much as I've enjoyed every outing with Doug Shaw, I must admit that the one I'm always most excited about . . . is the up-coming one! Hands down, Doug Shaw is your best choice for striper guide fishing on Lake Texoma. I recommend him highly and without reservation.
My friendship with Doug Shaw began over twenty years ago when I met him through a mutual fishing buddy. While our friendship has grown over time, my respect for him as a fishing guide has grown even more. He is a true professional--in every sense of the word--who seeks to serve his clients even more than his pocket book. If there is a fish to be taken from Texoma, Doug will find it, and his client will catch it. I've never known such a focused individual; this personality quirk caused me much concern the first few times I fished with him. I'd just get settled in and get my casting presentation down when Doug would announce to all in the boat, "Come on in please; we're moving." My thoughts at the time were, "Hell, let's let 'em find us; three casts won't do it." If his clients don't start catching fish right away, he doesn't hesitate to move locations. He is driven to please, and that's just what he does. Many guides prowl Lake Texoma; unfortunately, many prowl after Doug Shaw because they know he'll find the fish. Doug has been known to shout an occasional expletive at these freeloaders, so all his clients receive some cultural communication lessons as a bonus just for being in his boat. He does defer, however, to more decorum if he has women or children in the boat. I cannot give Doug high enough marks as a fishing guide. Are there times when those in the boat don't catch fish? Yep! But I can count those days on one hand--not bad for a twenty-plus years stint, huh?
I JUST TURNED 70, AND EXCEPT FOR A FEW VERY YOUNG YEARS, HAVE BEEN FISHING ALL MY LIFE. I HAVE FISHED MOST OF THE HOT BASS LAKES IN THE U.S. BESIDES FISHING IN CANADA, ALASKA, PUERTO RICO, CABO SAN LUCA AND OTHER LAKES IN MEXICO. ALL GREAT FISHING AREAS.............. I THOUGHT, UNTIL I FISHED LAKE TEXOMA WITH DOUG SHAW. ONE OF MY BEST MEMORIES WAS APR. 2008. THREE OF US FISHING WITH DOUG. STARTED FISHING AT STRAIGHT UP 7:00 A.M. AND AT 7:35 A.M., WE HAD BOATED OUR LIMIT. ALL 5 TO 10 LBS. ON "TOP WATER LURES". PUT A WHOLE NEW MEANING ON "ALL HELL BROKE LOOSE" !!! I HAVE FISHED WITH MANY GUIDES, SOME REALLY GOOD AND SOME REALLY BAD. THE TOP "REALLY GOOD" GUIDES CANNOT COMPARE TO DOUG SHAW. WHEN YOU THINK OF DOUG, ADJECTIVES LIKE PROFESSIONAL, RELENTLESS, HELPFUL ALL COME TO MIND. EVEN THOUGH DOUG HAS A GREAT SENSE OF HUMOR (a prerequisite for all guides) WHEN IT COMES TO STRIPERS AND THE LIMIT THEREOF, HE'S DEAD SERIOUS. WHEN OTHER GUIDES HAVE GIVEN UP FOR THE DAY, MR. RELENTLESS IS AT ONE OF HIS HONEY HOLES AND WE'RE LIMITING OUT-AS USUAL ! I THINK MOST GUIDE'S NEW BUSINESS COMES FROM REFERRALS. AFTER 24 YEARS FISHING WITH "THE ADMIRAL", MY (OUR) REFERRALS HAVE EXPLODED EXPONENTIALLY. IF YOU WANT TO FISH WITH DOUG SHAW, I SUGGEST YOU MAKE YOUR RESERVATIONS MONTHS AND MONTHS IN ADVANCE. ENOUGH ABOUT THE MAN, LET'S TALK HARDWARE. DOUG'S EQUIPMENT IS THE TOP OF THE LINE, ALWAYS WELL LINED, DRAGS PROPERLY SET WITH MANY SPARES ROD, JUST IN CASE. HIS BOAT IS ALSO TOP OF THE LINE WITH THE MOST COMFORTABLE SEATS AFLOAT. THE ONLY REASON I MIGHT NOT RECOMMEND DOUG SHAW TO A NEW COMER IS THEY MIGHT TAKE ONE ON MY FISHING DATES.
Have been fishing with Doug for several years and he always puts us on fish and makes sure our needs are met. He is very knowledgeable about the lake. He really strives to make sure every member of your fishing party has a good time and will instruct you on fishing techniques for the type of fishing required for the specific time of year you are fishing. Provides all gear (including warm or wet weather gear- just in case you did not come prepared for the elements), and of course - rods, reels, lures and bait. Fish is cleaned and packaged for you to take home and have for dinner!
In my opinion, Doug Shaw is the best Striper fishing guide on Lake Texoma. I've been using Doug's services for about 10 years, and have never been disappointed. Call Doug and you won't regret it. He's tenacious and doesn't stop until you've had a good day. Top water fishing in the Spring is a blast. Summer fishing is good. And, in the dead part of winter the big boys come out. My daughter is also now hooked on Doug and goes year round. We even have tournaments with Doug. He's always accomodating and works to make sure we all have a good time.
FAQs
What advice would you give a customer looking to hire a provider in your area of work?

How many years have you been a licensed guide What is the length of your boat. Are you seats cushioned and have backrests What is the age of your boat and motor