Kitchen remodel tips for beautiful new cabinets.
Maybe your current kitchen design is too old-fashioned but you don't have time for a full remodel. Or maybe pictures of dream kitchens dominate your Pinterest board, but you don't have a big budget. Even if a total kitchen makeover feels out of reach, you don't need to completely change your floor plan — cabinet refacing can give your kitchen a whole new look.
Painting cabinets is a fairly simple, budget-friendly DIY project, but it does take longer than you think, and you have to be careful. First, take off the cabinet doors and hardware. Label them so you'll know where to put them back again. Scrub the cabinets, then sand them down to make the surface smooth. Put a coat of primer on the cabinets so that the paint will last. After the primer dries, paint the cabinets with an angled brush or roller.
Brands like Benjamin Moore make paints just for cabinet surfaces, such as flat wood, wood laminate and metal. If you don't like the look of paint, you can also reface your cabinets by installing wood veneer over the cabinet and drawer fronts.
Finish off your new doors by swapping the drawer pulls, knobs and other cabinet hardware. New hardware might seem like a small touch, but interesting fixtures can really tie the appearance of your new kitchen together.
>>Find a local pro. Here are the best cabinet refacers near you.
Tip #2: Swap out your kitchen cabinet doors or toss them.
If you hate your door style or the cabinet surface is too worn down, it might be time to replace the doors. You can get creative. Replace the door fronts with glass inserts for a modern kitchen look. Or replace them with chicken wire for a farmhouse cabinet design.
Sound complicated? Remove the doors and convert the cabinets into open shelving instead.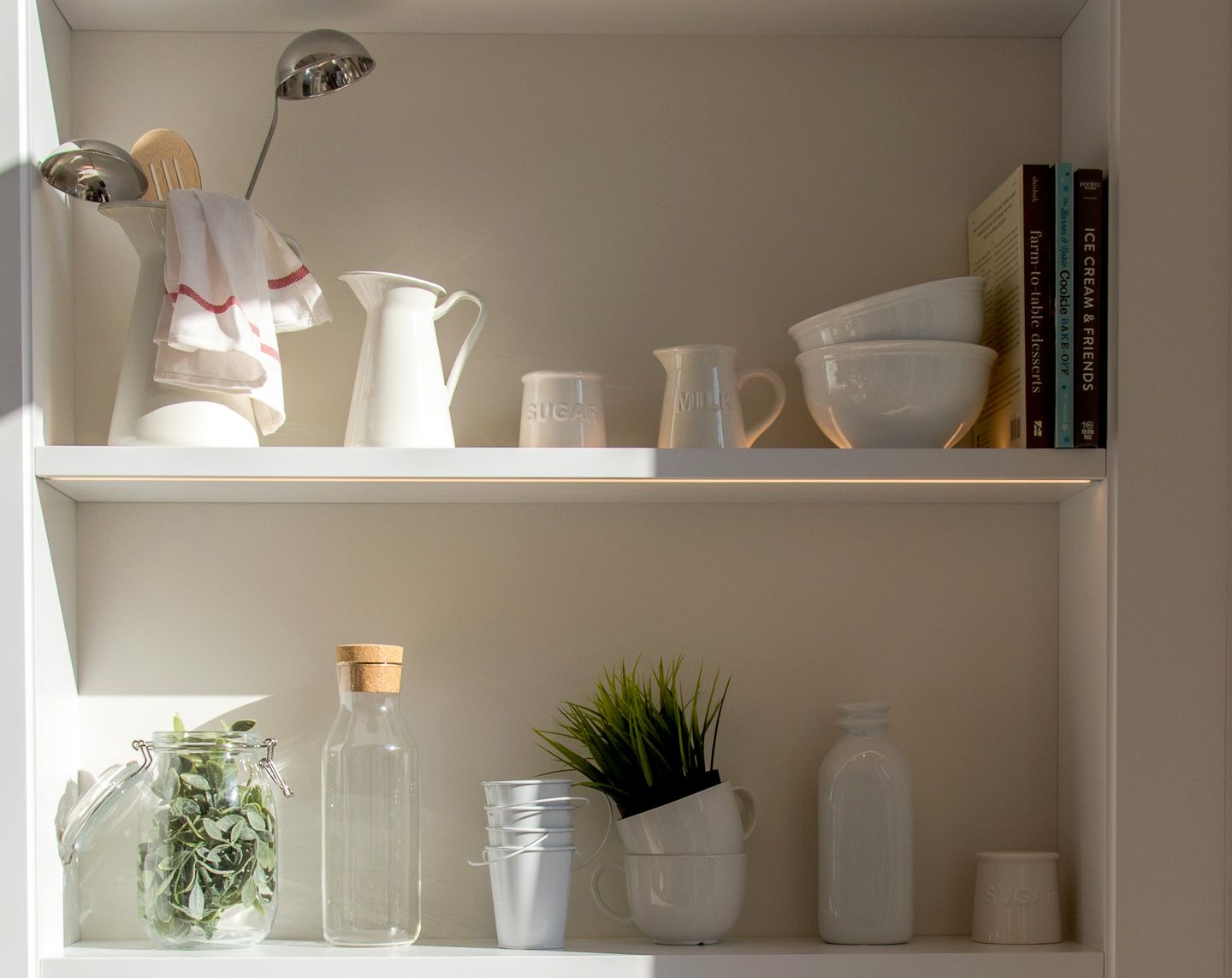 Tip #3: Making a color change? Go neutral.
White is a classic color choice for cabinets. For one thing, it's affordable. Plus, white cabinets don't go out of style, so you won't have to update them again when you're ready to sell. Dark-stained wood finishes are phasing out and colored cabinets can become outdated quickly. If you'd really like some color, consider adding an accent color to your kitchen island — navy blue for a contemporary twist or espresso for a more traditional style.
Depending on what you do with your cabinets, you may want to update your countertops to match. When picking a countertop, choose basic colors: neutrals, black, gray or white. Burgundies, browns and greens are old-fashioned and can be hard to coordinate with the rest of a kitchen design.
Tip #4: Maximize kitchen storage space by adding extra shelves, racks or units.
There's more to a cabinet than looks. Use dead space for storage. Add a spice rack or lid storage rack on the backside of cabinet doors. For cabinets where you have to reach into the far corners or bend low, add roll-out shelving or a Lazy Susan. Mobile kitchen islands and roll-out pantries can also help you save space.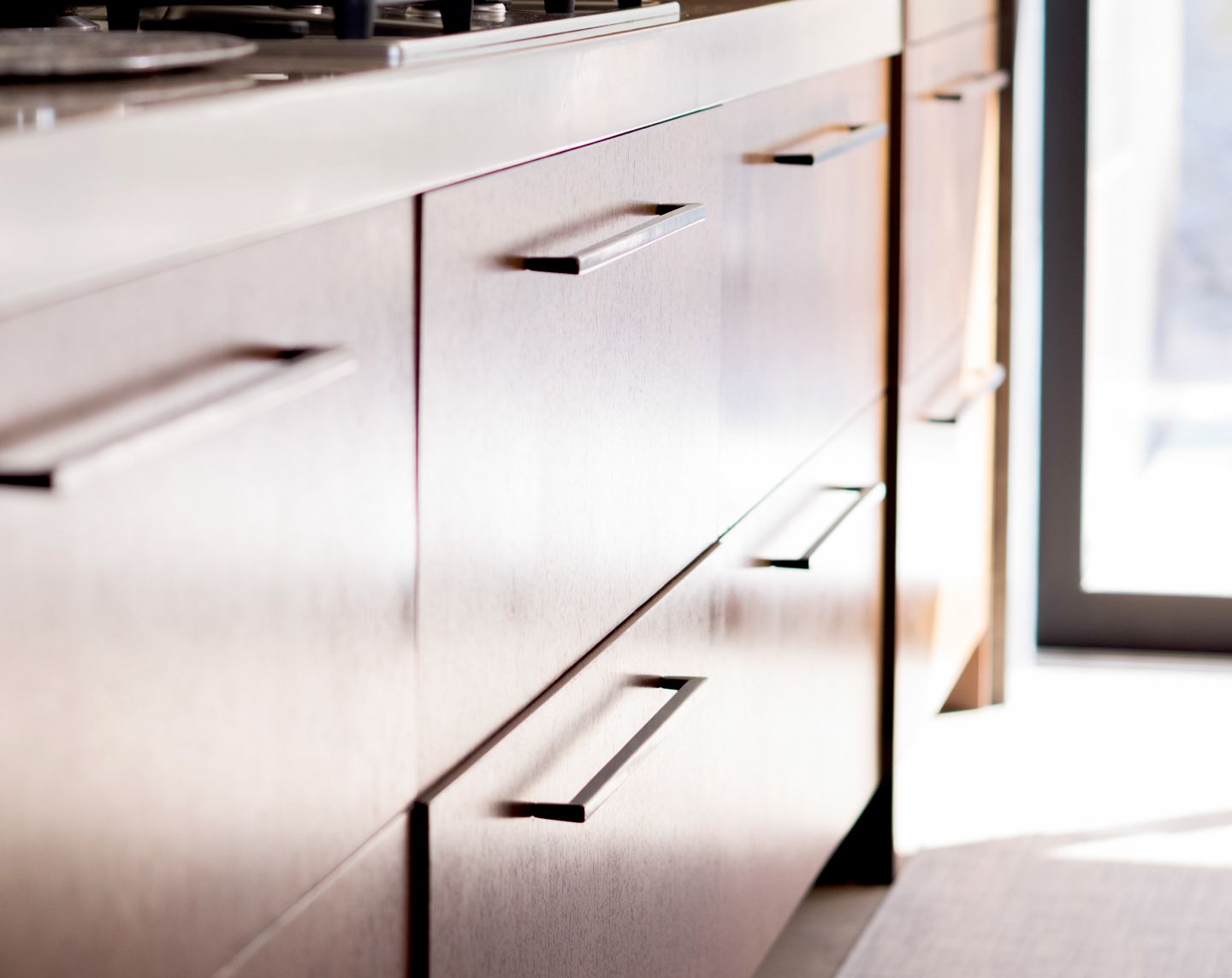 >>See top-rated pros. Here are the best kitchen designers near you.
Common kitchen remodeling mistakes.
Mistake #1: Not talking to an interior designer before changing your cabinets.
When it comes to your kitchen there's one thing you should never DIY: the design. Hiring a kitchen designer is the first step of any kitchen remodel, even before hiring a general contractor to actually make the changes.
A designer can suggest cabinet ideas, help you decide between kitchen styles and draw up official plans. Designers can give you specific information for the interior design, such as the sizing of your wall cabinets or how to maximize storage space.
Even if you think a simple repaint will do, talk to a professional to make sure you have the right colors, paint and materials. Most kitchen remodeling mistakes (and delays) come from poor planning and bad design. A professional kitchen designer knows the true workings of a kitchen. They're worth the investment.
Mistake #2: Skimping when you don't need to (you'll waste money in the long run).
We get it — good quality cabinets are expensive. It can be tempting to go for a budget brand. But cheap materials wear down easily. That particle board cabinet box might seem like a super cost saver, until the shelves swell from water damage. Then you have to replace them all over again.
Remember — you get what you pay for. Good quality cabinets are worth the money. Not sure what counts as "good quality?" Here are some things to look out for:
There are no scratches, marks or color spots on the cabinet face wood grain.
The drawer fronts and door panels are made from solid wood. The panels shouldn't be fixed or glued into their frames, either — they should be fitted into deep grooves.
Drawer sides, side panels and floor panels are at least half an inch thick. The inner shelves are at least 3/4 of an inch thick.
The shelves are supported by metal (not plastic) brackets.
Stiles and rails (the vertical and horizontal frame pieces) are joined with long wooden tongues and deep slots — known as "mortise-and-tenon" joints, if you want to know for your next trivia night.
Mistake #3: You don't plan ahead.
Don't forget how long a remodel takes. Prepping, painting and drying your cabinets can take a week or longer. Installing new cabinets can take up to two weeks depending on the scope of work. Any change will cause some disruption. You'll need to find another space for food prep — paint fumes and wood dust aren't great food seasonings.
To make sure your cabinet remodel stays on schedule, plan exactly what you want so no one changes their mind halfway through the buildout.

>>Start planning today. Contact top-rated kitchen designers in your area.
How much does a cabinet remodel cost?
Wood cabinets are usually cheaper to reface than to replace — and they're the easiest to work with (though you can also refinish metal or laminate). The price can also depend on whether you paint or stain the new finish. Staining cabinets means you have to remove the existing finish, which takes time if there is detailed work on the cabinets or if the existing paint is tough to remove.
You can refinish old cabinets that are in rough shape but structurally sound, though it will probably cost more if the contractor has to deal with vintage hardware, special finishes or period-specific construction techniques during the refinishing process. Any repairs will also add time and drive up the bill.
It's pretty affordable to change out the hardware on cabinets during the refinishing process, though costs can depend on how many new knobs or pulls are needed. Handles and knobs range from $3 to $15 on average from hardware stores and cabinet showrooms. Adding interior accessories, such as organizers, increases the cost.
If you're installing new kitchen cabinets, the biggest cost will likely be the cabinet materials. Stock cabinets are the most affordable option. But you'll need to figure out the sizes and configurations to make sure they work in your space before hiring an installation professional. You can also opt for semi-custom cabinets, which are more flexible with their measurements even though they're factory-made. Custom cabinets are the most flexible, but they cost the most.
Get a free cost estimate based on your needs from a kitchen remodeler near you on Thumbtack.
For more on costs, see "How much does cabinet refinishing cost?"
Who to hire to redo your kitchen cabinets.
A kitchen remodeler can reface or replace your old kitchen cabinets and make them look like new. Find a remodeler and other kitchen cabinet professionals on Thumbtack: