What are roof shingles?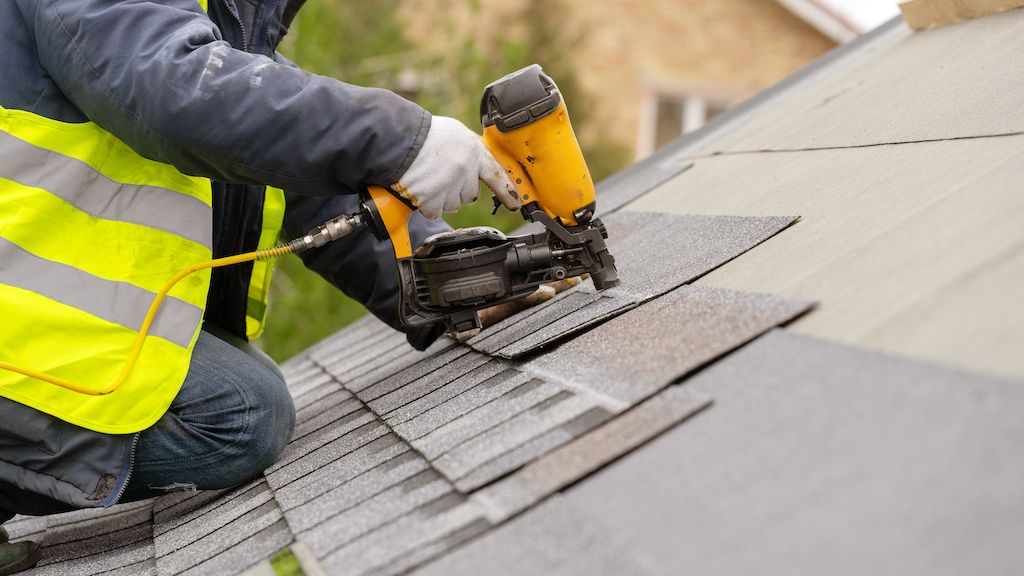 Roof shingles and tiles are simply roof coverings that often overlap and layer on top of each other. While you'll occasionally spot a metal, slate or even sod roof when walking around the neighborhood, asphalt shingles are by far the most common outer roofing material.
For thousands of years, the layered tile and shingle style has allowed homes to stand up against the weather and outside elements. Their signature overlapping pattern helps prevent water from seeping into your roof, while taking on the force of wind and hail during a storm.
Today's roof tiles and shingles take the original technology a step further, playing a larger role in home temperature control, preventing algae and mildew growth, and resisting fires, insects and high wind. Materials run the gamut from asphalt and metal to wood and rubber. Each type has its own unique lifespan, durability and price tag. Shingles also have a fair say in a home's appearance and, in return, may affect a home's value and curb appeal.
What are the different types of shingles and tiles?
Let's take a look at the most common roof shingles and tiles today. Here's a quick look at how the different types of roofing materials and how each one differs from one another:
1. Three-tab asphalt shingles.
Many homes across the U.S. have asphalt shingles on the roofs. These shingles either come in architectural or three-tab options, as well as a long list of colors and shapes.
3-tab asphalt shingles pros and cons:
Pros

Cons

Lightweight
Affordable
Versatile colors and styles
Relatively simple installation process
Popular and common choice among homeowners

Only lasts up to 20 years
Come with shorter warranties due to short lifespan
Not as durable and resistant to outside elements as other roofing materials

Three-tabs are usually the most cost-effective and more commonly used option. One shingle looks like three separate pieces due to their cutouts. When installed, it provides a flat, coherent look across your entire roof.
2. Architectural shingles.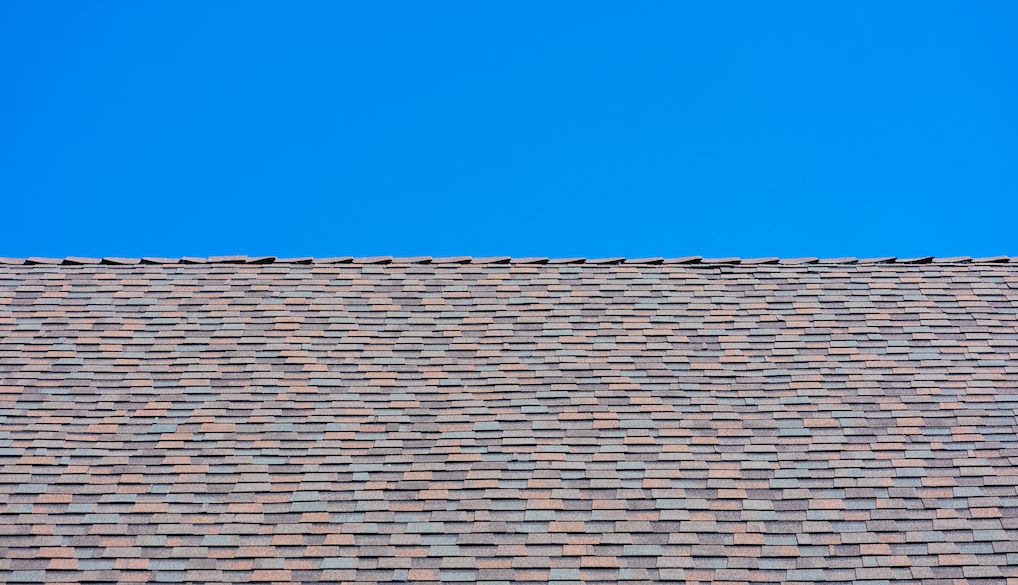 While this style contains similar materials as three-tab shingles, the architectural style is thicker and offers a more substantial, layered look on the roof, even from the front of the house.
Architectural shingles pros and cons:
Pros

Cons

Can last up to 30 years
Adds more depth and dimension
More durable and resistant to wind than 3-tab shingles
Versatile colors and styles
More affordable than other shingles and tiles

Costs more than 3-tab shingles
Not as durable as other roofing materials
Not as environmentally friendly as other materials
Heavier than 3-tab shingles
Homeowners may opt for architectural shingles if they're looking to spend a bit more for longevity, durability against extreme weather and better curb appeal.
3. Metal roof shingles.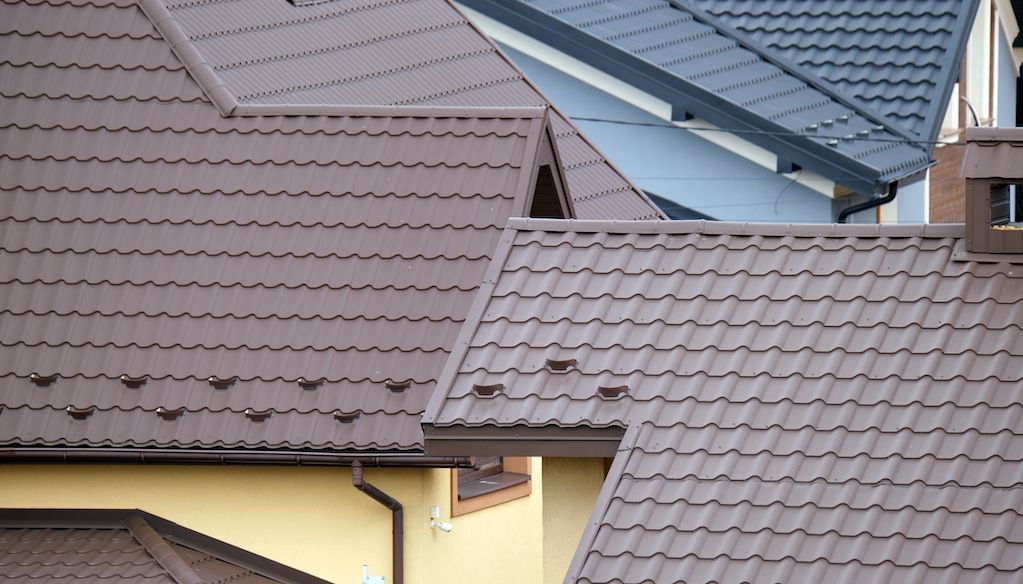 The term "metal roof shingles" refers to a range of metals, including steel, wrought iron, aluminum, zinc, copper or a blend of materials. A metal roof can help you maintain cooler temperatures inside your home during the hot summers, which means you could spend less money on cooling your home. That's because metal roofs don't absorb heat — they reflect it.
Metal shingles can take on the look of more traditional aesthetics, such as asphalt and wood, but are more durable than both materials. Metal roofs have a lifespan of 40-80 years.
Metal roofing pros and cons:
Pros

Cons

Energy-efficient
Long lifespan of 40-80 years
Highly resistant to fires
Can stand up against extreme weather
Wide variety of styles and colors
Can emulate the appearance of other materials, such as cedar shakes

More expensive than other materials
Can be noisy during rain or hail storms
Can become dented by heavy branches, hail and debris

Metal roofs also do well in extreme weather. They can handle winds up to 140 mph, and withstand heavy loads of ice and snow. During wildfire season, a roof made of metal will do a better job of protecting your home when compared to wood and asphalt shingles.
4. Wood shingles.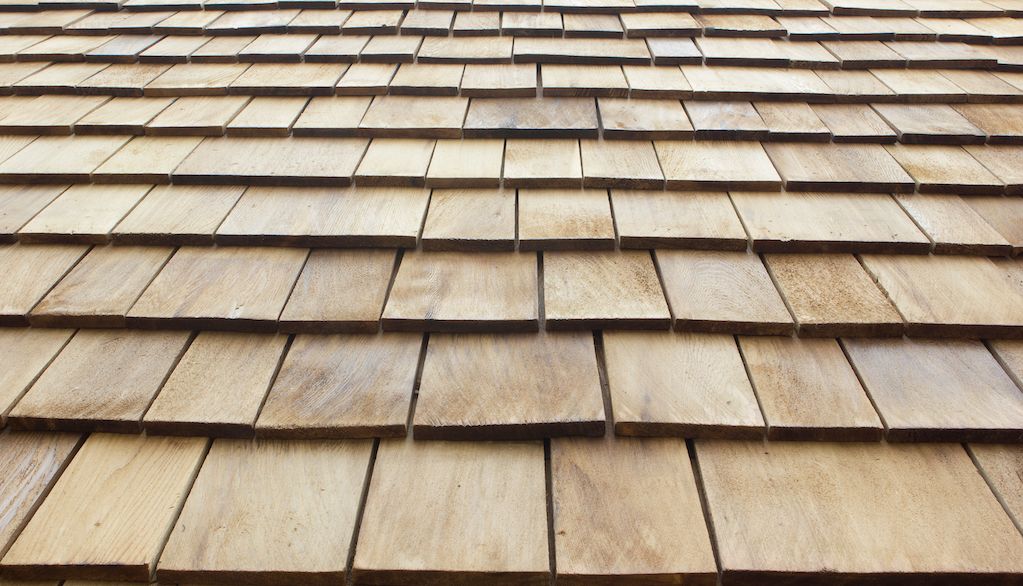 If you've always daydreamed about a classic log cabin look or a wood roof atop an elegant Victorian, wood shingles or shakes may be the answer. Wood shingles and shakes can be made from treated pine, oak or spruce but are most commonly constructed with red cedar.
Wood shingles pros and cons:
Pros

Cons

Eco-friendly
Has a lifespan of 25 years
Classic, beautiful and smooth appearance
Resistant to wind and impact
More affordable and easier to install than wood shakes

Not as durable as heavier wood shakes
More expensive than asphalt shingles
More flammable than other materials
Susceptible to mold, mildew and moss
Requires regular maintenance to combat fungus, insects, rotting and warping
Wood shingles — not to be confused with wood shakes — come with two crisply sawn edges, a thick base and a tapered end. This option is ideal for those seeking a clean, smooth, natural look but with a more organized and consistent aesthetic.
5. Wood shakes.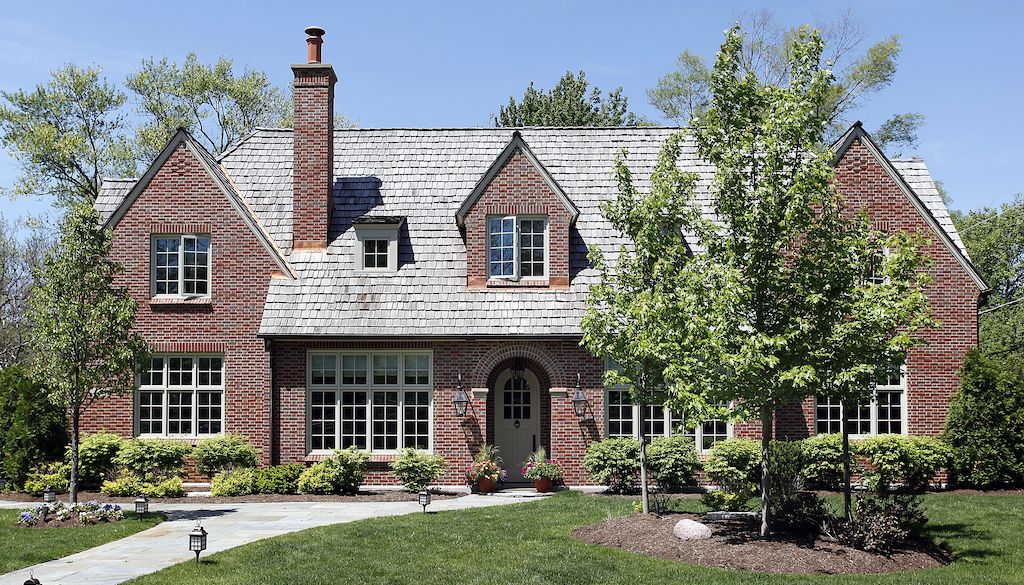 While similar to wood shingles, wood shakes provide a rustic appearance to the tops of homes. Manufacturers hand-split, leaving the wood grain to display naturally on each side of the shingle.
Wood shakes pros and cons:
Pros

Cons

Eco-friendly
Has a lifespan of 25 years
Thicker and more durable than wood shingles
Beautiful rustic, highly textured appearance
Resistant to wind, rain and other outside elements

More expensive and harder to install than wood shingles
Susceptible to mold, mildew and moss
Requires regular maintenance to combat fungus, insects, rotting and warping
Flammable and potential fire risk
Unlike traditional wood shingles, only one side of the shake includes a smoothly sawn edge and the other is hand-split. As a result, wood shakes are thicker than their counterpart, giving them a more rustic look and making them more durable. Cedar shakes are often better at protecting your home against rain, heavy winds, hail, extreme heat and more.
6. Solar shingles.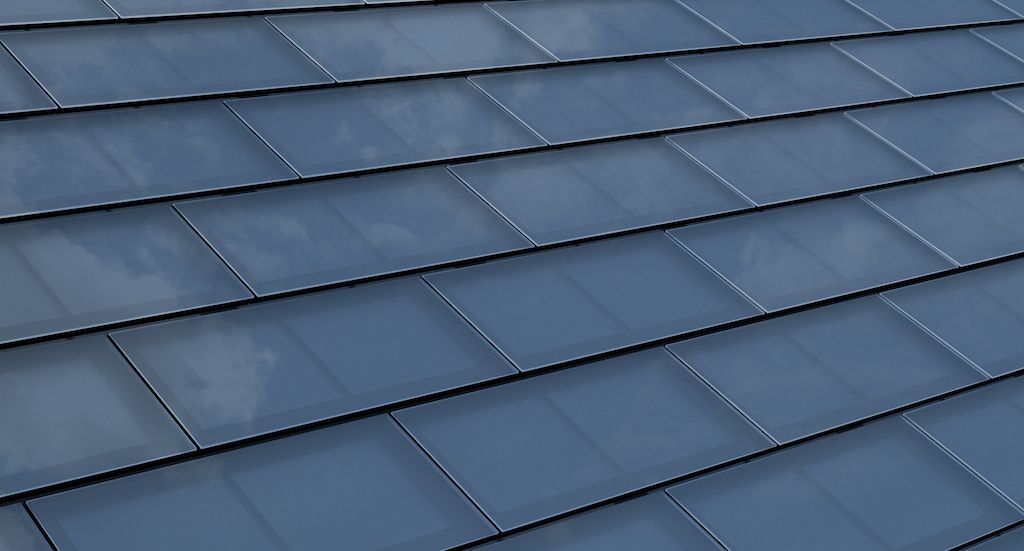 While still in their infancy compared to other shingles on our list, solar shingles offer unique technology to not only protect but also power our homes. Unlike solar panels that sit on top of your roofing materials, solar shingles are a part of your roofing material. These innovative shingles take on two roles — providing the same insulation, protection and decorative perks of roof shingles while converting energy like solar panels.
Solar shingles pros and cons:
Pros

Cons

Lightweight
Has a lifespan of 20-25 years
Energy efficient to help lower costs
Fully replace traditional roofing shingles
Relatively easy to install
Unique and sleek appearance

Costs more than traditional shingles and solar panels
Can also be costly to repair
Less efficient than solar panels
Some homeowners looking to upgrade to solar energy prefer the uniform look of solar shingles over large panels that lay on top of your roof.
7. Slate tile shingles.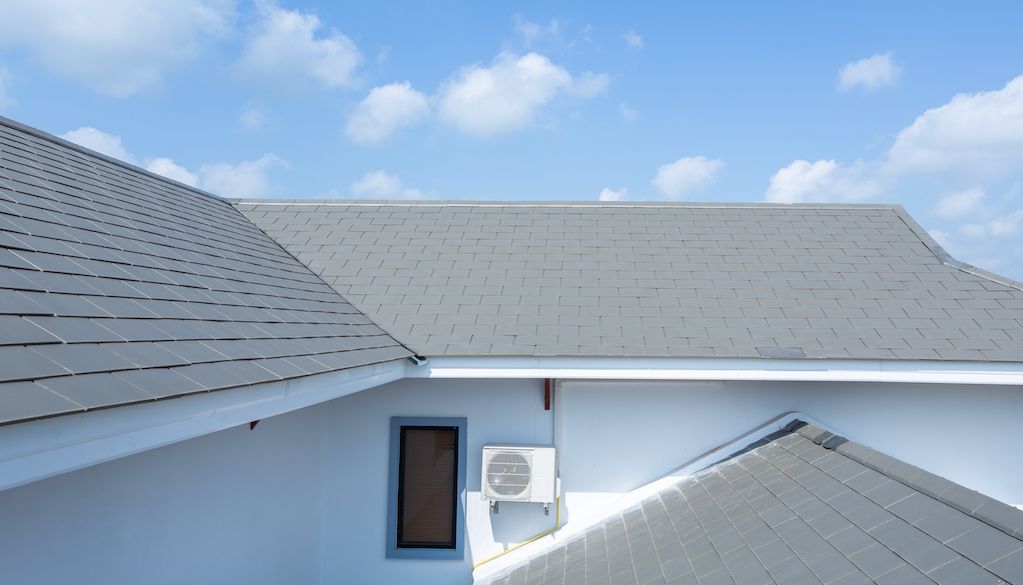 Natural slate tile shingles provide a classic, eye-catching and often historical touch to a home's architecture. It's highly durable, long-lasting, fireproof, insect-proof and water-resistant.
Slate tile shingles pros and cons:
Pros

Cons

Has a long lifespan of 60-150 years
Incredibly durable against the weather
Protects against fires, insects and water damage
Not susceptible to mold and fungus
Classic appearance and added curb appeal

High costs for both materials, installation, maintenance and repairs
Very heavy, so your home has to be structurally strong enough
Heavy objects can damage the fragile tiles
Requires a skilled, experienced professional to install
The Natural Slate Association outlines the various types of slate roofs. Architects either opt for uniform roofs of the same shape and color or choose to mix and match hues and shingle sizes for a patterned appearance. You can often find natural slate roofs that are black, gray, green, purple or red.
Related: Slate roof tile basics: pros, cons and costs.
8. EPDM rubber roof shingles.

Rubber shingles (also called EPDM rubber roofing) are a unique mixture of ethylene and propylene. While they mirror the look of other popular shingle varieties, rubber is often considered more eco-conscious, affordable and easier to install than many alternatives.
Rubber shingles pros and cons:
Pros

Cons

Easy to repair and maintain
Sustainable and energy efficient
Lightweight and easy to install
UV, wind, fire, impact and hail-resistant
Can be more cost-effective than other roofing materials
Can mimic the look of other materials like slate and wood

Shorter lifespan of 15-25 years
Not as attractive as other shingle options
Cannot be installed in wet or humid conditions
Requires a skilled and experienced roofer to install
Maintenance is also much easier — and therefore less expensive — than wood, asphalt or slate shingles.
9. Composite roof shingles.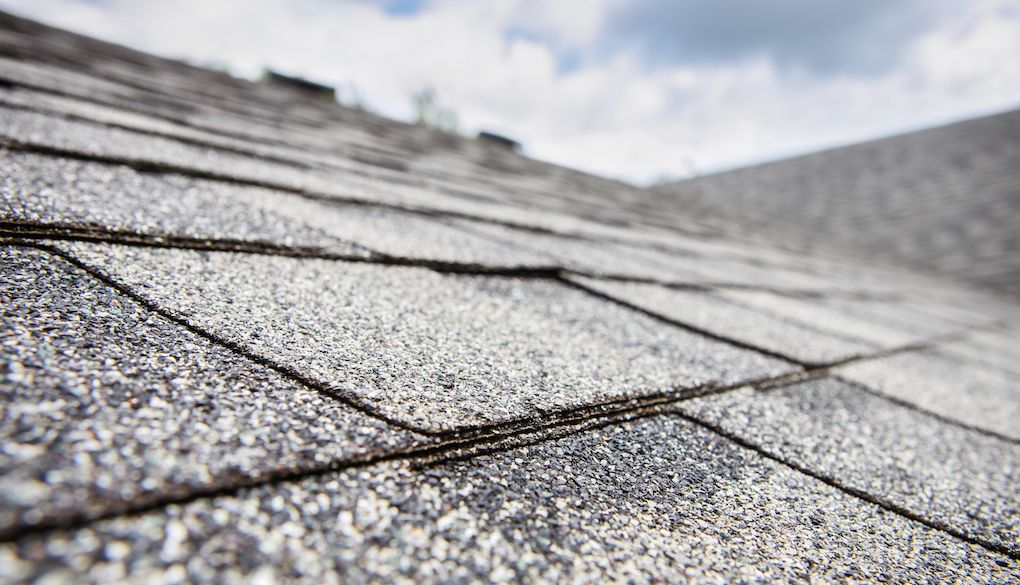 As home builders learned more about the technology behind shingles, they took more freedom to utilize the strongest materials for durable results. Composite shingles combine a unique mixture of synthetic, often recycled materials such as rubber, plastic, asphalt, fiberglass and even recycled paper.
Composite shingles pros and cons:
Pros

Cons

Lightweight yet durable
Fire and wind-resistant
Can last between 40-50 years
Often contains recycled materials
Can mimic the aesthetic of other materials

Typically cost more than traditional asphalt shingles
Do not hold up against impact as well as other varieties
Not all composites have the highest fireproof rating
Manufacturers aim to make composite roof shingles look like traditional options — such as slate, wood shake or asphalt — but without the common downsides with each material. It's a modern take on the asphalt shingle, but (depending on the manufacturer) a composite roof may be more eco-conscious, durable and long-lasting.; hHowever, composite shingles are often more expensive than asphalt shingles.
10. Concrete and clay tile roof shingles.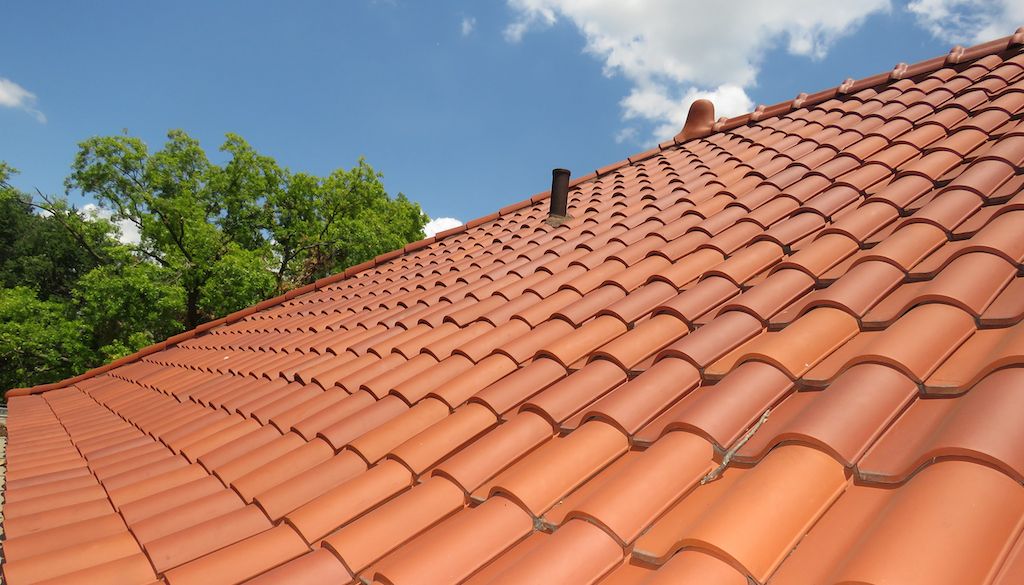 Last but certainly not least, consider installing a tile roof. While roof tiles may look similar to shingles, they are typically made of clay, concrete or ceramic — making them one of the strongest roof materials on the market. Builders have topped buildings with tiles for centuries and for good reason.
Tile shingles pros and cons:
Pros

Cons

Has a long lifespan of 100+ years
Available in many shapes, styles and colors
Can emulate wood shakes and other materials
Extremely durable and fireproof
Resistant to rot, moisture, mold and insects
Can withstand severe weather, including wet and dry conditions

Higher cost than standard shingle options
Difficult to install if not properly trained
Tiles can be brittle and damaged by impact
Not a DIY-friendly project; requires a skilled professional
Can be heavy, so your home must be strong enough to support it
Roofing tiles are highly durable against fire, wind and hail and can last over 100 years when well maintained. While you're more likely to spot the traditionally clay-toned tiles across the South and Midwest, you can find tile roofing almost anywhere.
Hire professional roofers on Thumbtack.
Still not sure which type of shingle or tile you should choose? Contact top-rated roof contractors near you to learn more about your shingle options. A professional can help you identify the best type of roofing material for your climate and environment. They can also help you navigate local permit and construction laws. Most importantly, they can give you cost estimates for various materials. The cost to upgrade or replace your roof will largely depend on its size, condition and the type of shingle or tile you choose.
Start your search for a roofer on Thumbtack today. Read reviews, browse through before-and-after pictures of similar projects and start collecting price quotes.
FAQs.
What are the longest-lasting roof shingles?
Clay and concrete roofs take the lead with over 100+ years of durability, according to the International Association of Home Inspectors. Slate comes in second place with an average of between 60-150 years. Metal shingles take third place, lasting up to 80 years.
What type of roof shingles are best?
Generally, you can consider these types of shingles the best for different reasons:
| | |
| --- | --- |
| Best for… | Roof shingle type |
| Tight budgets | Asphalt |
| Energy efficiency | Metal, solar |
| Longevity | Concrete/clay, slate, metal, composite |
| Curb appeal | Slate, metal or wood |
| Weather resistance | Metal, clay/concrete, slate |
| Fire resistance | Metal, clay/concrete, slate |

With such a wide variety of shingles to choose from, each homeowner should decide which materials work best for their budget, home design and local climate. So when narrowing down your options, consider the following questions to make the right choice for you.
What is the size of your roof?
What is the slope of your roof?
Does your area experience extreme weather?
Which shingle style matches your home's exterior design?
Is your home prone to mold, algae or pests?
How much annual upkeep would you prefer for your roof?
What is your budget for this project?
What is the most expensive roof shingle?
The most expensive type of roof shingle is typically slate shingles. Metal shingles and wood shingles can also be pricey.
Which is better: light or dark roof shingles?
The U.S. Department of Energy highly advises tailoring your shingle color to your local climate. "Cool roofs" contain light-colored shingles to reflect heat while darker shingles absorb it.
"White roofing products stay coolest in the sun, reflecting about 60%-90% of sunlight," states the DOE. "However, since about half of sunlight arrives as invisible 'near infrared' radiation, [you] can boost the solar reflectance of dark materials by using special pigments (colorants) that preferentially reflect this invisible light. Such 'cool colored' products typically reflect about 30%-60% of sunlight, staying cooler than conventionally colored products (though not as cool as white)."
What is the most popular roof shingle color?
Natural earth tones are by far the most popular roof shingle colors since they reflect the original material used in building — such as clay, slate and wood. The best color for your home depends on a few factors, including your home's style and the color of your home's facade.