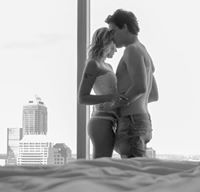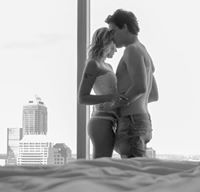 For Your Eyes Boudoir Photography
---
Sorry this pro can't do your job, but we know other pros who can.
Introduction:
There is something indescribable about the rawness of beauty in boudoir photography. The beauty that most don't get a chance to see, let alone capture. The beauty of purely being you. There's something freeing knowing you can be beautiful no matter your age, race, size....beauty isn't limited, it's captured. 13 years ago, my wife decided to have boudoir photos taken & loved the experience. I noticed how proud she was of the photos & how much they meant to her. I, of course, loved the photos. Not only because she is the most beautiful woman in the world but also because I knew that the photos meant just as much to her as they did me, maybe even more. Seeing that in my wife sparked the desire to create this experience for others. I chose the name For Your Eyes Boudoir Photography because these truly are your photos, for your eyes and whomever you decide to show them to. Most of my work, including some of my best, no one will ever see. What makes up for that, as a photographer, is the knowledge that not only will the photos empower my clients but also their experience. Building self-confidence and self-esteem, and making women feel beautiful
Featured Projects
38 photos
Reviews
Exceptional 5.0
11 reviews
---
When I booked my first shoot never did I think I would have 2 more booked within six months from one another. I have done an outdoor shoot, a hotel shoot, and a Halloween shoot and my pictures only keep getting better. I recommend For Your Eyes Only to every woman out there. He truly captures your beauty in a way that I have not seen anyone else be able to do. Ben is always 100% professional and cares about what his clients want. Not only do I love my pictures but my husband loves them as well! Its a win win. If you're looking for a gift for your significant other, this is the way to go. However, you will soon realize that it is also a gift for yourself. Once you see your pictures, you will be ready to book another shoot. I wont be going to any other boudoir photographer. :)
I did my very first Boudoir shoot it was a themed one of course Halloween my favorite holiday..I was super nervous but once I got going I was very relaxed confident very comfortable had blast my pictures turned out AMAZING exceeded my personal expectations. Plan on doing many more
I had an amazing experience getting the photos done! After the first shoot I had to come back for more. Not only did I feel completely comfortable but the pictures turned out great! Thanks!!
My experience working with ben was awesome, he made me feel comfortable, relaxed and not as nervous as I thought I would be. It was a fun experience, my pictures turned out amazing. Cant wait to shoot with him again!
At first I was nervous because I have never done a boudoir photoshoot but Ben made me feel so comfortable and it was a lot of fun! I have done two with him and plan on doing more! And the pictures turned out amazing! It's the perfect gift for any husband, boyfriend or just to make you feel good about yourself!
FAQs
How did you get started doing this type of work?

A common question I get is, "How did you become a boudoir photographer?" I can understand their curiosity. It is quite different than being a photographer that primarily specializes in weddings or senior portraits, innit? It is a story that most of my clients have heard, so I thought I would share it here... Eight years ago, after losing weight gained from the pregnancy of our second child, my wife decided she wanted to "document her beauty." She was very proud of herself for working hard to bring her body to an even lighter weight than before she became pregnant. And being a woman in her early 30's at the time, I think she was also comfortable with her body more than she ever had been, even if she was now a mother of two. She loved the experience, and was very proud of the photos, so much in fact, that she showed family and friends, even though she is pretty modest. I loved the photos, of course, not just because she is the most beautiful woman in the world, but because I knew that the photos meant just as much to her as they did me, maybe even more. (The above photo is a body shot from her photoshoot) A lightbulb went off... "My modest wife had sexy photos taken of herself, loved it, showed off her photos, and said she would do it again in a heartbeat. There has to be a market for this," I thought. And there definitely was. You see, boudoir photographer wasn't as popular back then. There weren't as many professional photographers shooting boudoir back then. There were, of course, "guys with cameras" shooting sexy photos of women, but they lacked as much in quality as they did professionalism. I knew I could be different. I knew I could be professional. I knew I could be creative. I knew that I could take good photos, I'd had been taking photos since I was a kid (on 35mm, of course). What I didn't know, was how to pronounce boudoir, let alone spell it.