Cost to paint kitchen cabinets in 2023.
The national average cost to paint kitchen cabinets ranges from $890-$1,500, depending on many factors. Most homeowners pay around $1,200, but costs can reach as high as $3,444-$4,000. Paint quality, cabinet design and size and the painting method all affect the total cost of the project.
Read the video transcript.
Kitchen cabinet painting costs:
| | |
| --- | --- |
| National average cost | $1,200 |
| Average cost range | $890-$1,500 |
| Low-end cost | $73-$120 |
| High-end cost | $3,444-$4,000 |
Repainting kitchen cabinets may seem like a fit-for-DIY job, but it's a tricky, time-consuming project. Cabinets in rough shape usually require a primer and a few coats of paint, and hours (and material costs) can quickly add up. We'll break down what impacts the cost of painting kitchen cabinets so you can put together a budget for your project.
Compare prices from cabinet painters near you.
What's in this cost guide?
Terry Gardner, the owner of Southern Cal Colors in Gardena, California, says it costs about $900 to repaint cabinets in a small to medium-size kitchen. He says that, in some cases, it takes more time to prepare a client's existing kitchen cabinets to be painted than to actually do the cabinet painting.
Preparation may include cleaning, sanding, patching and minor repairs — all of which add to the overall cost. Gardner also applies a primer coat to all surfaces to be painted. He also recommends that cabinets get at least two coats of paint after the primer, especially when using water-based (acrylic or latex) paint.
Search local cabinet painters and check prices.
Hiring a professional to paint your kitchen cabinet will cost anywhere from around $45-$55 per hour. However, some cabinet painters may set their prices based on the total linear feet or square footage of cabinets that need to be painted.
Chris Botta, owner of Affordable Cabinet Refinishing in Phoenix, Arizona, charges $38 per linear foot of cabinetry for spray painting cabinets.
Spray painting involves painting a client's cabinets in place rather than removing all hardware, cabinet doors and drawer faces. Southern Cal Colors owner Gardner sprays in place, too (when he can). However, it's sometimes necessary to remove some doors and drawer faces to apply primer and paint, especially in smaller kitchens with less room to maneuver.
Removing and painting cabinet doors costs on average $2,000-$8,000 nationwide, depending on the size of the kitchen, the amount of detail work and the paint quality. If spraying in place is not an option, the professional painter will likely use a combination of a paint sprayer and a roller and will brush the cabinet boxes, removing doors and drawer faces and spraying them outdoors or in another space, such as a garage.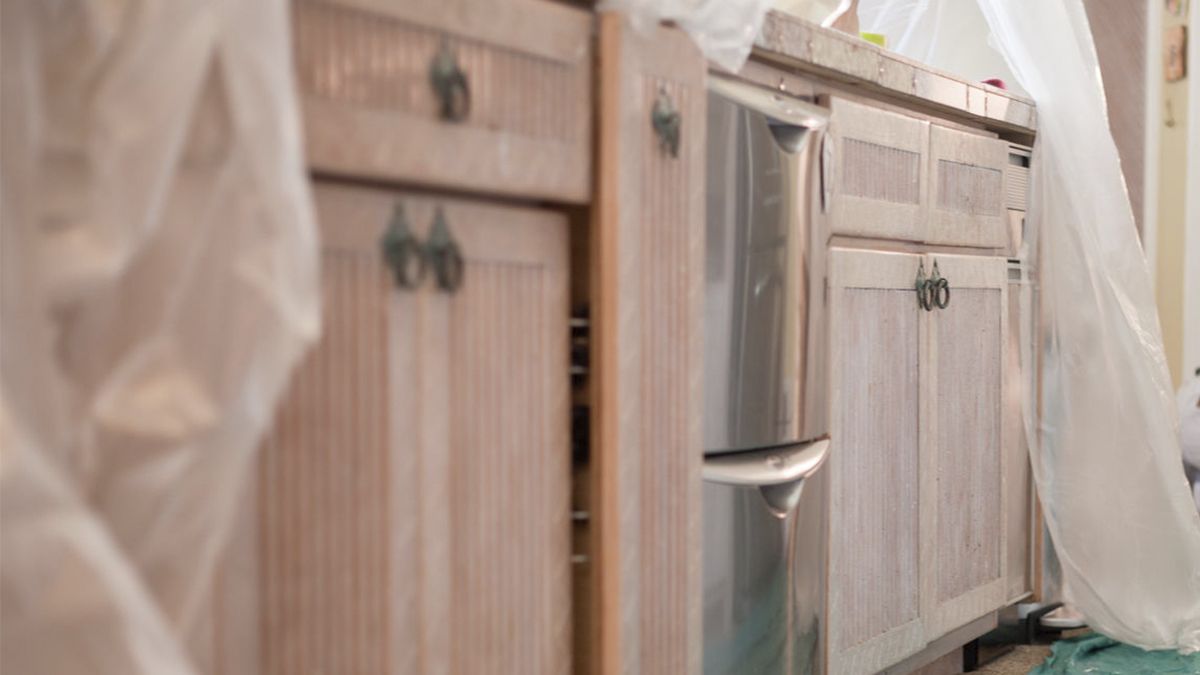 Using higher-quality paint (or just a more expensive brand) for your painting project can add a few hundred dollars to the total cost. It's a good idea to consult with a professional painter about the wear and tear the kitchen cabinets will need to withstand before deciding on a higher-end paint. Most pros can then advise accordingly on the best finish and quality of paint.
Find the best cabinet painter in your neighborhood.
Painters will often keep two factors in mind when estimating the cost of painting your kitchen cabinets: the size of your kitchen and the layout of your cabinets.
Kitchen size
The square footage of the kitchen generally dictates the number of linear feet of cabinets that need to be painted. Some professional painters charge by the linear foot — anywhere from $30-$60 — while others charge per cabinet box, door, drawer face, etc.
Your kitchen's size also affects material costs. The bigger the kitchen, the more paint you'll have to purchase and the more drop cloths you'll need to cover the space. A bigger kitchen with more cabinets may also drive up your labor costs.
Cabinet layout
Your kitchen and cabinet layout may add complexity to a paint job. Tight angles, cabinets installed in corners that have double-hinged doors and other constricted spaces can make it difficult for painters to paint cabinet doors or drawer faces without knocking against other surfaces. Some professional painters will charge extra in labor costs for tricky or tight layouts if they have to remove doors to paint them in another location and reattach them later.
How to hire a painter
Check the painter's experience: Painting cabinets requires keen attention to detail, as well as experience removing cabinet doors or drawers without damaging the cabinet itself. For more tips on smart hiring, check out our safety page.
Ask about time: Ask potential painters to estimate how long the project will take so you have a good idea of what you're up for before you dive into the project. You may have to relocate furniture and other items ahead of time.
Ask about equipment: Ask if the pro is comfortable purchasing paint and other materials on their own, or if you're required to pick up some of those tasks.
Get free estimates from top-rated cabinet painters.
Is it cheaper to replace or paint cabinets?
Painting kitchen cabinets is almost always cheaper than completing replacing your cabinets.
Is it worth it to paint kitchen cabinets?
Painting your kitchen cabinets offers several benefits. The first one: it can help increase your home's value. If you plan to sell your home in the future but your cabinets are chipped, worn out and have an unattractive color, repainting them is a great way to make them look like new while attracting potential buyers.
The second benefit: it's cheaper than replacing cabinets. You'll save money by repainting your cabinets instead of removing them, choosing a different material, building custom cabinets, replacing the doors and knobs, and more.
How long will painted cabinets last?
Kitchen cabinets can last up to 50 years, but you'll likely need to add a fresh coat of paint. Depending on the type of paint you use, how well you maintain your cabinets, wear and tear, and the overall quality of the paint job, you may need to repaint your kitchen cabinets every couple of years.
What is the best color to paint cabinets in kitchen?
A 2018 Zillow analysis found that white or light colored upper cabinets with dark navy or black lower cabinets (aka "tuxedo cabinets") sell for a $1,547 premium.
Other popular kitchen cabinet paint colors include varying shades of white, eggshell, grey, blue, yellow, orange and natural wood colors.
See which cabinet painters are top-rated in your area.
Video transcript: How much does it cost to paint kitchen cabinets?
"For an average kitchen cabinet, I will say it's around the $2,300 to $2,500. It depends on the detail in the process. Some things that can impact the price of painting your cabinets will be the condition of your cabinets, how much prep they need, the kind of products that we will use and, of course, the size.
When I'm creating an estimate, I consider the detail that they want so that will tell me how much labor. So, we're going to charge for labor ... type of paint that we would use, what kind of quality so that will give me a price as well.
A job usually will take around four or five days, two or three guys and they work eight hours a day.
I always do estimates in person. I don't like to give prices by pictures because I like to talk to the customer and see exactly what they want -- because everybody's different and everybody is looking for something different -- so I can give them a fair price for what they want."
Resources: National Home Improvement Estimator, National Construction Estimator.