How much does a salt water pool cost?
A saltwater pool costs between $25,000 and $80,000 to build. Converting an existing pool to a salt water pool costs between $800 and $2,000. For the most part, you'll spend the same amount for a salt water pool as on a conventional freshwater pool, although long-term maintenance costs will differ. Your pool builders will still need to excavate the pool site and install the system and the deck, and you'll need a pool shell or concrete basin and other standard pool features.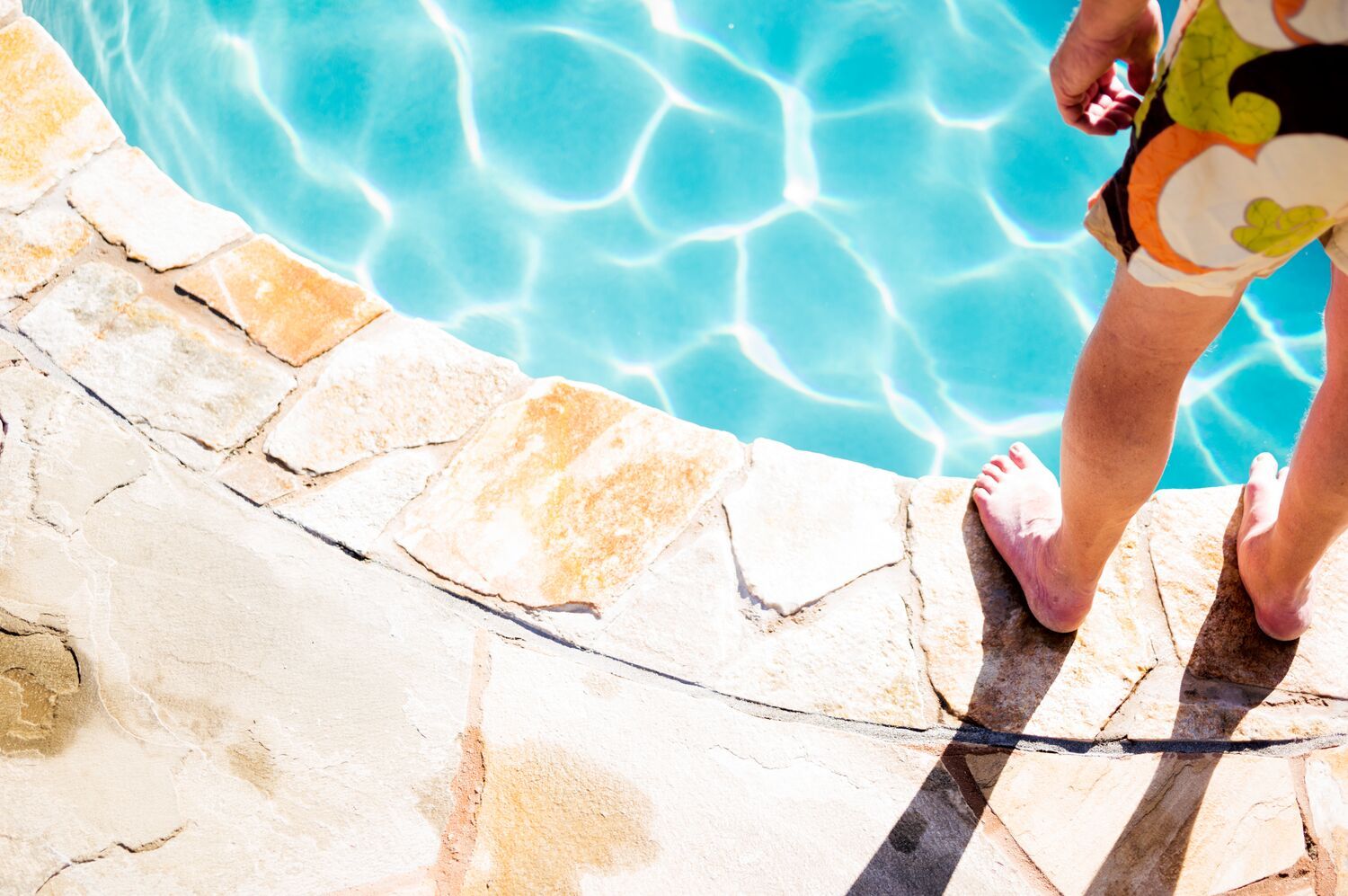 What makes a salt water pool different?
The main difference, construction-wise, between a salt water pool and a traditional pool is the salt water chlorinator, or a chlorine generator. These machines let homeowners ditch the chemicals — for the most part — by dissolving salt into hypochlorous acid, a form of chlorine, to keep the chlorine levels even. A salt water chlorinator can convert an existing pool to a salt water pool, or will be installed as part of a whole-pool installation. Expect to spend between $800 and $2,000 for installation, including parts and labor.
Does this mean your water will be super salty? No. If you're worried swimming in a salt water pool might mimic the feel of floating in the ocean, you're wrong — your pool water will be significantly less salty. Our "salt threshold," or the level at which water starts tasting salty, is about 3,500 parts per million. The ocean has about 35,000 ppm of salt, but your average salt water pool stays between 2,700 and 3,900 ppm — that's just barely salinated, comparatively.
Should I install an in-ground or above-ground pool?
Just like a chlorine pool, a salt water pool can be either in-ground or above-ground — and if you choose the above-ground option, you can save some serious cash. These are often sold as kits, and handy homeowners can do most of the installation themselves. Expect to pay between $1,500 and $3,500 for an above-ground kit. That price typically includes all the materials you need, as well as a liner, a pump and a ladder.
There may be some additional costs for your above-ground salt water pool — like, of course, the salt water chlorinator. You can learn more about potential above-ground pool expenses here.
Factors that can affect in-ground salt water pool costs
Location
A number of factors can affect the cost of your pool. One of the biggest factors is location: contractors may charge more or less depending on where you live. It also may be easier to find a skilled (and available) contractor if you live in a warm-weather state where pools are common, like Arizona or Florida.
Ground preparation
Preparing the ground to install a pool can add up to $20,000 to a project. If your ground is already level, you'll have a cost advantage. If your pool contractor needs to grade the ground, remove any trees, build a retaining wall or deal with an existing septic tank, these costs can quickly add up.
See which pool builders are top-rated in your area.
Heating
Will your pool water rely on good ol' sunlight to stay warm, or will you want a heater? There are several different types of pool heaters, but electric, gas and solar heaters are the most common types. For installation, expect to spend between $300 and $4,000 and yearly utility costs could be anywhere from $70-$1,845, depending on where you live, the temperature in which you like swimming and whether you use a cover.
Construction material
In-ground pools come in a wide variety of materials — most commonly, fiberglass, vinyl and concrete (also called "gunite," which actually refers to the way the concrete is applied).
Fiberglass pools typically come as a shell, which can cost anywhere between $9,000 and $24,000, depending on the size and shape of your new pool. Gunite pools can be significantly more expensive — expect your project to start at about $50,000. And vinyl is a cheap alternative, and can be DIY'ed for less than $20,000. However, pool owners should keep in mind vinyl models can be easily damaged and may need replacing, and regular pool maintenance is needed.
Will I need a deck or patio?
You probably will want to install a deck or patio around your new pool to keep the area safe. You can choose from a variety of materials, like stone, brick, concrete and wood — but keep in mind more elaborate decks will cost more. Expect to spend between $10 and $25 per square foot on your pool deck based on a national average.
Sources: Department of Energy, Swim University, River Pools