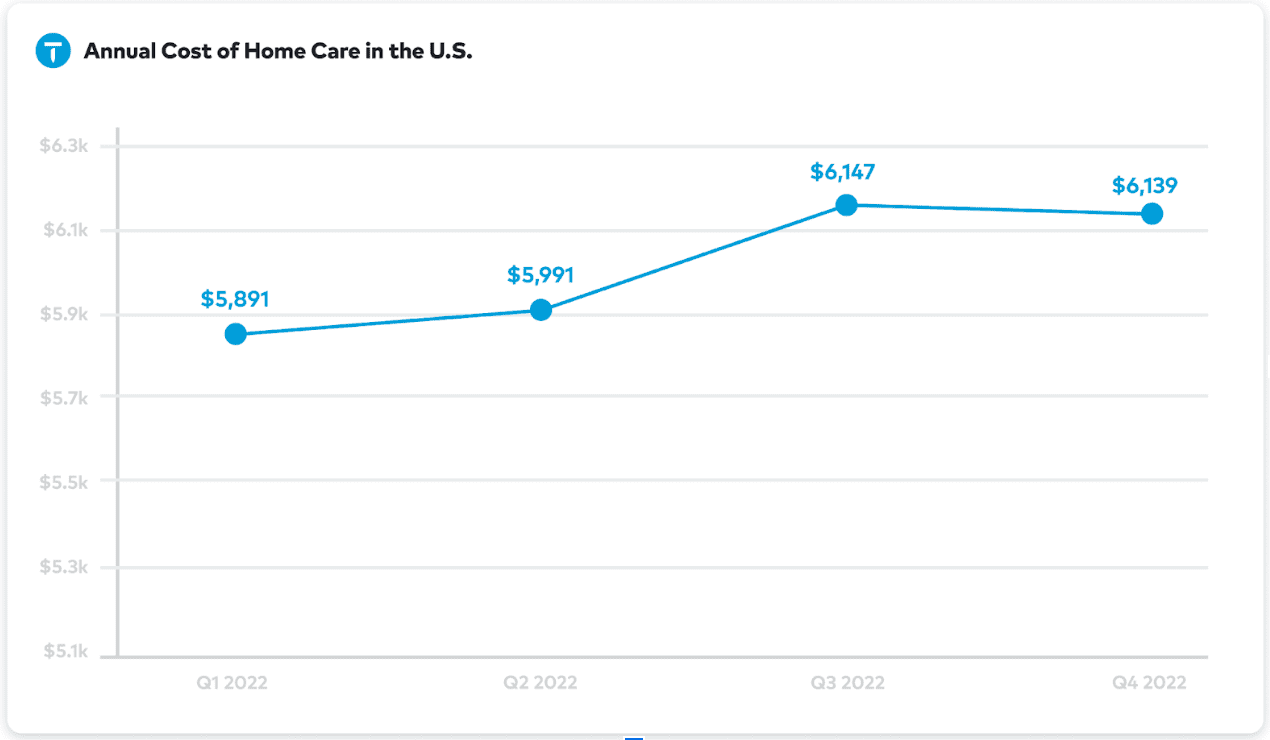 Meanwhile, the average cost to maintain a townhome and condo has increased at an annualized rate of 3.1% and 2.6% respectively. Not including HOA fees, the cost to maintain a townhome is now $2,139 ($65 more than the same time last year) and $738 for a condo or apartment (up just $18 from the same time last year).

Our Home Care Price Index takes into account various projects** homeowners need to tackle each year — including HVAC maintenance, gutter cleaning, roof maintenance, and more — to prevent costly repairs and help avoid unnecessary emergencies. This quarter, the category driving inflation most is fireplace and chimney cleaning or repairs, up 28.4% year-over-year, followed by an increase in cost for central air conditioning repairs and maintenance (up 14.3% year-over-year).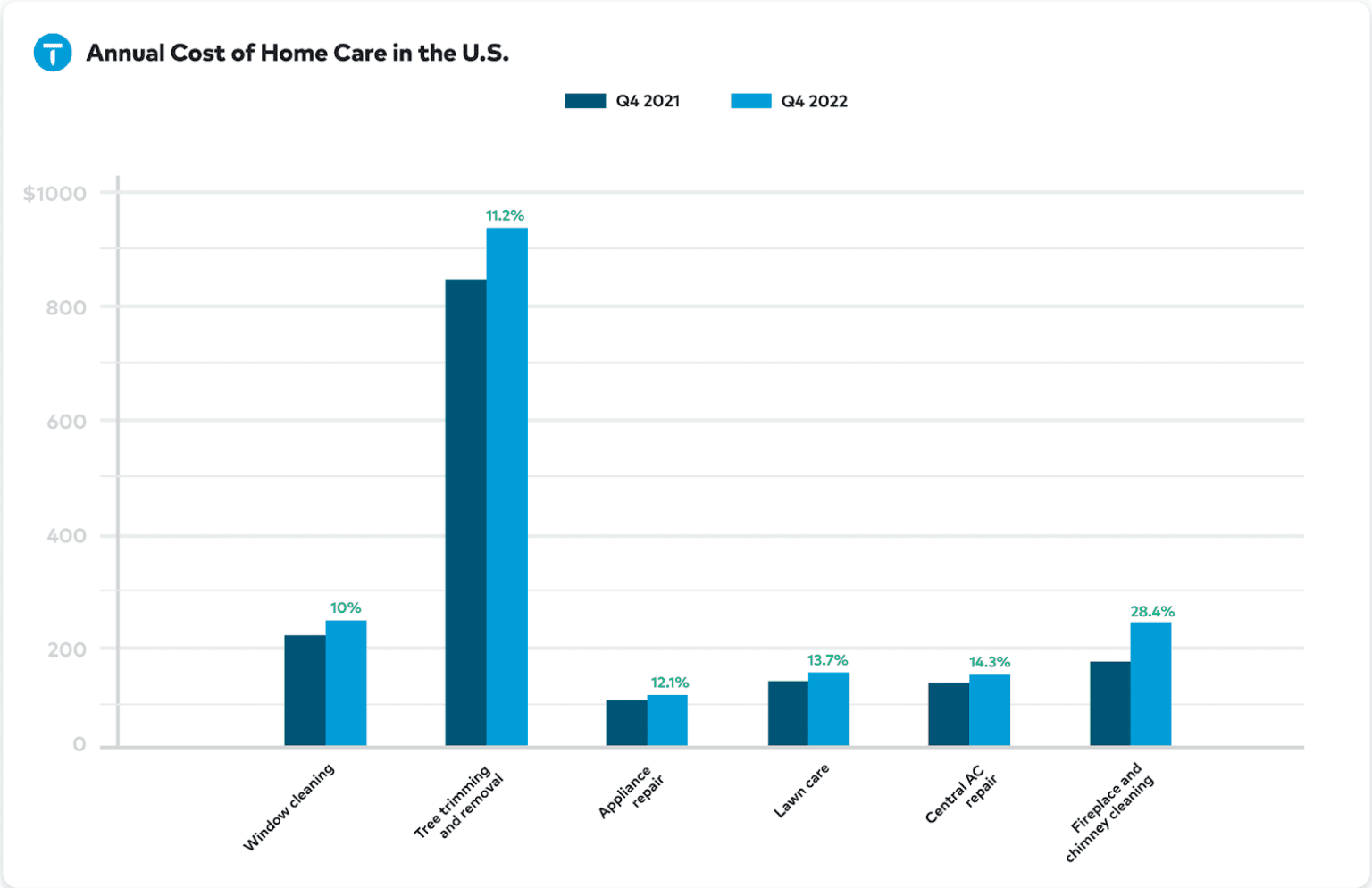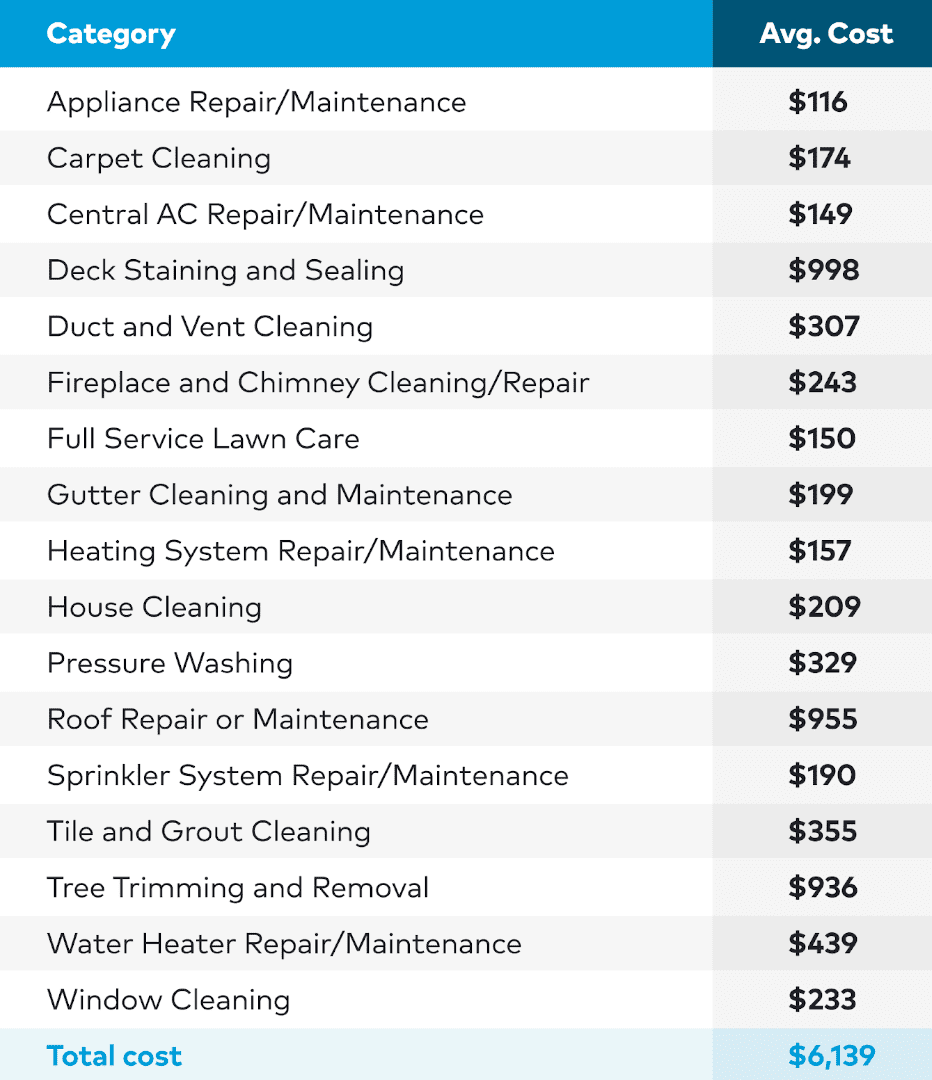 Regional Inflation Trends
This past quarter, we saw a decent amount of variation around inflation's impact on home maintenance costs across the country. In Q4, 15 of the top 40 metropolitan areas saw the cost of home care decrease compared to the same time last year, with 9 metro areas seeing double-digit drops in the average cost of home maintenance.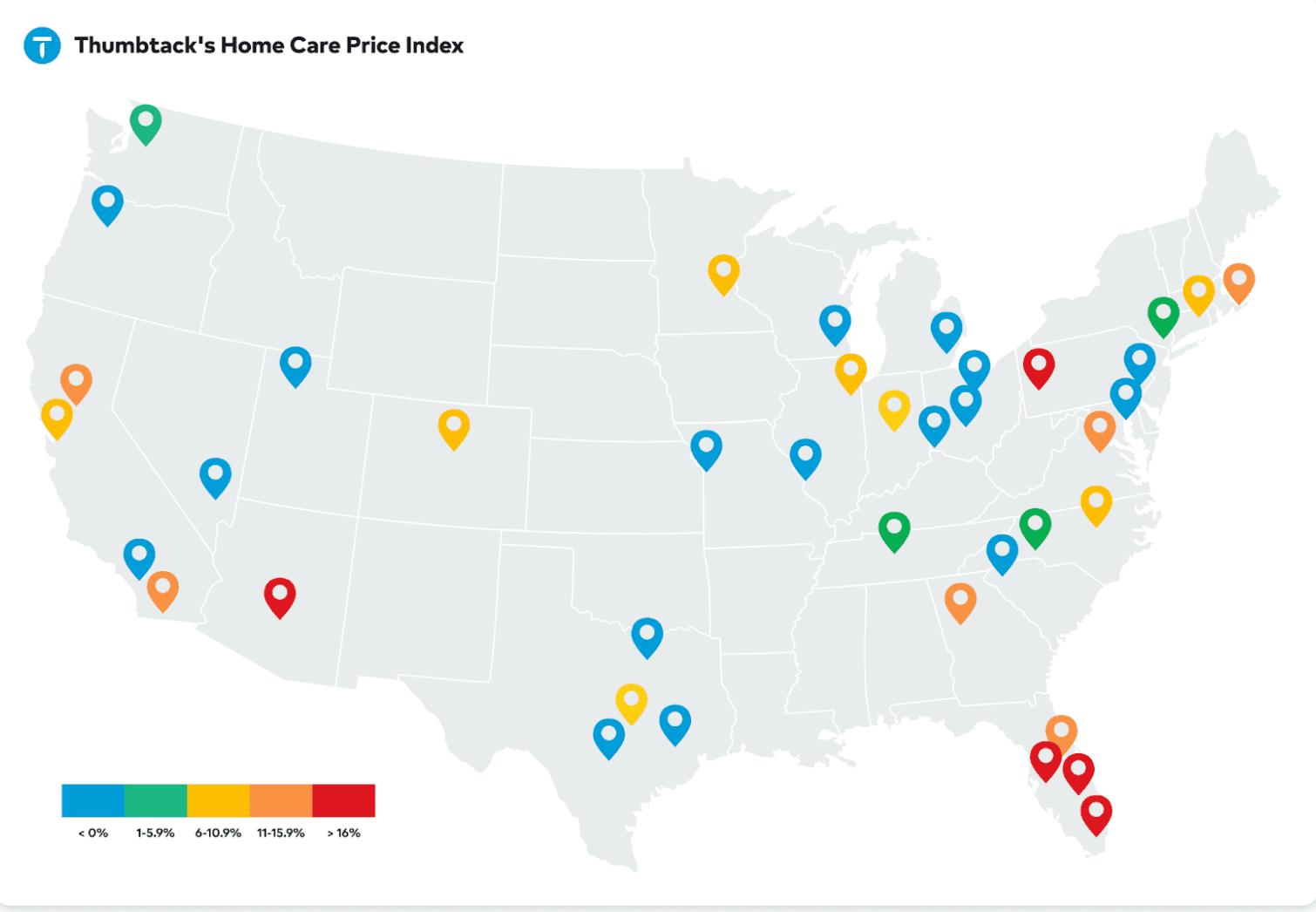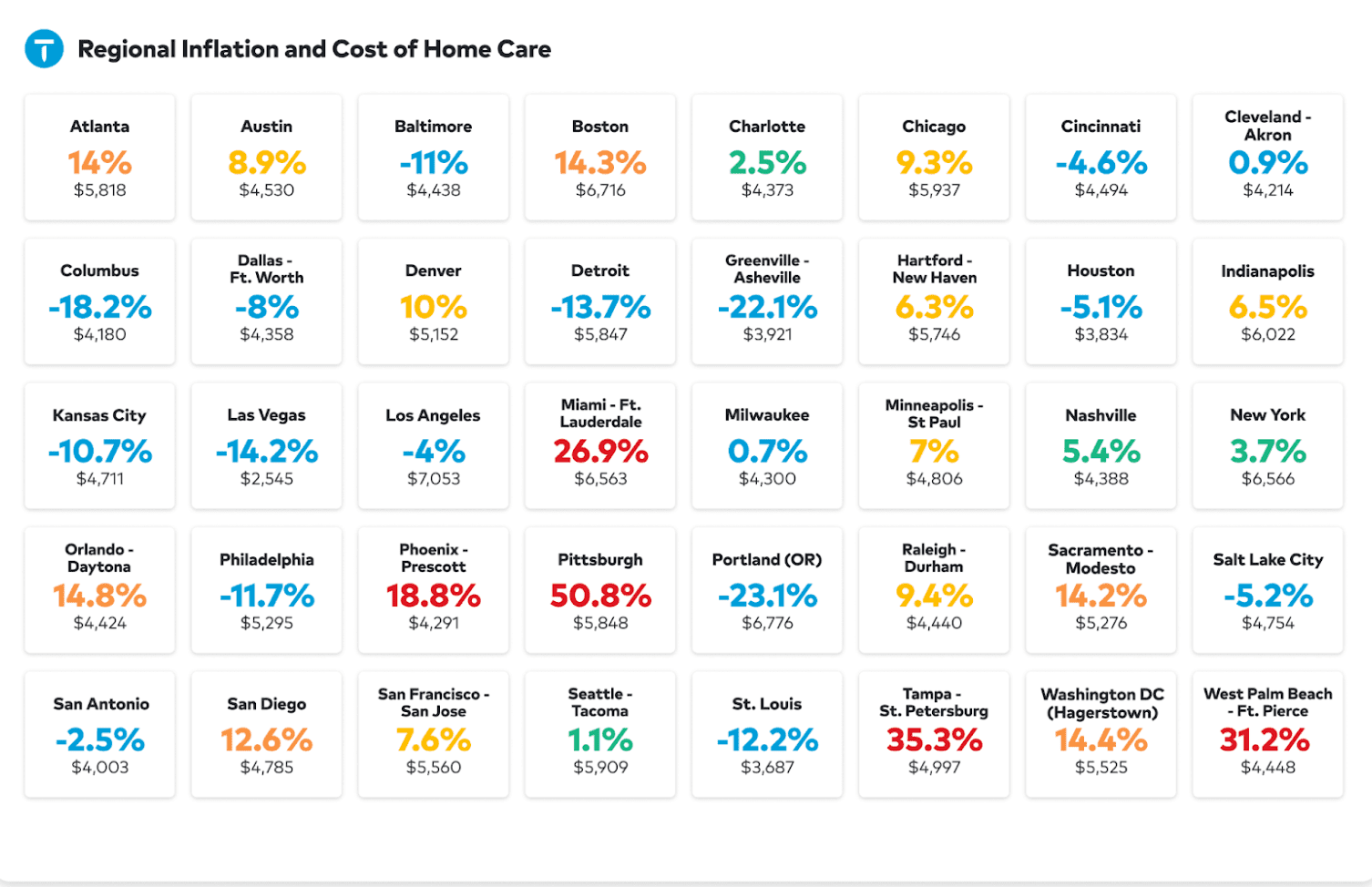 Portland, OR experienced the biggest decrease in home maintenance prices, dropping 23.1% from the previous year. The Greenville-Spartanburg-Asheville-Anderson metro area saw a 22.1% decrease from the previous year, alongside double-digit drops in price in Columbus, OH (-18.2%), Las Vegas, NV (-14.2%) and Detroit, MI (-13.7%).
At the same time, other areas of the country experienced increases in the cost of home care, with Pittsburgh, PA experiencing the biggest rise in home maintenance prices, at a whopping 50.8% increase year-over-year. The Sunshine State also saw a rise in home maintenance costs, with Tampa-St.Petersburg (35.3%), West Palm Beach (31.2%) and Miami-Fort Lauderdale (26.9%) all experiencing a notable increase in home maintenance prices from Q4 of 2021.
Here are the most and least affordable cities for home care across the country:

What to Expect in the Coming Months
As we enter 2023, there is still a large amount of uncertainty in the broader economy. Broad-based price increases appear to be slowing after significant increases in the Federal Reserve's Target Funds Rate over the last year, aimed to combat historic inflation. At the same time, the labor market remains strong, with the unemployment rate sitting at pre-pandemic lows, despite large-scale layoffs in a few industries.
However, inflation remains higher than long-term averages, which, in conjunction with the tight labor market, means the Federal Reserve will likely take continued action to reduce inflation over the coming quarters. While persistent inflation will continue to put upward pressure on the cost of maintaining a home, higher interest rates will likely soften the demand for home purchases, which will eventually lead to downward pressure on the price of home projects. With home inventory still relatively low and mortgage rates fairly high, it's become a tougher market for people looking to sell their homes. In the near future, we may see people staying in their houses longer and focusing on improving, maintaining and renovating their current space.
For guidance on what projects to do, when to do them, and who to hire, download the Thumbtack app (available on iOS and Android) and you'll get a free seasonal home care plan personalized to your exact location and home type.
*Methodology: The Home Care Price Index incorporates Thumbtack categories that are deemed essential annual tasks for home maintenance — Appliance Maintenance, Carpet Cleaning, Central Air Conditioning Maintenance, Deck Staining and Sealing, Duct and Vent Cleaning, Fireplace and Chimney Cleaning, Full Service Lawn Care, Gutter Cleaning and Maintenance, Heating System Maintenance, House Cleaning, Pressure Washing, Roof Maintenance, Sprinkler and Irrigation System Maintenance, Tile and Grout Cleaning, Tree Trimming and Removal, Water Heater Maintenance, and Window Cleaning.
**Pricing data is based on projects requested on Thumbtack reported directly by the independent service professional or individual customer. The cost is an unweighted index of home maintenance projects on a quarterly basis using a moving average.