1. Make sure your kitchen appliances are working correctly.
Avoid a fiasco in the kitchen by inspecting your kitchen appliances to make sure they aren't broken. There's nothing worse than spending hours prepping your turkey, stuffing, vegetables and pumpkin pie only to discover your oven isn't heating up.
For each of the following kitchen appliances, ask yourself these questions:
Oven: Is it heating up all the way? Are you able to close the door? Is it still able to self-clean?
Stovetop: Is the gas burner lighting up? Are you able to turn the knobs? Does the timer work?
Microwave: Are the control panel switches working? Is it making weird, loud noises? Is it taking longer to heat up your food?
Dishwasher: Were the dishes hot after your last cycle? Do you notice any water leaking? Is it draining the water?
Refrigerator: Does the back of the fridge feel hot? Do you notice any extra condensation or frost?
Freezer: Has any of your food spoiled earlier than you expected? Is there extra ice and frost build-up?
Depending on how you answered these questions, you might need to contact an appliance repair specialist near you to identify the root of the problem and fix it as soon as possible. They might be able to repair or clean your appliance. Or, if it's beyond repair, the pro might recommend that you replace it with a newer, higher-quality model.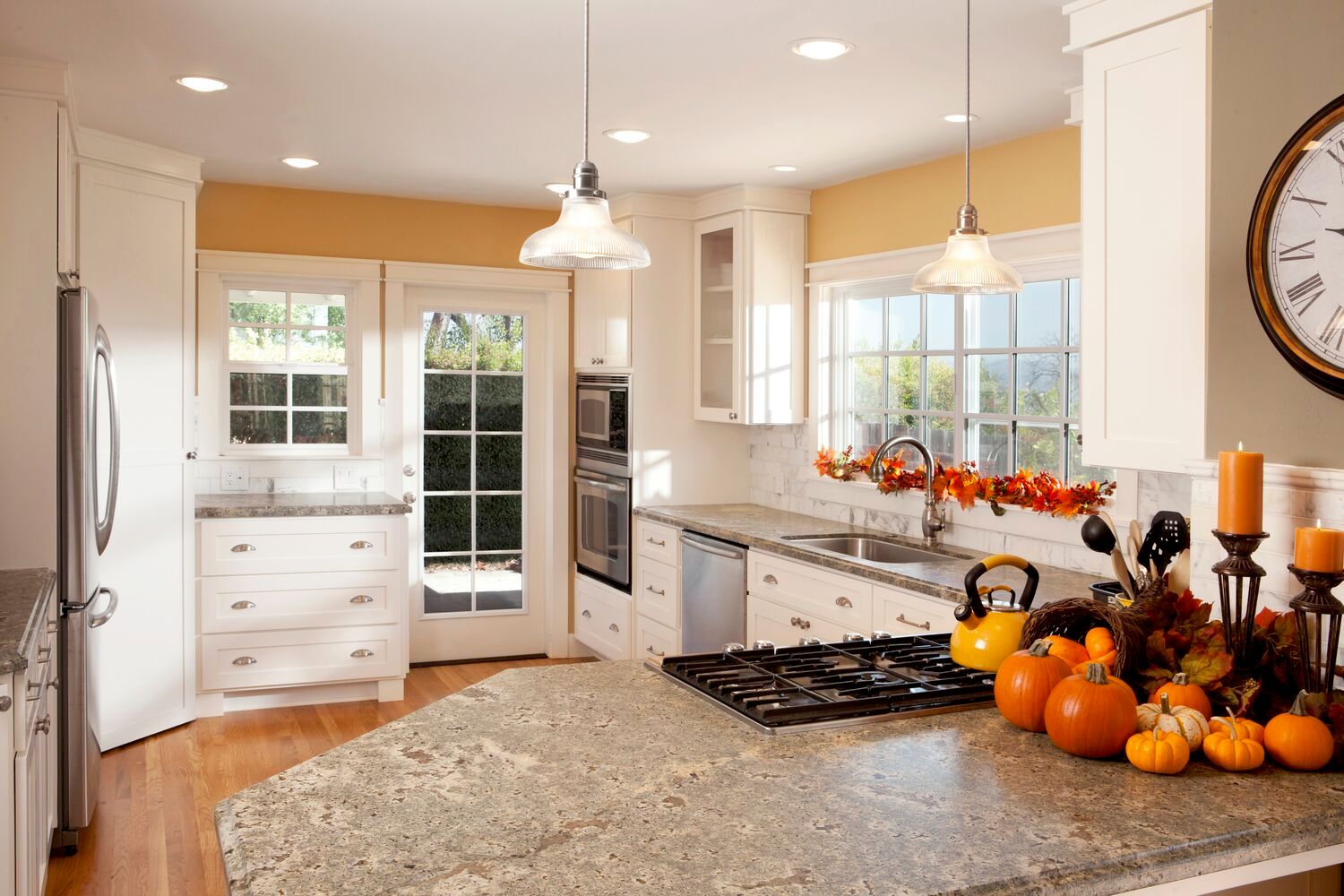 2. Replace your old, outdated kitchen appliances.
Perhaps you planned to wait until the winter holidays to treat yourself to a new mixer or double-oven. But let's be real — being able to use those wish-list items to prepare your Thanksgiving feast would probably make the process easier and more enjoyable.
For example, if you have a single oven and you're cooking a multi-course meal, a double-oven could be a lifesaver. While a ham or turkey is slowly baking at a relatively low temperature, you can toss some roasted veggies or another high-temp dish in your second oven. You also don't have to worry about timing that pie just right, or dribbling juice on it while basting your bird.
Inspect your kitchen appliances, and take note of anything that isn't working correctly, rusting or you just don't like anymore. Find out how long you've had the appliance, and check to see what's covered in your warranty (if you have one). If you have the budget to upgrade your appliances and install new ones, consider doing it.
As with any major kitchen appliance, it's better to be safe and have a professional install it instead of DIY-ing it.
3. Hire a handy person to fix everything you've put off.
You've probably spent more time at home this year than ever before. And somehow, your "I'll get around to it" list has grown. This list may include leveling that one cabinet so the door shuts properly, fixing a dripping faucet or finishing a paint job.
If you don't have the time or the energy (and who can blame you?) to tackle those tasks yourself, hire a pro to come in and take care of all the little things your home needs before the holiday. For example, you could have a handy person take care of:
Plumbing issues, such as toilets that don't properly flush or minor leaks under the sink.
Jagged or otherwise protruding wires, boards, insulation or other things that could snag a favorite shirt or be grabbed by a curious, young hand.
Re-grouting tile in the kitchen, bathroom or shower area. This makes the bathroom look great and keeps it comfortable for bare feet.
4. Get your home professionally cleaned.
Sure, you can clean your home yourself. But you may want to conserve your energy for marathon cooking sessions and 72 hours of nonstop entertainment and family time. When you have house cleaners come in and do a detailed Thanksgiving cleaning of your home, you get the relaxation you need before diving into one of the busiest weekends of your year.
To get the most out of the cleaning, specify certain elements of your home that you may not always get the chance to address. This may include:
Curtains and drapes. These are notorious for trapping dust and other allergens that wreak havoc on guests with allergies.
Underneath and behind hard-to-reach areas. Whether it's the space behind the cabinets' toe kick or that little space behind your entertainment center, having a pro take care of the more elusive cleaning areas can be a relief.
Prepping rooms for your guests' arrival. If you decide to have guests stay in your home, consider hiring a pro to deep clean your guest rooms. And if you really want to provide 5-star hospitality, place flowers, chocolates or decorative pillows to make your guests feel a little extra special when they see their rooms.
5. Upgrade your entertainment area.
For many families, Thanksgiving weekend is one big entertainment oasis. Whether it's watching football games or movies, upgrading your entertainment area — e.g., your living room, family room, loft or outdoor area — can be the cherry on top you need to truly relax and enjoy the holiday.
Consider completing one of the following projects before Thanksgiving:
Mount a flat-screen TV. If you've been dreaming of watching the big game on a new, bright, flat-screen TV, find a TV mounting pro who can mount it at a reasonable price.
Install a new home theater system. If your TV is a little dated or your audio system is underwhelming, a new entertainment center may be in order. With a new system, you can enjoy an immersive, crisp viewing and listening experience.
Install new lighting. Is your entertainment area the place where you and your household play games, talk or watch TV? Improve the ambiance in this space by installing a new lighting system. For example, consider installing dimmable, recessed, track or valance lighting.
Look for pros in your area to help you optimize your entertainment area just in time for the holiday.
6. Have your HVAC system serviced.
Whether or not your city is expecting to experience warm or cold weather on Thanksgiving, make sure there's nothing wrong with your HVAC system beforehand.
It's often recommended that you get your HVAC serviced at least once a year. If you haven't done so yet, schedule an appointment with an HVAC technician so you can ensure your home is cool (or warm) enough during the Thanksgiving holiday.
Here are some signs you might need to hurry and enlist a pro to fix your HVAC:
Your circuit breaker keeps tripping.
Your thermostat is broken.
The ground beneath the AC unit is sinking.
For more tips, read our HVAC troubleshooting checklist.
7. Conduct a home safety inspection.
We get it — when you have a busy schedule packed with one responsibility after another, it can be easy to overlook some key safety items. But it's important to identify potential hazards in your home and hire a professional to help you address any concerns you might have before Thanksgiving.
For example, you should check:
Electrical outlets. If you notice broken outlets in your home, get them fixed immediately to eliminate any potential shock or fire hazards.
Fire alarms. When you're cooking up a storm on Thanksgiving, you want your fire alarms working. Make sure the batteries are fresh and functioning well. If you're not sure how old a battery is, grab a replacement just in case. This can prevent an irritating, repetitive beeping throughout the weekend. If any have been taken down, now is the time to reinstall them and remedy whatever issue they had.
Remove snow and ice from driveways, walkways and porches. If the temperature in your area dips below freezing, your driveway, walkway or porch may collect snow and slippery ice — which could be dangerous for a guest or an excited family member running out to meet them. Consider hiring a pro to clear your pathways before the holiday.
8. Clean up your lawn and yard.
Mowing your lawn, raking the leaves, trimming your hedges — all of this takes time and immense effort. And, sometimes, the results are often less-than-ideal.
Having a professional come in to clean up your yard and mow your lawn can be well worth the cost. This is especially true if you have children who will insist on going outside to play while they wait for dinner to be ready. Or, if you simply want to impress your loved ones when they visit.
Find a landscaping or lawn care pro who can help you do the following before Thanksgiving: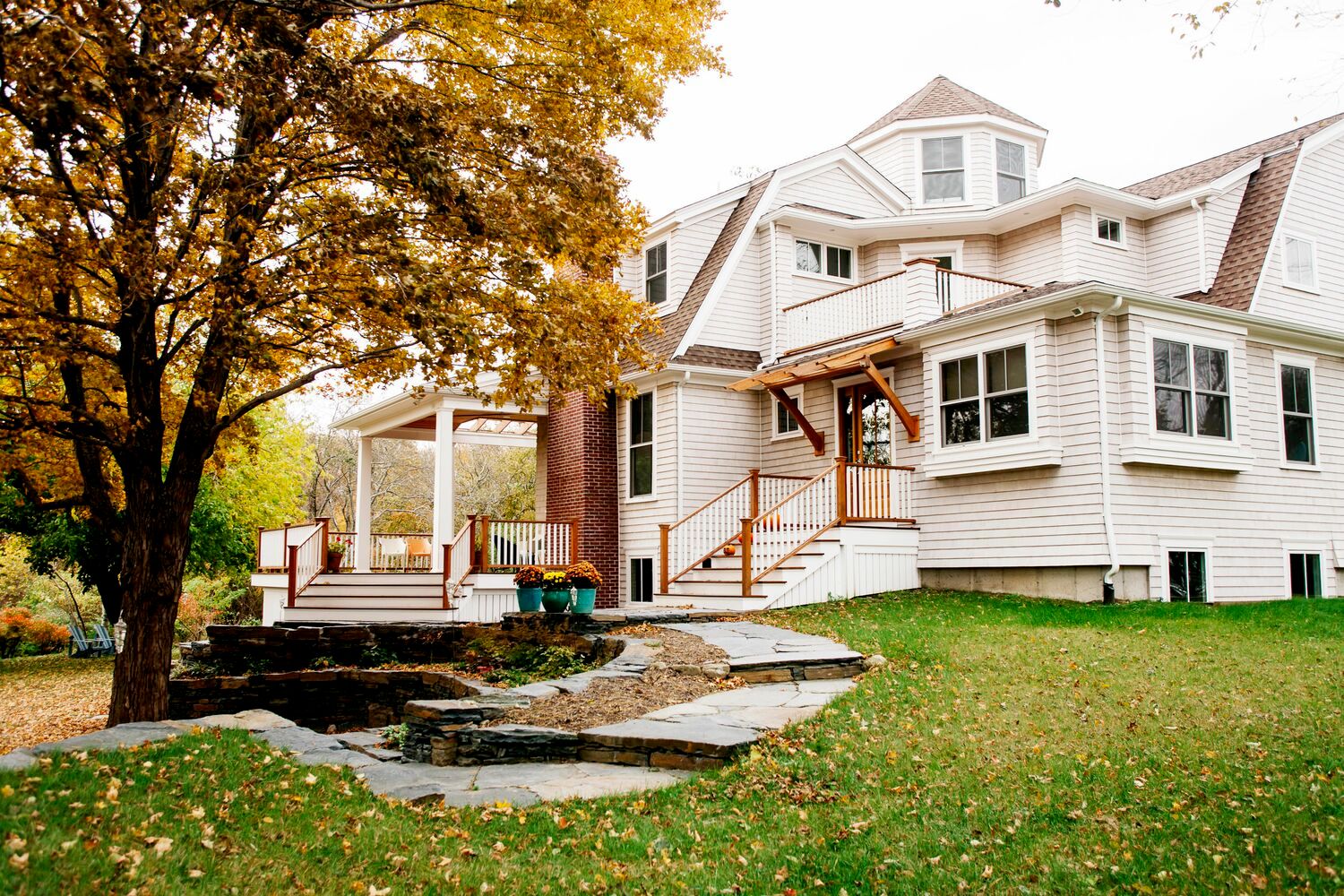 9. Spruce up your home's exterior.
If you want to impress your guests as soon as they step out of their cars, there are a few home exterior projects you can tackle without spending a fortune.
For example, your front door is often a focal point of the home. It greets guests and boosts your curb appeal. The window trim, similarly, can help make your home pop in either subtle or eye-catching ways. A fresh paint job, whether you keep the same color or switch it up, can be a great conversation starter with relatives as they walk through the door.
Or, a new walkway can be the red-carpet treatment you need to make your guests feel even more special as they approach your home for a weekend of food and fun. The front walkway is often taken for granted and, understandably, gets cracked, chipped and overgrown as the years go by. A new one can give your front landscaping a fresh, crisp look — just in time to impress your in-laws.
10. Clean or refinish your floors.
Cleaning and refinishing your flooring before Thanksgiving can make your home both more comfortable and safer for your household and guests. As young ones romp, crawl, slip and slide around, it's easy for them to get scraped by a piece of uneven tile or wood flooring.
Hire a professional to clean your carpets or refinish your hardwood floors so you can give your guests a clean, comfortable surface to chill out on — or fire up an epic game of Monopoly.
Getting ready for Thanksgiving can be a challenge. But with the right pros on your side, you can sit back and relax. And although you may not have a big crowd this year due to the pandemic, you can still treat your household to a restful and refreshing weekend that, frankly, everyone needs.