In-ground swimming pool construction, step-by-step.
Step 1: Select a location.
If you have a spot in mind for installing an in-ground pool, make sure there's enough space for the size pool you want. Have your pool builder do a site inspection to see how much excavation (digging and leveling) will have to be done.
Make sure the pool can fit while leaving enough room for other poolside activities and furniture (lounge chairs, patio sets, landscaping). In some cases, an above-ground pool might be a better option for your property and budget.
>>Get help from a pro. Here are the best pool builders near you.
Step 2: Choose the pool size and shape.
Rectangular or oblong pools tend to be about twice as long as they are wide (10 by 20 feet, for example, or 15 by 30 feet). For a lap-only pool, experts recommend a length of 30 to 75 feet, a minimum width of eight feet and a depth of four to five feet.
A swimming pool suited for recreation typically has a shallow end with a depth of less than three feet and gets progressively deeper toward the other end (nine feet deep or more), especially if you're adding a diving board.
Your pool shape will depend on how much space you have, what activities you plan to do and other factors like the architectural style of your house. It's best to consult with a landscape architect if you want to do something really custom.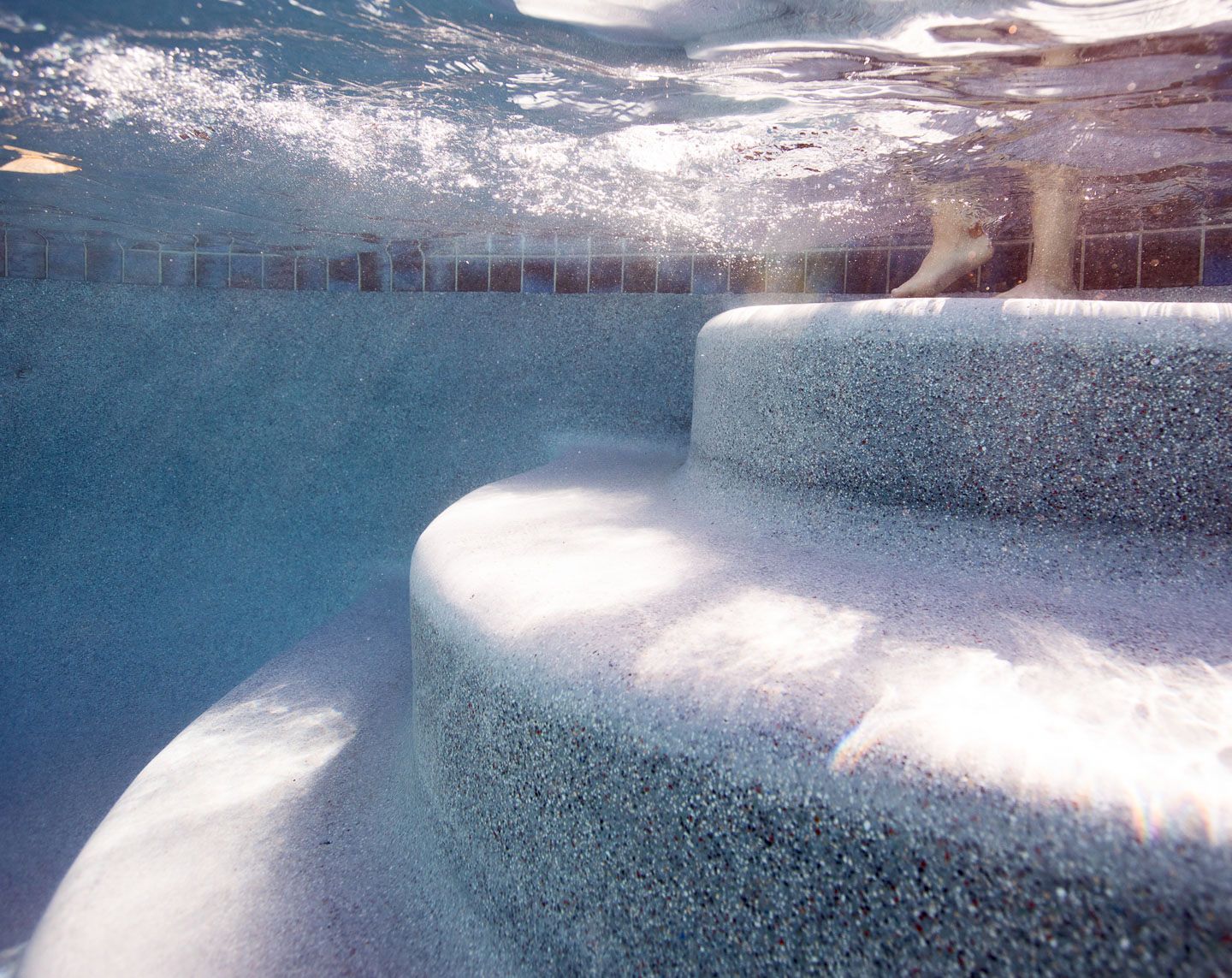 Step 3: Select the design and special features.
The possibilities are endless. But if you want to add extra design and water features like slides, bubblers, fountains, grottos and more, you'll need to carefully account for them in your budget.
Some extras, like jetted hot tubs, are surprisingly affordable. Make a list of must-haves for your builder, and ask for a detailed estimate of each feature you want to add.
Step 4: Make sure the necessary permits are in order.
Your pool builder should know about permit guidelines in your area for installing an in-ground (or above-ground) swimming pool. The associated costs and timeline should be included in your project agreement. For more smart hiring tips, see this guide from Thumbtack.
Step 5: Yard excavation starts.
Excavation is the first step in the in-ground pool construction process. Your builder will use excavators to dig the hole where the pool will go and other specialized equipment to carve the exact shape of your pool and set forms for the concrete that will form the pool's base. If you're installing a fiberglass in-ground pool, your builder should also lay a gravel bed.
Step 6: Call in reinforcements.
Pool builders use steel rebar to frame and support the pool walls and bed. Sometimes, the surrounding deck area gets reinforced, too.
Next, the plumbing and electrical are installed to run the heating and filtration systems. You have choices when it comes to filtration, so consult your builder for advice on this and other factors like pool maintenance costs.
Step 7: Gunite goes in.
Once the steel, plumbing and electrical are installed, the builder's crew can spray in the gunite (sometimes also called shotcrete). Unlike concrete, which must be poured, gunite can be sprayed into the pool's form with a pressure hose for an even finish and relatively short curing time.
>>Get free estimates. Contact the best pool builders near you.
Step 8: Finishing touches bring your pool design to life.
Once the gunite is cured, your builder should lay the foundation for the patio surrounding the pool if they haven't already, finish the pool's surface and install tile coping (or use another material, depending on your design). The builder should fill the pool with water, test all the equipment, set up any automatic controls for heat and lighting and so on.
After crews haul away the construction debris, a technician can show you how to work the controls. You may want to hire a pool cleaning service too.
How much does building a pool cost?
The average cost to build a concrete in-ground pool is significantly higher than the cost to put in a prefabricated pool (either in-ground or above-ground). It can run you from $30,000 to $80,000 or more, depending on where you live, because of the extra labor, materials and equipment required.
Using a prefabricated fiberglass shell may be more budget-friendly, but you'll want to check with an expert to make sure the soil conditions in your area and on your home's lot will work with a prefab pool.
If you live in an area where swimming pools are common, like Phoenix, Las Vegas or Miami, labor costs may be lower than areas like Los Angeles where the cost of living is higher than average. Extra features in your pool design will also increase the cost.
>>Also read, "An easy pool maintenance guide."
Who to hire to install a pool.
Design your dream pool, get construction going and put the finish touches on your lounge area. Find everyone you need to install a pool on Thumbtack"