Clean it yourself: Pro-approved methods and products.
Tip #1: Figure out what type of carpet you have.
Carpets have different types of carpet fibers, density and pile. In most cases, the denser the carpet fibers, the more resistant they'll be to stains.
It's also usually easier and cheaper to clean synthetic fibers (like nylon) than it is to clean natural fibers like wool, which are more sensitive to water and require more attention and skill. Same goes for oriental rugs, silk rugs or any rug that isn't color fast.
Make sure whatever cleaning products you buy will actually work for your fiber type. And if you're hiring a professional cleaner, tell them the name of your carpet manufacturer to get a more accurate estimate (and a better result).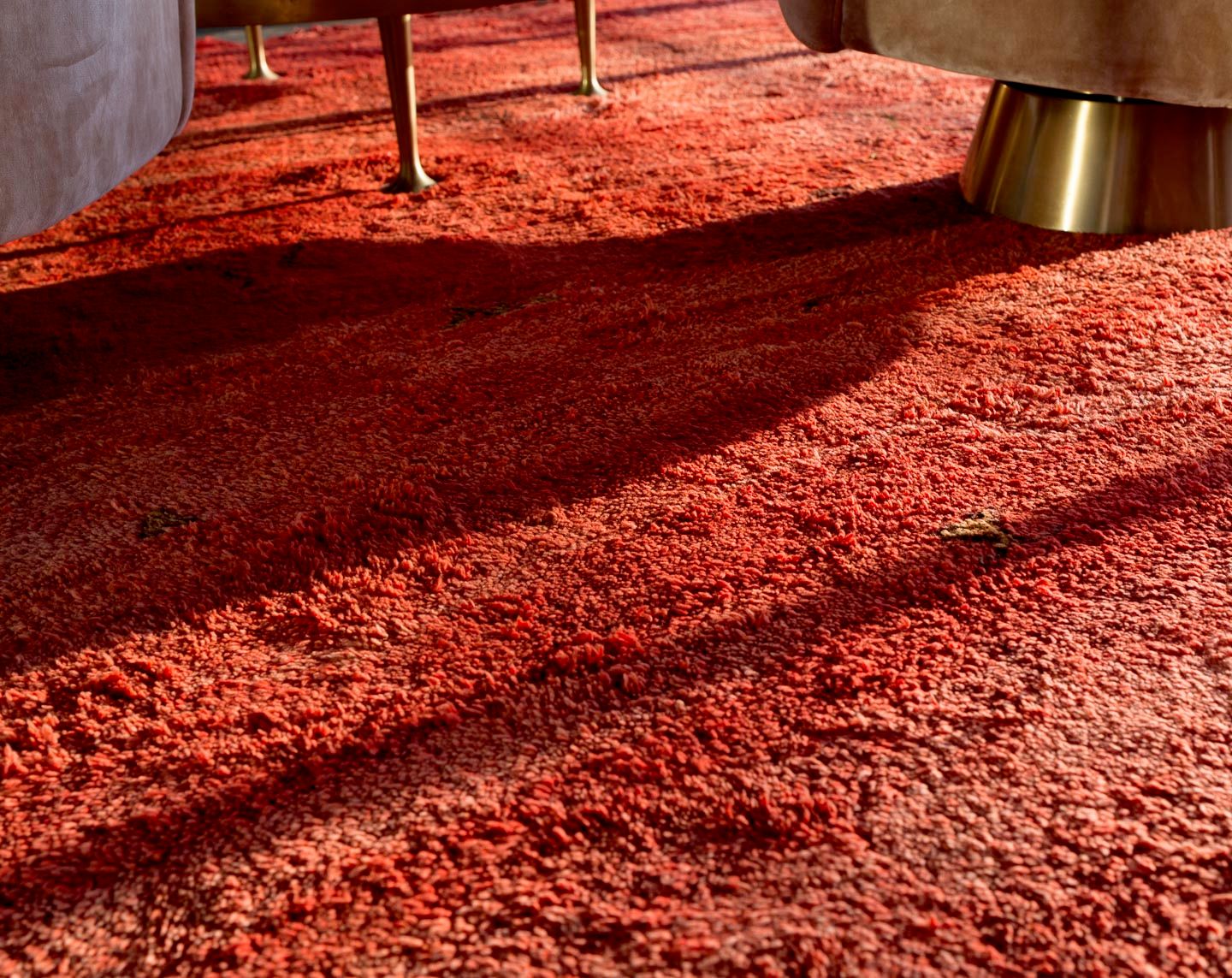 Tip #2: Spot treat small areas with water, white vinegar and a white cloth.
For stain removal, try a gentle cleaning solution before reaching for heavy-duty cleaning products. Dabbing at fresh carpet stains (like spilled wine) with a little club soda right away works wonders. But even dry stains can be treated without harsh chemicals.
"White vinegar is so gentle you can use it on pretty much anything," says David Tello, a top-rated house cleaner on Thumbtack and owner of Freedom Cleaning in Grand Prairie, Texas. "We use vinegar as an organic option for customers who don't want to use harsh chemicals in their home. If you mix a bit of vinegar with water it's a good way to spot clean carpets without harming or damaging any other surfaces in your home."
>>Get help from a pro. Contact the best carpet cleaners for free estimates.
Tip #3: For regular upkeep, vacuums with bags work better (and clog less).
Pet hair, dust and debris build up faster than you think. Get a good vacuum cleaner and use it at least once a week — especially if you have allergies. If you're looking for quality and performance, the best vacuum is a Bissell with a bag, says David.
"We've vacuumed so many carpets and gone through a lot of vacuums in the process," ge says. "Pricey, flashy vacuums look nice but they don't handle a heavy workload and tend to overheat really fast. A basic model that uses a bag will work wonders and last longer."
Tip #4: Know when it's time to replace a carpet.
Some carpets are beyond saving — but how can you tell when?
Top pros on Thumbtack say it's time to replace a carpet (not clean or repair it) when you're dealing with stubborn pet odors — or if you're seeing extreme buckling or really matted-down fibers in high-traffic areas. When this is the case, you won't be happy with the results of a clean or repair, and you'll spend almost as much as replacing the carpet.
Tip #5: Get your pets trained.
Yes, we know, you had your puppy trained. So why won't he stop ripping up the carpet where it meets the linoleum and trying to "bury" his tennis ball under it?
One Thumbtack study found that carpet cleaning calls were 43% more likely among homes that had pets in them. Maybe invest in a proper house training (again). Call it the hidden cost of having a furry friend in the family.

Steam cleaning: The most common mistakes.
Mistake #1: Assuming "steam cleaning" means chemical-free.
"Steam cleaning" doesn't technically use steam. What's actually happening is high-pressure hot-water extraction. Basically, cleaners will drench your carpet pile with cleaning product and use hot water in the extractor to remove the used solution and soil.
What kind of chemicals are used depends on whether your carpet fibers are nylon or wool, but keep in mind that it's not just hot water in the machine. A professional carpet cleaner can tell you exactly what chemicals are being used, so you can approve any products ahead of time.
Mistake #2: Forgetting you have to move your stuff.
If you're taking the time to rent a carpet-cleaning machine or hire a professional carpet cleaner, get your money's worth. Plan to move your couch, coffee table, bookshelves — whatever — out of the way.
Lots of professional cleaners will build this into the price of the service estimate. But you can save money if you move your own stuff to the garage, another room or even temporary storage.
Forget the bed frame, though. Carpet cleaners can often work under a bed frame without needing to move it, if you clear out any storage that's in the way.
Mistake #3: Underestimating how long it takes.
The most important thing to remember is that steam cleaning involves actually soaking your carpets with water and cleaning products, meaning you need to allow for up to two days of drying time. So if your steam cleaning daydream involves starting the process by noon on a Saturday and getting back to your Netflix routine by dinnertime, you'll have to rethink your plan.
Also, if you're planning to do it yourself — not hire a pro — you'll have to build in wait time for a machine (they're popular), driving, hauling, moving your furniture, learning how to use the machine, using the machine and taking it back.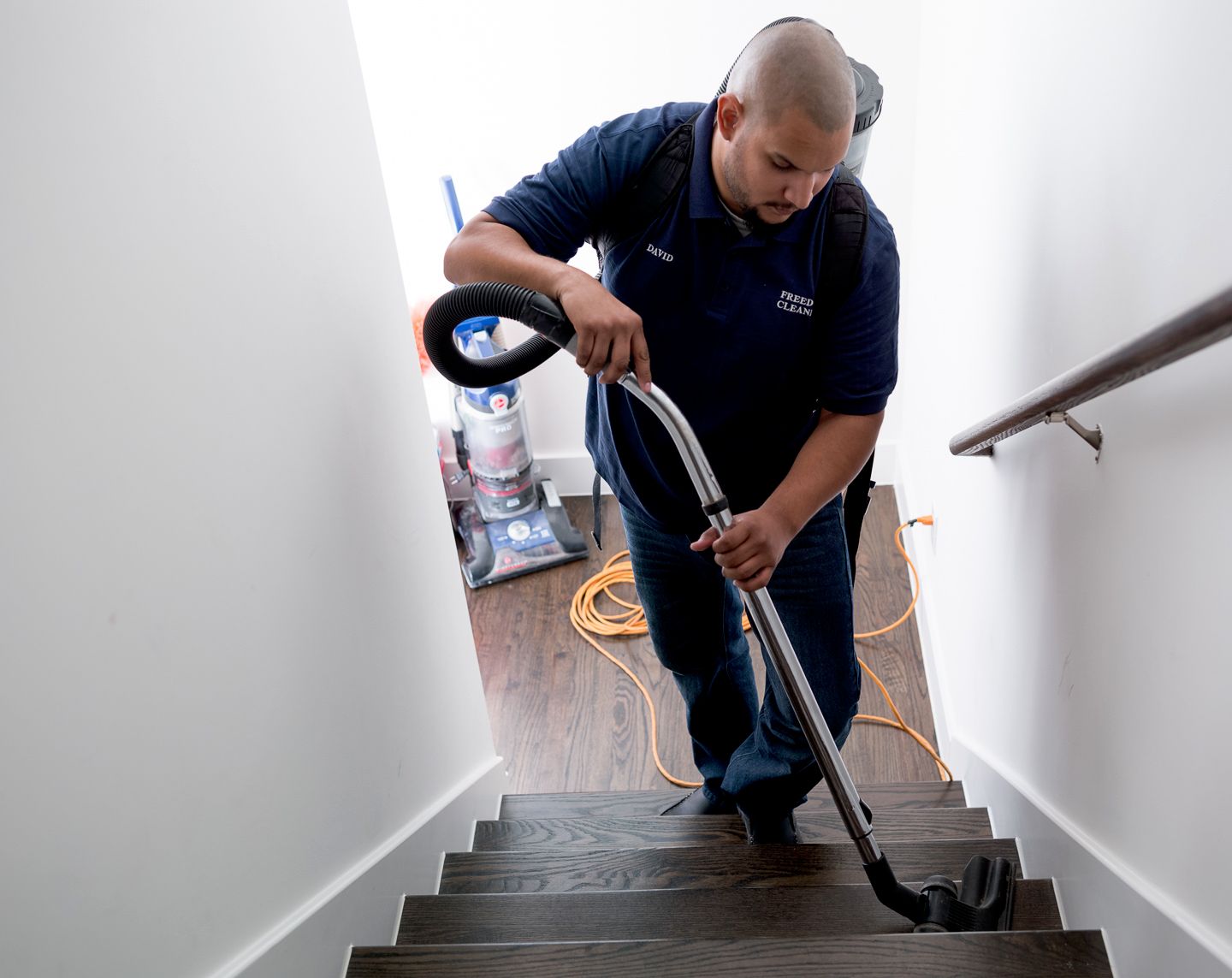 How much does carpet cleaning cost?
Professional carpet cleaning is usually priced per square foot, and many cleaning technicians have a minimum fee.
Depending on the service offering, your cleaners may also be able to steam clean other furniture (like upholstered chairs) at the same time.
Professional services include general carpet cleaning and odor removal, and technicians can help with specific needs depending on whether you have pet, food, drink, oil, grease, water, or other stains. Your price may depend on how many stains or what kind of stains you want removed, as well as what kind of carpet fibers you have and whether you want specialty products (like eco-friendly chemicals).
A few things will tend to add to the cost. Carpeted stairs cost more than carpeted floors because they involve more work, time and sometimes special tools.
What kind of building you live in may also add to the tab. If you're in a high-rise apartment with no elevator, you may have to pay more for the time and cost of transporting the equipment and carrying it to your place.
Finally, pet stains or damage will usually mean a longer and more expensive visit from the cleaners.
Start with a free carpet cleaning estimate on Thumbtack.
For more on costs, see "How much does carpet cleaning cost?"
Who to hire to help with carpet cleaning.
Find a house cleaner to help with regular maintenance, a steam cleaning professional for a deep cleaning, or a carpet repair pro for buckled, stained, or torn areas. Start getting estimates from these pros on Thumbtack: