Move-out checklist: steps to take before the move.
The words "stress-free" and "moving" usually don't occur in the same sentence. There are so many details that go into moving that you may feel overwhelmed just thinking about it. But having a plan, making a list and sticking to a schedule can help you get through the next few months as you settle into your new home.
This moving guide will help you organize the chaos and find movers who can get the job done right.
8 weeks out.
In about two months, you will be living in your new place. Now's the time to start arranging that move. There are a few things to research and prepare right away, so you're ready when moving day arrives.
Find your moving company.
Read online profiles of top-rated movers near you. Check out their job experience, credentials, customer reviews and ratings. If you have more questions for the movers (perhaps about their rates or additional services they offer), don't hesitate to reach out to them.
Once you've identified a few moving companies that you could see yourself hiring, have them come to your home to do an on-site inspection and provide free cost estimates. Ask them to explain how they set their rates for local and long-distance moves.
Keep in mind that moving companies often charge per hour, per crew member. And, there are many extras that could add to the tab, like furniture disassembly or packing services. Make sure you clarify it all upfront.
Research your new community.
Begin gathering information about local banks, schools, grocery stores, hospitals and doctors. Make the necessary arrangements to transfer your children's school records, get familiar with public transportation and explore your soon-to-be community.
Take measurements of your new home.
You won't know how your furniture feels in your new place until you get there, but you should have a sense of where everything's going.
Measure your current furniture and appliances. Then, go room-by-room through your new property, and measure the rooms to figure out if your current belongings will fit. Make a sketch so you can map your existing furniture to your new layout. Take some time to lightly design where things go. Make a list of what cannot fit in your new home and must stay behind.
This process will help you save money by decreasing the size and weight of your move and helping you plan how to tell movers where to unpack items at your new place.
Arrange time off from work.
Even if your actual move is scheduled for the weekend, you'll likely appreciate an extra day or two to handle everything. After all, you have to prep, pack, move, unpack, get settled and get used to a new commute. If you have the vacation time, request the time off far enough in advance.
6 weeks out.
You shouldn't move everything you own — but it's the most common mistake people make, according to top moving pros on Thumbtack. When you're six weeks away from move-in day, start organizing the items that will go to your new place and what can just be thrown out.
Evaluate everything you have and take the time to sell, donate or haul away unwanted household goods. If you don't, you'll waste money paying movers for a longer move or a bigger truck.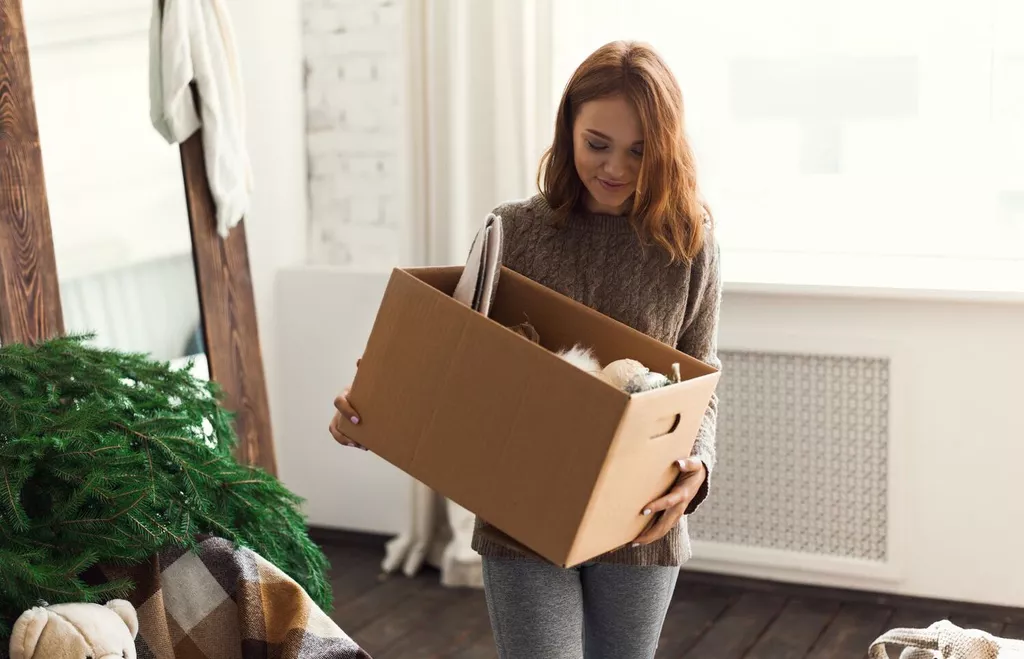 Clothing purge.
Go through your closets and dressers in every room to figure out which clothes you and your family members have outgrown. Identify which items you haven't worn in years, and separate all of them into four different categories: keep, sell, donate and throw away.
Household item purge.
Next, go through every cabinet, drawer and hidden cubby in your house. Throw away junk, old newspapers and magazines, broken appliances and other unwanted or damaged items that aren't worth fixing. Organize the remaining items into different piles for donating, selling and keeping.
Donate, sell or discard.
Gather all of the items you want to donate, and drop them off or have them collected by a charitable organization. If you think you can make a few bucks on some items, have a garage sale or sell those items online.
You can also hire a junk removal company to get rid of everything you don't want. Go online and hire a pro to collect your items at a time that works well for you. Junk removers can take a lot of stuff off your hands, including furniture, clothes, appliances, electronics and more.
After you get rid of all your unwanted items, start ordering new furniture and appliances to replace what you've discarded.
4 weeks out.
You're only a month away now, so it's time to start putting your belongings in boxes. You have four weeks of living in your current home, so decide what you will pack and when to pack everything. For example, don't get too ambitious and box up all your pots and pans and have nothing left to cook with.
Buy packing materials.
To make your move efficient (and cost-effective), put everything into boxes. That way, the movers don't waste time trying to figure out how to secure lots of loose ends in the back of the truck.
Stock up on plenty of boxes in a range of different sizes. And get enough tape, bubble wrap and packing paper to go with it.
Separate your essentials (and valuables).
Anything that gets used daily or is worth a lot of money should go with you, whether you're driving or flying to your new location. So think through what you can't do without.
That means things like medications, toiletries, bath supplies, contact lens solution, pet food, personal records and documents, photos, family heirlooms and jewelry. Set these and any other fragile items aside before you start packing. During the move, try to keep your most valuable items and paperwork close to you.
Start packing and labeling boxes.
Go through every room in your home, and make a list of what needs to be put into boxes. Itemize any larger items such as furniture and appliances, and decide on a labeling system for all your boxes. Specifically, do the following:
Pack all of the items you haven't already set aside for everyday use.
List every item in each box, and put a label on the outside and the inside of the box.
On your boxes, write down which room to place each one. You can also create a color-coded system to indicate what the box contains and where it should go.
Carefully wrap any fragile items and clearly mark the box "fragile."
If you're in a studio or a one-bedroom, you can probably pack everything in a weekend, but a three-bedroom or larger home will take up to a week to pack. Of course, you can always hire a packing service to help you develop a system for packing and wrapping your items before your move.
Make the final moving arrangements.
Ensure you'll be ready on move-in day by tying up a few loose ends and preparing your existing home for the movers. For example:
Double-check with the movers that they're arriving at the agreed date and time.
Confirm whether you'll pay by check, credit or cash. Make sure you have extra cash on hand if you want to tip the movers.
Submit a change-of-address form to the post office. Your mail will be forwarded to your new home, and you'll likely receive coupons for new furniture, light fixtures or services.
Notify banks, credit card companies and insurance companies of your new address.
Forward any medical records to your new healthcare providers.
Confirm all details have been completed for the transfer of your children to the new school.
Move-in checklist: steps to take after you move in.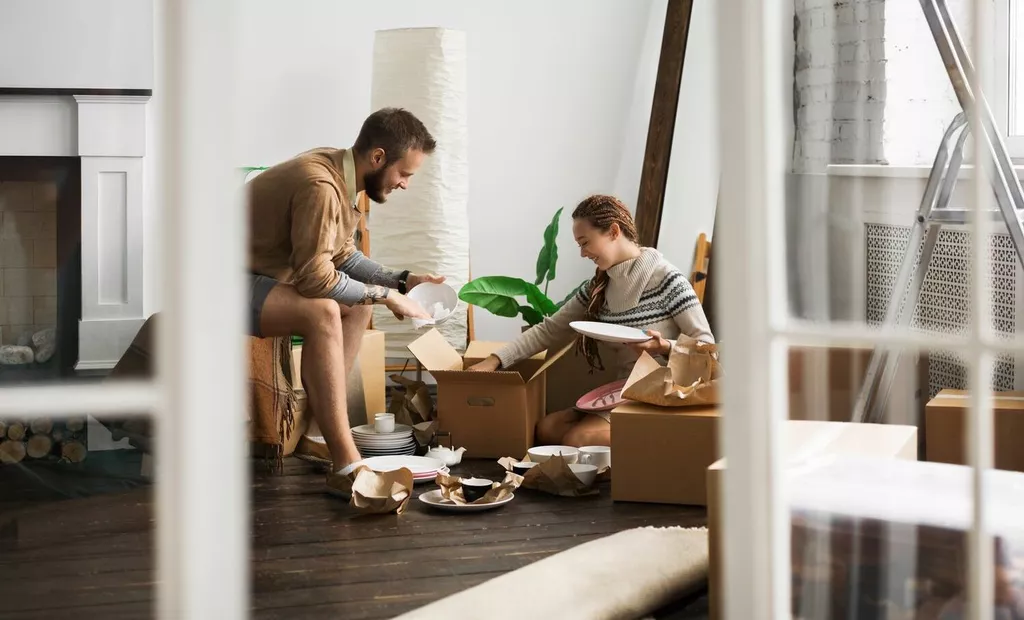 Moving into a new home is an exciting experience, but it can also be a daunting one. Once you set the last box down and the final piece of furniture has arrived, it can feel extremely overwhelming. What do you do next? What project should you tackle first?
This new home checklist will help you prioritize what you need to get done after a big move.
Set up utilities.
First things first: when you move into a new home, ensure the utilities are set up in your name. In fact, it's a good idea to call your providers ahead of time. This ensures that your lights are on from the first day of your arrival.
Find out who offers services in your area, and determine which utilities you need to set up, such as electricity, heat, gas and internet. When setting up your water, ask about where your shut-off valves are on the property. This will be important for you to know in case of a plumbing emergency.
Inspect your home.
Whether you're moving into your first house, a retirement condo or something in between, it's critical that your home is a safe place to reside. For this reason, hiring a few professionals for key inspections is a good idea.
In many cases, a home inspector will assess your home during the initial buying stage. However, after move-in day, it never hurts to have a few items double-checked. For example:
Start with an electrical and wiring inspection. A professional electrician can help you determine if your home is in need of any critical electrical and wiring repairs or upgrades. Handling these in a timely manner is a necessity for your family's safety.
Next, inspect your plumbing. Check to make sure there aren't any leaks inside your home, and test the hot water. A plumber can let you know if you need any important repairs. Handling this upfront can save you from dealing with costly repairs down the road.
Inspect your home's smoke detectors and carbon monoxide alarms. Replace the batteries as needed.
For more tips, read our article on home safety and health hazards to watch out for.
Identify necessary repairs.
Within the first few weeks of becoming a homeowner, thoroughly examine your home's interior and exterior. The goal is to pinpoint critical repairs, as well as potential issues that might arise over the next few weeks. Prioritize items that might be a risk to your safety or cause further damage to your property.
Home exterior
When it comes to your home's exterior, a good place to begin is with a roof inspection. A professional roofing company can let you know if you need any critical roof repair or maintenance services. Next, walk along the outside of your property and make a note of any peeling paint, damaged siding or other noticeable damage to your home.
Here's a more comprehensive list of the areas you should check outside of your home. In some cases, a handyman may be able to tackle the repairs. However, some repair work may require a licensed contractor:
Roofing (damaged or missing shingles and tiles)
Chipped house paint
Damaged siding
Fences that are leaning or have panels missing
Rotting wood (deck, fencing, etc.)
Landscaping issues (fallen trees, broken sprinkler heads, etc.)
Mold (on roof, siding and other outdoor structures)
Home interior
We've already gone through the benefits of inspecting your home's electricity, plumbing and alarms when you move in. But you should also find out if you need a repair service to help with:
Tripping hazards (e.g., uneven flooring)
Holes in the walls
Chimney and fireplace issues
HVAC issues
Mold (check for signs of mold in your walls, attic and moisture-prone areas)
One last thing: don't forget about pest control, either. If you notice signs of termites, cockroaches, mice and other critters, it's time to call a pro.
Deep clean your home.
Deep cleaning your home is particularly important if you're moving into an older home or a rental. Write down a detailed list of everything you'd like cleaned. From the inside of your fridge to the walls behind your bathtub to the inside of every toilet, don't leave any items off the list.
Also, consider prioritizing deep cleaning before you're done unpacking. This makes it easier to clean areas of the house that will later be covered up by rugs and furniture.
Finally, gather your cleaning supplies, grab the broom and get ready to leave your home sparkling clean. Or, think about hiring a house cleaner. House cleaning can be time-consuming, and a professional has the right equipment to ensure your new home is thoroughly cleaned in a timely manner.
In some cases, you'll want to hire a professional who has specialized cleaning expertise. For example, you might need to hire someone to polish your hardwood floors or steam clean your carpets. Search for local carpet cleaning and floor cleaning companies for those specific tasks.
Related content: Step-by-step house cleaning checklist.
Unpack.
Unpacking always seems like the easiest part, but for those who have a busy schedule, unpacking can feel like a monumental task. The good news is that you can simplify the process. Just follow these steps:
Put boxes into the right rooms. For example, move boxes with kitchen supplies into the kitchen and boxes with bedroom items, like closet hangers, into the appropriate bedroom.
Make a list of priorities. What do you need to use right away? For example, paper towels might take priority over your set of classic books. Must-have items should be unpacked first.
Consider hiring help. If your schedule is going to make it difficult to unpack, hire an unpacking service.
Assemble furniture.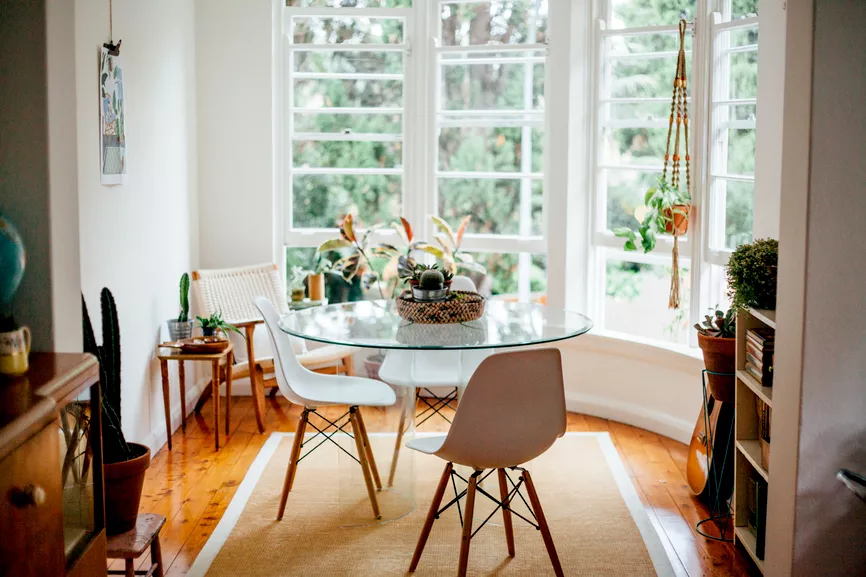 Perhaps you bought brand-new items to fill the new space, or maybe you had to take apart your furniture for the move. Either way, it's time to put everything together.
First, move the furniture pieces to the room you want to place the furniture. This will prevent issues with moving items through doorways that are too small. Make sure you have everything necessary to assemble the furniture. If you lost any pieces during the move, find replacements before you get to work.
If the furniture is too complicated (or if you're too tired or stressed to do this yourself), hire a pro to help. There are plenty of professionals near you who can assemble furniture.
Organize your home.
Now that your items are unpacked and your furniture is assembled, you can shift your focus to home organization. Your old storage solutions might not work in your new place. Instead of putting everything in the first place you think of, set aside some time to organize your life.
The top home organizers on Thumbtack say organizing isn't just about figuring out where stuff goes when you're not using it. It's about setting up a system for your house where the things that flow in and out — mail, laundry, people — make the most sense and are easy to use.
One of the first things you'll need to do is invest in the right organizational system and items. For example, do you need more bookshelves or storage containers? Having the right storage space handy will ensure that the organization process goes smoothly.
Next, you'll need a detailed plan. Rather than simply placing items wherever they fit, be strategic. Remember: you can enlist the help of a professional organizer who can figure out the best way to arrange your closet, garage, kitchen, home office and more.
Install appliances.
You might want to invest in new appliances. Perhaps your old refrigerator wasn't worth lugging across the country, or maybe you've been eyeballing the latest gas-range stove. Whatever the case, adding appliance installation to your checklist is a must.
Before you reach out to professionals, make a list of everything — fridge, washer, dryer, oven, garbage disposal, etc. — that needs to be installed. As you create your list, take note of items that were previously installed in that area before you moved in. For example, if you're installing a dishwasher, are you replacing an existing piece, or will a plumber need to add new water lines to the area?
Appliance installation can be dangerous. In many cases, it involves hooking up electricity, adding plumbing lines or even piping in new gas lines. Whatever the case, hiring a professional is the best way to go.
Secure your home.
A key part of feeling at home in any new space is making sure the area is secure. Whether you just moved into your first apartment or you purchased a townhome, keep you and your loved ones safe.
Double-check all of the locks and door handles. If you notice a lock doesn't work or a doorknob is loose, make a note to replace these items (or hire a locksmith or handyman to do the work for you).
You should also think about installing an alarm system. A professional can help you outfit your home with a state-of-the-art alarm setup. Many modern home security systems can even be controlled through your phone when you're away from home. If your home already has an alarm system, test it out and replace any batteries as needed.
Set up routine home maintenance.
Stay on top of crucial home maintenance tasks so you can retain (or boost) your home's value. The best way to ensure nothing slips through the cracks? Assemble a team of home maintenance pros you can turn to for routine maintenance and emergency repairs. Here are a few pros to start with:
Once you've found your people, have their contact information handy. You'll be grateful there's someone you can call whenever a leak occurs or your AC breaks down.
You can find more home maintenance professionals on Thumbtack.
Start planning for bigger home projects.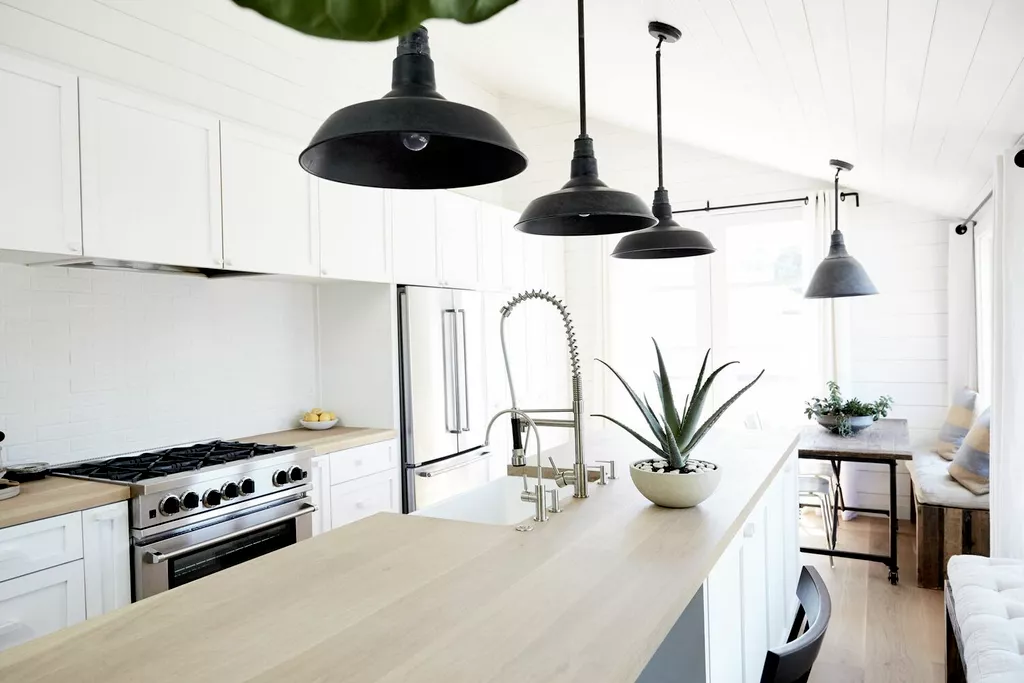 When you're in the middle of moving, you focus on the essential tasks at hand. However, as time progresses and you get settled into your new home, start planning your home improvement projects. For example:
Creating a list of future ideas now can help you start planning and budgeting for more expensive home improvement projects.
When you're done with your list, read our cost guides to get an idea of how much your home projects will cost. Then, search for home remodeling pros near you on Thumbtack so you can start requesting personalized cost estimates.
Make moving simple with Thumbtack.
Thumbtack can help you find the best movers and other professionals for your upcoming move. From packing your clothes to deep cleaning your home, hire pros who can turn your new house into your dream home.
FAQs
What is the best month to move?
The colder months from mid-September to April can be the most economical times to move. Typically, there is less demand, so moving companies may be willing to charge less.
What is the cheapest way to move out of state?
If you have very few belongings, you may consider taking a train or shipping your belongings. For larger moves, a moving pod or portable storage container may be an affordable option.
How much do movers cost?
A lot of movers charge per hour, per crew member. You might pay more depending on how much stuff you need to move, how far the movers need to drive and whether or not you want help with extras.
In general, the bigger the place and the more heavy furniture you have, the higher the moving cost. Extras like packing, furniture disassembly and supplies can add to the tab. You'll also have to factor in complications like flights of stairs, which mean harder work and extra care not to damage anything. But some moving companies only charge on the way up, not the way down.
Even if you're using an elevator, not stairs, your moving company might add an elevator fee since it can slow things down. Tricky parking can also cost extra. Any parking scenario that isn't right at your front door could mean a long-carry fee.
The best way to get started — and avoid surprises — is to get an in-home estimate.
For more on costs, see "How much do movers cost?"
What shouldn't you take with you for a long-distance move?
Larger items such as furniture or appliances are both heavy and take up space on the moving trucks, so it could end up costing you a lot to move. There are also lists of non-allowable items, such as hazardous materials or combustibles, that your moving company should provide you with prior to moving day so you can plan accordingly.