How much does it cost install a laminate floor?
The national average cost to install laminate flooring is $1,700, but the cost can range from $300 to $4,000, including materials and labor.
Cost to install laminate flooring:
| | |
| --- | --- |
| Average cost | $1,700 |
| Low-end cost | $300 |
| High-end cost | $4,000 |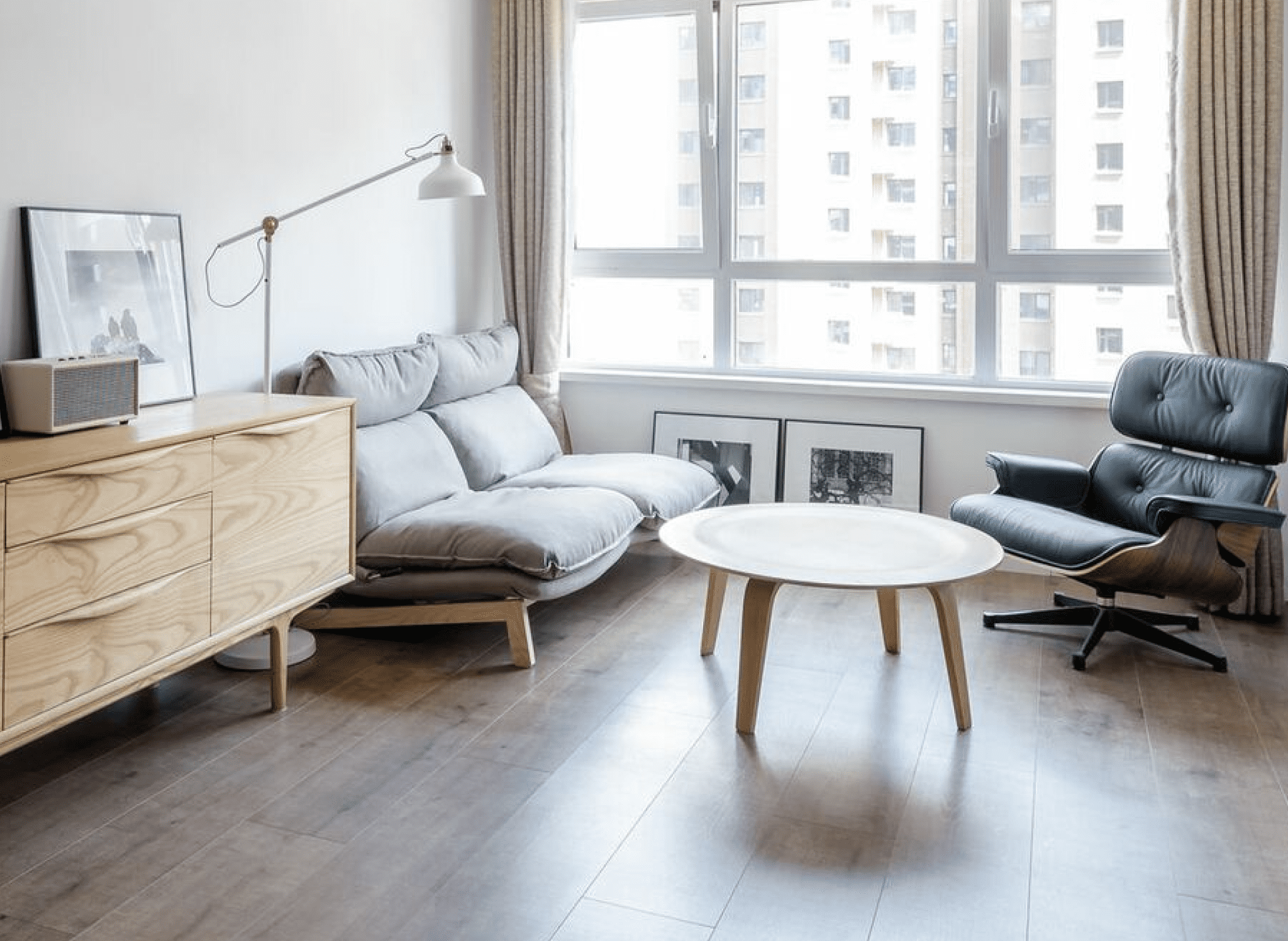 Your total project cost for laminate flooring installation will depend on the materials you choose, the square foot of the room and number or rooms, prep and cleanup work involve and more. Read this guide to learn how to estimate the cost of adding laminate floors, reach out to flooring contractors near you to find out how much they're charging.
Find the right flooring specialist for your project.
What's in this cost guide?
Professionals may charge on average, nationally, between $1 and $4 per square foot for materials — a huge savings compared to other types of flooring, such as hardwood or natural stone. In some cases, you might even find laminate flooring materials for less than $1 per square foot at home improvement stores.
Laminates are sold in solid planks that connect with a tongue-and-groove system to form a sturdy laminate floor. You can choose laminates that mimic marble, stone or hardwood flooring in a variety of grains and finishes including oak, maple, cherry and pine. In general, the more realistic-looking, the higher the cost for laminate flooring.
Find a great flooring specialist in your area.
The cost install a laminate floor ranges from $3 to $7 per square foot. Most contractors and flooring retailers that offer installation services charge a flat fee based on the total square footage of flooring to be installed.
As a floating floor, laminates are often less complicated and time-consuming to install so installing laminate flooring is likely to cost half as much as installing hardwood flooring in the same space. Hardwood floors require significant time for sanding, staining, coating, and drying, whereas laminate flooring rarely needs even glue for installation.
Once your laminate flooring is installed, you may need to reinstall baseboard trim and shoe molding. Ask whether the cost to install wall-base trim is included in the price of the flooring installation or if it's an additional flooring cost.
Most pros will charge an hourly rate of $50 to $70 plus materials, such as plywood, to make repairs.
Laminate flooring is a click-in-place, tongue-in-groove, floating floor system. That means it's not glued, nailed or mortared to the subfloor underneath. Because it's a floating floor, laminates can be installed over existing hardwood, tile, or vinyl floors, provided the existing flooring is in good shape.
Installing laminate over carpet
It can only be installed over carpeting if the carpet is adhered to the subfloor securely and if the pile is no deeper than ¼ inch thick. Laminates can't be installed over existing floating floors.
Get a free estimate from a great flooring specialist near you.
Installing laminate over existing flooring
To ensure your laminate flooring won't warp, sink or crack, you need a solid, flat and dry subfloor. Your professional flooring installer will check the existing floor for any damage. In some cases, the flooring installer may need to make minor repairs to the existing floor, such as securing any loose tiles or hardwood to the plywood subfloor. Existing flooring that is damaged beyond repair will need to be removed and hauled away, adding to the labor and overall cost.
You might need to start from scratch and remove all existing flooring if adding laminate flooring will result in different flooring heights from room to room. After removing the existing flooring, the flooring installer will also check the plywood subfloor for any rot or damage. Depending on what they find, they may need to repair or replace the plywood subfloor.
Underlayment
Before installing a laminate floor, a contractor will often recommend installing underlayment between the existing subfloor and laminate layer. Underlayment accounts for minor warps or damage to the subfloor, creating an even surface on which to install the laminate planks. The spongy, foam material in underlayment also helps with noise reduction and prolongs the life of your laminate floors.
Waterproof laminate flooring
Laminates are an economical choice for basements -- however, many basements are prone to moisture. Waterproof laminate flooring can be installed over the concrete floor. To further prevent moisture from seeping up into the laminate, your contractor may recommend installing an underlayment. Conventional laminates will need a subfloor and underlayment to keep moisture at bay. If the basement floor isn't level, your flooring installer will need to frame a new subfloor to fix any obvious dips in level.
How well the floor stands up to wear and tear, measured as Abrasion Class rating, or AC rating, will also affect the cost of installing laminated floors in your home. The higher the AC rating, the more durable and scratch-resistant the floor.
Laminates range from AC1, for low-traffic areas, such as bedrooms, to AC5 for commercial use. Laminates sold for residential use come in AC1, AC2 or AC3. Commercial products, made to withstand the heaviest traffic, come in AC4 and AC5. Manufacturer warranties range from 10 years to 50 years, depending on the AC rating.
The product's overall thickness, ranging from 8 mm to 12 mm, also affects the cost. Laminates that are 8mm or 9.5 mm thick are often the most affordable. Premium laminates, with higher costs and often longer warranties, are usually 10 mm or 12 mm thick.
Laminates provide a durable and cost-effective solution to getting the floor of your dreams. Today's laminate floors are made to look like real hardwood, stone, ceramic tile and other materials. Laminate floor materials also come in planks of various sizes, styles and colors.
Laminate flooring is a manufactured product. But unlike vinyl flooring, it's not plastic. It's actually composed of four layers that are pressure glued — or laminated — together, hence the name. The layers are broken down as such:
Wear layer. The top layer is made of hardened, transparent aluminum oxide or melamine resin. It's what protects the laminates from scratching, stains, spills, scuffs, and daily wear and tear.
Design layer. Underneath the wear layer is a high-resolution photograph of natural products, such as tumbled travertine, weathered oak or terracotta tiles.
Core layer. The thickest layer — the core — is made of high-density fiberboard. It provides stiffness, soundproofing and dent resistance. It can also protect from moisture.
Back layer. The bottom layer helps balance the floor and also protects the floor from moisture.
To further mimic natural hardwood products, they can be textured or embossed, such as laminate planks that resemble hand-scraped walnut flooring.
Laminates come in low, medium and high gloss, as well as with beveled or squared edges — details that can make the completed flooring look like the real deal. They are easy to clean, stain and scratch-resistant.
Search local flooring specialists and check prices.
You may be able to save on labor costs by removing the existing flooring yourself. Just be sure not to damage the subfloor underneath.
When requesting free estimates, ask that they include two estimates: one if you remove the existing flooring yourself and one if the contractor removes it. If you have the contractor remove the existing floor, ask whether the cost to haul away used materials is also included in the estimate. Most professionals offer this service, sometimes at no additional charge, but you want to be sure.
Start your search for laminate floor installers near you by going online. You can compare professionals side-by-side and identify the ones with:
The highest ratings
Positive, favorable reviews
Discounts available
As you're looking at the pros' profiles, don't ignore the reviews written by past customers. Read a few reviews and take note of the ones where customers provided details about the pros' professionalism, quality of work, punctuality and efficiency.
You may also see a few photos of the pros' previous laminate flooring projects. Inspect those images carefully so you can judge the quality of the work yourself.
Once you've identified the best floor installers, contractors or companies in your area, it's time to pull a few quotes. Go online and message the pros, asking for an estimate. To ensure you get an accurate estimate, give the pros as many details as possible, such as:
The type of laminate flooring you want (hardwood, tile, marble, slate, etc.)
The size of your floor
If you need existing flooring removed (and the type of existing flooring)
If you will buying the materials or if you need the pro to do that
Photos of the type of flooring you want installed
And lastly, before you make your final decision, check to make sure your pro is qualified for the job. For example, you'll want to make sure a flooring contractor is properly licensed in your state.
For more information on how to hire safely, visit our Smart Hiring guide.