Things to consider when choosing bathroom flooring.
Before we jump into all of your flooring options, it's important to understand the key factors that should be at the top of your mind when researching different flooring materials. Here are the top considerations to remember when deciding which type of flooring is best for your bathroom.
Durability.
Your bathroom flooring should be highly durable to avoid the cost of constant or major repairs. Shutting down your bathroom repairs can be a great inconvenience, so make sure you choose a floor that can withstand normal wear and tear. Some best flooring options out there are resistant to several kinds of abuse and damages, including stains and chemicals.
Ease of installation.
The best bathroom flooring should be easy, quick and affordable to install — especially if you plan to DIY this project.
If you don't plan to install the flooring yourself, make sure you hire a professional who has plenty of experience installing bathroom floors. There will be a time when you need to do some repairs and maintenance. However, the first issue you encounter shouldn't be caused by improper installation.
Comfort.
Your bathroom flooring should be warm and comfortable to your feet. Even the most durable flooring can be less appealing if it makes you dread stepping on it due to biting cold. The right flooring option should be excellent at insulating heat so that it doesn't become too cold when you step on it.
Color and style.
It's also crucial to pick a flooring option that reflects your style. Today's flooring choices typically present an endless assortment of color and design selections. Before choosing a color for your floors, consider the dominant colors with the rest of your décor.
If you love unique designs, go for custom tiles that elevate your bathroom's aesthetics. You can also opt for textured vinyl that comes with a wood grain to give a feeling similar to natural materials. Another great option: a wood-look laminate that gives your bathroom the beauty of hardwood.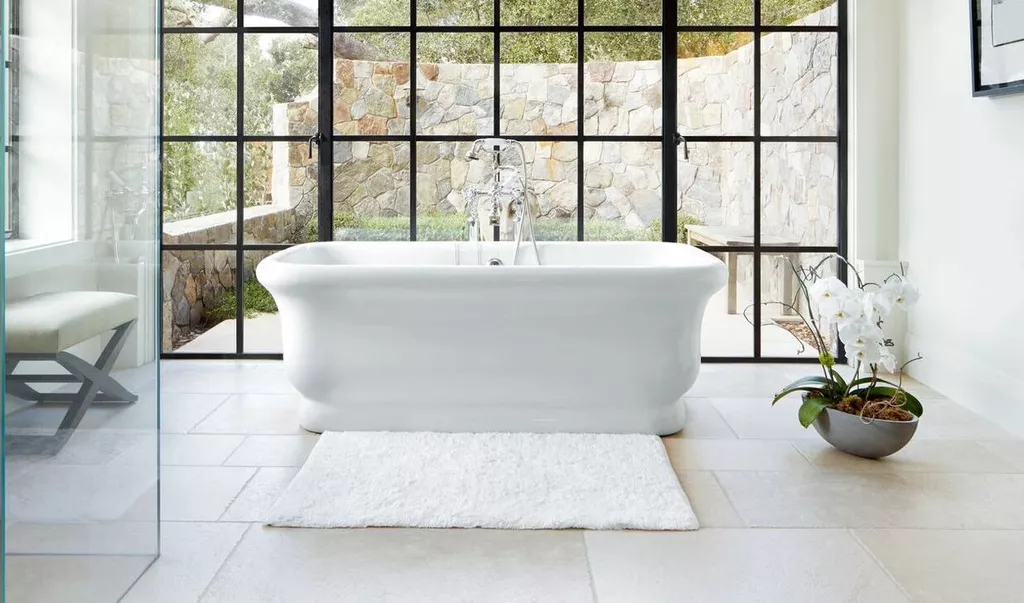 Maintenance demands.
If low maintenance is a top requirement for your flooring, install bathroom floors that can easily wipe clean and won't leave stains behind. You may consider resilient and low-maintenance flooring options, such as tile flooring that last a long time without routine care. Another great option that needs low maintenance: vinyl flooring. Vinyl is not only water-resistant, but it's also easy to keep it looking beautiful.
Related: How to maintain and clean your floors.
Water resistance.
We all know that bathroom floors are typically exposed to a lot of moisture. As you search for the best bathroom flooring, ensure the material you choose is water and humidity-resistant. This means avoiding materials like hardwood, which warps and becomes damaged when exposed to water and humidity. Excellent choices under this category include waterproof vinyl and tiles.
Budget.
Your budget is also a critical factor, especially if you're planning to improve multiple bathrooms. Some of the options that can fit into most budgets include tile (ceramic and porcelain) and vinyl flooring. Laminate flooring can also be an excellent alternative, as it comes with a wide range of colors and styles while maintaining a low-cost element.
Related: How much does flooring installation cost?
7 best bathroom flooring ideas you should consider.
Now that you understand the key factors, let's dive into the best bathroom flooring options you should consider.
1. Ceramic tile.
Ceramic tile is undoubtedly one of the most popular flooring options for bathrooms. It's impervious to moisture and highly resistant to stains, and it's an excellent option for bathrooms that get a lot of traffic. Ceramic tiles also come in a wide range of colors and designs that meet your décor preferences. Because the tile sizes range from tiny mosaic to large format, you can choose from a wide range of installation patterns to achieve a sleek and luxurious look. Lastly, you can make your ceramic tile floors comfortable to the touch by laying radiant or heated tile underneath.
2. Porcelain tile.
Porcelain tile is another ideal choice for bathroom floors. These tiles are dense and less porous than ceramic, offering greater water and stain resistance. Porcelain tiles are also highly resistant to wear and last for a long time.
Porcelain also offers excellent design versatility. You can go for custom options that mimic myriads of natural stone materials such as granite and limestone. Newer designs boast sleeker surfaces that mirror fabric, leather and animal prints. And like with ceramic tile, porcelain also works well with radiant heat.
3. Natural stone tile.
When properly installed, sealed and cared for, natural stones are an excellent option for your bathroom floors. From marble and granite and to slate and travertine, natural stone tiles can hold up great in your bathroom.
Undeniably, natural stone tiles boast unmatched beauty and durability that homeowners love. With natural stone, you also have unique design options that allow you to create a top-notch, elegant bathroom that suits your specific tastes and exudes exclusivity. Natural stone can also last a lifetime and boost your home's curb appeal.
Related: How to clean and maintain your tile surfaces.
4. Vinyl.
Waterproof vinyl is an excellent option for your bathroom. Vinyl combines durability, scratch-resistance and waterproof features to provide a genuinely functional bathroom flooring that serves you for decades. Vinyl can also be customized to look like wood planks, stone and even ceramic tile, providing you with more décor options at a lower cost.
Waterproof vinyl is typically less expensive than stone or hardwood, which is why most homeowners are using it in their bathrooms and other rooms. Vinyl comes in rolls that are easy to install.
Related: How much flooring do I need?
5. Engineered wood.
If you want wood floors in your bathroom, choose engineered wood over solid wood. Engineered wood can be an incredibly stable and durable floor. Compared to solid wood, engineered wood holds up better against humidity, and it can be a great option if you're looking for a bathroom floor that provides under-floor heating. The warm and inviting feeling that engineered flooring provides is always great to have in the bathroom.
6. Laminate.
Laminate flooring is a less costly alternative to hardwood flooring. It's easy to install and maintain, and adds style and warmth to your bathroom. You boast wood-like appearances and are available in various styles, colors, stains, textures and patterns. Laminate flooring is also highly resistant to scratches, dents and stains.
7. Concrete.
Concrete flooring is another option that works well in the bathroom. Like ceramic tiles, concrete flooring is easy to clean and can't be damaged by water easily. This flooring option is ideal for homes with slab foundations or basements where the floor already has a 4- to 8-inch concrete slab resting directly on the soil.
If you're looking for a high-quality finish, the concrete slab can be polished, painted, stained or top coated to give a distinct and attractive floor. You can also leverage various dying and acid etching methods to give your concrete floor a unique and stylish finish.
Popular bathroom flooring trends for layout and design.
A bathroom update is one of the best ways to increase your home's value. An effective way to keep your bathroom current is by staying on top of popular bathroom design and layout trends. For example:
Color: You have a myriad of color options for your bathroom floors. Some of the most popular colors include blonde, cool-blue, gray, black and white.
Layouts and patterns: Bathroom flooring layouts are getting bolder and more dynamic. Some trendy options include herringbone, chevron, subway, hexagon, wide plank, large format and geometric.
Texture and finishes: Your options can include matte, smooth, hand-scraped, wire-brushed, distressed and textured/non-slip textures and finishes.
Find pros to replace or install your bathroom floors.
Instead of just being a functional space, turn your bathroom into an oasis of wellness and the perfect personal escape. Professionals on Thumbtack can help.
It's always best to consult a professional when replacing your bathroom floors. A DIY bathroom remodel is often fun and a great way to develop new skills, but you may require a pro's skills to achieve the look you want. Use Thumbtack to find skilled bathroom flooring professionals who have honed their craft and are better equipped to install your dream bathroom floor.