Having a clean home free from grime and clutter can help prevent illnesses and make you feel less stressed. However, keeping your home organized and squeaky clean requires time and the right cleaning strategy. According to a survey conducted by the American Cleaning Institute (ACI), 31% of Americans aren't sure if they are cleaning correctly, and 34% wonder if they're cleaning their homes as often as they should be.
For those who aren't sure if their house cleaning schedule and habits are on the mark, we've put together this guide on how to clean your house like a pro. Click through to see the ultimate home cleaning checklist, tips on how to create a schedule and which tasks should require a professional house cleaner's help.
Cleaning supplies checklist.

Whether you're cleaning your home on a daily, weekly or monthly schedule, there are basic cleaning supplies you'll likely need. For example, you'll want to make sure you have:
Antibacterial wipes
Cleaning solution (either store-bough or DIY)
Baking soda
Buckets
Broom
Distilled water
Disinfecting spray
Dry soft cloths (like a microfiber cloth) or towels
Duster
Dust pan
Mop
Sponges
Squeegee
Toilet bowl brush
Trash bags
Vacuum
White vinegar
House cleaning tips for a quick and organized routine.
Keep these house cleaning tips in mind before you start:
Tip #1: Build your own house cleaning kit.
Before we dive into the house cleaning checklists, it's important to make sure you have all of the supplies you need. Whether you make your own DIY solutions or buy conventional glass cleaner in bulk, your kit should cover everything you need to clean every room in your home, from dusty ceiling fans to your living room floor.
Keep an inventory of all the products you use in your house and update it every few weeks. When you're running low, you have an updated shopping list ready to go.
Tip #2: Prioritize your house cleaning checklist.
Create a top-to-bottom list of what in your house requires the most amount of care and what requires the least. Then rank them from 1 to 10. Commit to which tasks you'll do weekly, monthly, three times a year-, twice a year and so on.
"Rotating what you do makes a huge difference in how long it will take you to clean your home," says Thumbtack Top Pro Paige Rounds, owner of MaidPro Wichita in Wichita, Kansas.
Tip #3: Don't let household chores pile up.
Leaving that red wine spill for too long can lead to a permanent stain on your couch cushion. Not washing your laundry can mean a week without clean socks. We know these things, but we leave them on the back burner until 8pm on Thursday. Get to spills and stacks right away, and save yourself the pain of longer and more expensive deep cleanings.
Tip #4: Handle the small stuff on your own.
The tops of your picture frames get dusty — fast. The same goes for your couch cushions (over and under) and floor. Address these problem areas weekly with a broom, condensed air or a microfiber rag.
If you cook a lot, your oven could probably use some attention. Sure, you could clean it yourself, but it takes a lot of time (and energy). Instead of ignoring big messes that could build up, consider hiring a professional to take care of them for you.
"A lot of people will ignore their kitchens for a long time. By the time they hire someone, it's hours of work," says Thumbtack Top Pro David Tello, owner of Freedom Cleaning in Grand Prairie, Texas.
Daily house cleaning list.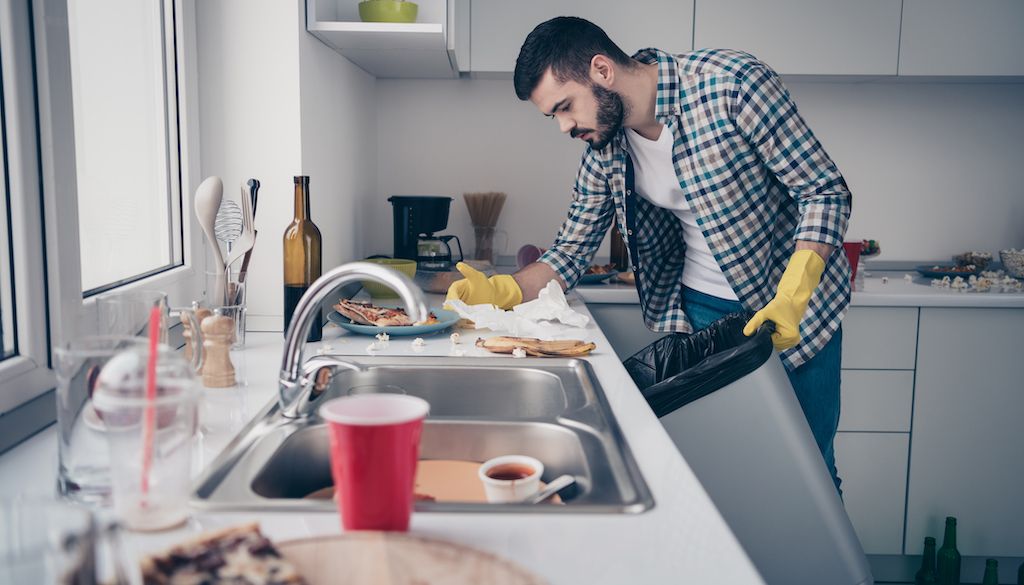 Now, let's jump into your house cleaning checklists, starting with your daily list.
Tidying up daily can help you stay on top of all your chores so you won't need to spend much time cleaning on the weekends. A daily house cleaning list should include cleaning tasks such as:
Making the beds
Loading and emptying the dishwasher
Washing dirty dishes in the sink
Throwing away leftovers
Cleaning up any and all spills before they stain
Wiping down counters and tables
Squeegee your shower glass doors
Put away toys and clothes
Removing water spots and toothpaste from sinks and mirrors
Cleaning your pet's space, including their kennel or a litter box
Emptying the overflowing wastebaskets in the garbage bin
Weekly cleaning checklist.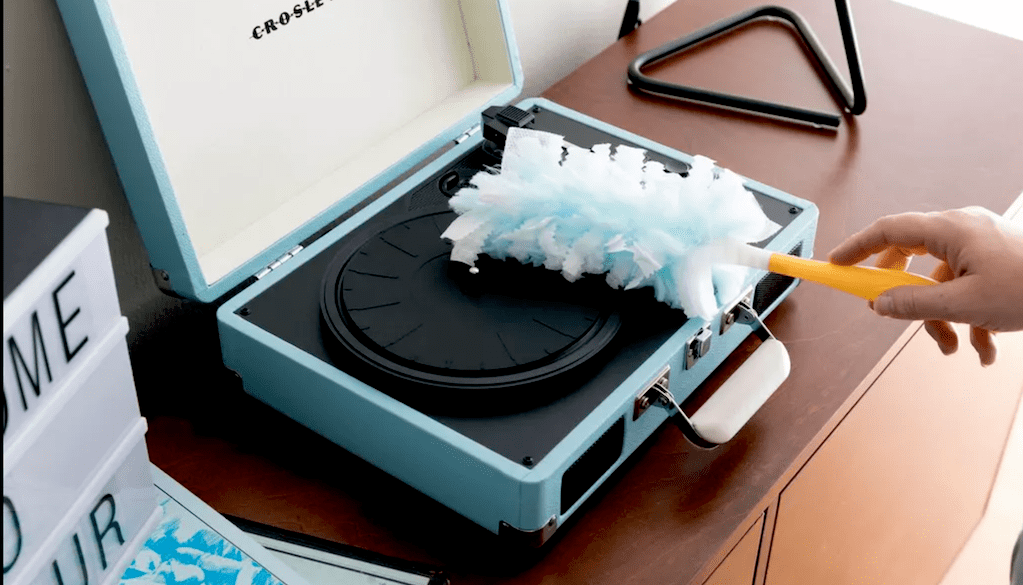 The following is a list of tasks to perform on a weekly basis:
Sweep, vacuum and mop your floors and rugs.
Clean out your fridge and throw away expired food.
Tidy up your walkways and entryways. Be sure to clean the floors in those areas.
Dust entryway furniture and clean the mirrors.
Tackle your laundry room. Fold clean laundry and wipe down the appliances.
Clean your bathroom mirrors, cabinet surfaces, counters, tub and toilet.
Change your sheets, bedding, pillowcases and towels.
Take out the trash before garbage pick-up day.
Dust the surfaces (TV, tables, lamp shades, etc.) in all of your rooms.
Shake out your bath, kitchen and front door mats.
Use a disinfecting spray to clean high-touch surfaces like your doorknobs, staircase railings, light switches, faucets and door handles.
You could spread out your weekly cleaning checklist by doing specific tasks on certain days of the week (highly recommended). Or, you could set aside a few hours on one day of the week to complete all of your weekly chores. A few more weekly cleaning tips:
Deep cleaning checklist.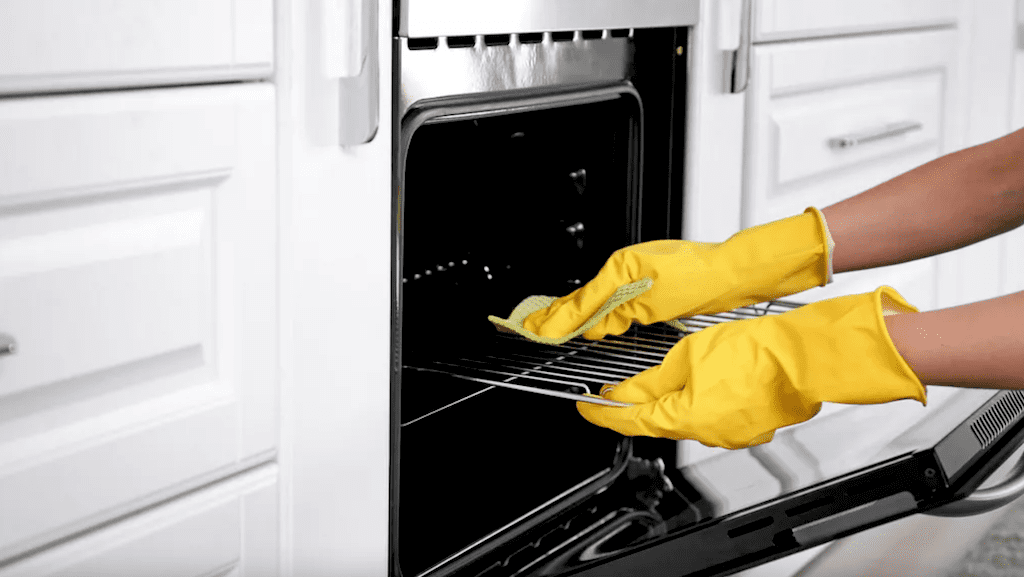 You might be wondering, "What is deep cleaning? And how does it differ from regular house cleaning?" Deep house cleaning focuses heavily on dirt and grime build-up around your house. In short, it's much more thorough than regular house cleaning. Your deep cleaning checklist should include the following tasks:
Washing windows, blinds and shutters
Cleaning window frames and sills
Polishing furniture, counters and other surfaces
Washing walls, baseboards and door frames
Cleaning your tile grout on floors, shower walls and counters
Vacuuming and cleaning underneath your furniture and appliances
Washing and sanitizing your garbage bins
Getting rid of any stains on your upholstery, drapes and carpets
Cleaning behind your refrigerator and furniture
Organizing and cleaning cabinet drawers and shelves
Cleaning kitchen appliances, including the oven, fridge, stove and microwave
Removing soap scum in your bathroom and kitchen
Cleaning the crown molding in your living room, bedrooms and bathroom
Dusting the ceiling fans and lamp shades
Sweeping and mopping up your floors
Scrubbing your shower and bathtub
Because deep house cleaning is a much more rigorous process, some households opt to hire a deep cleaning service every now and then.
Seasonal house cleaning tasks.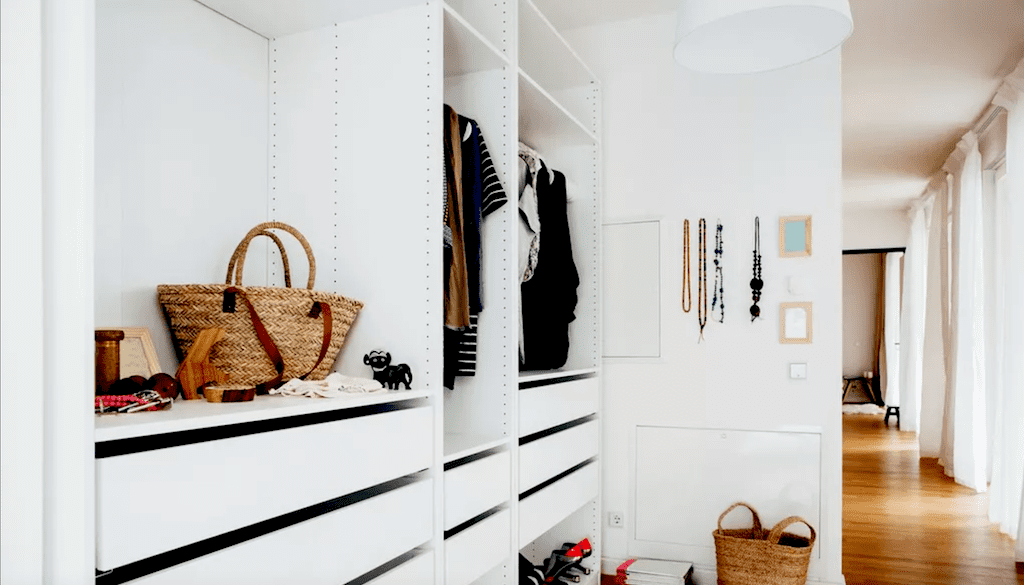 There's nothing quite like entering a new season with a well maintained, sparkling clean and organized home. Here are few areas inside and outside your home you should pay special attention to as the seasons change:
Bathroom cleaning checklist.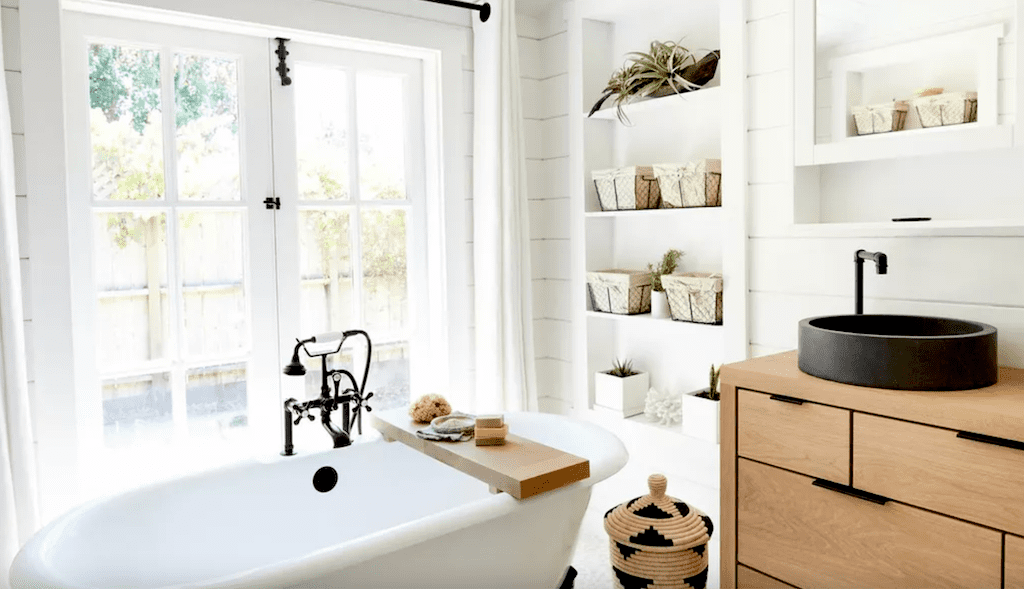 You know the difference between your kitchen and guest room. But dust and dirt don't. It's easy to prioritize cleaning certain rooms in your home (like your bathroom and bedroom) while totally forgetting others. Create a cleaning schedule that includes every room in your house so every room gets a bit of TLC.
First up: your bathroom. Include the following tasks in your bathroom cleaning checklist:
Wipe down your mirrors.
Scrub your bathtub and shower walls.
Sweep and mop your floors.
Wipe down your faucets and sink.
Clean your toilet, including around the bowl and rim.
Empty your cabinets and drawers and wipe them down.
Wash toothbrush holders, cups and soap dishes/dispensers.
Throw all towels in the washer.
Spray and wipe down the door handles and light switches.
Shake bathmats to remove dirt and wash them.
Refill the soap, toilet paper and clean towels.
Related: How to clean and maintain your tile surfaces.
Kitchen cleaning checklist.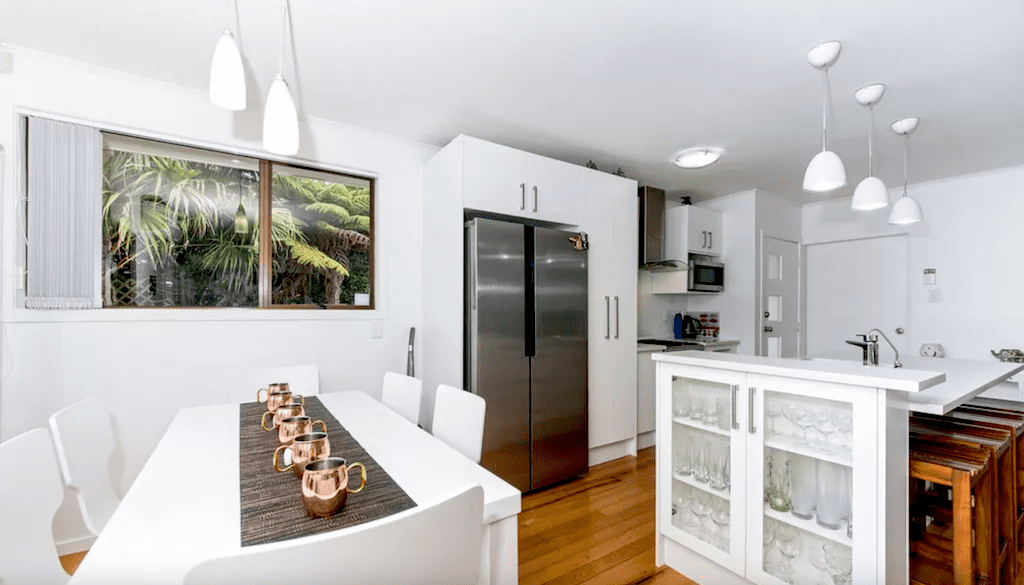 When it comes to your kitchen, don't forget these important to-dos:
Empty and wipe down your fridge and freezer (inside and outside).
Wash small appliances, including your coffee maker.
Remove crumbs from your toaster.
Scrub and wipe your stove, oven and microwave.
Wipe down your counters and table tops.
Get rid of soap scum on your sink.
Shake out your kitchen mats and wash them if needed.
Sweep and mop your kitchen floors.
Get rid of fingerprints on stainless steel appliances.
Clean your garbage can and empty it.
Wash and dry dishes.
Empty and clean your dishwasher.
Related: Maintenance tips to make your appliances last.
Living areas and bedroom cleaning list.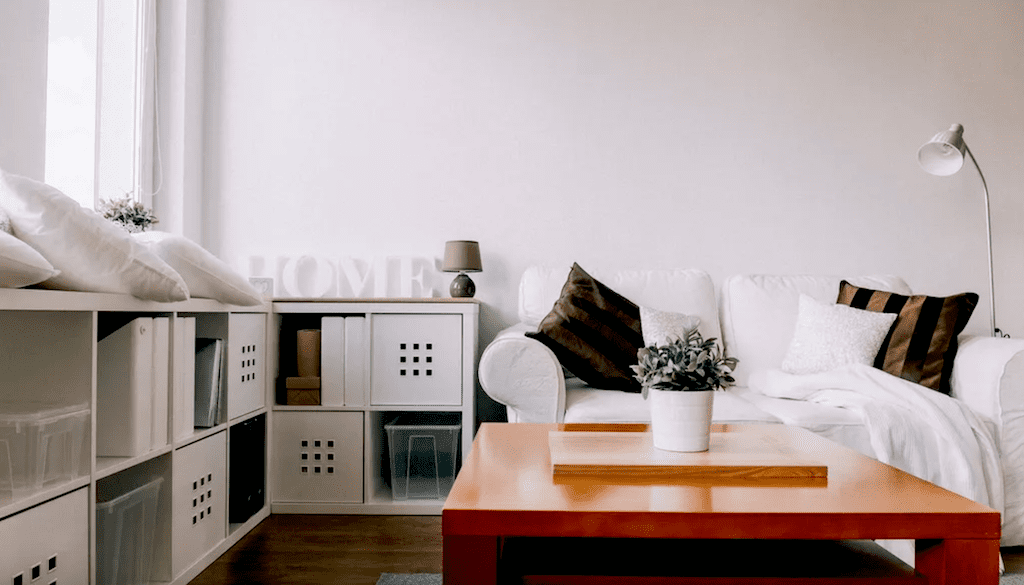 Next, let's tackle your living and bedroom areas. Be sure to:
Wash your windows.
Sweep, vacuum, and mop your living room floors and carpets.
Wipe down your tables and chairs.
Get rid of any liquid or food on your wooden furniture.
Vacuum your living room furniture and cushions.
Dust all the furniture, light fixtures, lamp shades and baseboards.
Dust and wipe down your TV and entertainment system.
Dust picture frames, vases and other small items and decor.
Change and wash your bedding and sheets every week.
Related: What's the best way to clean your carpets?
Exterior house cleaning list.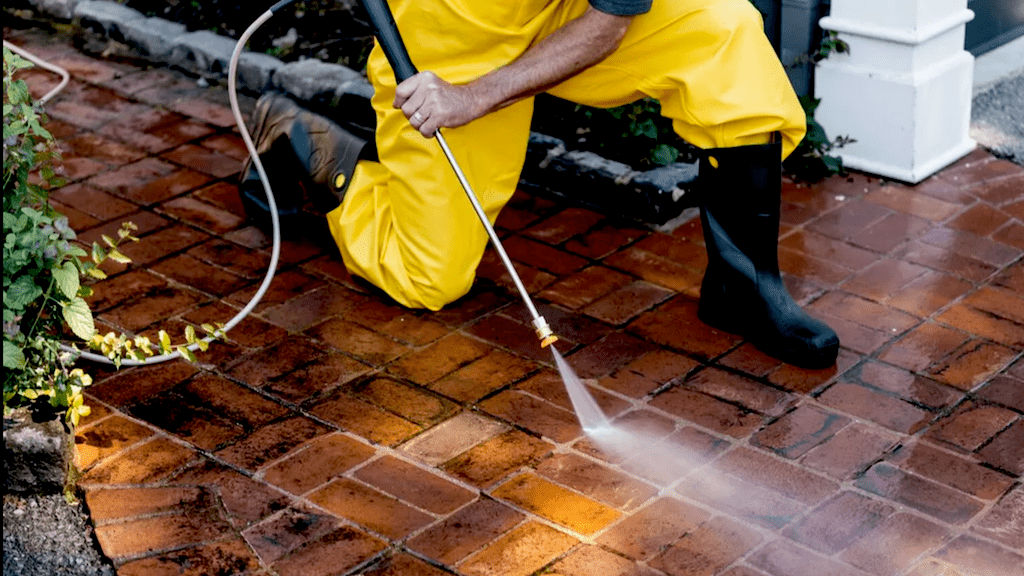 Finally, let's focus on your home's exterior. Boost your home's curb appeal with this exterior cleaning checklist:
Roof cleaning – Focus on cleaning mold and mildew build-up on your roof, as this may discolor and damage your tiles.
Pressure washing – Pressure cleaning your exterior with a garden hose or pressure washer can give your home a new look without having to paint it. Focus on cleaning your garage doors, patio, deck, railsing, walkways and driveway.
Exterior windows – Be sure to clean the outside of all your windows just as thoroughly as you clean your inside windows. You can also hire a professional window cleaning service for this.
Gutters – You can hire a gutter cleaning service to do this, or do it yourself. Get rid of all leaves, dirt and other debris that could be clogging your gutters and downspouts.
How much does house cleaning cost?
Most professional house cleaners offer a flat rate based on one of three things: square footage, price per room or price per hour. You might pay more based on how big your house is, how many bathrooms you have, the kind of cleaning you want (in general, a deep cleaning will cost you more) and the kinds of products the cleaner uses.
The best way to start is to get specific information from the pro on the types of cleanings they offer and how much they cost. If you're unsure, sharing photos of your space or requesting a free walkthrough is a great place to start.
For more on costs, see "How much does a house cleaner cost?"
Who to hire to help with your house cleaning.
Clean your home the right way. Find someone who will check off every item on your to-do list, from the couch cushions you love to the gunk you hate: