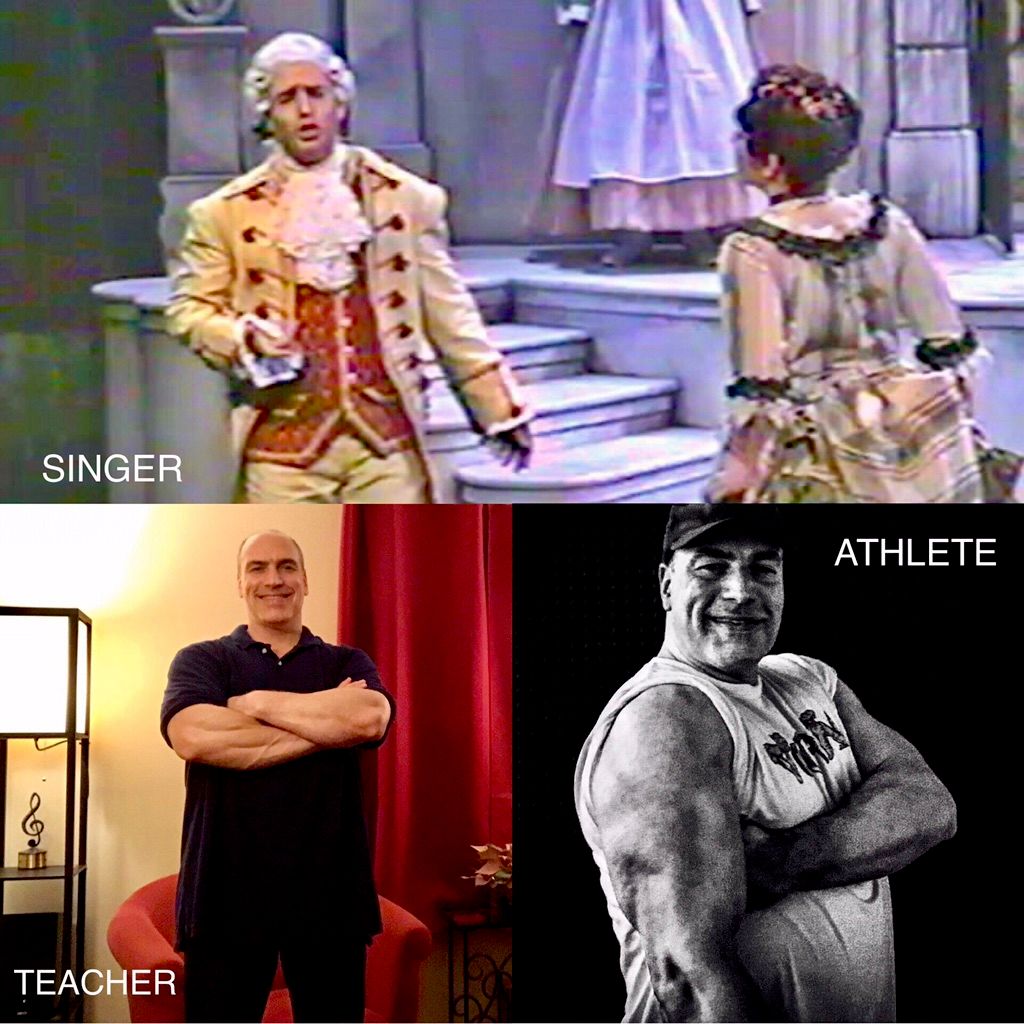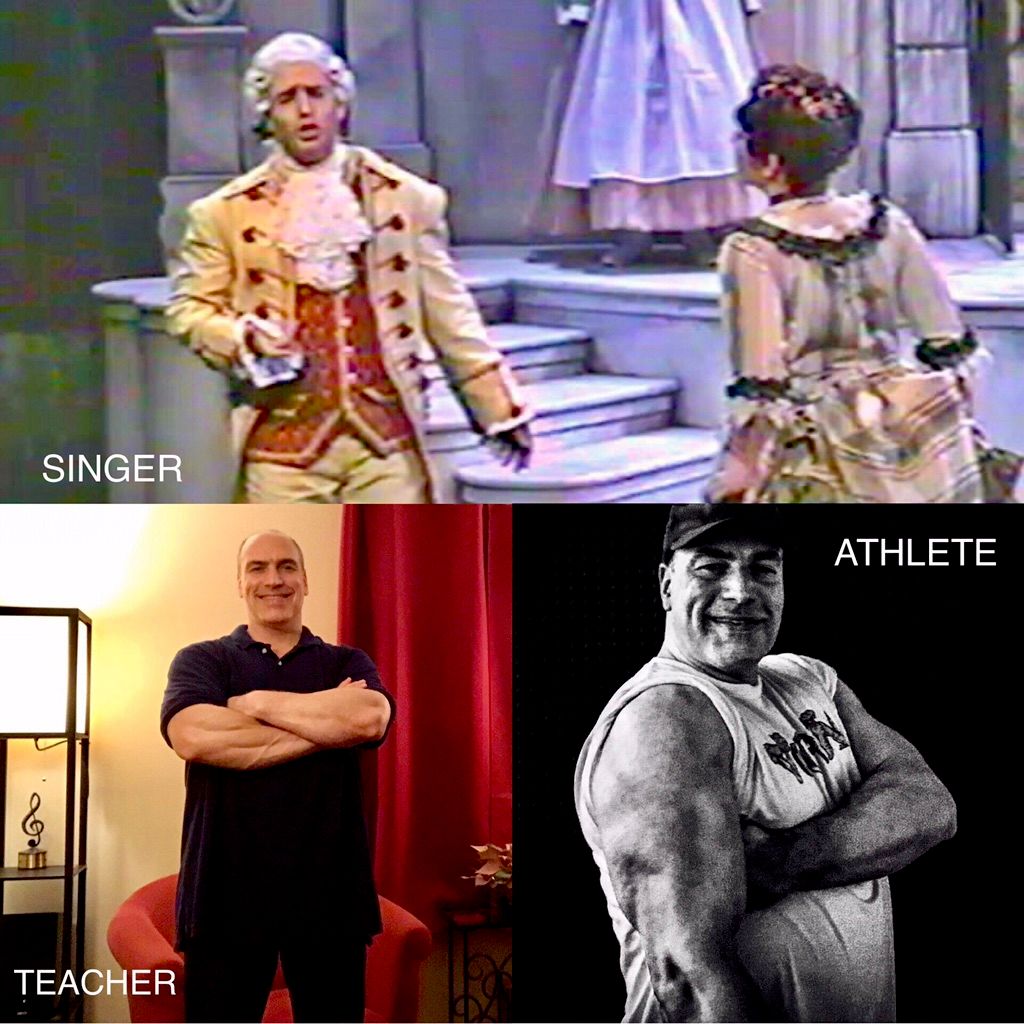 Bulent Guneralp Online Voice Studio
---
It's free, with no obligation to book
Introduction:
THE VOCATHLETIC SYSTEM "You don't have to be a bodybuilder to sing. But you can build your voice like a bodybuilder." - Bülent Güneralp The Vocathletic System is a trailblazing vocal training and singing method, which combines my experiences as an artist, musician, singer, actor, drummer, pianist, teacher, athlete, martial artist and nutritionist. The vocal organ is the larynx, but the whole body is the vocal instrument. Accordingly, The Vocathletic System includes not only revolutionary vocal training, but also functional bodyweight training, and nutritional education and the centuries old plant-strong diet as recommended by The Physicians Committee for Responsible Medicine founded by Dr. Neal Barnard and The T. Colin Campbell Center for Nutrition Studies founded by Dr. T. Colin Campbell. If practiced consistently and correctly, this comprehensive training results in a thoroughly cultivated voice and trained body, and optimized vocal performance based on vibrant health and fitness. Only the balancing, alkalizing and energizing plant-strong diet with high net gain nutrition powers The Vocathletic System. Singers, speakers and students who focus only on the vocal training aspect of the system and ignore its critical athletic and dietary aspects should not expect to attain the technical mastery and peak vocal performance the system offers. The Vocathletic System has only one aim: Spiritual vocal performance with technical freedom. ~~~~~~~~~~~~~~ TESTIMONIALS "COVID UPDATE: I've worked with Bulent for over ten years and have posted several in-depth and glowing reviews. However, here I want to talk about ONLINE lessons and what separates an excellent online voice teacher from a true master like Bulent. It's simply this: even with the less-than-desirable audio and video of an online lesson, Bulent's ability to hear how I am properly or improperly using my anatomy while I sing is positively uncanny. Even during an online lesson Bulent hears and sees the subtlest cues and indications and tells me precisely what I need to shift to have desired result. If you ever doubted you could learn to sing online...don't...check Bulent out...he's a vocal Jedi." - Jack V., Nice, France (jazz, blues) "I wish I could give this review 100 stars!.. Bulent is the whole package! His knowledge, expertise and in-depth teaching style surpass that of any teacher I have ever worked with and I couldn't be more grateful to have found him. In one lesson with Bulent I have already learned more than I had learned after almost 3 years with 4 other teachers!!!..."- Della L., Texas (pop, R&B, jazz) "I'm speechless! I can't believe the sounds that are coming out of my own face!"- Chanelle F., Virginia (pop, R&B) BULENT GUNERALP ONLINE VOICE / SINGING / SPEECH STUDIO Bülent Güneralp is an award-winning multi-instrumentalist professional singer, a classically trained artist who is at home in diverse genres from opera to American Songbook; voice teacher & coach, educator, creator of the trailblazing Vocathletic System, and a member of NATS (National Association of Teachers of Singing). He developed The Vocathletic System in his 30 dedicated years of practice. It applies the athletic principles of mind and body control, efficiency, nutrition and growth to vocal training. And it explains the whats, hows and whys of vocal technique in a manner easily understood and immediately put into practice with unequivocal results. Mr. Güneralp has helped singers achieve in their introductory lessons things they have not been able to accomplish even after years of prior vocal training. A litany of superb and enthusiastic reviews speak for themselves. His students come from diverse paths such as classical, opera, musical theater, jazz, pop, R&B, bluegrass, gospel, country, rock, heavy metal and public speaking. He specializes in helping students of all ages and backgrounds discover and express their natural voice in the most efficient way possible, which they can apply to any musical genre or vocal field. "Everything you are seeking vocally is already in you. And my goal is to help you realize it." - Bülent Güneralp REACTIONS TO FIRST LESSONS... "... just in one lesson I vocalized to high C with the knowledge he gave me. I actually, for the first time, knew how I did it. It was incredible. I was so happy that for the first time in years of voice training in upstate New York, 10 years in Manhattan, New York City, studying with teachers who sang at New York City Opera and the Metropolitan Opera, and not one of them was able to teach me what Bulent taught me in one lesson..." - Fausto Di I. in-studio (opera) "...I thought that 25 years would put me in a position of feeling like I knew something about vocalizing, but one lesson with Bulent has demonstrated to me how much about singing I still don't know." - Luciano R. (pop) "Bulent is an amazing and well seasoned teacher. From just two lessons I learned more about the mechanisms of singing than I had in 15 years or so of amateur singing... Thank you Bulent!" - Kim R. in-studio (pop, R&B) "Amazing! Simply amazing! I've taken lessons before, but none have ever stood out as much as this first one... Can't wait for the next one!" - Nestor C. online from Texas (R&B) "My first lesson with Bulent was truly eye-opening." - Quang H. in-studio (musical theater) "I've been singing all my life and I never met such an amazing coach... I learned so much in one session and I cannot wait to learn more." - Yasmine K. in-studio (jazz, R&B) "I've learned so much in 90 minutes, it's completely unbelievable." - Paul C. online from Nevada (pop, rock) "Bulent is a true professional. He exemplifies what I was looking for in a teacher. Not only is he clearly a powerful vocalist in his own right, he is also gracious and considerate as a teacher." - De K. in-studio (voice/speech) "Bulent is unlike any other vocal coach, as his method is unique, and his knowledge is down to the science and it allows one to deeper understand what is happening while you are singing... After the introductory lesson I was able to significantly improve. Online vocal lessons with Bulent are unbelievable." - Rajveer S. online from Texas (pop, rock) "After just one lesson I noticed a huge difference in my voice. My voice sounded stronger, better supported and has depth and resonance that I had not been able to produce in years!!" - Rocco I. in-studio (opera) "The reviews on Bulent's website are nothing short of unbelievable, which is to say, I literally did not believe them at first. But after my first lesson, it became clear to me where those reviews came from..." - Alan L. in-studio (jazz) "Bulent worked with me - a total stranger - with great care, deep knowledge, and a gentle desire to see me improve. And this is all the FIRST LESSON... I give my highest recommendation." - Geoff L. online from Tennessee (pop)
Featured Projects
76 photos
Reviews
Customers rated this pro highly for work quality, professionalism, and responsiveness.
Read reviews that mention:
---
Singing Lessons
I wish I could give this review 100 stars! In a nutshell: Bulent is the whole package! His knowledge, expertise and in-depth teaching style surpass that of any teacher I have ever worked with and I couldn't be more grateful to have found him. In one
lesson
with Bulent I have already learned more than I had learned after almost 3 years with 4 other teachers!!! In addition to that, he is such a kind and wonderfully positive human being and will offer you SO much more than just "singing exercises". Bulent will – if you're interested - teach you ideal nutrition, healthy lifestyle habits and positive attitude about life to make you a healthy, well-rounded singer inside and out! Whether you are a novice singer or an established professional, please give Bulent a try! Let me explain why: BEFORE Bulent: I was not born a gifted singer. I couldn't even sing Happy Birthday on pitch, and I didn't know what correct singing technique feels like. But I loved writing songs and lyrics and wanted to be able to sing and record my own material. That's how my search for a skilled voice teacher began. Almost 3 years and 4 other voice teachers later I was incredibly frustrated. I had followed all the instructions, did my exercises every day and worked hard on getting better. Yet, I had only made a little bit of progress here and there but still experienced a sore throat every time I'd sing and the quality of my voice and upper range actually got worse as time went by. I just couldn't figure out what I was doing wrong despite all my efforts! You see, a singer heavily relies on internal "feelings" and "sensations" when trying to sing correctly. And a skilled teacher needs to be able to explain to you what those correct internal sensations should feel like. Most teachers will tell you to "tense your abs" or "place the sound somewhere in the middle of your face". These instructions are WAY to crude and partially even wrong / not detailed enough! It's no wonder my voice kept getting worse. I FOUND BULENT ON THUMBTACK: Bulent will teach you about the body's anatomy in great detail (actually really important to know for proper technique!!), he will tell you how and where sound is generated and every single exercise has a distinct purpose! His exercises are unlike anything I have tried before – he ISN'T just your average "sing up and down the scales" kind of teacher - everything he teaches makes so much sense (And I've finally understood where my technique had gone wrong all these years!) and he does it with a lot of patience, kindness and compassion! SKYPE
LESSONS
: I live in Houston, TX, and therefore Bulent and I go through our
lessons
via Skype (this is my 3rd month with him). I had no idea how convenient it would be to work over Skype. I really save a lot of time not having to drive anywhere (which I previously did with other
lessons
) and I know that no matter where I travel or live, I can keep on learning with Bulent, which is really neat! VOCATHLETIC SYSTEM: This was also totally new to me and the coolest thing. Bulent has a precise, written-down (see his website) strategy for how to get you from point A to point B in your vocal journey. As mentioned earlier, there are numerous teachers that will simply throw random exercises at you or worse, not give you any exercises and simply have you sing up and down the scale and emphasize singing higher and higher notes, regardless of whether you are using correct technique, whether it suits your vocal range etc. In Bulent's view (and I share it 100%) a singer is nothing less than an athlete predominantly using the muscles surrounding the vocal chords, lower abs (and a symphony of various others) to perform. A runner – also an athlete – trains and uses his leg muscles etc. you get the idea, and as a singer we are no different other than that we use a different subset of muscles. And athletes need a proper training plan and regimen, which is exactly what Bulent's Vocathletic System encompasses. Once you view yourself as an athlete, you realize that proper nutrition and lifestyle choices might also be necessary for ideal performance and Bulent provides countless resources, pointers and information for these areas as well. By the way, Bulent is also a successful bodybuilder (just check out his Instagram page) and you'll see for yourself that he knows how to train as an "athlete" in general. Last but not least, to me it was important to find a teacher who has had a professional singer career in the first place, because singing for fun and singing on stage professionally are two very different things and having a teacher who can provide real life experiences and stories from being on stage, is another must have! I know my review is super long but I'm just immensely grateful for Bulent's knowledge and ability to finally explain so many "vocal mysteries" to me!!! Bulent, THANK YOU for all that you have taught me already and I can't wait to see what more progress we can make during the upcoming years!
Bulent Guneralp Online Voice Studio's reply
Dear Della, Thank you so much for your kind and amazing review! This is one of the most comprehensive and detailed reviews I have ever received! I greatly appreciate it! It's such a joy to work with you, I'm delighted to see your progress, and I'm looking forward to continuing your wonderful vocal journey together! All the best!
Public Speaking Lessons
My first
lesson
with Bulent went great! He has very valuable information to give and is really encouraging to work with! I look forward to improving with his help.
Bulent Guneralp Online Voice Studio's reply
Thank you so much, Brandon! I'm delighted to welcome you to my voice studio! Looking forward to a great vocal journey!
Singing Lessons
Mr Güneralp is a fantastic teache! Very patient, responsive, and intelligent about his work. I highly recommend going to him for vocal
lessons
!
Singing Lessons
I was hesitate at first to follow my dreams to be a singer. I wasn't confident in my voice because I had issues with perfecting my pitches and I had poor breathing techniques. One day I finally decided to hire a vocal coach. I came across many vocal coaches ads but Bulent Guneralp was the one ad that stuck out to me. So I decided to give it a try. I thought I would be wasting my money on
lessons
because I didn't think I would gain anything from the
lessons
. I started taking singing
lessons
with Bulent Guneralp back in August. At first, I didn't understand any of the singing exercises. It was something new and a challenge I had to accomplish. Bulent Guneralp is very patient and understanding when it comes to his students. Overtime I was able to perfect the singing exercises and understand how the singing exercises actually helped improved my breathing technique when I sing. I recorded myself singing last week and was amazed of how my voice sounded. Bulent Guneralp has helped me gain confidence in my voice because I didn't know how my voice should sound. Thanks Bulent Guneralp!
Singing Lessons
Unbelievably how much my 12 y old daughter learned just in 1
lesson
! We are looking forward to continue our amazing journey through voice
lessons
with Bulent!
Credentials
Background Check
Bulent Guneralp
FAQs
What should the customer know about your pricing (e.g., discounts, fees)?

LESSON RATES 1. Introductory Lesson / 2. Scholarship Rates / 3. Standard Rate INTRODUCTORY LESSON 60-min. / $100 SCHOLARSHIP RATES Weekly, Bi-weekly, Monthly Recurring Lessons A minimum of one lesson in a given month qualifies students for these rates. 30-min. / $50 45-min. / $75 60-min. / $100 STANDARD RATE Schedule-as-you-go, non-recurring lessons. 60-min. / $200

What education and/or training do you have that relates to your work?

RECOGNITIONS * Recognition with Official Citation, The Massachusetts State Senate * Certificate of Recognition by Thomas Menino, Former Mayor, Boston, Massachusetts AWARDS * Omaggio al Bel Canto Best Interpretation Award, Stelle dell'Anno Nuovo Festival, Consulate General of Italy and The Dante Alighieri Society Italian Cultural Center, MA * Winner, Honors Concert Competition, Longy School of Music, MA * Two-time Winner, Orchestra Soloist Competition, Longy School of Music, MA * Roberto Stagno Vocal Scholarship, Boston Donaudy Society, MA * Vocal Scholarship, Austria Culture Center, Istanbul, Turkey * Grant Award, Opera and Broadway Concert Project, Natick Cultural Council, MA AFFILIATIONS * Member, NATS (National Association of Teachers of Singing) * Member (Singer and Teacher), Boston Singers' Resource * Performer, Member (past), Boston Opera Collaborative * Bass Soloist, Section Leader (past), Quincy Point Congregational Church TEACHING POSITIONS * Vocal Instructor (past), Summer Choral Institute, The Boston Conservatory * Voice Faculty Member (past), Quincy Point Music Academy * Voice Faculty Member (past), A Street Music, Quincy EDUCATION * Graduate Performance Diploma in Voice, The Boston Conservatory * Opera Performance Program, Longy School of Music, Boston, Massachusetts * Voice - Opera Program, Istanbul University State Conservatory, Istanbul, Turkiye

How did you get started doing this type of work?

I started teaching around 1997 through the encouragement of my music theory teacher Mine Mucur at the Istanbul University State Conservatory, where I studied voice - opera.