How much does a fiberglass pool cost?
The national average cost of a fiberglass pool is $26,128-$41,375, depending on the size. On the lower end, a fiberglass pool costs $21,947-$34,754, on average. More expensive pool options will cost as much as $33,705-$53,373, on average.
Fiberglass inground pool cost:
| | |
| --- | --- |
| National average cost range | $26,128-$41,375 |
| National average low-end cost range | $21,947-$34,754 |
| National average high-end cost range | $33,705-$53,373 |
*All figures above represent national average costs of fiberglass pools ranging from 300-900 sq. ft.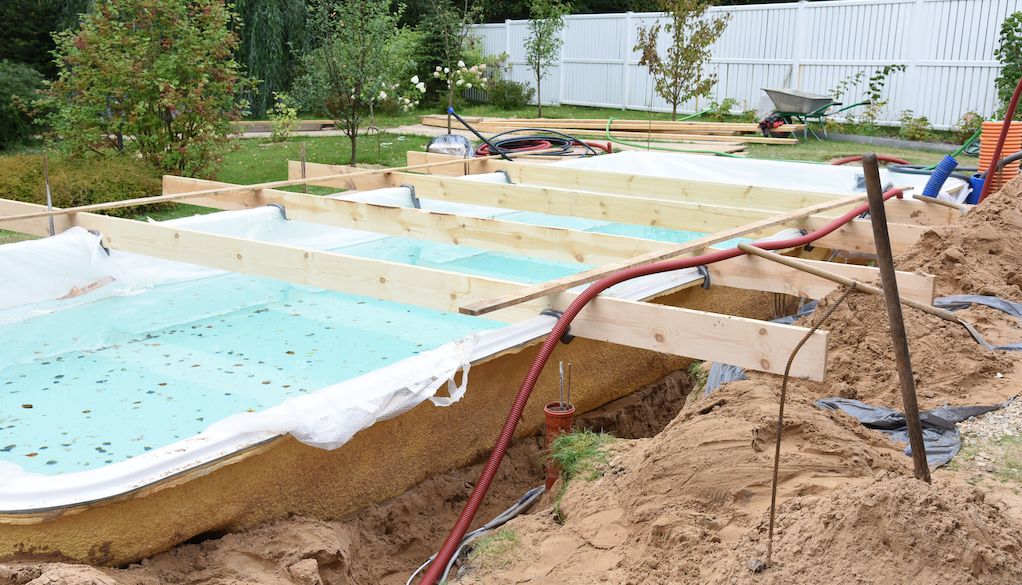 Keep reading to find out what impacts the cost of fiberglass inground pools so you can make a plan for your budget.
What's in this cost guide?
| | | | |
| --- | --- | --- | --- |
| | Materials | Labor | Equipment |
| National average cost range | $17,476-$28,711 | $8,008-$11,086 | $644-$1,578 |
| National average low-end cost range | $14,680-$24,117 | $6,726-$9,312 | $541-$1,325 |
| National average high-end cost range | $22,544-$37,037 | $10,330-$14,301 | $831-$2,035 |
*All figures above represent the national average costs of fiberglass pools ranging from 300-900 sq. ft.
Typically, materials cost more than labor when building a fiberglass pool. The national average labor cost for fiberglass pools ranges from $8,008-$11,086. Meanwhile, materials cost $17,476-$28,711, and equipment costs $644-$1,578, on average.
Compare prices from pool builders near you.
| | |
| --- | --- |
| Size | National average cost range |
| Up to 300 sq. ft. | $21,947-$33,705 |
| 301-600 sq. ft. | $27,228-$41,813 |
| 601-900 sq. ft. | $34,754-$53,373 |
*All figures above represent national costs of fiberglass pools.
The size of the pool directly impacts how much material the installation process will require. As a result, a larger fiberglass swimming pool will be more expensive. Although fiberglass pool installers measure pool size in square feet, both the area and depth will affect the pool cost, as well.
In addition to manufacturing and installation costs, larger fiberglass pools can be more difficult to transport. For larger pools, a significant portion of the cost will be the cost of shipping.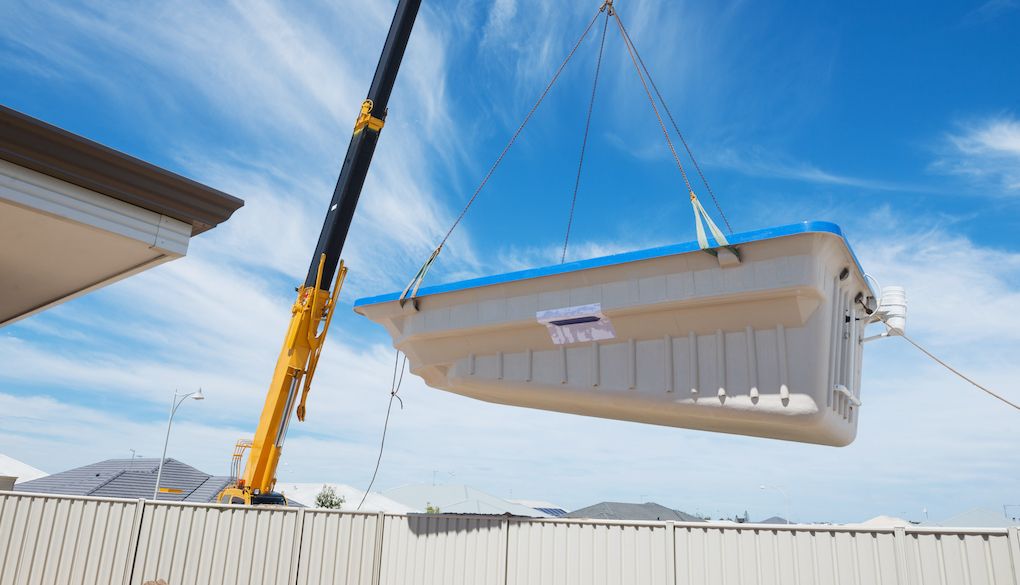 The size of the pool will also affect how much labor goes into the installation. Not only are larger pools more difficult to transport, but they also require more landscaping work. In addition to digging a large enough hole, the installer will have to prepare your yard to accommodate the pool.
Related: How much does an inground pool cost?
The main factors that affect the total cost of a fiberglass pool include its size, materials and landscaping requirements. A steeply sloped yard, for example, will require more labor to accommodate an inground pool.
Some states and cities legally require a fence for certain pools. If you have to build a fence, make room in your budget to accommodate the potential cost. You should also budget for any additional landscaping features you desire, such as decking and lighting.
In addition to the materials used to create the pool shell, the price of a fiberglass pool includes backfill materials. Installers use backfill materials to refill the extra space around the pool. Properly backfilling a fiberglass pool is essential to prevent costly repairs. For example, you can help prevent bulging walls if your installer uses gravel backfill instead of sand.
Fiberglass pools can last several decades (30 years or more, according to some companies) with proper care and maintenance. Because fiberglass is a flexible and sturdy material, it doesn't require as much maintenance as other pool types.
Fiberglass has several advantages over alternatives like a vinyl liner or concrete. However, like any type of swimming pool, fiberglass has some less-than-ideal qualities.
Here are the pros of building a fiberglass pool:
Low maintenance: Fiberglass pools are easier to maintain than other materials. The gel coat finish makes fiberglass more resistant to algae growth and easier to clean. A fiberglass pool is also corrosion-resistant, so they don't require resurfacing as regularly as other materials.
Quick installation: Because manufacturers use molds to produce fiberglass pools, they are quick and easy to manufacture. The installation process is faster than concrete and vinyl liner pools as well.
Durable: Fiberglass, unlike concrete and vinyl, is flexible and can handle temperature changes. Coming in one solid piece, a fiberglass pool is also less prone to cracking when shifting occurs.
Smooth surface: With concrete pools, the surface is porous and rough. This can be uncomfortable and lead to scrapes and scratches. A fiberglass pool's smooth surface makes it much more comfortable and helps prevent injury.
Versatile: Despite a limited number of sizes and shapes, fiberglass pools are a versatile option. They work for both chlorine and saltwater pools, and you can easily fit them with features like heat pumps and automatic covers. And shapes that would be difficult to make with concrete or gunite come ready-made in fiberglass pool molds.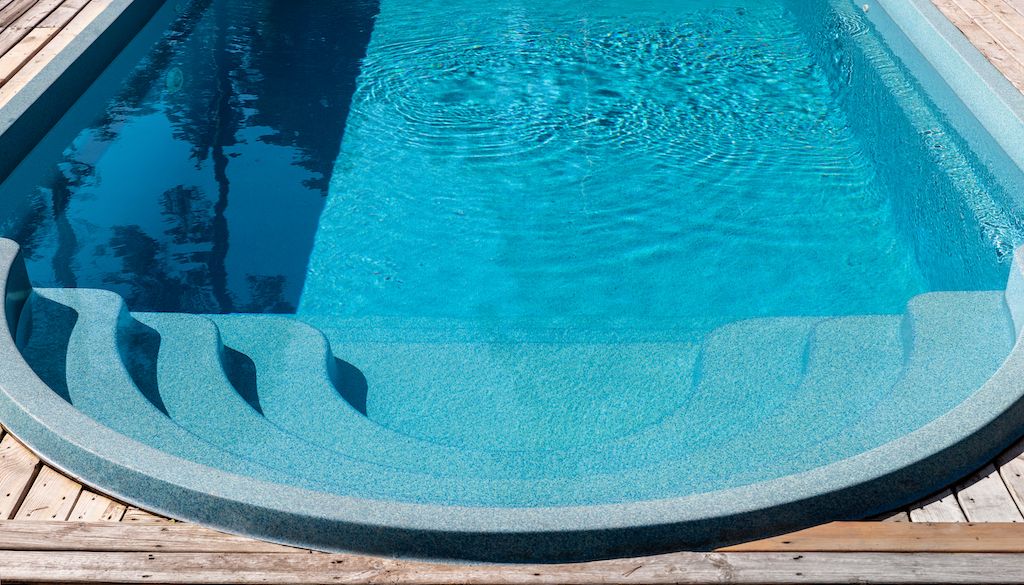 Here are the cons of building a fiberglass pool:
Fewer shape and size options: Although molds offer fast production, creating molds in new shapes and sizes is expensive. As a result, manufacturers generally have limited options for fiberglass pools.
Expensive: Despite low maintenance and operation costs, the initial investment can be high for a fiberglass pool.
Challenging to ship: Because fiberglass pools are one large piece, transporting them can be a challenge. They require a crane to load and unload, especially for larger pool sizes. This can lead to additional costs for shipping, especially if you order from a manufacturer out of state.
May discolor with sun exposure: Fiberglass may resist corrosion and algae growth, but UV light can cause fading over time. A pool cover can help prevent discoloration when the pool isn't in use.
Get free estimates from top-rated pool builders.
Fiberglass pools may have a high initial cost. However, several benefits may outweigh the cost for homeowners interested in installing a pool.
In addition to often lasting decades, fiberglass pools have lower maintenance costs than other options. The gel coat doesn't need regular resurfacing like concrete. Over the lifespan of the pool, this can offset the higher upfront cost.
Furthermore, installing a fiberglass pool may increase the resale value of your home and boost its curb appeal. Research real estate trends in your area and speak with a professional to find out if this type of pool can give you a higher return on investment when it comes time to sell your home.
The simplicity of the installation process also means less disruption to your backyard. With a fiberglass pool, the time between placing your order and enjoying your new pool is often shorter. The molding process also makes it easier for fiberglass pools to include features like steps and ledges.
Despite all the mitigating factors, fiberglass pools aren't ideal for all situations. Concrete may be a better option if you want a pool with a unique shape or size.
Getting an estimate is an important first step for homeowners considering swimming pools. While the benefits of a fiberglass pool may outweigh the initial cost, you still need to find a contractor that fits your budget.
With Thumbtack, getting a free cost estimate from local contractors is fast and easy. Download the app to find a nearby pool installer with high ratings and plenty of good reviews.
FAQs
Do fiberglass pools crack?
Fiberglass' flexibility makes it less prone to structural damage from cracks. However, the gel coat may develop hairline cracks over time.
What is a good size for a fiberglass pool?
Fiberglass pools ship in one piece after manufacturers build them, which limits them in size due to federal shipping regulations. The best pool size for your home depends on your specific needs and the amount of space you have.
According to the manufacturer River Pools, fiberglass pools range in size from 15 feet by 8 feet up to 16 feet by 40 feet. Keep in mind that some features require certain depths and widths, like diving boards or slides.
Are fiberglass pools hard to maintain?
Fiberglass pools are one of the easiest pool types to maintain. The smooth, non-porous surface makes it difficult for algae to grow. They also don't require as much resurfacing as concrete pools.
Fiberglass is easy to repair in the event of a crack. However, cracks are unlikely with fiberglass due to its gel coat finish.
But remember: regular water maintenance (like testing and balancing the chemicals) is still necessary to keep a fiberglass pool clean. You should also scrub and vacuum periodically.
Related: Pool maintenance 101: your easy pool cleaning guide.
*The project cost estimates provided in this article were provided by Xactware's pricing data (unless otherwise noted). For more information, visit Xactware's pricing methodology page.