Thinking about improving your front yard and backyard but don't know where to start? Here are some landscaping ideas that'll spark your imagination.
Backyard and front yard landscaping ideas and themes.
Boost your home's curb appeal and create an outdoor sanctuary with these landscaping ideas for your backyard and front yard. Each idea has a specific theme, but you don't need to add every single feature to make your yard the best on the block. Just take a few elements from these suggestions and put your own twist on them.
Intimate outdoor living room.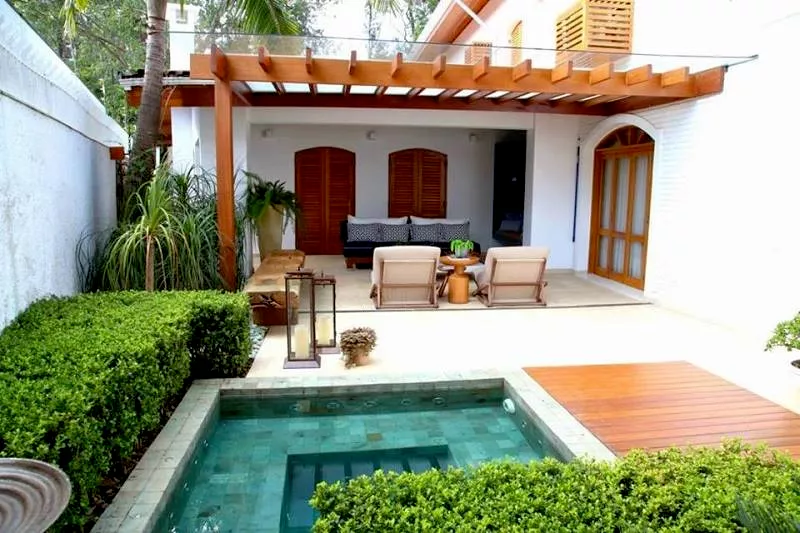 Photo credit: Achieve Remodeling
Crafting an intimate, outdoor living space takes some skill and finesse, but it doesn't have to be complicated. Mix up your hardscaping and softscaping to give your backyard the look and feel of a natural outdoor living room.
First, take a look at your living, family and dining rooms for inspiration. How can you design your outdoor space to match or complement your interior's aesthetic? For example, you could place perennial bushes, synthetic rattan furniture with comfy cushions, throw pillows and a table under a covered patio. Make it even cozier by adding an outdoor fireplace and hanging string lights or lanterns.
Do you have a small backyard? Don't let its size hold you back. Utilize your entire space by having your patio run right up to your property border or fence line. Or, keep your fence line high to make your space cozier — and more private.
Find a top-rated landscaper near you.
Backyard vacation resort.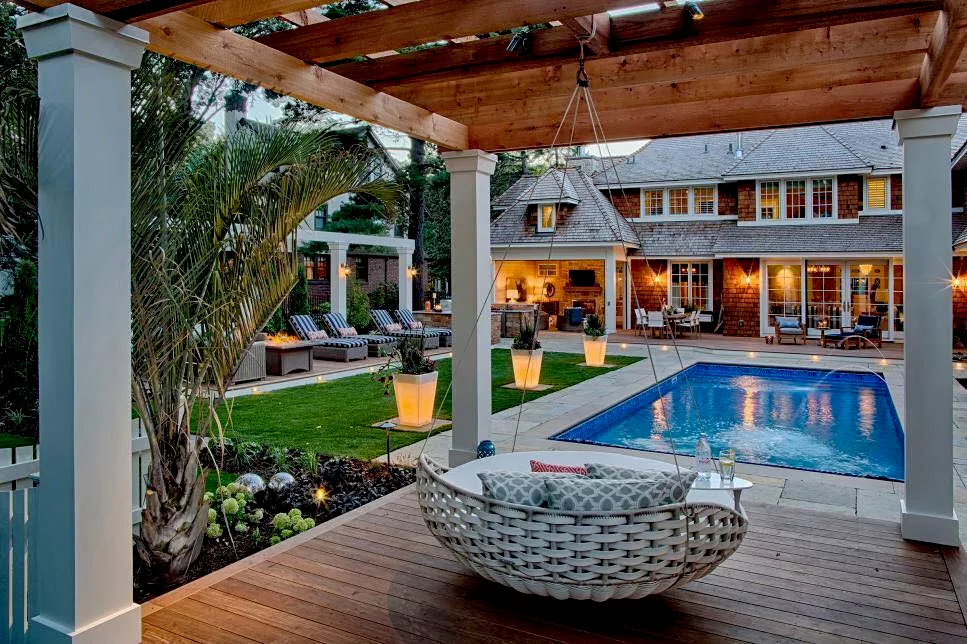 Photo credit: Achieve Remodeling
Instead of spending a small fortune to stay at a resort every summer, why not create a vacation spot at home? If you already have a pool, you just need a few more elements to bring the vision to life. For example, plant a few bright, tropical plants (bougainvillea, bird of paradise, bamboo, small palms, etc.). Install well lights into the ground to spotlight plants and other landscaping features around your pool. Or, use vertical light torches for a tropical-luxe atmosphere.
Next up: seating. Buy beach lounge chairs and place them near your pool's edge. You can also get lounge chairs that can be submerged halfway into the water. Or, hang a few hammocks on your deck or patio. Achieve beach club vibes by building a backyard cabana, gazebo or canopy and placing comfortable couches or egg-shaped outdoor patio chairs on the patio. Decorate your sitting area with bright, colorful accent pillows and cushions, and use string lights to create a soft glow.
Finally, if you really want your backyard to feel like an all-inclusive resort, consider adding an outdoor shower, sauna, spa, kitchen, bar or even a small water slide to your yard.
Woodland muse.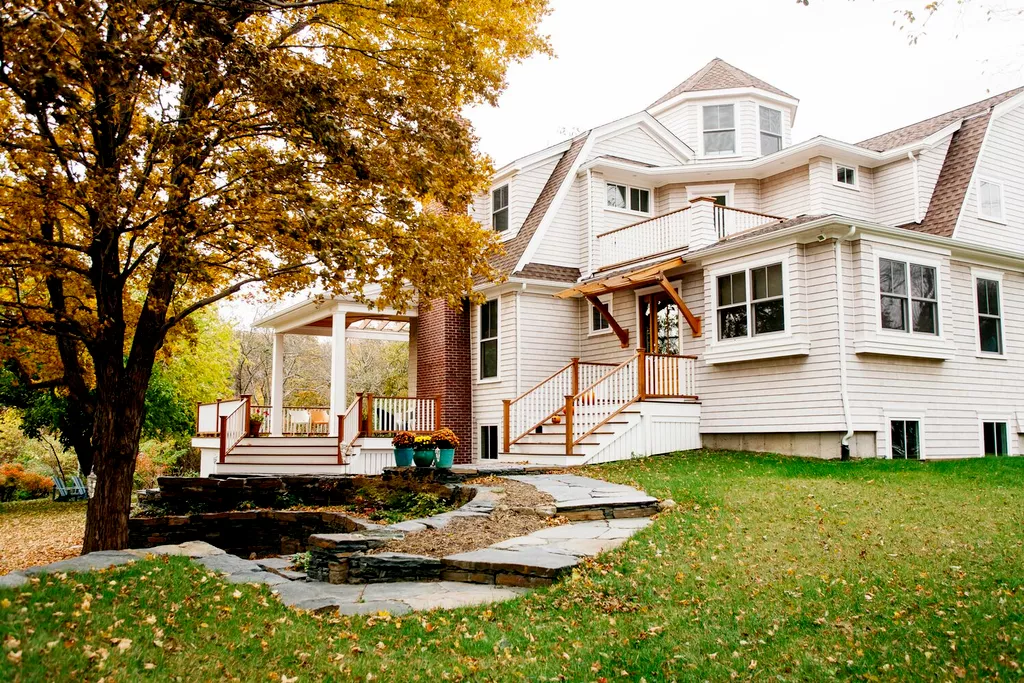 If your home is near the woods, make the area look and feel as natural as possible. Use the nearby trees, flowers and other native elements to cultivate the space in your yard.
For example, lay rough-cut stones, plant native perennials, decorate your patio or deck with wood furniture and accents, or build a natural water feature like a pond or stream. With this idea, your backyard will blend beautifully with your natural surroundings.
Multi-use backyard.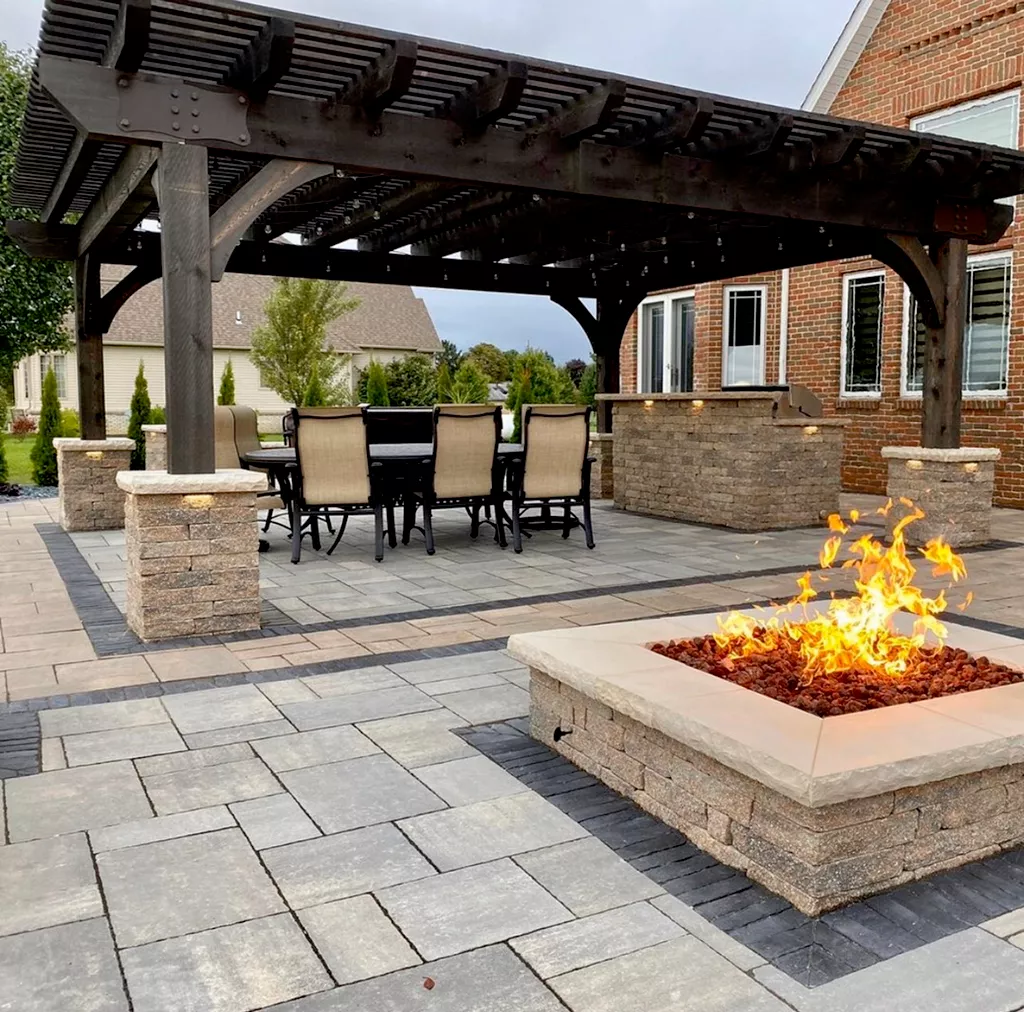 Photo credit: TM STONE WORK LLC
A multi-use yard has multiple functions. It can have a patio area for recreation, exercise or lounging. It can have an outdoor kitchen for summer barbecues and dinner parties. It might even have a pool or play equipment for the kids to enjoy. Plus, it looks great — thereby increasing your property value.
Before you dive right into creating a multi-use backyard, consider the functionality and ask yourself, how will my household utilize the backyard? From there, create a list of backyard features that will make everyone happy.
Search local landscapers and check prices.
English country garden.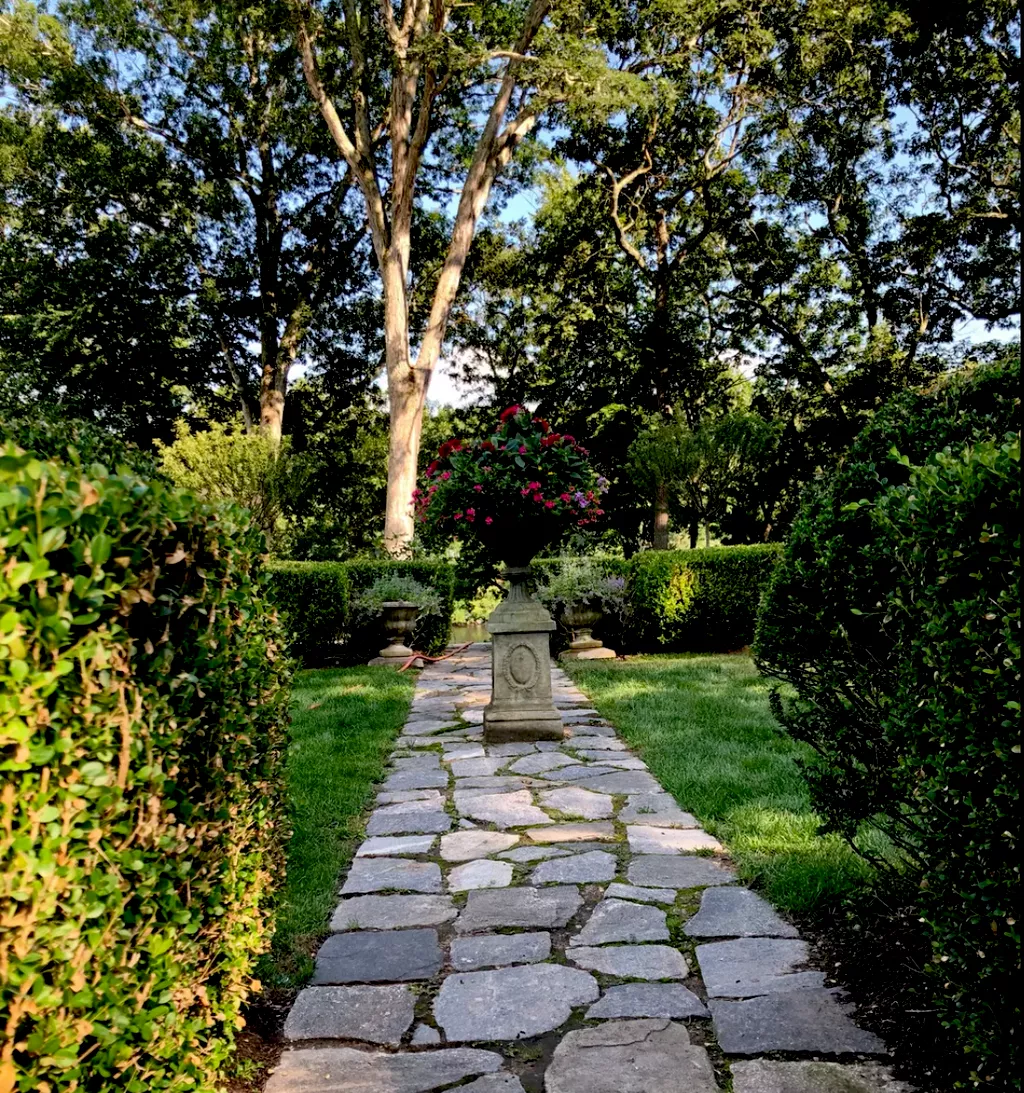 Photo credit: Plant Design Therapy
England is known for its sophisticated, formal style of gardening. It's a classic style that you can emulate in your backyard or courtyard.
Start by planting large, bushy perennials like hydrangeas and roses, and mix in lavender and rosemary herbs into the design. Don't forget to include a few boxwood hedges to help shape your yard.
You can also incorporate a few hardscape features into your elegant garden. For example, install a metal fence and gate, build a wooden bench under an arbor, and create a garden path using brick, gravel or cobblestone. Complete the vision with a fountain or a pond.
Private sanctuary.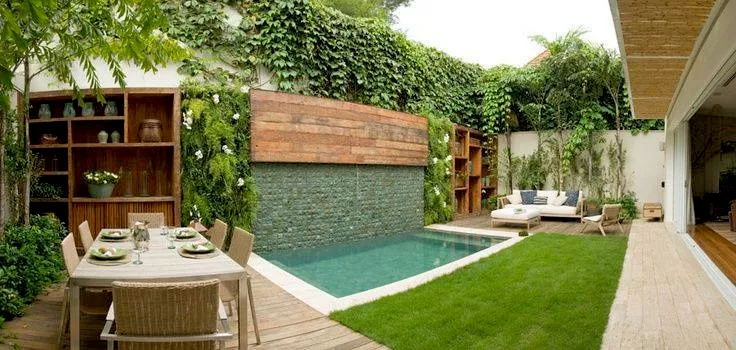 Photo credit: Achieve Remodeling
This landscaping idea is simple but can have a big impact on your peace of mind. If you don't want your neighbors to easily see what's going on in your backyard, use plants and trees to build privacy hedges and screens. For example, you can use vines, arborvitae, hemlock, yew and Leyland cypress to make your space more private. You can also use wood fence panels, bamboo, vertical gardens, metal fencing, a trellis and more for enhanced privacy.
Classic suburbia.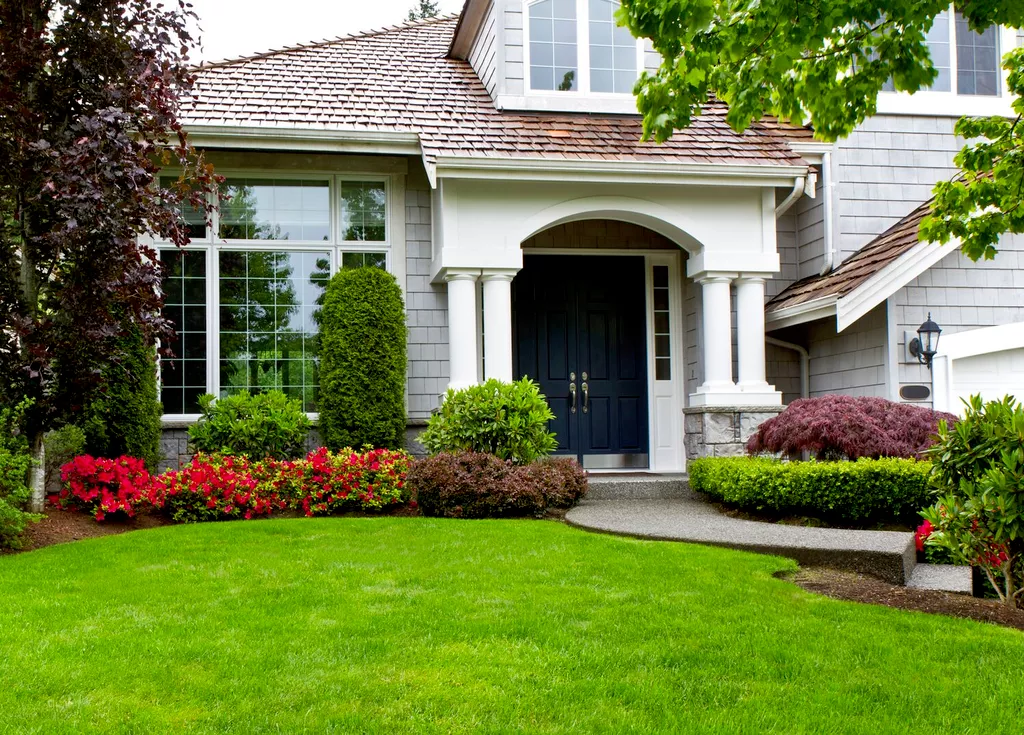 White picket fences, manicured lawns, clean borders, colorful flower beds, stone pathways and a quaint, little porch — these front yard landscaping ideas are great if you want your home to give off classic suburbia vibes.
For additional charm, install a white picket fence out front, and plant rose bushes or evergreens to help it stand out even more. Next, add simple path lights along your walkway. And perhaps plant a pine oak or red maple out front for maximum shade. Or, choose a sugar maple or dogwood tree for beautiful yellow, orange, bronze and red foliage during the fall.
Desert oasis.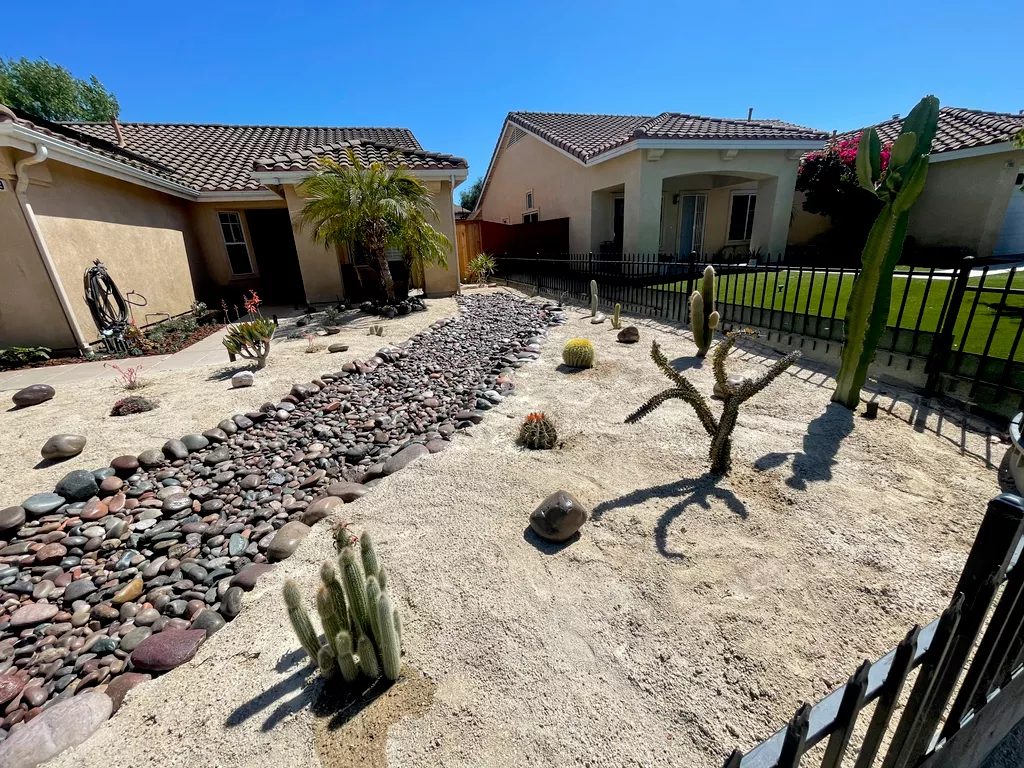 Photo credit: Drab to Fab Landscapes
A grass lawn is standard for most yards. But mowing, watering, fertilizing and aerating your grass can get tedious and tiring — not to mention expensive. Simplify your lawn care routine by substituting your grass and flowers for cacti, succulents, gravel and boulders in your yard. You can also add a water feature while achieving a desert-inspired landscape. Just be mindful of your water usage if your area is experiencing a drought.
See which landscapers are top-rated in your area.
Landscape lighting ideas.
Lighting is a key ingredient when creating an elegant landscape. Not only will light fixtures spotlight the features you've worked so hard on, but they can also help prevent accidents near steps, on uneven pathways and around swimming pools.
Floating lanterns.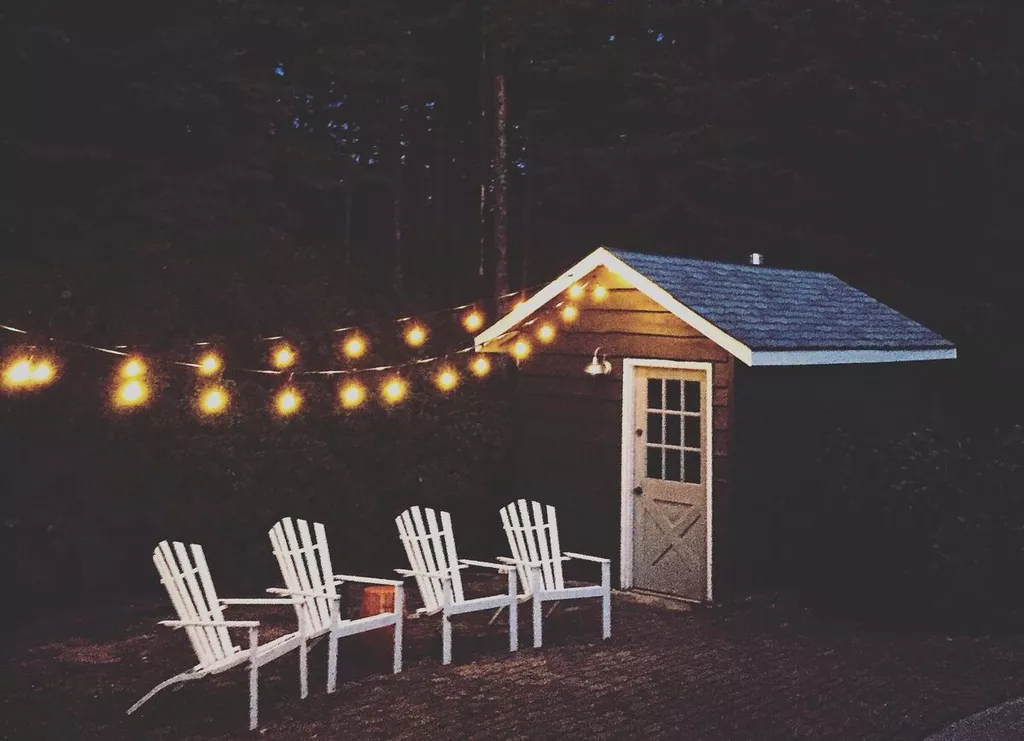 Light your yard with lanterns to give it a beautiful, peaceful ambiance. Combine this with well-shaped evergreens and pines, and you have yourself a calming atmosphere for dining, relaxing or meditating.
Twinkling string and fairy lights.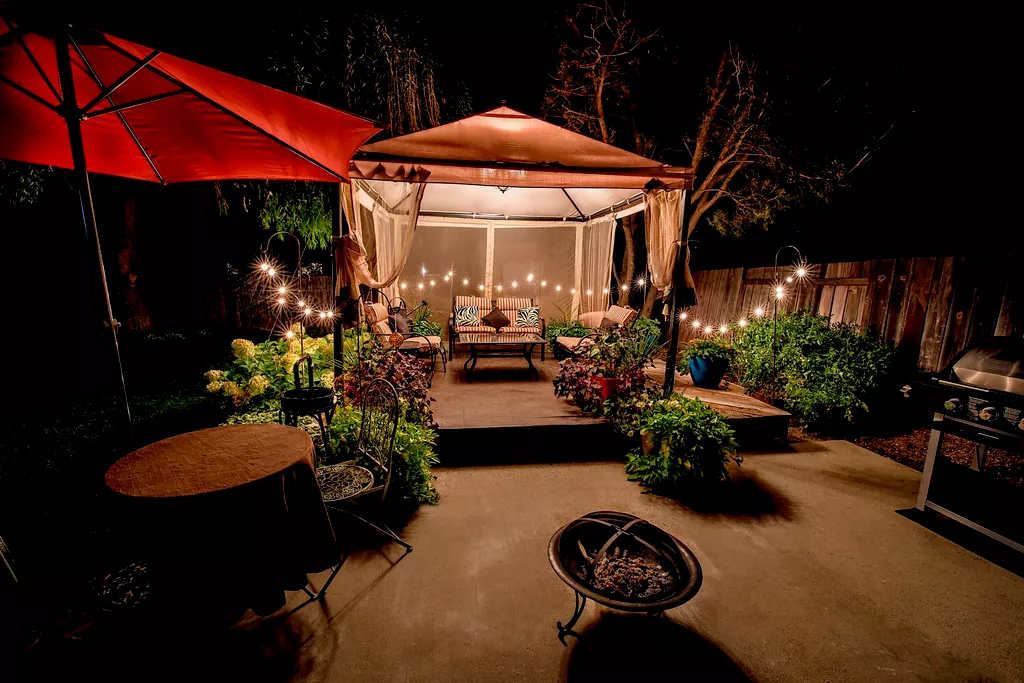 String lights are great for creating an informal atmosphere that feels cozy and comfortable. Hang small fairy lights on your fence or wrap them around your pillars for a subtle, cozy, soft glow. You can also use string lights with large bulbs to provide more lighting during your outdoor soirees.
Find a top-rated landscaper near you.
Simple path lights.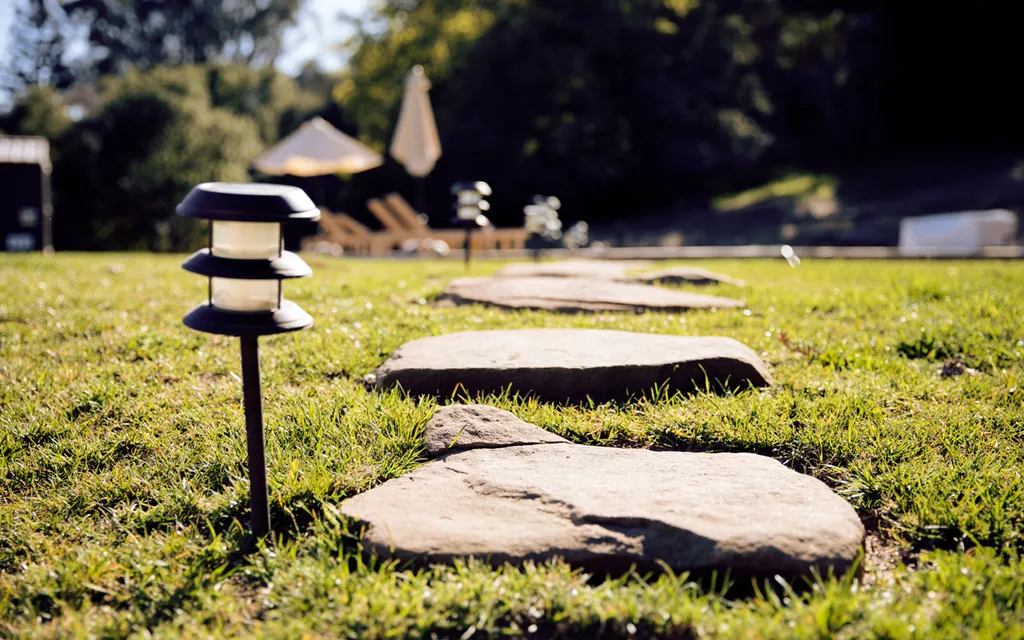 If you have a walkway, it's highly recommended that you provide some type of pathway lighting. Common options include LED pathway lights and step lights that are bright enough so no one misses a step.
Colorful strip lights.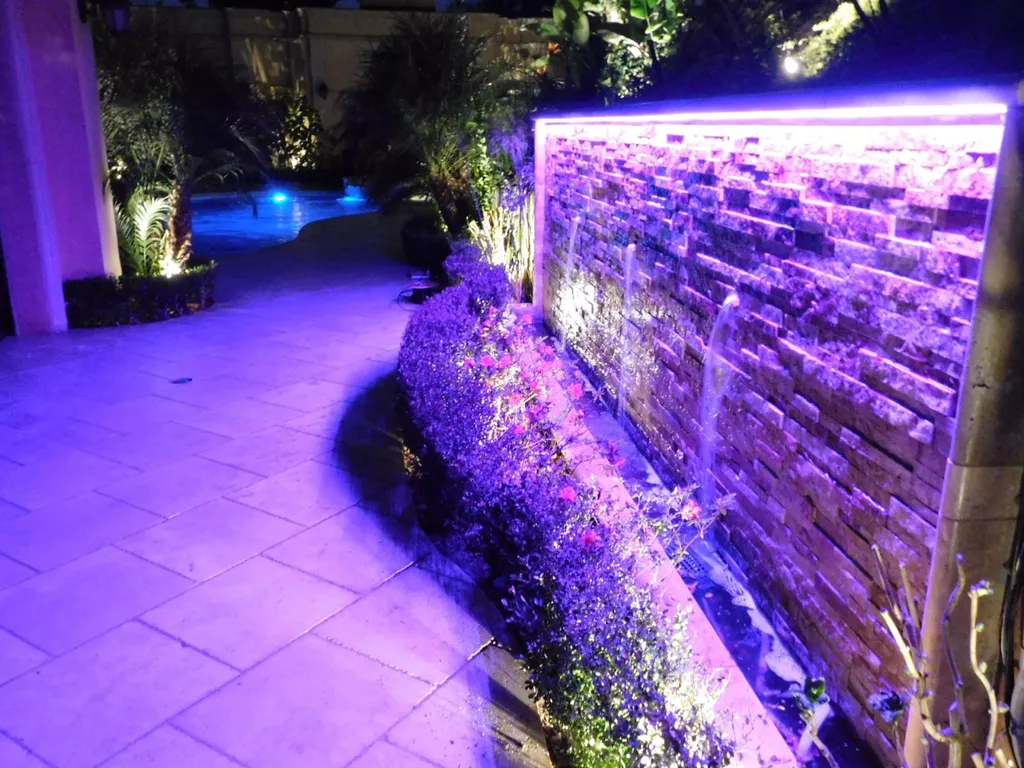 Photo credit: LA Voltage Inc
Add color to your yard with strip lights. You can install strip lights on your outdoor steps, on your walls, around your pool or water features, and much more.
You can also find pathway lights that display blue, purple, green and red lights at night. When guests walk along the path, they'll notice and follow the lights — and be less likely to trip.
Hardscape ideas.
Unlike softscapes, hardscapes are simply all of the non-organic landscaping features you have in your yard, including concrete or brick patios, wood decks, retaining walls, fences and gates, water features and more.
Functional patio or deck.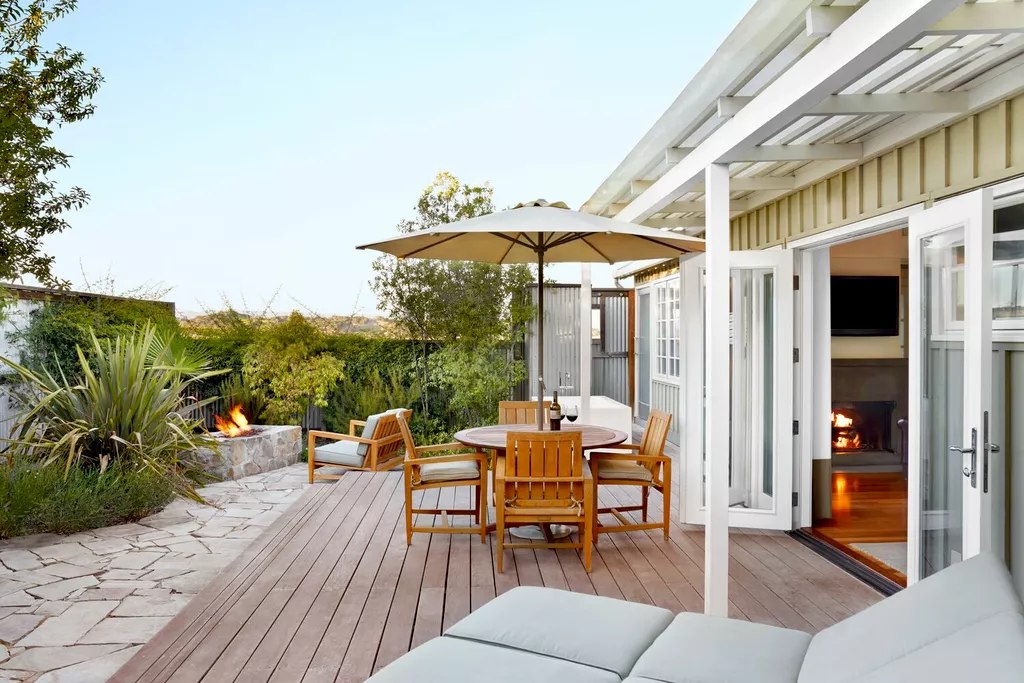 Adding a functional patio or deck is a great way to landscape your backyard if you don't want to spend too much time maintaining a lot of vegetation. Build a deck or patio using flagstone, concrete slabs, pavers or wood — it all depends on the kind of home you have, the aesthetic you want to create and (of course) your budget.
Your patio can also have a gazebo or pergola attached for shade. Want to cook and dine outdoors? Build a pizza oven or outdoor kitchen, and add a table and a few chairs to make it even more functional.
Related: How much does a patio cost?
Find the right landscaper for your project.
Water features.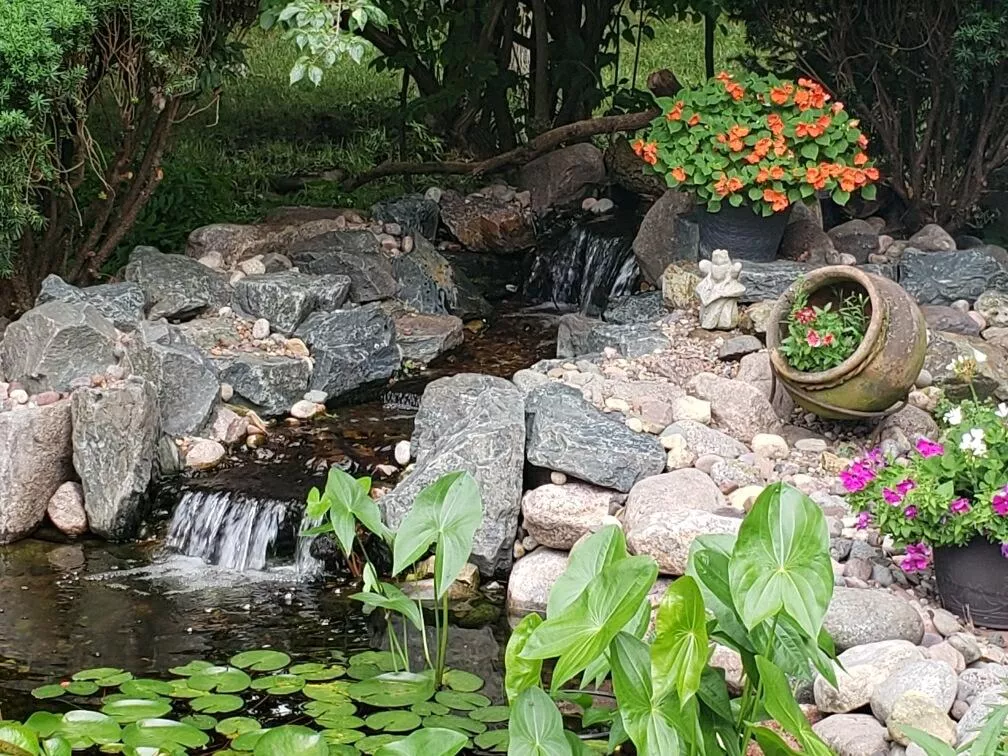 Photo credit: Aerate-1 Landscaping & Ponds
Waterfalls, rain curtains, fountains and other water features are more common in backyards than in front yards — which means your home will likely grab everyone's attention if you opt for a front yard water element.
Some homeowners choose to install a large water feature like a faux stream running around the front of their house. Others might use cultural pieces and small ponds to keep it simple. Browse through different types of fountains, waterfalls and birdbaths for more inspiration. Whichever type of water feature you choose, find lighting that complements it. Submersible lights, downlights and spotlights are all popular options.
Outdoor fireplace or fire pit.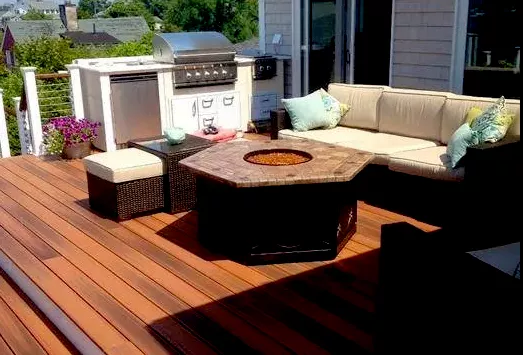 Photo credit: Achieve Remodeling
You can easily build up an outdoor fireplace that everyone can sit around and enjoy, especially during the cool autumnal weather. If you're planning to build a patio, look into adding a built-in fireplace made of brick or stone. Have an outdoor kitchen? Build a fireplace nearby.
Want a cozy, camping-like atmosphere? Instead of a fireplace, you can create a fire pit (either built-in, prefab or portable) made out of concrete blocks, lava rocks or pavers.
See which landscapers are top-rated in your area.
Landscaping ideas around pools.
Make your swimming pool stand out during the summer with these pool landscaping ideas.
Sweet and simple.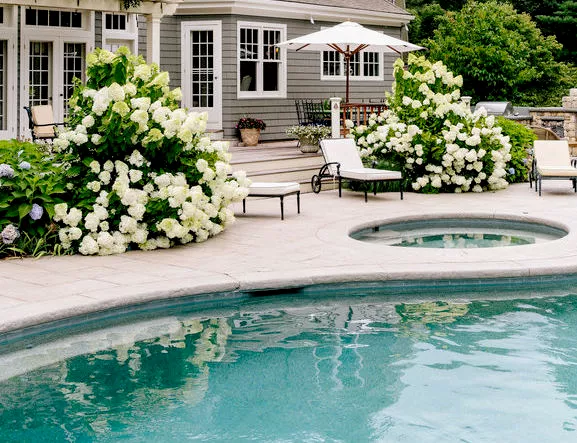 Sometimes, the pool is all you need to give your backyard a beautiful accent piece. If you want to jazz it up a bit without taking too much away from the pool itself, pick simple plants such as small palms or cacti. Put them in pots that help them pop against the pool's backdrop.
Beach pebbles.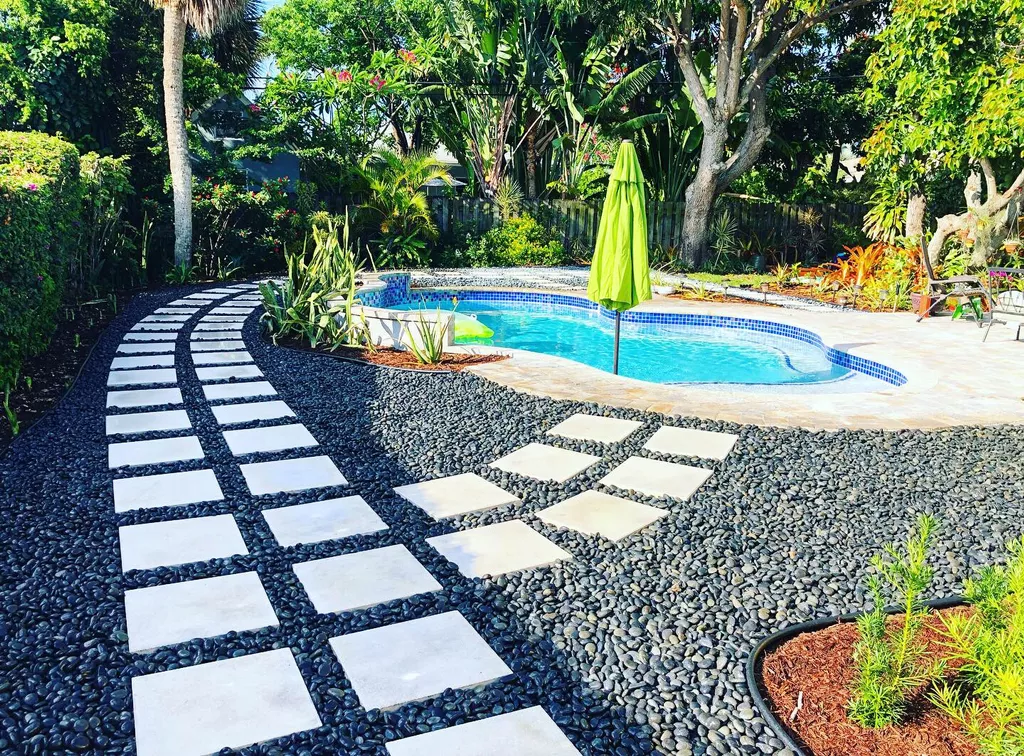 Photo credit: Root Wise llc
For low-maintenance, zen-like landscaping, opt for beach pebbles and stepping stones around the pool. These polished pebbles are available in different colors. Homeowners also use them for their desert-like landscaping.
Find a top-rated landscaper near you.
Flowing waterfalls and fountains.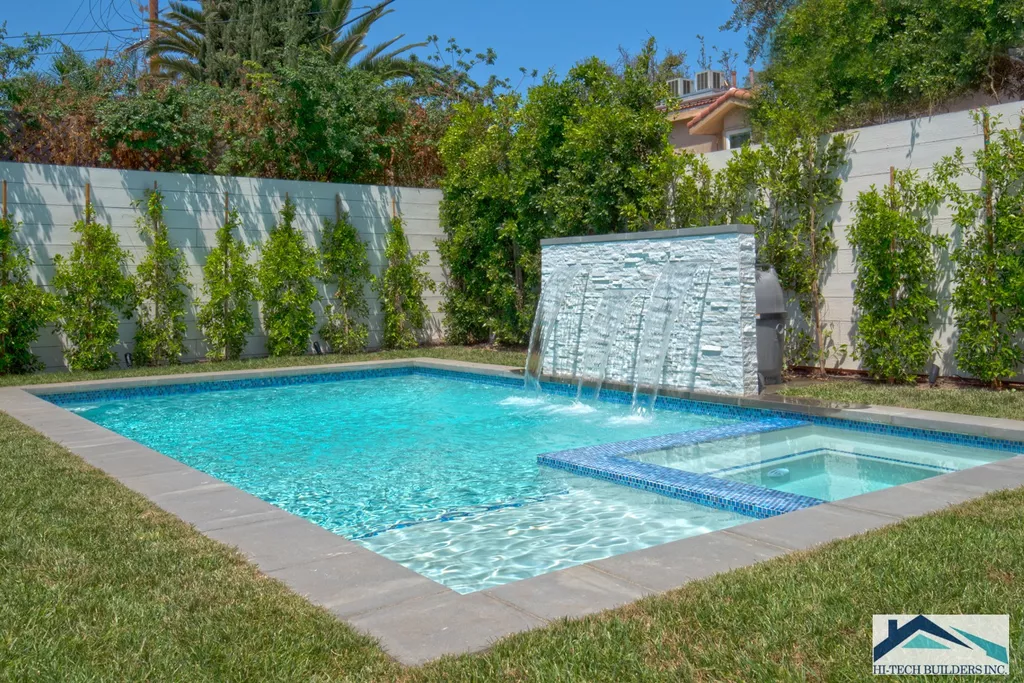 Photo credit: Hi-Tech Builders Inc.
Use rocks, boulders and stones to add a cascading waterfall to your pool. Or, attach spouts or sconces to the wall. As for placement, put your waterfall in the center of your pool and facing your house so it's the main focal point of your backyard.
Decked out.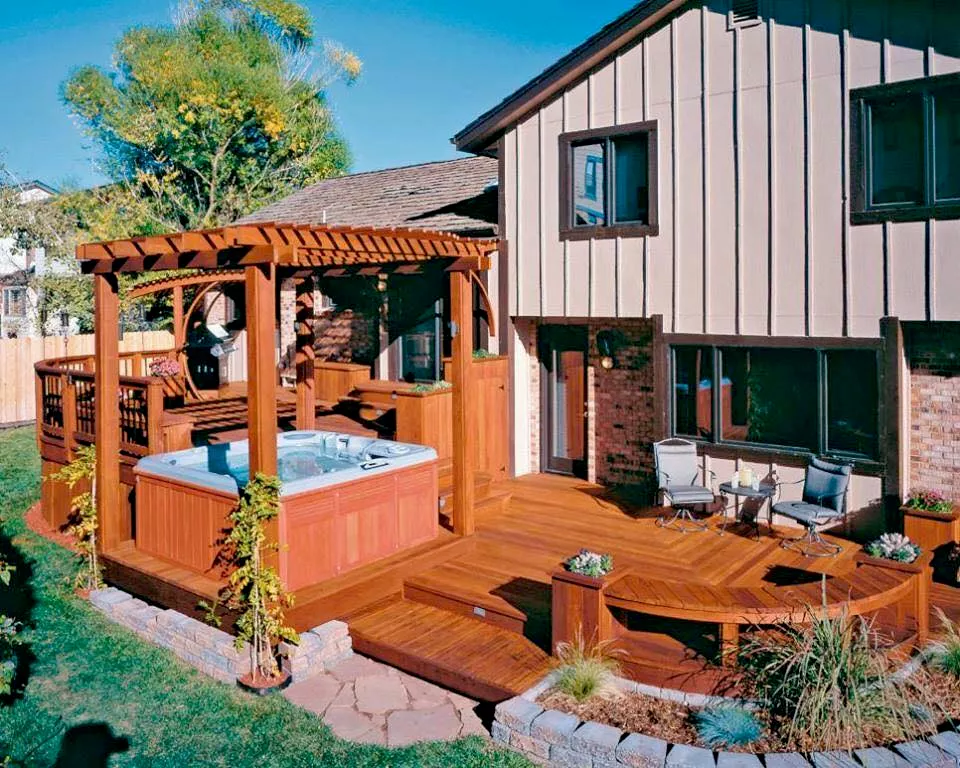 Photo credit: Achieve Remodeling
Decking is a must if you want to lounge around the pool and help prevent people from slipping. Stones such as travertine, slate, sandstone and limestone are upscale choices but can get costly. Consider using concrete or wood if you're on a tight budget. If you have your heart set on stone, consider using stamped concrete that resembles your desired stone.
Landscaping ideas on a budget.
If you're on a tight budget (who isn't these days?), you can find ways to lower your landscaping costs. For example:
Utilize materials you already have to create accent pieces. Take an old piece of furniture — or even something like a wheelbarrow or bathtub — and fill it with soil and flowers to create an eye-catching piece for your front yard.
Use cost-effective materials. Instead of choosing expensive natural stones and woods to create your hardscapes, consider using concrete and gravel.
Choose low-maintenance softscapes. Save money on water and lawn care services by choosing plants that require less hands-on care. Talk to a local nursery for tips on which low-maintenance native plants you should plant in your yard.
Mix and match materials. Maybe you're in love with flagstone but can't afford to use it everywhere. In these cases, compromise with more affordable materials such as concrete.
As always, shop around for the best deals on materials and furnishings. And don't be afraid to ask about deals and discounts.
Get free estimates from top-rated landscapers.
Find pros who can create a beautiful yard.
Tackling a major landscaping project can be overwhelming. Although some features are easy to DIY, consult a landscaping and design professional for bigger features and more elaborate designs. They can help you develop a new design, choose the best materials and ensure all of your features are up to code. Start searching for a landscaping service on Thumbtack today.
References: ¹International Casual Furnishing Association survey