How much does it cost to paint a house?
Nationally, the average cost to paint an entire house or building is $2,535.
The total cost for house painting will depend on your square footage and the material of your home's exterior, like wood, brick, vinyl, stucco, aluminum or stone. Most professional painters will be happy to tackle any surface, but some home exteriors are more time consuming than others to paint and therefore warrant a higher labor cost.
Exterior painters hourly rates:
| | |
| --- | --- |
| National Average Cost | $45/hour |
| Low-End Cost | $25/hour |
| High-End Cost | $75/hour |
If you're tired of the look of your house but aren't interested in re-siding your entire home, painting is a comparatively inexpensive way for you to refresh the home's look and curb appeal. But most homeowners don't want to tackle exterior house painting as a do-it-yourself project (unlike interior painting), so it's a good idea to hire a professional painting business to help.
Whether you want to repaint your home's exterior to get rid of old, peeling paint or you're painting a brand new home, get an estimate on house painting costs before you hire a contractor to help.
What's in this cost guide?
The square footage of your house's exterior will have the biggest impact on exterior house painting costs. However, keep in mind that many professional painters won't explicitly bid in a dollar-per-square-foot model — it's just one of the many factors that go into their final price.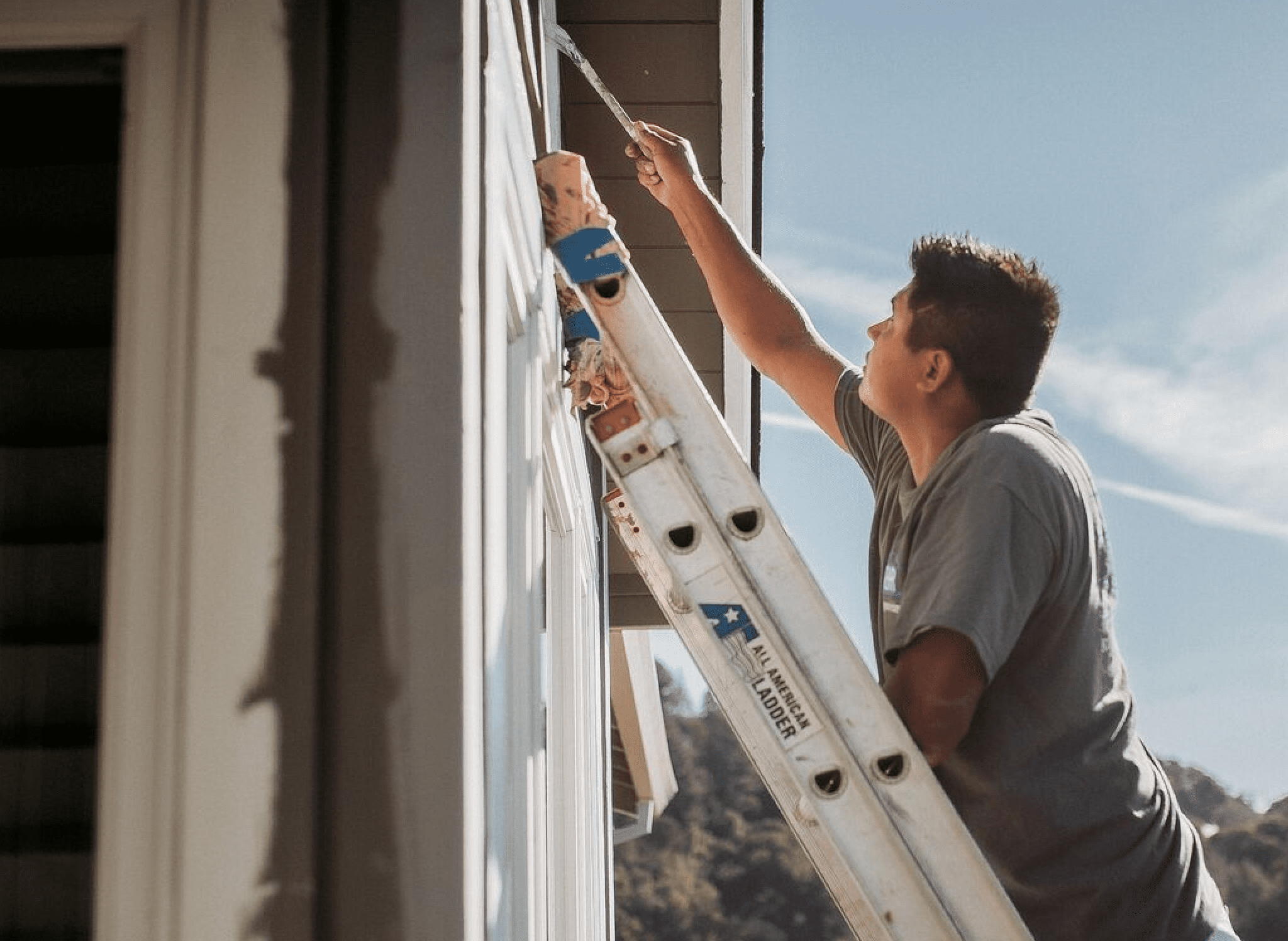 Square footage
For Jacob Snitily, from Illusions of Kolors in Denver, Colorado, a home's square footage is considered alongside labor costs, overhead costs, and materials cost. Not surprisingly, a 500-square foot house will cost less to paint than a 3,000 foot or larger one. A multi-level house will likely cost more than a single-story house, too, even if they have the same amount of surface area to paint.
To help you estimate, here's an average of how much it costs to paint a house by total square footage:
| | |
| --- | --- |
| Square Footage | Average Cost |
| 0-500 sq. ft. | $1,369 |
| 500-1,000 sq. ft. | $1,768 |
| 1,000-1,500 sq. ft. | $2,566 |
| 1,500-2,000 sq. ft. | $3,365 |
To figure out an exact cost, ask local painting services to give you a free estimate.
>>Get free estimates. Contact the best house painters near you.
Find the right painter for your project.
Paint type and quality
The type and quality of paint can dramatically increase your painting cost. High-quality exterior paints cost significantly more than entry-level versions. Below is a general estimate on how much exterior paint costs (note that it's often more expensive than interior paint):
Entry-level exterior paint: $20 per gallon or $80 per five-gallon bucket.
High-end paint: $50 per gallon or $250 per five-gallon bucket.
Why choose an expensive exterior paint? There are a few reasons — but keep in mind it's all right to choose something more affordable, too! Pricier paint is more finely pigmented and has high-grade resins, which helps the paint stick better and last longer. Entry-level paint, on the other hand, uses large pigments and more solvents. Upgraded paint is less likely to streak and generally offers richer colors. Expensive paint typically requires fewer coats, too.
Exactly how much paint is necessary depends, again, on the square footage and material of your house. If your home needs a lot of detail work — like painting window trim, millwork, or columns — make sure to consider the cost of trim paint, too. (Keeping things simple will help keep costs down, too.)
Different siding materials require different amounts of paint. For example, painting over brick may require more coats to cover the rugged surface.
Snitily recommends double-checking your painting contract, which should state explicitly what brand and product line of paint you want. There are wide quality variations between product lines within each major paint brand.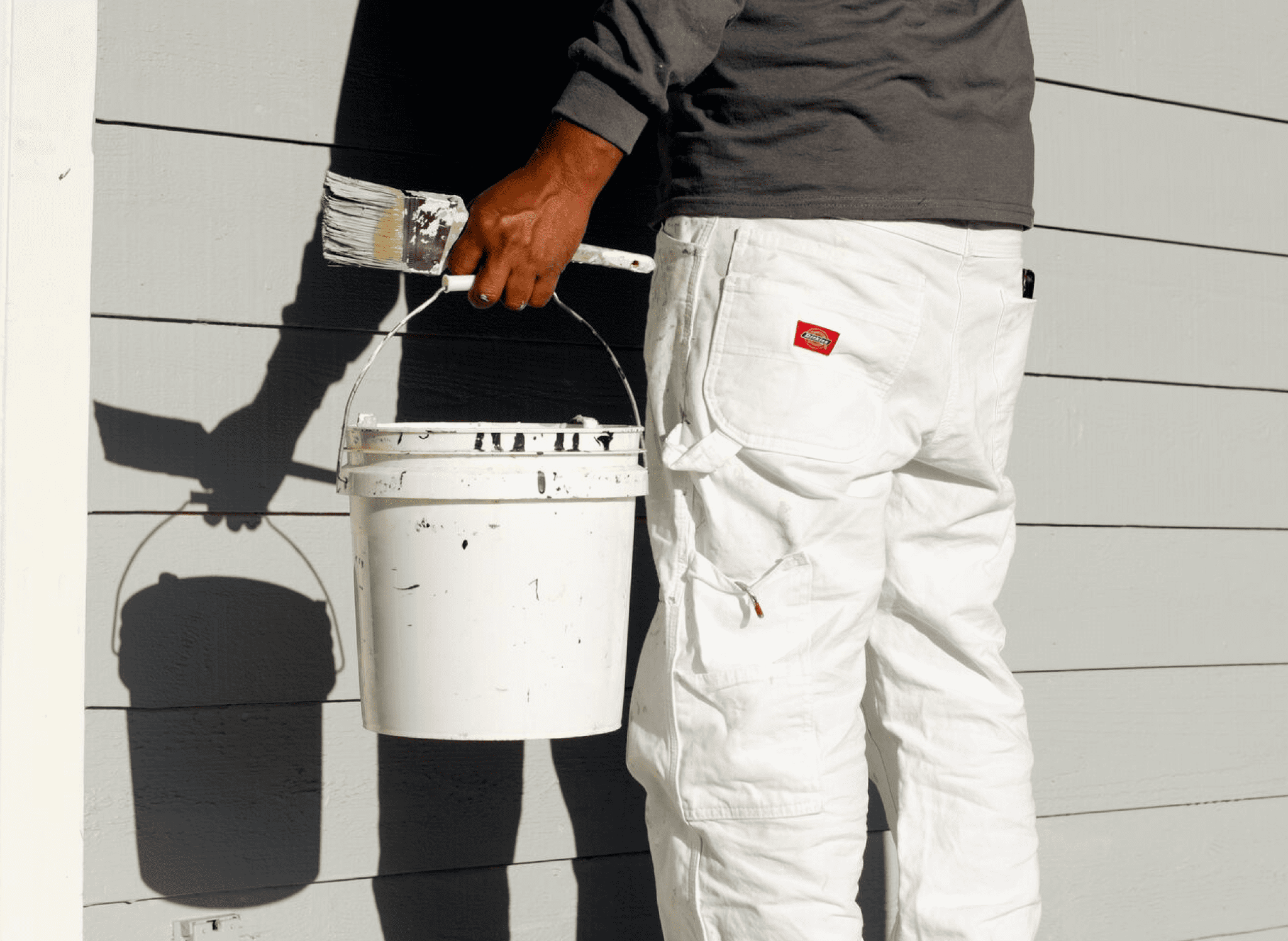 Additional painting materials
Painting the exterior of a house requires more than just paint. Here are some common materials your contractor may need, and what it will cost:
Caulk. Caulk generally costs between $2 and $10 per tube. Your contractor will use caulking to fill in exterior gaps.
Painter's tape. Tape costs $6-$10 per roll and ensures clean lines.
Protective sheeting. Sheeting costs anywhere from $11 for a 10-by-25-foot roll to $100 for a high-quality 20-by-100-foot roll. This will keep paint from dripping off your house and ruining your landscaping and hardscaping.
Paint brushes. Brushes vary greatly in price and quality and will cost anywhere from $1 for a cheap small brush to $35 for a high-end brush.
Paint sprayers. Sprayers cost between $50 and $1,000-plus and are commonly used for exterior painting. However, your contractor will be reuse a single paint sprayer and will take that into consideration when calculating the material costs for an exterior paint job.
Typically, Snitily says he charges between $150 and $250 for all materials needed for each project.
>>Get you house painted today. Contact the best exterior painters near you.
Prep work
Your painter can't just throw paint on your exterior and hope it sticks. Proper prep work and priming is necessary beforehand, otherwise your shiny new paint job may not last.
Typically, the painting contractors you hire will begin by setting up tarps, then scraping any loose paint off the walls to create an even surface. They'll then use a pressure washer to clean off any existing dirt, tape and prime before repainting. Snitily charges between $150 and $250 for prep work.
Make sure to ask the painting business if their quote includes prep work. Otherwise, you might be expected to do it yourself or pay extra on top of their quote for the paint job.
See which painters are top-rated in your area.
Repair work
Your home's exterior needs to be in tip-top shape before your paint professional can start their job. You or your contractor will need to repair broken siding, rotting wood, and damaged trim before painting. If your home is in seriously bad shape, you may need to hire a carpenter — causing the total cost of your house painting project to increase dramatically.
Typically, Snitily says he estimates between $200 and $300 for trim repair, and siding repair can cost between $200 and $2,000.
If your home is currently painted with lead or led-based paint, don't panic — it's not a deal-breaker. A lot of homes built before 1978 may have lead paint, so you're by no means alone.
However, removing and repainting a house with lead based paint will likely raise painting costs. If your contractor simply needs to take special safety precautions, expect to pay a little extra in materials and labor. If you decide to remove the lead paint entirely, you may end up spending between $5,000 and $10,000.
>>Hire a painter today. Here are the best house painters near you.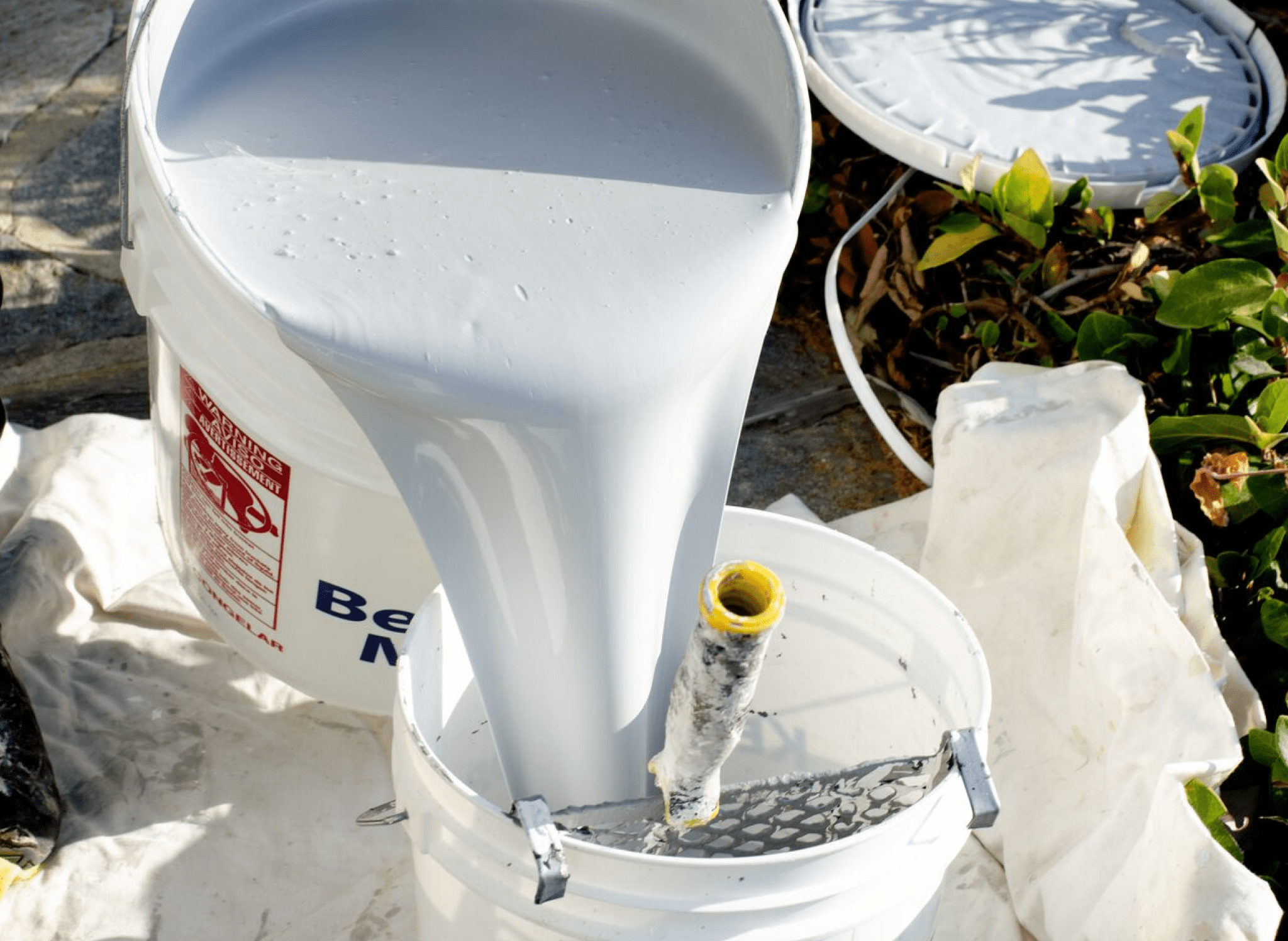 It probably goes without saying, but the best way to save money on painting your home's exterior is to take care of your new paint job and make sure it lasts as long as possible.
After you've painted your home, maintenance and cleaning will be key to a beautiful and long-lasting exterior paint job. Most painting companies also provide services to clean your home's exterior. The average cost is between $100 and $300 for this service.
Homeowners should clean their house exterior every few years to ensure their paint color lasts for years to come.
Find a house painter near you
Ready to give your home a new fresh coat of paint? Start gathering free estimates from the best house painters near you and compare pros side by side.