How much does landscaping cost?
The national average cost of landscaping is $2,600, and prices range from $320 and $20,000.
Landscaping costs:
| | |
| --- | --- |
| National average cost | $2,600 |
| Low-end cost | $320 |
| High-end cost | $20,000 |
Reaching out to several landscapers near you and requesting price quotes is the best way to estimate your landscaping costs. How much you'll pay for your landscaping project will depend on where you live, the size and scope of your project and several other factors.
For example, if you decide to install a concrete patio, several trees, multiple water features and artificial turf, your costs could total tens of thousands of dollars. But, if you decide to do a small project — such as planting a few flower beds or trimming your trees — your costs might come out to only several hundred dollars. Keep reading to learn more about pricing for popular landscaping projects.
Get a free estimate from a great landscaper near you.
What's in this cost guide?

How much does landscape design cost?
To estimate the price of your landscaping design project, you'll first need to figure out the following:
What specific features you want to be added to your home
Whether your project is small, large or a complete renovation
If your project requires regular maintenance
Which type of landscaping style you're envisioning
Below, you'll find the estimated national average landscaping costs for different features and designs. Because these are estimated rates, keep in mind that how much you spend on these specific features will likely vary depending on the type of property you have (e.g., home, office, multi-unit building, etc.), the terrain, the square footage of the area you'd like to add landscaping elements to, the materials you decide to use and several other factors.
Landscaping prices list:
| | |
| --- | --- |
| Mulching | $200 |
| French drain installation | $750 |
| Sod installation | $800 |
| Trim trees or shrubs | $1,711 |
| Lay artificial turf | $2,453 |
| Plant flower beds | $2,819 |
| Remove shrubs or trees | $3,268 |
| Install or repair outdoor lighting | $3,413 |
| Remove tree stump | $3,520 |
| Install or repair sprinkler systems | $4,380 |
| Plant trees or shrubs | $4,489 |
| Install or repair drainage | $4,960 |
| Concrete patio installation | $6,000 |
*All prices are national averages and are per-project costs from customers who hired landscaping services on Thumbtack.
Find a top-rated landscaper near you.
Small projects vs. large projects
Depending on the size of your project, you could be facing higher (or lower) rates. Here's how much you can expect to pay for smaller, larger and complete landscape renovation projects, in general.
National average cost of landscaping projects, by size:
| | |
| --- | --- |
| Small Landscape Projects (e.g. plant flowers, trim shrubs) | $1,034 |
| Larger Landscape Projects (e.g. plant trees, install sprinkler) | $3,688 |
| Complete Landscape Renovation Projects (e.g. replace soil, hardscape services) | $5,720 |
Different styles and types of landscaping
When it comes to landscape design, there are generally three different styles that homeowners add to their properties: hardscaping, softscaping and xeriscaping. And depending on which style(s) you get, your landscaping costs will vary.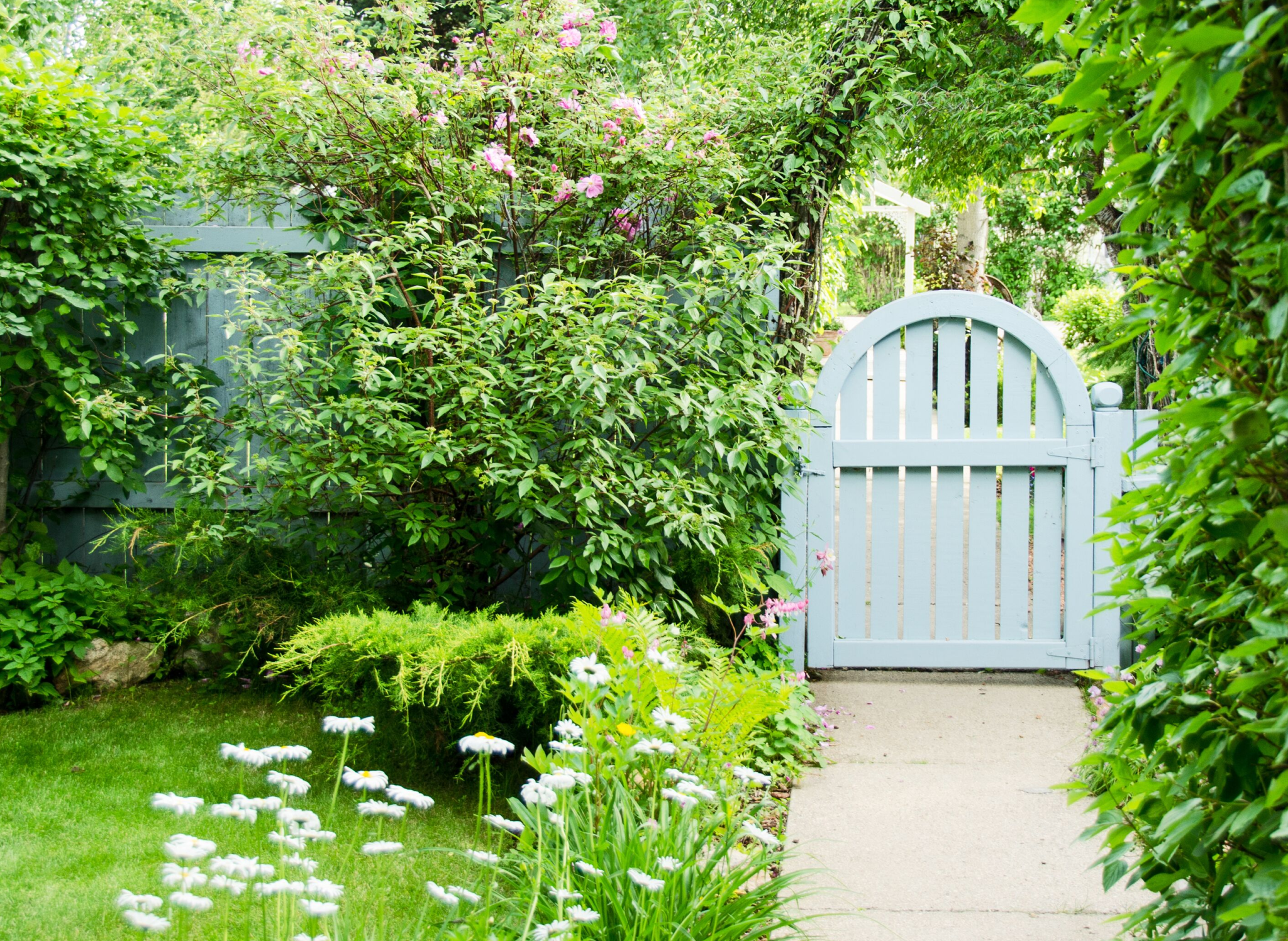 Hardscaping
Hardscaping refers to any landscape design element in your yard that isn't a plant or a living element. This includes walls, patios, fences, water features, pavers, decorative stones, sidewalks, pergolas and more. Some common hardscape materials include brick, stone, metal, wood and concrete.
The cost of hardscaping projects depends on the scope of your project and even where you live. Below are some national average prices of common hardscapes you might be considering.
Hardscape Examples:
| | |
| --- | --- |
| Water Features | $3,722 |
| Patios | $4,204 |
| Arbor or Trellis | $4,446 |
| Walkways | $4,878 |
| Retaining Walls | $5,311 |
| Boulders or Stones | $5,408 |
| Driveways | $6,207 |
*All prices are national averages and are per-project costs from customers who hired landscaping services on Thumbtack.
If you live in a city or state experiencing a drought -- or if you want to limit your water usage -- adding hardscapes instead of softscapes (i.e. placing landscape gravel instead of planting grass) to your home might be the best choice for you. Xeriscaping might also be a viable option if you are concerned about conserving water, don't want to deal with a grass lawn or want less yard work.
Xeriscaping
Created for areas affected by drought, xeriscaping has become a popular way to make yards beautiful and easy to manage. It's a style of landscape design that requires very little maintenance or regular irrigation over time. Typically, yards with xeriscapes are more drought-tolerant and feature native plants. For example, if you live in a desert-like region, you might include native cacti or ocotillo in your designs. And instead of a grass lawn, you might create a lawn that utilizes rocks, gravel or pebbles.
Softscaping
Softscaping is the design and care of plant life in your yard, such as lawn mowing and tree trimming. It can also include planting or installing grass, mulch, flower beds, vines, shrubs, hedges and more.
Generally, softscaping requires more maintenance than hardscaping. Many plants and trees will require regular cutting and watering -- which can drive up your expenses over time. Still, softscaping is a great way to create colorful, lush, jungle-like yards.
See which landscapers are top-rated in your area.
How do landscaping companies charge for their services?
Depending on the type of landscaping you want, a landscaper might charge you by the hour, per employee or per project.
Other factors that impact landscaping costs
In addition to the styles and features you choose, there are other factors that can impact the price you'll pay for landscaping. These factors include:
Time of year: While landscape prices are typically consistent throughout the year, you might be able to save money by hiring a company in the colder months. Just make sure you aren't sacrificing quality because of wet or frozen soil. A good landscaping company can advise you on the right time of year to start your project in your region.
Size of your project or property: In most cases, the bigger the property, the more you'll spend on your landscaping. But here's a caveat: Even if you have a smaller property, you could pay much more if you decide to install special features -- such as an outdoor kitchen, outdoor misting system, in-ground pool or a fireplace -- or if your project requires special machinery.
Materials you plan to use: When choosing the materials to use for certain features, ask your landscaper how much they charge for things like granite, gravel, rocks, pebbles, slate chips and more.
The terrain: If it's hard to access the area where you'd like your landscape to be installed, you might face higher prices. When communicating with potential landscaping businesses, provide them with as many details about the terrain as possible so you can get an accurate estimate.
Labor costs: Some landscaping companies consider labor rates in their prices. If your project requires more manpower (and more hours of work), your expenses will likely go up.
Landscape maintenance: Some projects might require additional help to keep your new landscape well-maintained. If you decide to add elements that require regular, long-term maintenance done by a professional, make a plan to fit this into your budget. For example, if you install grass in your front yard, research how much it will be to hire a gardener or lawn care service to mow your lawn (if you're unable to do this yourself). Or, if you intend on planting various flowers, trees and other greenery, figure out what type of irrigation system you need and the cost to keep your plants healthy.
Find a great landscaper in your area.
How to save money on your landscaping project
If you think your landscaping project is outside of your budget, use these tips to make it more affordable:
Compare landscaping companies in your area. Take the time to contact the top landscaping companies near you, and ask for estimates on the scope of your work. That way, you'll ensure you're getting a fair price. And if you're not afraid of a little negotiating, having these quotes could provide you with some leverage.
Buy in bulk. If you're purchasing plants or gardening materials yourself, try to purchase in bulk as much as possible.
Buy local. Shipping isn't always free, and going to your local nursery can save valuable dollars.
Check with local farmers. See if you can get manure for free. Just make sure to let the manure age before you use it so the salt doesn't harm your plants.
Shop online. One way to save money on plants and other materials is to compare prices online. Don't forget to factor in the shipping fees.
Ask your landscaping company for suggestions. A good landscaping company should be able to help you adjust your vision to fit your budget. For example, they can suggest budget-friendly materials that will help you achieve the look and style you want while saving you money.
Compare prices from landscapers near you.

How to find the right landscaping company
After determining which types of landscape features you want, it's time to hire a landscaping company that can get the job done. But finding the best person or company for your home requires a bit more research.
First, figure out which type of landscaper you need for your project. Then, make sure you review the company thoroughly -- and ask the right questions during the hiring process.
Understanding the different types of landscapers
Before you hire a landscaper, it's important to understand the difference between a designer, architect and contractor. In some cases, you might consult with all three types of professionals separately. Or, you might work with a landscaping business that provides all of these services and bundles them together.
What does a landscape designer do?
A landscape designer designs outdoor spaces. While their work is similar to that of a landscape architect, there's one important difference: Not all designers hold a license, according to the Associate of Professional Landscape Designers (APLDA).
If you're working on a small-scale residential project -- such as a garden or backyard landscaping, you might work closely with a designer who can offer ideas for your plants and lighting, and help you come up with a landscape plan. But if you need someone to provide you with construction-ready plans and install the designs, you'll likely work with a landscape architect and a landscape contractor.
What does a landscape architect do?
A landscape architect designs communities and residential projects, such as parks, college campuses, homes and retirement communities. Landscape architects typically work on larger projects than landscape designers, and they also must hold a state license. If you're working on a large-scale project such as a community building, an apartment complex or a park, you'll likely consult a landscape architect.
What does a landscape contractor do?
And finally, make sure you have a licensed landscape contractor who can physically install, build and construct all aspects of your landscaping project. Some landscape contractors can help you decide on designs for your project as well.
Get free estimates from top-rated landscapers.
Questions to ask landscaping companies before hiring
Once you've identified whether you need a landscape designer, architect, contractor or all three, come up with a list of crucial questions to ask potential candidates before you move forward. Here are some to start with:
Where do you get your plants? If the plants are local, they'll probably cost less. And, they're less likely to suffer from being transplanted.
How long will this project take? Make sure the time it takes to complete the project won't interfere with any major events on your end. You'll also want to get your project done before any major weather events derail it.
Where are you licensed? If you work with a landscape architect or contractor, make sure they have the proper state license.
Can you work with my budget? Don't expect your landscaping company to give specific details about plant selection and design before you make the hire. However, they should be able to give you a general idea of whether your ideas are financially feasible. And some companies might even give you a free estimate.
Do you have any references? Research to see if they have good reviews, and ask for a list of references that they are able to connect you with.
What is your work schedule? If the company can give you an up-front estimate of time frames, that's a good indication that they will stay in communication with you throughout the project.
Who will be my contact during this project? Know who to contact in case there's a problem.
You can find more tips on how to hire the right landscaping business for your project by reading our tips on smart hiring.
Benefits of hiring a professional landscaping company
Hiring a landscaper might be one of the best ways you, as a homeowner, can boost the value of your home. Landscaping can add a significant return on investment. It's also an important factor in curb appeal — a term realtors use to refer to a buyer's first impression of your property.
Whether or not you're getting ready to sell your home, investing in professional landscaping has a lot of other benefits, too. For example:
Lower energy bills. Planting shade trees can reduce the temperature of your home -- and lower your air conditioning expenses.
Better artistic vision. Landscapers have the professional experience to re-envision your yard into a slice of paradise.
No labor. Imagine loading up your car yourself and lugging all those decorative stones into your backyard. That doesn't sound like fun, right? When you hire professionals, you save yourself a lot of effort.
Less maintenance down the road. Professional landscapers can create a landscape design that will stand up on its own with very little upkeep needed from you.
Designs customized for your needs. Do you live in a very dry area? Do you have heavy rains? Depending on your climate, you may need specific elements to keep your basement from flooding or your plants from drying up. A professional can walk you through all of these steps.