Wood flooring types.
All wood flooring is not created equal. There are three different types of wood flooring, each with its own advantages and drawbacks.
Solid wood.
Solid wood flooring, as you may have guessed, is exactly what it sounds like: flooring made of 100% solid wood. It typically comes in ¾ inch-thick planks and has to be nailed or stapled down to a subfloor, glued to a special underlayer.
Pros: Solid wood feels great to walk on. It offers almost endless custom options, and it can be refinished many times.
Cons: Solid wood is very sensitive to fluctuations in temperature and humidity. That makes it prone to swelling and warping, and it limits where you should install it. Solid hardwood floors are not very water-resistant, and can be problematic in bathrooms and kitchens.
Engineered wood.
Unlike solid wood flooring, engineered wood products only contain a thin layer of hardwood bonded to a high-quality plywood. Engineered wood planks are usually half an inch to three-quarters of an inch thick. It can be nailed or glued to a subfloor or installed as a floating floor.
Pros: Engineered wood is very durable and isn't prone to warping like solid hardwood. It can be installed in many rooms that hardwood isn't great for, and it's often a cheaper option.
Cons: Despite great durability, it is not waterproof. Engineered flooring can't be refinished over and over, and sometimes can't be re-sanded at all.
Laminate wood.
Laminate flooring contains wood byproducts and consists of several layers. A fiberboard base is overlaid with a photographic image layer that is protected by a clear surface layer. Realistic at a distance, most laminates look artificial up close. Laminate flooring generally has a click/lock edge and usually "floats," making installation a quick, easy DIY project.
Pros: Of all the wood flooring types, laminate flooring is perhaps the easiest to install. Compared to solid hardwood, it's more water-resistant and affordable.
Cons: With very few exceptions, laminate flooring looks artificial. It has a little flex when you walk on it, and it can't be refinished. And although it's better at fending off water on its surface, it's not waterproof and shouldn't be installed in wet rooms, such as the bathroom.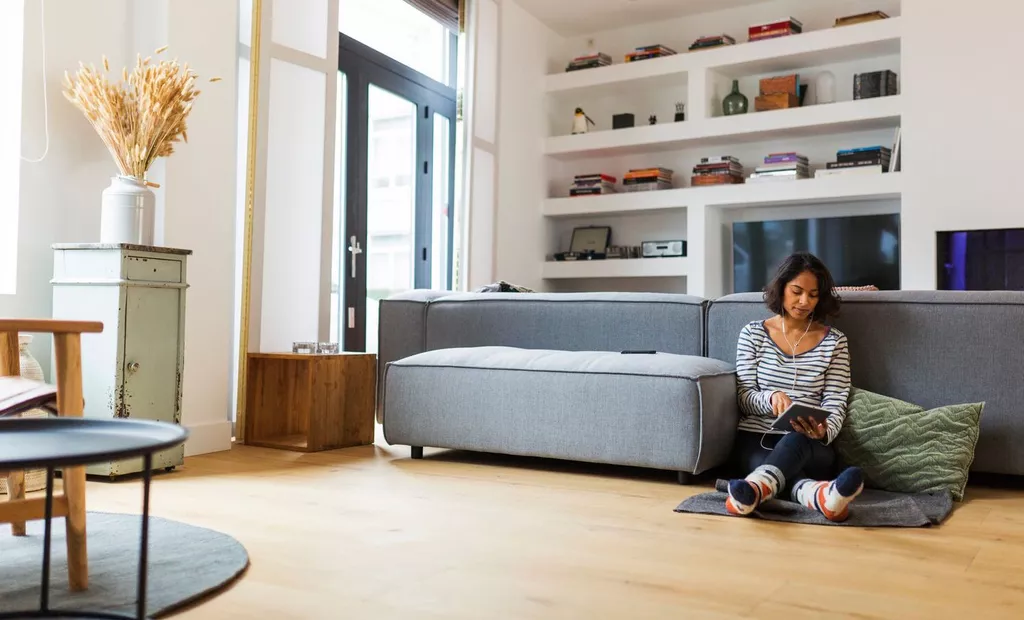 Types of hardwood floors.
There are many different species of wood used to make hardwood flooring. These different types vary from color to hardness, so making the right choice is important.
Ash.
Ash is a versatile, durable hardwood with a light grain that really works in airy, modern spaces. It's very hard, with a Janka rating of 1,320, making it one of the best wood flooring types for homes with pets and kids.
Ash stands up to moderate traffic and resists scratching and denting well. The light color brightens up spaces, but it also stains well, so it's highly customizable. However, it can attract termites and insects more than other wood species.
Bamboo.
With a long, distinctive grain and natural blonde color, bamboo flooring is readily-identifiable. It's very hard and can be as durable as oak. The Janka rating of the best bamboo can reach 3,800 to 5,000, making it one of the most durable hardwood options.
Bamboo grows super fast, making it among the most eco-friendly wood floor options. It's very durable and can even be refinished. Bamboo comes in a limited range of colors.
Birch.
Birch has a unique, dense grain and can feature contrasting color between the sapwood and heartwood. Its Janka rating is between 1,260, which makes it less durable than other hardwoods.
Birch is fast-growing, making it more sustainable than many other hardwoods. Its contrasting wood colors and tight grain make it beautiful and distinctive. However, birch can dent and scratch more easily than other woods, and the fine grain doesn't stain well.
Brazilian walnut (Ipe).
Brazilian walnut is one of the best hardwood flooring options for rich color and super durability. With a Janka rating of 3,680, it's one of the hardest wood floor types available.
Brazilian walnut hardwood flooring stands up to heavy traffic and doesn't dent or scratch easily. Highly water resistant, it is probably the best wood flooring for kitchen and bathroom areas. More expensive than most hardwoods, it's also pricier to install because of its hardness.
Cherry.
Cherry is a beautiful wood with a lot of character. Its naturally pinkish tone deepens over time to a rich, reddish color in areas where it's exposed to sunlight. Softer than most hardwood flooring options, cherry has a Janka hardness of only 995. It scratches and dents easily, so it's not always a good choice if you have pets or children.
Ebony.
Ebony is one of the rarest and most luxurious hardwood flooring types. It has a fine, extremely dense grain and sinks in water. Its Janka hardness is 3,220, making it difficult to work with but very durable and resistant to denting and scratches. However, ebony is hard to find and can be ridiculously expensive.
Hickory.
Hickory wood planks feature splotches, spirals and many inconsistencies that give it great character and variety. It has a naturally creamy, light tone, and has a Janka rating of 1,820.
Hickory has a lot of character, it takes a stain well and is durable. The variety in the grain might be a turn-off for anyone seeking uniformity. And, it's also more expensive than other domestic hardwoods.
Mahogany.
Considered an exotic hardwood, true red mahogany is prized for its rich, warm color and dense, wavy grain. It feels luxurious and classy, and has a Janka rating of 2,697. Mahogany is easy to work with and care for, has a beautiful natural color and is extremely durable.
The wood darkens over time and is expensive. There are also a few varieties all called "mahogany," making it a challenge to source.
Maple.
Maple is one of the most popular types of hardwood floors, second only to oak. The fine-grained wood features colors ranging from pale to to a rosy, light brown. Hard maple has a Janka rating of 1,450, making it one of the most durable flooring options.
Maple is durable enough to stand up to large dogs and heavy traffic. However, it's difficult to stain evenly, and its light color can reveal dirt and imperfections.
Oak.
Oak is a classic, elegant and affordable option for hardwood floors. Red oak is warm with hints of red and brown, while white oak has grey undertones. White oak has a Janka rating of 1,360, and red oak's rating is 1,290. Because it's harder than red oak, consider installing white oak in high-traffic areas.
Pine.
Rustic and knotty, pine is one of the most popular wood flooring types, despite being softer than many of its rivals. That's why it's technically considered a "softwood" and not a hardwood. Different species of pine have very different hardness ratings, meaning that pine can range from 380 to 1,630 on the Janka scale.
Pine is affordable, sustainable and very customizable. It can be stained easily and has a rustic feel. However, pine floors are prone to dents, dings and scratches, require a high degree of maintenance, and may need to be refinished more often than other hardwood floor types.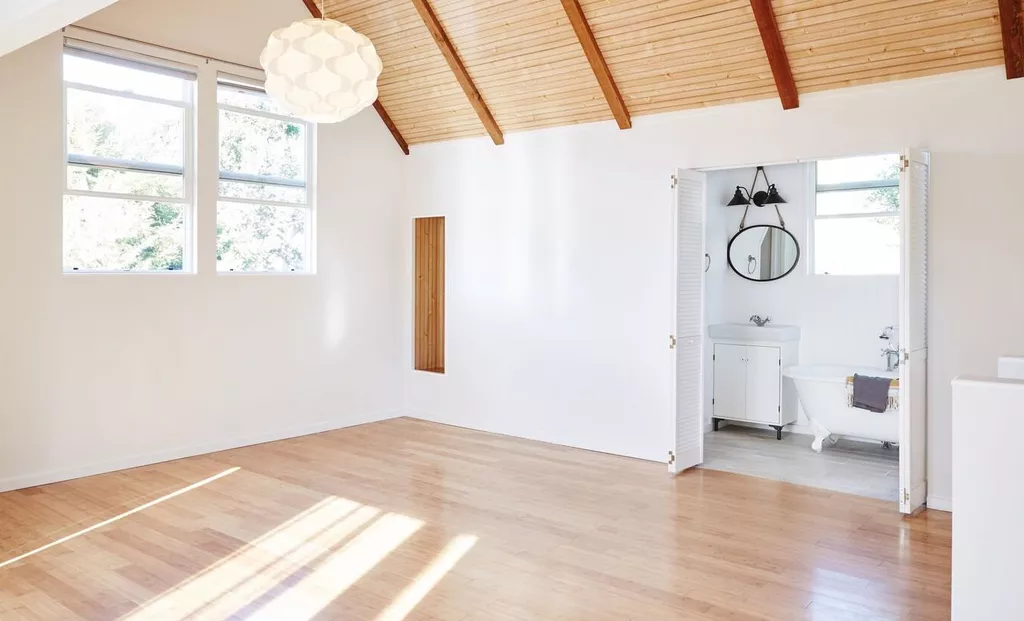 How to pick the best wood flooring for your rooms.
Hardwood floor planks are milled from trees and have a natural wear layer, making them durable and easy to fix. Solid hardwood floors can be sanded down and refinished five or more times (on average) before you have to replace them. And when maintained well, hardwood floors can last over 100 years. Use these tips to help you decide what type of hardwood flooring is right for you.
1. Pick a wood species that matches your home (and climate).
The type of hardwood flooring you pick should be influenced by your living situation, for example:
How warm or cold your house gets
If you have pets
How much traffic the floors are going to get
Look up the Janka hardness rating on wood species to figure out how they'll hold up in your home. High-traffic homes (if you're always entertaining, this is you) do best with the toughest hardwoods like oak, maple, cherry, walnut and ash.
Keep in mind that the most popular wood floor types include maple, oak, pine, red oak, white oak and walnut. Exotic woods — exotic in both origin and their price — include acacia, teak and mahogany. They're also more expensive to install. Which wood you select should come down to more than just cost and style. Every wood species reacts to climate, sunlight and humidity in a different way.
Don't be fooled, though: Just because a wood species is expensive doesn't mean that it's durable. Many exotic hardwoods like mahogany and Brazilian cherry are beautiful, but easy to dent — especially when compared to something of median price and cost like red oak.
2. Get familiar with the different grain patterns.
There are three ways to cut a log when milling hardwood floor panels. The way the log is split changes how the wood looks on your floor.
The first option, plain sawn wood, is by far the most common and creates a wavy pattern called a cathedral on the surface of the wood. Rift sawn boards, on the other hand, show a straight line of consistent grain. Finally, quarter sawn boards look a lot like rift sawn boards, but with speckling and thin grains stretching on a diagonal from the center of the board.
Each type of milling also comes with a different price tag and level of durability. A lot of smart consumers play the odds and use a mixture of all three in their floors.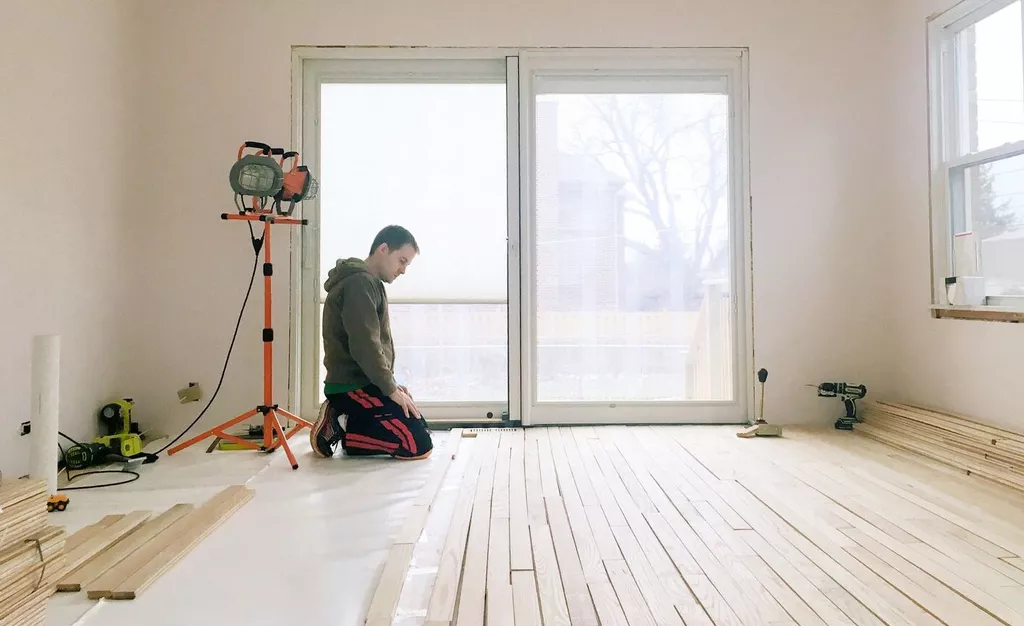 3. Decide on thin or wide planks.
Until recently, solid hardwood flooring planks were installed in 2- or 3-inch strips. Today, it's common for people to use wider boards and geometric shapes in their wood floors.
Wide planks (generally around 4 to 6 inches across) tend to give your space a more rustic feel, but really only work in larger spaces. Think about the size of plank you want in square-foot terms — a living room floor that's made up of all of six or seven 5-inch boards is going to look small.
And keep in mind that the seams between the planks will become exaggerated as the wood expands and contracts. Because there aren't as many planks to distribute the movement, you'll see those changes very clearly in smaller rooms.
Don't lean into the cramped feeling. Pick a board size and design that matches your home.
4. Weigh the pros and cons of solid and engineered wood flooring.
Whether you choose a solid wood floor or an engineered wood floor, it's all about tradeoffs.
Engineered hardwood is made of a veneer of real wood attached to a thick layer of plywood for support. Because the wood is layered, engineered floors are more stable than traditional hardwood floors. They're likely to expand and contract in humidity or to come apart where the planks of wood once met. For this reason, they're popular in basements and rooms that are soundproofed (the plywood can be glued directly to a concrete subfloor or over soundproofing materials).
Solid hardwood floors, on the other hand, are easier to fix. Unlike engineered wood, solid hardwood floors are thick enough to be sanded down and refinished when dents and dings become a problem. Assuming you don't live in an extreme climate — swelling and shrinking floorboards can be a problem over time — solid wood floors will probably last you longer.
5. Choose between pre-finished and unfinished wood floors.
Water. It's the key to life. It's also the biggest factor in deciding whether or not to buy prefinished hardwood flooring. Here's why.
Prefinished hardwood flooring comes sanded and sealed, making the installation process as simple as gluing planks to the floor. Unfinished flooring has to be laid down, sanded and then finished, and the layer of varnish that tops it off covers more than just the body of the wood — it also fills in any seams between boards.
Because the seams are sealed off from moisture, site-finished hardwood is a good choice for bathrooms and kitchens. Just keep in mind that the installation process will take longer, cost more and smell worse (floor varnish is strong stuff).
6. Consider your budget.
The type of hardwood flooring you choose will also depend on how much you're willing to pay. Decide how much you're willing to spend on new wood floors, and start requesting price quotes from professionals in your area.
How much does hardwood floor installation cost?
Wood flooring can cost anywhere from $3-$22 per square foot to install. Most floor installation professionals charge per square foot, independent of the materials cost. Other factors that affect how much you pay include where you live and the kind of wood you're installing.
Hardwood floor jobs require much more labor than laying down the planks, including removing existing flooring, sanding the bare floor, leveling it, adding transitions, retucking where the hard floor meets the carpet, and pulling out appliances and putting them back.
In general, most companies' base costs reflect different levels of services, so don't assume that a lower base price from one company means the total project cost will be lower.
For more on costs, see "How much does wood flooring cost?" Search for hardwood floor installers near you and contact them to find out how much it will cost to add new floors to your home.
Hardwood vs. other flooring materials
Homeowners often compare hardwood flooring against other flooring materials. This section will review the biggest similarities and differences among the most popular comparisons.
Engineered wood flooring vs. solid hardwood.
How they're different: Solid hardwood adds more value to a home. Engineered wood has greater moisture-resistance and doesn't warp. Solid wood floors can be refinished three to four times, engineered wood only once or twice.
How they're similar: Both have a beautiful, real-wood surface that gives a clean, classy look to a space. They're both durable and require the same type of maintenance.
Hardwood floors vs. laminate.
How they're different: Solid hardwood can be refinished many times, but laminate cannot be refinished. Hardwood can last 100 years to laminate's 15-25 years. Laminate likely won't add to your home's resale value, but hardwood will. Laminate is inexpensive and easy to install compared to hardwood, which usually needs to be installed by pros.
How they're similar: They are both easy to clean and look attractive. You can get a wide variety of looks and feels from both hardwood and laminate.
Hardwood floors vs. carpet.
How they're different: Carpet is a soft, synthetic material that is quiet to walk on and has a short use life. Hardwood is natural, hard and can last a lifetime. Carpet is inexpensive compared to hardwood, but typically adds no resale value to a home. Plus, carpet can trap pollen and dust, making it a poor choice for allergy sufferers.
How they're similar: Hardwood and carpet are each available in a wide range of styles. And they can each be matched to suit any interior design.
Tile vs. hardwood flooring.
How they're different: Hardwood is warmer in the winter and provides a softer walking surface. Tile is more durable and moisture-resistant, making it ideal in humid climates and in bathrooms and kitchens.
How they're similar: Both give a clean, modern look. They're both easy to clean and available in hundreds of styles to match any interior.
How to find high-quality wood for your floors.
Always examine wood flooring samples in person to get a clear understanding of the look and feel. Once you know what you like, you can explore purchasing online.
However, be careful with online retailers who offer extremely low prices. The products they offer may have defects — short board lengths, lots of knots and inconsistencies, or poor milling quality. If you decide to hire a contractor to do your floor installation, you can ask them for recommendations.
If you're matching existing flooring in an older home, you may want to look for reclaimed wood flooring. Reclaimed wood can be less expensive, but is also a sustainable option. Contacting mills directly is a way of getting wood flooring directly from the manufacturer, but you'll need to take into account delivery costs.
When looking at wood flooring, read reviews and always try to get a sample so you know exactly what to expect.
Popular hardwood flooring brands.
Some of the most popular hardwood flooring brands have been in business for over a century. The biggest brands may even offer multiple types of flooring, such as manufactured and laminate as well as solid hardwood.
Bruce, one of the oldest brands in flooring, offers traditional hardwood and engineered flooring in a wide array of styles.
Shaw Floors offers a wide range of textures and colors in hardwoods and laminate flooring, as well as carpet, tile, vinyl and stone.
Mohawk boasts one of the best reputations around and specializes in hardwood and engineered flooring.
Mohawk also owns Pergo, a laminate flooring so well-known that contractors sometimes refer to laminate flooring as "pergo."
Most common hardwood flooring mistakes to avoid.
If you have your heart set on hardwood flooring, be sure to avoid these common mishaps when installing them.
Mistake #1: Putting brand new floors in — just to destroy them.
You wanted hardwood floors, and you stayed away from softer woods because you know how much wear your family room floors get. A solid mid-range wood like white oak is a good start.
But even the toughest woods will get chips and dings, and re-sanding your floors every year or two gets expensive. Instead of installing shiny new hardwood floors, consider buying something more forgiving, like salvaged wood or other distressed floor options.
Mistake #2: Selecting your wood online, without seeing it in person.
Picking the right wood is a process — ideally, a sensory one. Knots and grain patterns. Shades and tones. Stains and widths. The way it looks in the light. You can't tell from an online photo.
Before you spend extra money on a unique species or grain pattern, make sure to see the wood you're buying in person.
Mistake #3: Not giving your wood floor time to acclimate to your home's climate.
Your solid hardwood panels are going to need some time to breathe before the installation process begins. To begin the process of acclimating your boards, leave them in the room they'll be installed in for several days. Over time, the moisture in the wood adjusts to the moisture in the room, saving you from any sudden changes once installation begins and minimizing movement in the flooring once it's sealed.
Who to hire for hardwood floor installation.
Installing floor panels is a little like a game of Tetris. Plus nails, glue, varnish and a power buffer. A flooring installation professional can handle every aspect of putting your hardwood floors in, from helping select the right wood to ripping out old flooring to preparing the floor and installation.
Skip the fumes and dust particles — hire a hardwood flooring professional on Thumbtack to do the job for you.