How to pick wood flooring that works for your space.
Hardwood floor planks are milled from trees and have a natural wear layer, making them durable and easy to fix. Solid hardwood floors can be sanded down and refinished five or more times (on average) before you have to replace them. And when maintained well, hardwood floors can last over 100 years.
Use these tips to help you decide what type of hardwood flooring is right for you.
Tip #1: Pick a wood species that matches your home (and climate).
The type of hardwood flooring you pick should be influenced by your living situation, for example:
how warm or cold your house gets
if you have pets
how much traffic the floors are going to get
Look up the Janka hardness rating on wood species to figure out how they'll hold up in your home. High-traffic homes (if you're always entertaining, this is you) do best with the toughest hardwoods like oak, maple, cherry, walnut and ash.
Keep in mind that the most popular wood floor types include maple, oak, pine, red oak, white oak and walnut. Exotic woods — exotic in both origin and their price — include acacia, teak and mahogany. They're also more expensive to install. Which wood you select should come down to more than just cost and style. Every wood species reacts to climate, sunlight and humidity in a different way.
Don't be fooled, though: Just because a wood species is expensive doesn't mean that it's durable. Many exotic hardwoods like mahogany and Brazilian cherry are beautiful, but easy to dent — especially when compared to something of median price and cost like red oak.
>>Talk to a pro. Get estimates from top-rated hardwood floor installers.
Tip #2: There are three different grain patterns you should know.
There are three ways to cut a log when milling hardwood floor panels. The way the log is split changes how the wood looks on your floor.
The first option, plain sawn wood, is by far the most common and creates a wavy pattern called a cathedral on the surface of the wood. Rift sawn boards, on the other hand, show a straight line of consistent grain. Finally, quarter sawn boards look a lot like rift sawn boards, but with speckling and thin grains stretching on a diagonal from the center of the board.
Each type of milling also comes with a different price tag and level of durability. A lot of smart consumers play the odds and use a mixture of all three in their floors.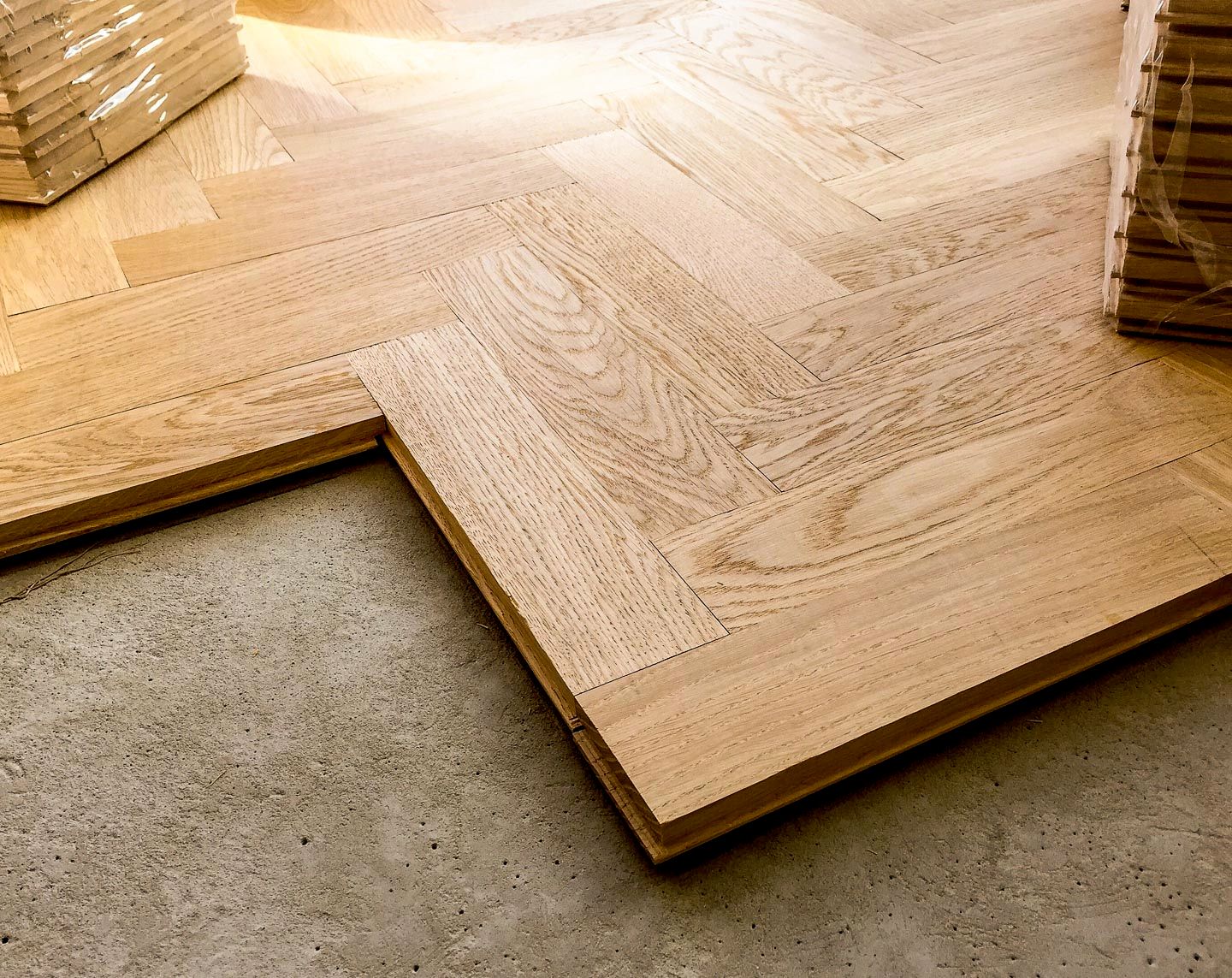 Tip #3: Size determines your floor pattern. Decide on thin or wide planks.
Until recently, solid hardwood flooring planks were installed in 2- or 3-inch strips. Today, it's common for people to use wider boards and geometric shapes in their wood floors.
Wide planks (generally around 4 to 6 inches across) tend to give your space a more rustic feel, but really only work in larger spaces. Think about the size of plank you want in square-foot terms — a living room floor that's made up of all of six or seven 5-inch boards is going to look small.
And keep in mind that the seams between the planks will become exaggerated as the wood expands and contracts. Because there aren't as many planks to distribute the movement, you'll see those changes very clearly in smaller rooms.
Don't lean into the cramped feeling. Pick a board size and design that matches your home.
>>See pros near you. Here are the best hardwood floor installers.
Tip #4: Choose your installation method — solid or engineered wood flooring.
Whether you choose a solid wood floor or an engineered wood floor, it's all about tradeoffs.
Engineered hardwood is made of a veneer of real wood attached to a thick layer of plywood for support. Because the wood is layered, engineered floors are more stable than traditional hardwood floors. They're likely to expand and contract in humidity or to come apart where the planks of wood once met. For this reason, they're popular in basements and rooms that are soundproofed (the plywood can be glued directly to a concrete subfloor or over soundproofing materials).
Solid hardwood floors, on the other hand, are easier to fix. Unlike engineered wood, solid hardwood floors are thick enough to be sanded down and refinished when dents and dings become a problem. Assuming you don't live in an extreme climate — swelling and shrinking floorboards can be a problem over time — solid wood floors will probably last you longer.
Tip #5: There are two ways to buy hardwood floors: pre-finished and unfinished.
Water. It's the key to life. It's also the biggest factor in deciding whether or not to buy pre-finished hardwood flooring. Here's why.
Pre-finished hardwood flooring comes sanded and sealed, making the installation process as simple as gluing planks to the floor. Unfinished flooring has to be laid down, sanded and then finished, and the layer of varnish that tops it off covers more than just the body of the wood — it also fills in any seams between boards.
Because the seams are sealed off from moisture, site-finished hardwood is a good choice for bathrooms and kitchens. Just keep in mind that the installation process will take longer, cost more and smell worse (floor varnish is strong stuff).
>>Compare pros. Contact hardwood floor installation services near you.

Most common hardwood flooring refinishing mistakes.
Mistake #1: Putting brand new floors in — just to destroy them.
You wanted hardwood floors, and you stayed away from softer woods because you know how much wear your family room floors get. A solid mid-range wood like white oak is a good start.
But even the toughest woods will get chips and dings, and re-sanding your floors every year or two gets expensive. Instead of installing shiny new hardwood floors, consider buying something more forgiving, like salvaged wood or other distressed floor options.
Mistake #2: Selecting your wood online, without seeing it in person.
Picking the right wood is a process — ideally, a sensory one. Knots and grain patterns. Shades and tones. Stains and widths. The way it looks in the light. You can't tell from an online photo.
Before you spend extra money on a unique species or grain pattern, make sure to see the wood you're buying in person.
>>See local pros. Request free estimates from top-rated pros.
Mistake #3: Not giving your wood floor time to acclimate to your home's climate.
Your solid hardwood panels are going to need some time to breathe before the installation process begins. To begin the process of acclimating your boards, leave them in the room they'll be installed in for several days. Over time, the moisture in the wood adjusts to the moisture in the room, saving you from any sudden changes once installation begins and minimizing movement in the flooring once it's sealed.
How much does hardwood floor installation cost?
Search for hardwood floor installers near you and contact them to find out how much it will cost to add new floors to your home.
Most floor installation professionals charge per square foot, independent of the materials cost. Other factors that affect how much you pay include where you live and the kind of wood you're installing.
Hardwood floor jobs require much more labor than laying down the planks, including removing existing flooring, sanding the bare floor, leveling it, adding transitions, retucking where the hard floor meets the carpet, and pulling out appliances and putting them back.
In general, most companies' base costs reflect different levels of services, so don't assume that a lower base price from one company means the total project cost will be lower.
For more on costs, see "How much does wood flooring cost?"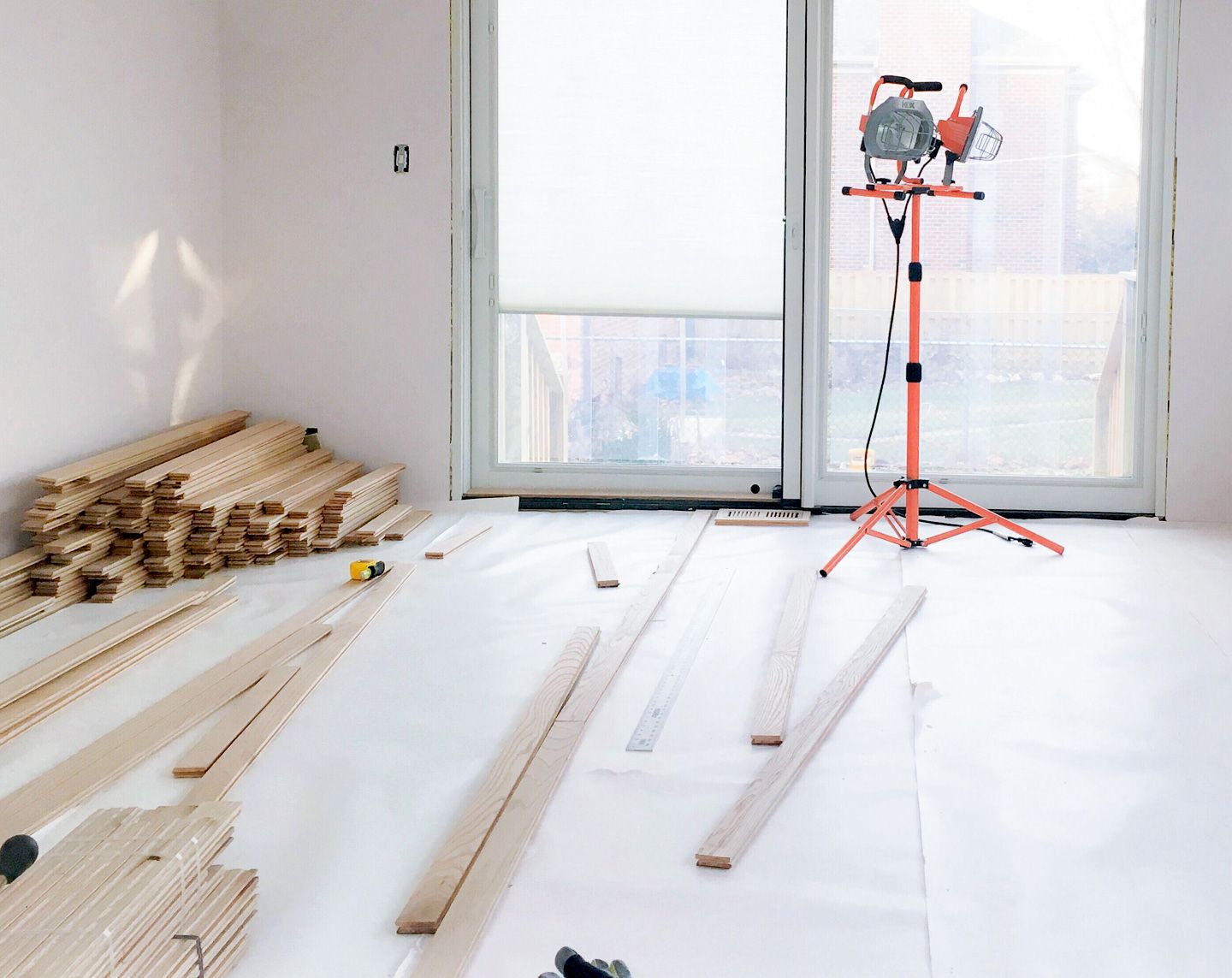 Who to hire for hardwood floor installation.
Installing floor panels is a little like a game of Tetris. Plus nails, glue, varnish and a power buffer. A flooring installation professional can handle every aspect of putting your hardwood floors in, from helping select the right wood to ripping out old flooring to preparing the floor and installation.
Skip the fumes and dust particles — hire a professional to do the job for you.