How much does a new roof cost?
On average, replacing a roof costs $6,771, and prices typically range from $4,700-$9,200. On the higher-end of the spectrum, roof replacement costs $11,770-$15,000.
Cost to replace roof:
| | |
| --- | --- |
| National average Cost | $6,771 |
| Typical range | $4,700-$9,200 |
| High-end cost range | $11,770-$15,000 |
However, some customers have also reported paying as much as $22,000 for a roof replacement, and some companies charge as much as $25,000 for a new roof.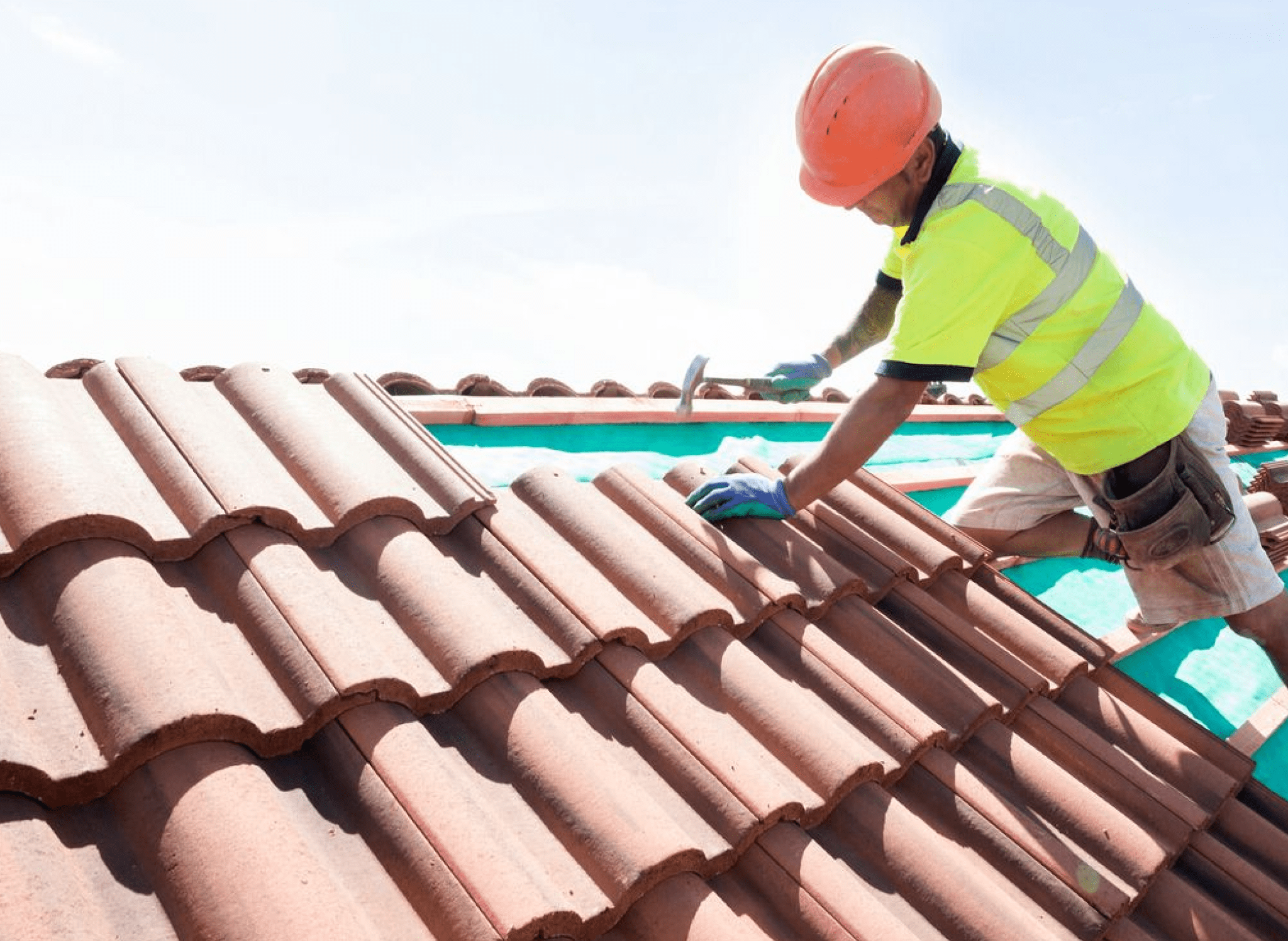 However, many factors can impact the cost you'll pay. For example, replacement costs vary depending on the materials you use, the size of the roof and the cost of labor in your specific area.
Fortunately, there are some national averages you can use as a baseline for costs. From here, you can explore specific information on estimating roof costs, factors that will affect those costs, materials to consider and more.
Full vs. partial roof replacement cost
You'll likely pay more for a full replacement (approximately $7,400) than a partial replacement (approximately $5,500). Here are the estimated reported costs of both projects:
Partial vs. full roof replacement costs:
| | |
| --- | --- |
| Full replacement average cost | $7,409 |
| Partial replacement average cost | $5,543 |
Find a great roofer in your area.
In many cases, the larger your roof, the more you'll pay to replace your roof. A roof that's less than 1,000 square feet will cost around $4700, while a roof that's 1,000 to 1,000 square feet will cost around $9,200.
Average roof replacement cost, by roof size:
| | |
| --- | --- |
| Less than 1,000 square feet | $4,725 |
| 1,000- to 2,000-square-foot roof | $9,192 |
If you're considering getting a brand new roof, here's a look at the new roof costs for two types: flat roofs and asphalt shingle roofs.
What's the cost of a new flat roof?
The cost of a new flat roof is on average (nationwide) $300 to $325 per square for labor and materials, and the project takes about three days.
Flat roofs are typical in Florida, Arizona and California, but not regions such as the Northeast that are prone to heavy snow and rain. Flat roofs require rolled roofing material. So even if a property owner wants tile shingles, professional roofers can't put them on because of the manufacturer and civic building codes.
How much does a metal roof cost?
The average metal roofing prices range between $4,400 to $8,750. Depending on the type or metal roof you have (e.g., copper, standing seam, etc.), your prices may vary.
What's the cost of a new asphalt shingle roof?
The cost of a new asphalt shingle roof is on average $65 to $350 per roofing square, with new roofs using architectural shingles ranging from $95 to $350 per square. However, some roofing companies may charge upwards of $1,000 a square for an asphalt shingle roof. In total, an asphalt shingle roof could cost $25,000.
See which roofers are top-rated in your area.
Asphalt roof systems are generally the most affordable option, which is why asphalt shingle roofs are common. Typically, three-tab shingles are the least expensive, but customers can opt for architectural shingles or premium shingles at a higher price per square.
Here are some cost estimates for different types of shingles. And here are other cost estimates derived from home improvement stores that sell asphalt shingles and wood shingles. Note that these estimates are subject to change and only include the cost of materials, not labor costs or installation costs:
| | |
| --- | --- |
| Shingle Type | Approx. Cost at Retailers |
| 3-Tab Shingles (asphalt) | $20-$44 for 33.3 sq. ft. |
| Architectural Shingles (asphalt) | $30-$61 (square footage varies) |
| Red Cedar Wood Shingles | $40 for 25 sq. ft. |
| Hip and Ridge Shingles | $47-$118 for 20 lin. ft. |
When estimating the total cost to replace your roof, you need to answer a few basic questions. From here, you can dive into deeper research specific to your situation.
Begin your estimation by writing down some answers to the following questions:
Where is the roofing project taking place?

Do you need to replace the roof on your single-story home? Your two-car garage? Your shed?

What is the size of your roof?

Get a rough estimate of the total square footage.

What materials will you use to replace your roof?

This may include asphalt shingles, metal roofing, tiles, etc.

Who will be doing the labor?

Will you hire a professional or do it yourself?

Do you need a full or partial roof replacement?

Or,

do you simply need a roof repair

?

What style do you prefer?

Do you have a ranch-style home? Do you have an eco-friendly home?
With these questions answered, you can start to research the costs accordingly. No roof replacement estimate can begin without basic information about the project, as costs will vary dramatically based on these answers.
Search local roofers and check prices.
Factors that affect your roof replacement costs
When you reach out to a roofer for an estimate on the cost of replacing your roof, there are a few factors that will determine the final number you're given.
For example, permitting is a cost that might need to be factored in, depending on where you're located and what you plan to do to your roof. In some cities, you might not need a permit if you're only adding a new layer of shingles. Or, you might not need a re-roof permit if you're re-roofing or replacing a roof for one- and two-family homes and townhouses. But if you're replacing or repairing the wood sheathing, a permit is most likely required. The cost of a permit will vary depending on where you live.
Other factors that will affect your roof replacement costs are:
Pitch of your roof (i.e. low-slope vs. flat roofs)

Roof size

The materials you choose (i.e. metal roofing or asphalt shingles), including underlayment and flashing

Removal costs

Any existing roof damage

Accessibility of your roof

How many stories your home has (i.e. single-story, two-story)

Overhangs and any extras that might need to be considered, such as chimneys, ridge-vents and skylights
These factors are common themes across leading roofing companies, roofing associations and government entities. Take the time to estimate your roof cost so you know what to expect when reaching out to roofing contractors.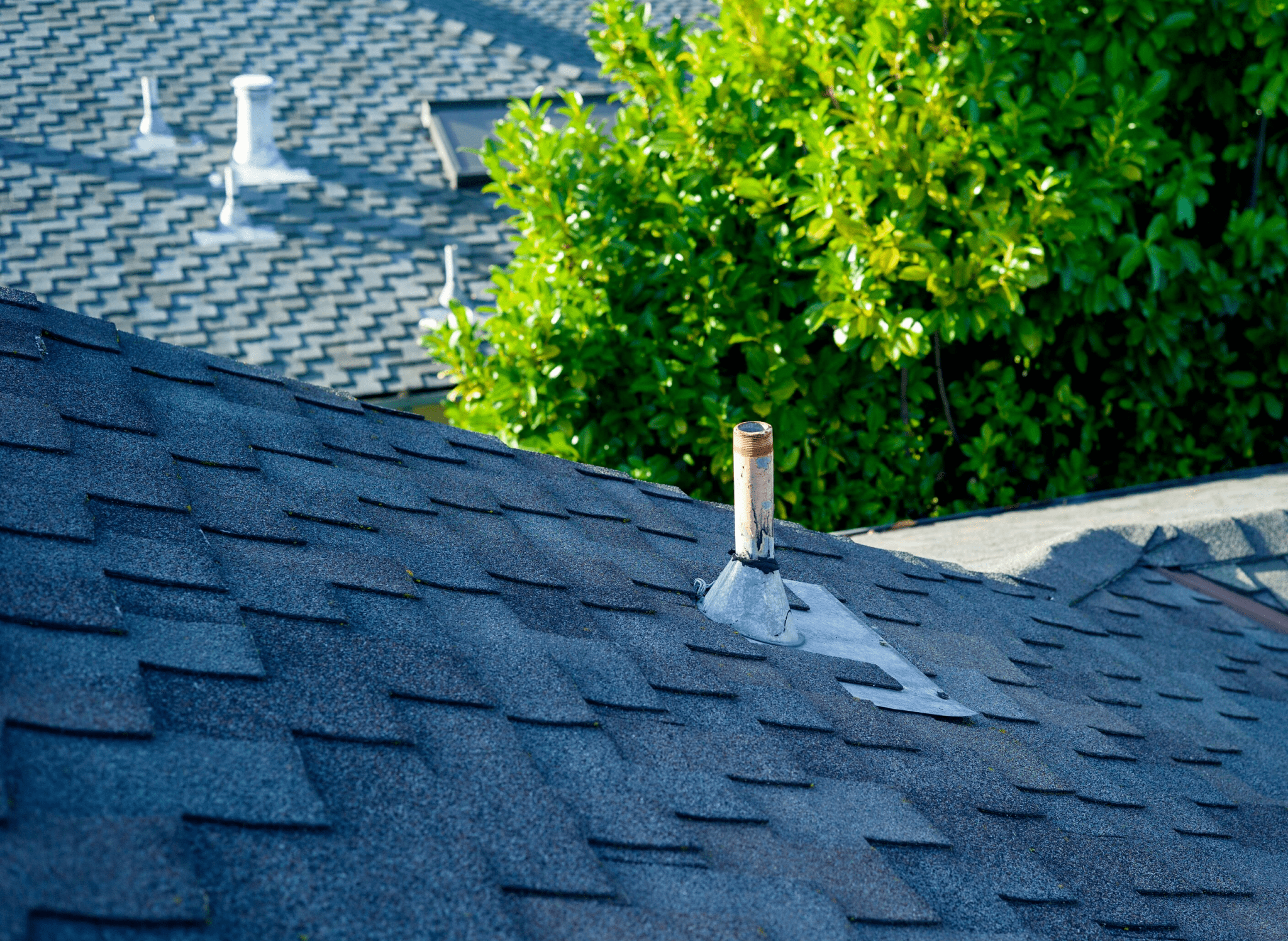 A major component of the cost of a roof comes down to the materials utilized. Materials can vary in cost dramatically. For example, metal roofing prices are generally higher than asphalt shingle prices.
Here are some general roofing prices and guidelines for several types of materials:
| | |
| --- | --- |
| Asphalt Shingles (i.e. 3-tab shingles) | Initial costs are on the low-end, compared to other materials |
| Metal Roofing (i.e. seam metal roofing, metal shingles, etc.) | Higher cost than asphalt shingles |
| Clay Tile | Higher initial installation and labor costs |
| Concrete Tile | Less expensive than clay tile but more expensive than asphalt shingles |
| Slate Roof | High first costs for material and labor but more economical in the long run |
As you consider roofing costs, a big focus will be on the type of roofing system you choose. Your own needs will play a major factor in determining which roof type is the right fit. For instance, many roofs with long-term durability come with a higher price tag upfront. For this reason, someone who plans to move soon might not want to invest in a copper roof.
Here's a look at the pros and cons of common roofing systems. This can help you figure out what type of roof you should install on your home.
| | | |
| --- | --- | --- |
| Roofing Type | Pros | Cons |
| Asphalt Roofing Shingles | Low-cost, easy installation, variety of colors/styles, popular among homeowners | Some may perform unsatisfactorily in hot/arid climates, roofs may darken or stain from excessive moisture or humid conditions |
| Metal Roof | High wind and weather resistance, fire-resistant, long-lasting, impact-resistant easy to install, lasts longer than asphalt and wood shingles | Higher cost in materials |
| Copper Roof | Long lifespan (considered a lifetime roof) | Extremely expensive materials |
| Slate Roof | Low maintenance, long lifespan, easy to repair | High cost for materials and labor, may require strengthening of structure to bear weight |
| Wood Shingles and Shakes | Can last longer in colder climates (depending on various factors), can be applied over existing roofing materials, high wind resistance, sustainable material source | Doesn't perform as well in hot/arid climates, potential fire hazard, doesn't last as long as other materials, susceptible to mold, rot and insects |
| Clay Tile Roof | Durability, high-end style, rot-resistant, high-wind resistance | Difficult installation, high cost for materials and installation |
| Concrete Roof | Long lifespan, fireproof, high wind resistance, durability | Difficult installation, high cost for materials, high installation costs |
| Built-Up Roof (BUR) | Ability to be made cool to reduce energy bills, long-lasting | Require careful workmanship and installation |
Sources: Department of Housing and Urban Development (HUD), the Federal Emergency Management Agency (FEMA), International Association of Certified Home Inspectors (InterNACHI), U.S. Department of Energy, Consumer Reports.
Find the right roofer for your project.
If you opt to replace your roof, you'll want to prepare for what's ahead. The process is extremely straightforward and will generally follow the same basic steps. Knowing these steps can help ensure the roofing company you choose isn't leaving anything out:
Protect the property

Tear off existing roofing materials

Inspect the roof deck

Install the underlayment

Install the roofing materials (i.e. new chimney flashing, drip edging and ice dam protection, tab shingles, ridge vent, etc.)

Clean up and remove debris
The first step of any roof replacement is protecting your property. Be sure that the roofer you choose takes the necessary steps to keep your landscaping, siding and walls protected during the process.
From here, the bulk of the labor begins with tearing off existing roofing materials. This is a time- and labor-intensive task and requires that all material is removed, down to the roof deck. An inspection should take place to ensure that all necessary parts of the roof have been removed. This is imperative to ensure your roof is installed over a proper base. If any of the roof deck is damaged, now is the time to repair it.
Finally, the roof installation can begin, which includes the installation of underlayment, any new flashing, drip edging, shingles, panels and more. Some companies can finish replacing a roof in as little as two to three days.
When investing in a roof replacement, you may wonder "how long will my roof replacement last?" The answer depends greatly on the type of material you choose.
The following chart offers an estimation of the longevity of a new roof installation:
Roof Type
Average Longevity

Copper Roof

Lifetime

Clay/Concrete

Roof

Lifetime

Slate

Roof

50+ years

Simulated Slate

Roof

50 years

Coal and Tar

Roof

30 years

Wood

Roof

30 years

Fiber Cement

Roof

25 years

Asphalt

Roof

20 years

Modified Bitumen

Roof

20 years

Aluminum Roof Coating

3–7 years
Source: National Association of Home Builders (NAHB)
Keep in mind that the longevity of your roofing system is also affected by weather, as well as the quality of the installation.
How often you replace your roof will vary based on an array of factors — which makes it difficult to pinpoint an exact number of years between roof replacements.
A roof's average lifespan largely depends on the roofing material. For example, wood shake roofs may last around 30 years, and asphalt shingle roofs can last about 20 years. If you have a slate, tile or copper roof, it may last even longer.
To determine how often you should replace your roof versus invest in roof repairs, consider the following factors:
Is your roof damaged?

Hail storms, hurricanes and high winds can necessitate roof replacement sooner.

How high quality was your roof installation?

Hiring

reputable roofers

is a must. A poor installation can lead to early roof replacement.

What material comprises your roof?

As you can see from the section above on the average lifespan of a roof, the material plays a large role in replacement cycles.

Are you planning to move?

When selling a home, a new roof may increase the value of your home and allow you to sell faster. However, you might only recoup a small portion of your costs depending on the material, quality of work and other factors.
While there is no one-size-fits-all answer to how often you should replace your roof, consider investing in a roof inspection if your roof is older than 20 years.
Get a free estimate from a great roofer near you.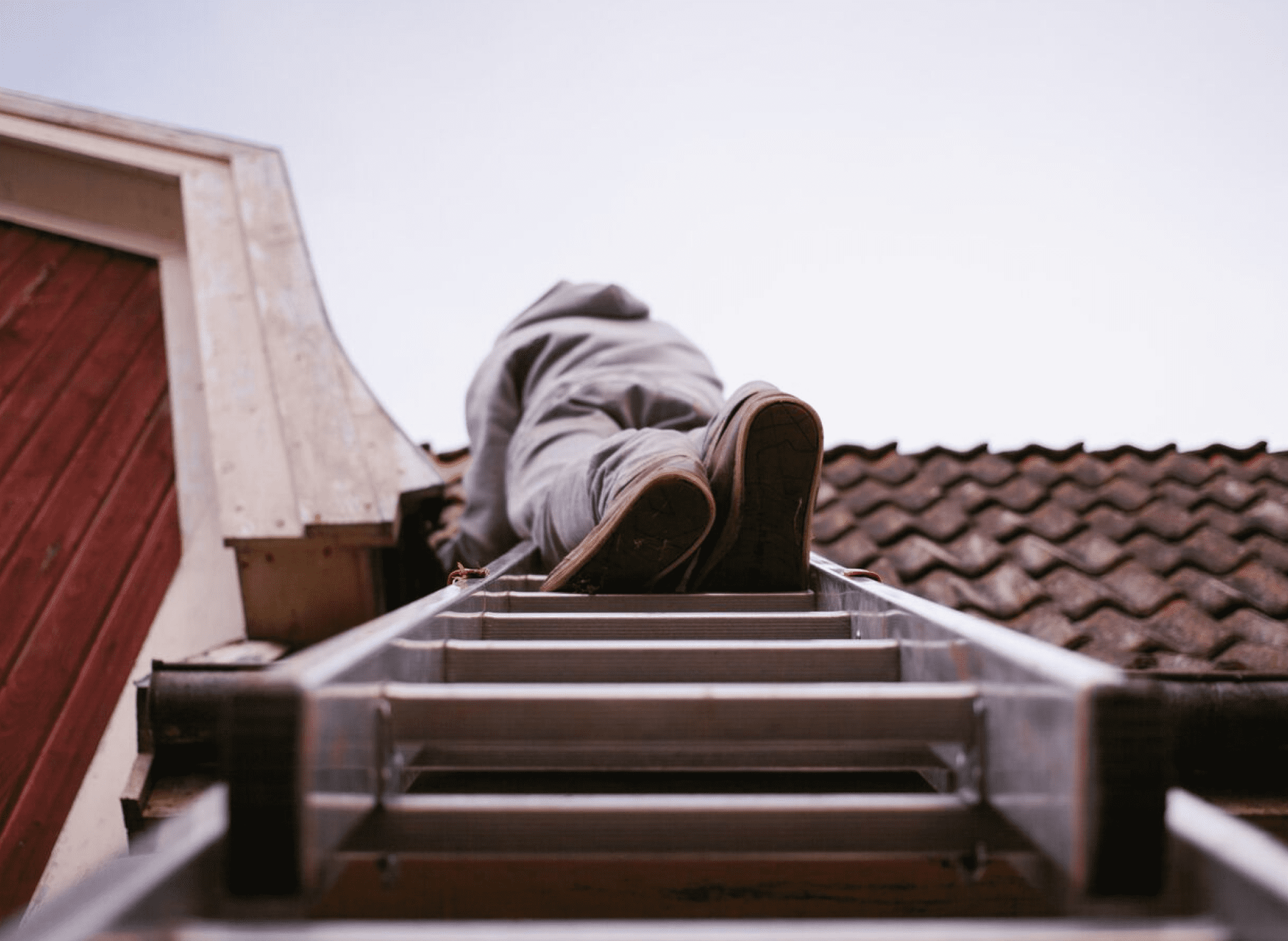 Knowing when to hire a roofer is imperative to ensuring your entire home is protected. Your roof acts as the initial barrier against the elements, which is why it's key to hire a roofer before damages worsen.
Here are a few signs it might be time to replace your roof -- or at least perform heavy repairs:
Curling roofing material

Bald spots on roofing materials

Missing shingles or sections

Visible light in your attic due to cracks

Granules in gutters or downspouts

Cracking roofing materials spread out over a large area

Sagging or drooping roof

Moss or algae growth

Leaks

Damaged flashing
If you see any of these signs, you should hire a roofer right away to prevent further damage to your home's structure.
A roof replacement is a large investment. As such, it's vital to hire a reputable roofer for your project. Use this information to help guide you in choosing a qualified roofing contractor:
Licensure:

Check with your local state to see if contractors are required to hold specific licensure. Only choose a roofer in compliance with local laws.

Quotes

: Take time to review multiple quotes on a project. Look for a company that provides you with a detailed quote, rather than a broad estimate.

Reviews

: In today's technology riddled world, there is no reason to hire a contractor without reading reviews.

Read reviews of roofers near you

to determine whether a roofing company has a solid track record.

Questions

: Choosing a roofer is a big decision. Don't be shy. Ask as many questions as you want to ensure the roofing company is the right fit for your needs.

Warranties:

A quality roofing company often offers workmanship warranties. Be sure to check to see if the roofer you're considering provides any warranty on labor or materials.
Find the best roofer in your neighborhood.
Find a roofing professional near you
If you have determined that a roof replacement is right for you, start doing your research today. Find a few roofers near you to pull quotes on the project, putting your new knowledge to good use.
But if you need further tips on how to hire a roofing contractor, visit Thumbtack's safety page for additional info.
When it comes to replacing your roof, you might have a handful of additional questions about the process. Below, you'll find quick answers to the most frequently asked questions about replacing your roof.
Can I replace my roof myself?
Technically, yes, you can replace your roof on your own. However, the technical nature of the installation and the complexity of code and warranty compliance means that roof installation should be handled by a professional. This ensures that warranties are valid and your home is up to code.
Do I need a permit to replace my roof myself?
You may or may not need a permit to replace your roof. It depends on the city and state you live in.
For example, here's what Dayton, Ohio's official website states: "If you are simply applying a new layer of shingles, you do not need a building permit. If you are replacing or repairing any portion of the wood sheathing supporting the shingles or structural members like rafters or trusses, a building permit is required. "
Always check to see what the local regulations are before starting a roofing project.
Compare prices from roofers near you.
Can you put a new roof on top of an old roof?
You may be able to put a new roof on top of an old roof, which is known as re-roofing. However, this is not always a good idea. If your existing roof is extremely damaged, it's likely better to tear all existing materials off and start over. And, re-roofing should only be done once.
Is it OK to roof over existing shingles?
Yes, in some cases, it's fine to roof over existing or old shingles. Roofing over existing shingles (aka re-roofing) only works if they are in decent condition, and you do not already have two layers of shingles on your roof.
Will homeowners insurance pay for a new roof?
Yes, in some cases, a homeowners insurance policy may cover a replacing a roof if there was unexpected damage. However, the circumstances will dictate if this is true for you. For example, if a fire destroys an existing roof, your homeowners insurance will probably cover the costs for roof repairs or replacement. However, if your roof is simply old and has finally exceeded its lifespan, your policy will probably not cover replacement. Carefully examine your homeowners insurance to find out if you're covered.
What do insurance adjusters look for on roofs?
An insurance adjuster's job is to determine what damage to your roof will be covered by your policy. When an adjuster arrives, they will spend time inspecting your roof in detail. Their goal is to determine how the damage was caused, whether it was pre-existing and whether you took the proper steps to prevent damage to your roof.
Before an insurance adjuster arrives, it can be helpful to locate as much damage as possible on your own. Additionally, you can hire a roofing contractor to also help you inspect and assess the damage.
Is a new roof a good investment?
A new roof can potentially be a good investment. The 2019 Remodeling Impact Report conducted by the National Association of Realtors and the National Association of the Remodeling Industry (NARI) found that homeowners can recover 107% of the cost of a new roof when it comes time to sell the home.
Get free estimates from top-rated roofers.
Video transcript: How much does roof replacement cost?
"Our average costs for a roof asphalt shingles is $25,000. We're about a $1,000 a square for an asphalt shingle roof. A square is 10-by-10 feet.
How long a roof lasts is largely dependent on who installs it, flat out. The design approach underneath the shingles is going to be the biggest determining factor. That said, environmentally, heat and water are the two things that we're most worried about on a roof.
I would start looking, for sure, monitoring after 20 years. If you see shingle blow off and your roof looks terrible, and you get on your roof and you see a bunch of holes and stuff in there and it's leaking — that's clearly the time to be replacing your roof. But that's probably two or three, or four or five years too late when you should have replaced it earlier. If you think your roof is in bad shape, start the process. Even if you wait a year, start the process of getting a new roof so you can also not feel rushed in the decision.
With asphalt shingles, we can do a roof in two to three days. [With] smaller houses, we can do two days with the professional group. Obviously, the larger the house, the longer it takes. If there's a lot of repair work, that's going to slow the project down. You don't want to see the guy you hired and his buddy on your roof — that's not a good sign. You want to see four people on that roof at least.
At least in the state of California, the deposit is $1,000 on any project over $10,000. If it's under $10,000, it's a 10% deposit. If a contractor asks you for more initially, don't hire that contractor — they're breaking the law.
Progress payments work like this: We have a $1,000 deposit. And then when we show up to do the work, it's half. When we're done and it's signed off, and it's approved, and everyone's happy, and everyone's gotten what they've gotten, there's no problems, all repairs are done — it's the final installment.
I'm Edward Nattenberg with Bay Valley Contractors, and you can find me on Thumbtack."