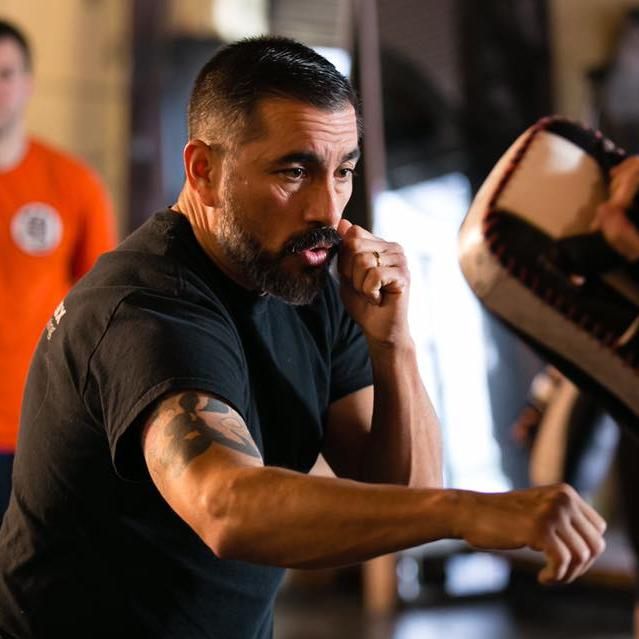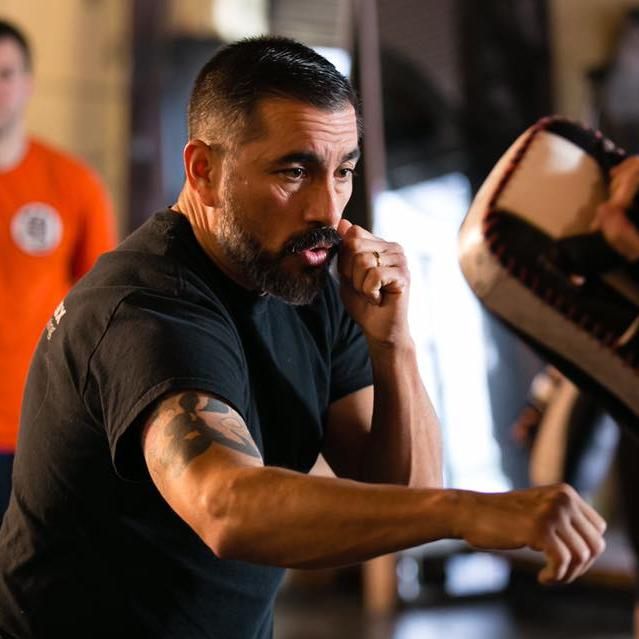 ---
It's free with no obligation to hire
Introduction:
Kickboxing Pad Training is a fantastic way to burn calories while having fun! Sessions are full body workouts with punching and kicking techniques combined with cardio conditioning. I have over 20 years' experience teaching martial arts and I design programs based on each individual or group's needs. My disciplines include San Shou Kickboxing, Northern Shaolin, Tai Chi and Tae Kwon Do. I also incorporate TRX and Boot Camp elements to make training engaging and effective for my clients. I've trained with clients who initially are shy and feeling unsure about themselves and watched them grow stronger into confident individuals. I enjoy helping people reach their goals. It's been an incredible privilege to walk alongside my clients in their journeys to improve their quality of life through training and fitness. Having experienced firsthand the benefits of training in my personal life, it's a thrill to share my love and passion of training with my clients.
Overview
Hired 5 times

Background checked

9 years in business
Payment methods
Cash, Check, Venmo
Photos and Videos
8 photos and 2 videos
Reviews
Ch o.

Private Self Defense Lessons

After a series of scary encounters with an individual, I decided to learn self defense techniques because I felt ill-equipped and unsafe. I read Vince's reviews and reached out to him on Thumbtack. Vince is a fantastic trainer. He is knowledgeable, experienced, and most importantly, a good human being. I appreciate that Vince does not have a "one size fits all" approach. He tailored my sessions to my specific needs. Overall, I really enjoyed working with him. I met my goals. I feel safer and capable of defending myself if necessary. I plan to take more classes with him soon.

Yanna G.

Private Self Defense Lessons

I've been working with Vince for the past 4 months and it's honestly been such an incredible experience. I originally was hoping to find someone to try out kickboxing/MMA with as I hadn't had any prior experience so I was quite nervous. From the first lesson I felt so comfortable-- Vince made sure that I understood the fundamentals, encouraged me with what I was doing right, pointed out what I was doing wrong, and made sure I had a whole lot of fun throughout the entire time. I was pushed mentally and physically and each time I left afterwards feeling like I couldn't wait to come back. As someone who's worked with quite a few trainers in the past, I could not recommend Vince enough-- his patience balanced with the ability to really make you work hard is incredible.

Jasmine R.

Personal Training

Before I began attending Vince's martial arts classes I was extremely shy and ashamed to go in because I was so over-weight. I would walk by his class and watch him and his experienced students and I so badly wanted to be there too. I finally decided to go in one day, despite of my hesitation, and that was the best decision I ever made. Since day one Vince has been extremely welcoming and tremendously patient and helpful. This last year I finally decided to take private training sessions with Vince and they are worth every penny. He's helped increased my cardiovascular and muscle fitness. The side effect of which has been weight loss. When I first started training in martial arts with Vince I was a complete newbie. I had no prior experience. After 2.5 years of training and an increase in private sessions I finally competed in my first fight. He has helped me every step of they way and has supported my growth as a fighter. Today we continue to train and are looking forward to new opportunities to compete. If you are looking for a trainer, Coach Vince will definitely help you reach higher levels of performance, speed, and strength.

Molly G.

Personal Training

Vince is an incredible coach! I have been taking classes and private lessons from Vince for almost five years now, and it has changed my life! I've lost weight, learned many new skills, improved my balance, and most importantly I've gained confidence in myself! This is thanks to Vince's amazing ability as a teacher and coach. He pushes you without taking you too far, he gives you that vote of confidence you need to push through when it gets tough, and his attention to detail will ensure that you become the best athlete you can be. He has brought me from a person who has never thrown a kick to a confident martial artist, thanks largely in part to his level of personal attention - he makes time for all of his students to ensure that everyone grows and improves as much as they can. During private lessons, you get an amazing amount of personal attention and direct support - Vince does not teach a one size fits all program. My private lessons with Vince are an amazing chance to have him push me to work hard, improve my skills significantly, and gain confidence! Vince is patient, observant, and so supportive when he works with his students! I wouldn't be the athlete and martial artist I am today had it not been for Vince's teaching. I recommend him for anyone who is looking for a teacher and trainer to help them become their best!

Susan Y.

Personal Training

Like a lot of folks, I've been trying to balance a busy schedule and spend a lot of hours during the day sitting in front of a computer. I came to Vince looking for help with conditioning and was curious about martial arts. I was also feeling rather nervous and shy about training. My observations so far: Vince listens carefully and knows how to ask questions that get right to the heart of the matter. He's a rare combination of technical expertise and emotional intelligence, and more importantly a down-to-earth personable coach. He has the ability to drive the big picture (reminding me of goals) while at the same time paying attention to an amazing amount of detail (proper technique training). I absolutely love pad training with him (it caught me off guard how quickly it gets my heart rate going) and he mixes in TRX and Boot Camp workouts into our training sessions to keep me engaged. I couldn't be more pleased with our sessions and look forward to continuing with him. I highly recommend him to anyone who wants to feel empowered and experience the benefits of a seasoned coach.
FAQs
Describe a recent project you are fond of. How long did it take?

I recently helped one of my long term students prepare for her first full contact tournament. When she first started training with me, she was just looking to lose weight and was new to fitness and training. In the process she has lost over 60 pounds, grown stronger and now is helping my other students grow.