How much does demolishing a house cost?
The national average cost to demolish a house is $3,000 – $35,000. House demolition professionals base their prices on location, whether it's a partial or complete teardown, outbuilding demolition, and dump fees.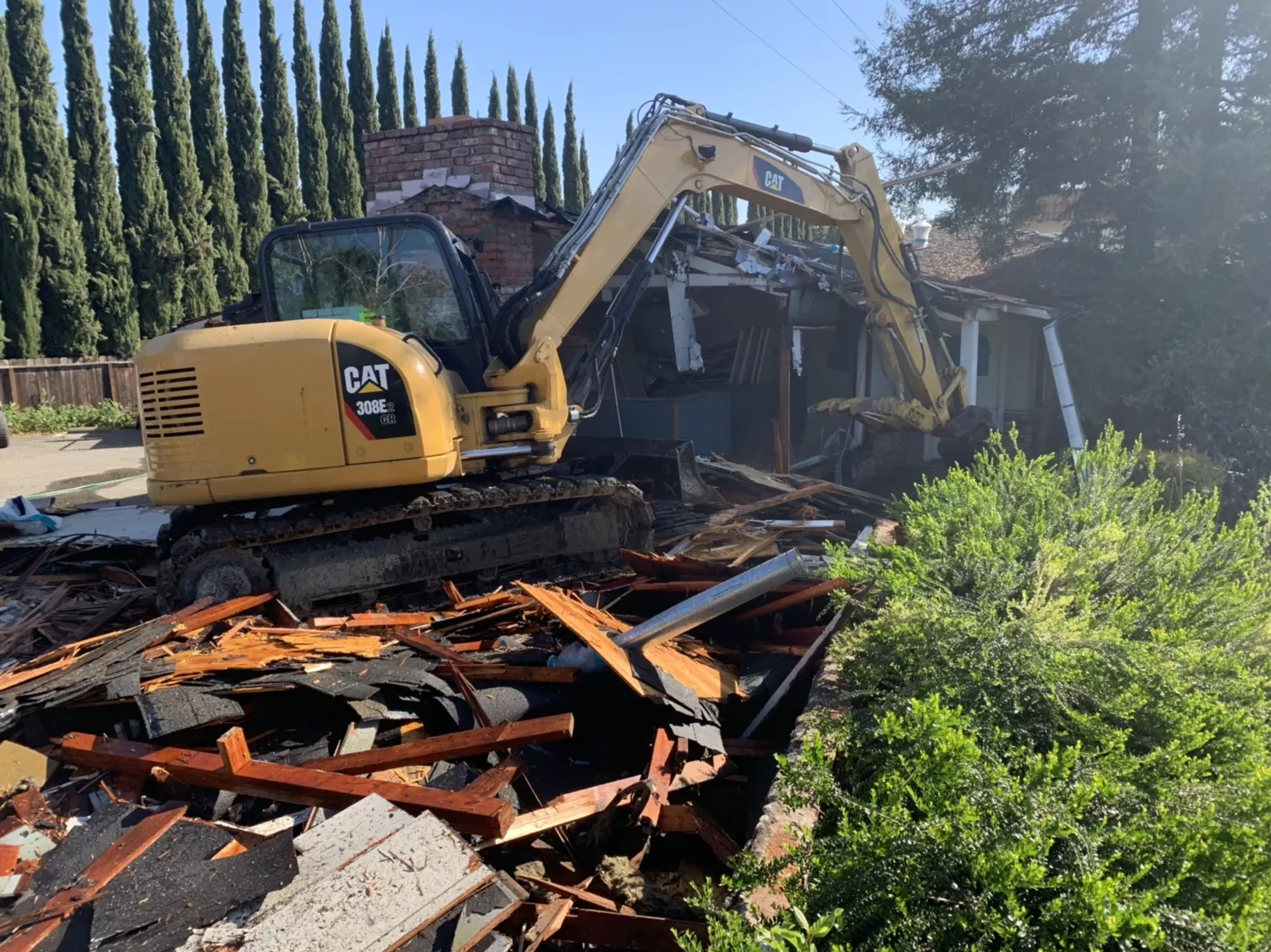 Demolishing a House Costs:
| | |
| --- | --- |
| National Minimum Cost | $3,000 |
| National Maximum Cost | $35,000 |
| National Average Cost | $8,000 |
| Average Range | $8,000 – $15,000 |
Tearing down an older home means that you can make way for new construction. Demolition companies help you prepare for new home construction or a remodel. Companies can provide total demolition services to remove all traces of an existing structure, partial demolition services to prep for a major renovation, or interior demolition to prepare a space for remodel work. Some companies will even demo an old swimming pool! Let's explore the various demolition options, shall we?
What's in This Cost Guide?
What Affects the Cost to Demolish a House?
Several factors will affect the demolition and deconstruction costs, including geographic location, whether it's a partial or complete teardown, outbuilding demolition, and dump fees. Demo professionals can help take down houses, apartments, decks, garages, outbuildings, commercial buildings, or complexes. They can also provide total demolition services to remove all traces of an existing structure, foundation removal, partial demolition services to prep for a major renovation, or interior demolition to prepare a space for remodel work.
Location
Geographic region affects the cost of demolition services. Contractors living in metropolitan areas with more traffic congestion, cities with a higher cost of labor, and regions with higher dump fees will generally charge higher rates. Demolition permits are also required in many areas of the country.
Cost to Tear Down a House
The average cost of tearing down a house nationally is $8,000 – $15,000, according to New Home Source. However, prices can vary as widely as $3,000 – $30,000, depending on the home size, the amount of debris created, the total weight being hauled away to the dump (e.g., large concrete patio, pool, etc.) and the area of the country the house is in. Large-scale teardown projects are typically completed with heavy machinery such as backhoes.
Interior Demo Cost
Demo pros can strip the interior of a room or an entire house down to the drywall in preparation for a home remodel. The cost of an interior demo generally includes dumping fees, gas, and labor. Interior jobs are typically done with handheld power tools, pry bars, sledgehammers, and smaller jackhammers to better preserve the structure of the house.
Here are examples of interior demolition prices from Matt's Hauling and Removal in San Diego, California:
12x15 kitchen demo: $1,250
16 work hours, debris contained in a 9-cubic-yard trailer
Break out kitchen island
Remove all countertops and shelves
Remove all cabinets (uppers and lowers)
Remove flooring
Leave kitchen bare to the drywall
Get a free estimate from a great demolition specialist near you.
6x9 bathroom demo: $900
10 work hours
Cut out tub, shower and shower tile backsplash
Remove tile floor
Tear out cabinets
Leave bathroom bare to the drywall
Partial Demolition Cost
Retaining part of a structure, such as the foundation or part of the framework, may be necessary in historic neighborhoods with older homes and special zoning and regulations. Some people also simply want to preserve part of the home. Costs are still based on dumping fees, debris hauling, business overhead, and labor and gas costs.
Outbuilding Demolition Cost
Removing a smaller structure on a property, such as a garage, shed, or trailer, costs less than a home demolition. Costs vary depending on the weight of the structure, materials, accessibility (can the pros drive their trailer right to the site or will debris have to be hand-carried to a truck or trailer?), and other factors. Matt's Hauling and Removal charges the following for outbuilding demolition and removal:
Sheds made of tin: $350 – $400
Sturdy wood or heftier-built sheds with a foundation: $700 – $900
One unique demo job that Matt's Hauling and Removal worked on was removing horse corrals and two structures that filled a 40-yard dumpster. The total project cost was $2,500, $600 of which was for the dumpster rental alone.
Dump fees
The quantity of debris that a demo generates affects the total cost. Most demo companies roll the estimated dump fees and debris removal costs into the total project quote. The heavier the dump loads (especially concrete and gravel), the higher the cost.
Asbestos and lead
Depending on location in the country and what year a house was built, local regulations may require testing for hazardous materials such as asbestos or lead paint prior to demolition projects. These tests will increase the overall demo fees.
For example, the Los Angeles County South Coast Air Quality Management District requires a signed asbestos survey report prior to any demolition or renovation.
How to Save Money on House Demolition
Here at Thumbtack, we love helping our customers save money – so here are our best strategies for saving some cash on house demolition costs:
Tear down as much as possible yourself: To save on demolition costs, try to deconstruct as much as possible yourself. Just remember to shut off all utilities before ripping into the walls!
The more the merrier: Grab a few friends or family members to help with deconstruction – many hands make light work.
Salvage for some extra dough: Did you know that the innards of your home can make you some decent cash and net a nice return? Salvage yards will take any copper piping and any wiring in the home, as long as it's sorted.
Benefits of Professional House Demolition
House demolition can be a big job, so there are several reasons that hiring a professional house demolishing company makes the most sense. Problems frequently arise during home demolition jobs, and a professional demolition company will have the experience to be able to handle these problems with ease. Also, demolition will automatically turn your home into a job site. As with any job site, safety is the most important thing; when you hire professional demolition contractors, they will take every safety precaution possible to protect your home and family.
Home demolition professionals are highly skilled in their field. If you try to take the DIY route and you make a mistake, fixing it could end up costing you quite a bit more than hiring a contractor to do it right in the first place. In addition, if you need a demolition job done on a strict time schedule, then hiring a professional demolition company is your best bet to get things completed in a timely manner. Whatever the job, big or small, hiring a professional demolition company ensures that the job gets done right the first time.