How much does a closet remodel cost?
The national average cost for a closet remodel is about $125 per linear foot. However, most homeowners spend an average of only $358 to remodel their closet, but prices range from $644-$1,275 on the high end. A small reach-in closet will cost less than a large walk-in closet. The total cost also depends on any add-ons for your revamp: storage systems, shelving, closet organizers, paint, lighting and decor all add to the final price tag.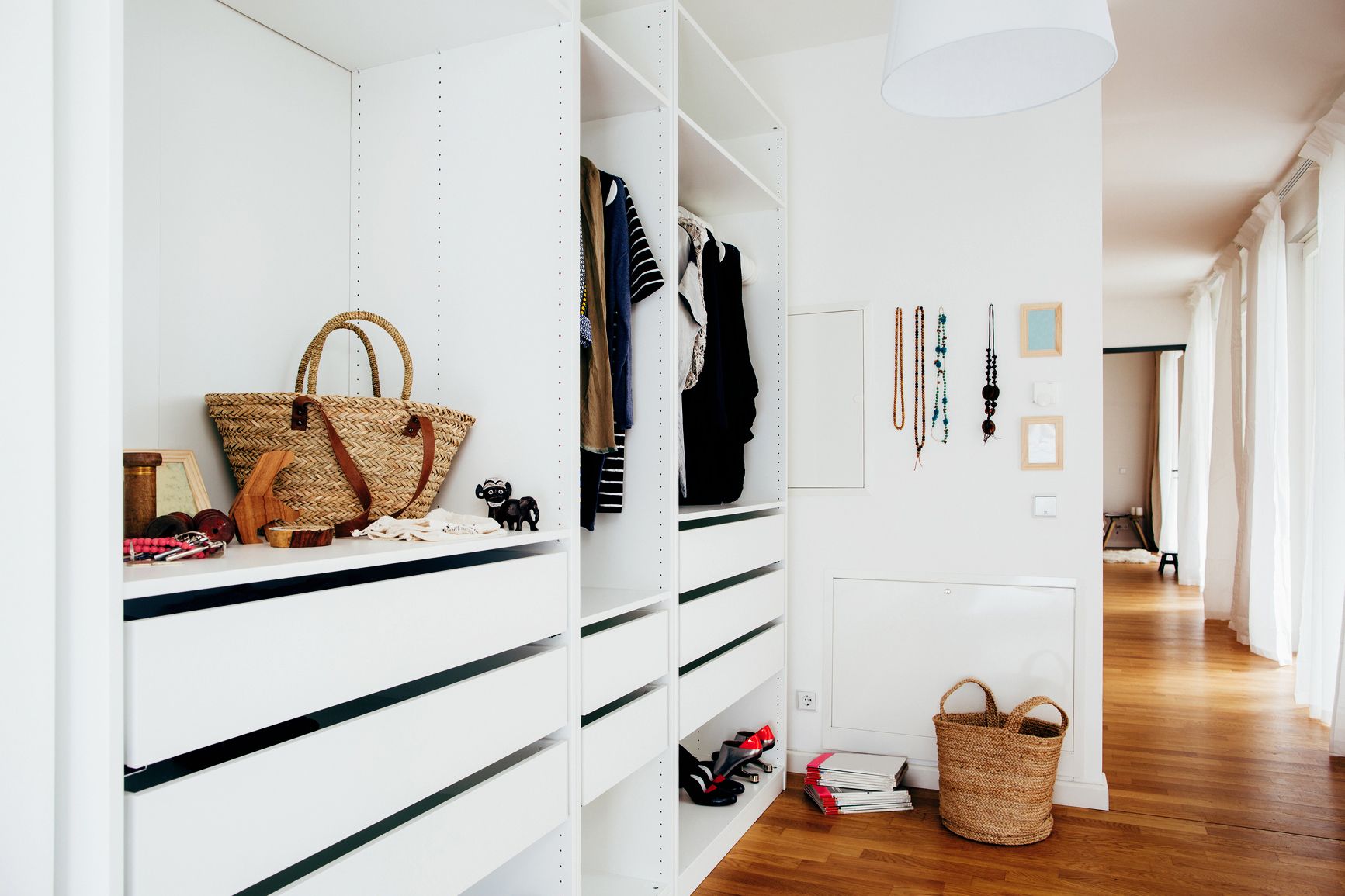 | | |
| --- | --- |
| National average cost | $358 |
| Average cost range | $299-$501 |
| Low-end cost range | $113-$271 |
| High-end cost range | $644-$1,275 |
The truth is, most closets are boring holes in a wall with a shelf, a rod and no color or pizazz. This lack of organization and inadequate storage can lead to an unmanageable tangle of clothes, shoes, belts, purses and other accessories. It doesn't have to be that way: with a closet makeover, you can look into your perfectly organized wardrobe and quickly choose an outfit before heading off to conquer the world!
However, remodeling your closet involves much more than color coding your hangers and adding a few storage bins. You may need to hire one or more pros to help, from a closet builder to a professional organizer to help organize and design your space.
Whether you're renovating the main closet in your bedroom to make room for more clothes or sprucing up a pantry as part of a kitchen remodel, this guide will help you figure out what you need — and what the total cost will be — to revamp your closet.
What's in this cost guide?
Many factors affect the cost of a closet remodel, including: the size of your closet, whether it's a walk-in or reach-in closet, the types of storage you choose, and if you need help with painting, electrical wiring, lighting and outlet installation.
You may need to hire pros to do all or part of a closet remodel. However, DIYers can save money by tackling the parts of the project that fit their skills. Here are estimates for the cost of several common professional services you'd need for a closet remodel:
| | |
| --- | --- |
| Project | Average Cost |
| Professional organization | $40-$60 |
| Custom closet installation | $2,000 - $6,000 |
| Replacing closet door | $180 |
| Wall painting | $200 |
| New lights and outlets | $55 - $65 per hour |
Compare prices from closet remodel contractors near you.
Professional organization: $40-$60
A home organizer charges about $40 to $60 per hour and will help you organize what you have, design a custom closet organizations system, recommend storage solutions and suggest ways to keep your closet well-organized. They can help with everything from hanging clothes and coordinating hangers, to suggesting space-saving storage solutions — like an additional top shelf or rod in an unexpected place.
Installing a custom closet: $2,000 - $6,000
A closet builder charges, on average nationally, $2,000 to $6,000 to install a built-in closet organization system. Installing a custom closet system, which includes your closet organizers, shoe cubbies, drawers, racks, pull-out hampers, rods and shelving is the most expensive part of the project.
If you hire a contractor to create a custom closet organizer for you, they can create and install a closet organization system that perfectly suits your needs. Your contractor may charge by the hour or by the project.
Replacing your closet door: $180+
If your closet door has seen better days, you can replace the door for about $180 on the low end. For example, Yusnier Pardias charges $180 to replace an interior door — the average new door costs about $100, and he charges 80 percent of the cost of the door to install.
If you hire a carpenter to install your custom closet organizer, they may be able to install the door at the same time.
Painting closet walls: $200
On average, an interior painter charges $200 to paint or less depending on the size of the closet or the amount of space you want to paint. For example, if you just want to paint the back wall for some accent color, that will cost less than re-painting the entire thing. Painters typically charge by the hour or the size of the room, and will be able to give you a free estimate before they begin.
Installing lights or outlets: $45-$125 per hour
On average, an electrician charges $45 to $125 per hour. Some electricians will charge by the task. On average, it will cost $90 to $250 for every light you want to install — whether it's adding recessed lighting or hanging that fancy chandelier you scored at your favorite vintage store.
Search local closet remodel contractors and check prices.
A standard reach in closet usually measures about 6-feet wide and 2-feet deep, and remodel costs start at about $1,000. As a rule, these smaller closets contain one rod for hanging clothes and a shelf, usually a top shelf.
It is especially important to maximize space with space-saving solutions in a small reach-in closet. Even if you have a small space, remodeling could mean adding shelves, drawers, shoe and bag racks, wall hooks or a closet divider to create more hanging space.
Extensive closet remodels with large amounts of custom storage and design details can cost more than $1,275.
A remodel of a walk-in closet of 18 linear feet (6x6 feet) using basic laminate or wire shelving could ring up at around $2,250. However, a remodel of the same space using a higher end wood finish closet system could cost $4,500 or more.
If you're remodeling a larger, walk-in bedroom closet, you might want to add hutches and cubbies. Additional furniture, like a footstool or armoire can also contribute to an elegant look. All of these features add to the total cost.
The cost of closet systems depends largely on their size and whether they are custom built or not. A basic pre-made closet kit starts at around $100 for wire racks or laminate shelves available at home goods stores. The downside is that these are precut systems and cannot be modified.
Basic custom-built closet systems begin at around $1,000 for small systems that fit into reach-in closets. The cost of a custom closet system goes up from there, depending on size, features, materials quality and amount of storage.
Get free estimates from top-rated closet remodel contractors.
A professional organizer or remodeler can help you decide the best way to redesign your closet based on your closet size, the amount and types of items you need to store, and the look you want to achieve with your remodel.
For example, if you're a shoe lover, an organizer can suggest creative ways to install enough shoe shelves for your bedroom closet. If you're re-doing a kitchen closet, your organizer will look for ways to make the items you cook with most frequently easy to access.
No matter what's in your closet, an organizer will have the know-how to create the perfect space for you. You can also get closet ideas as you search for closet remodel specialists. Remodelers, like Sharp Closets in Alpharetta, Georgia, include photos of previous closets they've revamped in their profile.
You can save money on a closet remodel by sticking to your budget and cutting costs where possible. Here are three tips for doing a closet remodel for less:
Set a budget: Decide what you can afford to spend and stick to it. Be honest with your organizer about your budget and ask them ahead of time to suggest storage solutions that fit within your budget. If your budget is more Rubbermaid than California Closets, your organizer can help.
Assemble your own closet system: If you're on a budget but like the look of custom closets, consider shopping a store like IKEA to find a combination of cubbies, dressers, shelves and pre-made storage solutions that can fit in your space like custom closet system. A pro can help you fit the pieces together and handle the installation.
Limit recessed lighting: Installation of recessed lighting can be labor intensive and therefore costly. You can save money by using the light fixtures you already have or choosing a simple overhead light.
DIY what you can. Depending on your skills and comfort-level, you may be able to DIY some parts of your project -- like painting or installing hooks.
How do I hire a closet remodeler near me?
Browse Thumbtack to find a professional organizer and a closet installer near you. When you reach out to your pro, make sure to know the linear feet of your closet so you can request an accurate free estimate.
Take pictures of your closet and the items in it so the pro can get an idea of the current state of your project as well as what will be involved in your closet makeover.
Find a great closet remodel contractor in your area.