Why Hire a Wedding Planner?
Planning a wedding is a lot of work — potentially the equivalent of a part-time job for six to 12 months. That's not to say that wedding planning isn't worth the effort. But if you don't have time to make it more than a weekend task without sacrificing work, family, or much-needed time off, hiring an experienced wedding planner may be the smartest investment you can make for your upcoming marriage. Wedding planning isn't just a lot of work; it's also a lot of stress, and not just for you but for your soon-to-be spouse. A full-service planner can keep you from wrecking your relationship before your marriage even begins.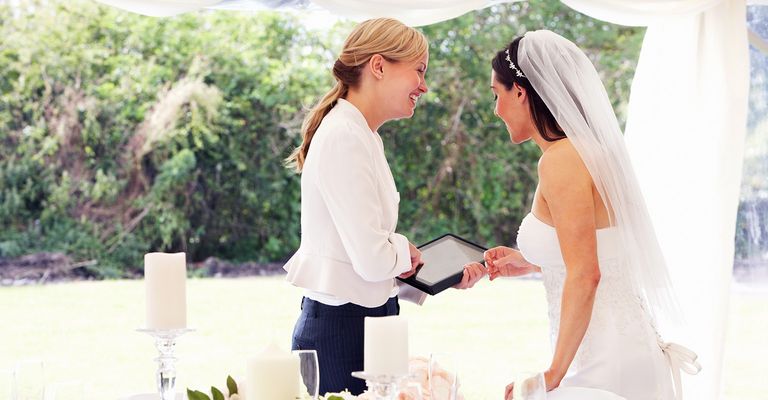 Paying a pro means you'll have an expert wedding consultant guiding you
They take care of the contracts and paperwork, handle all the (endless) details, and free you up to focus on decision-making
Hiring a wedding planner can actually save you money — not just by recovering many hours of your life but by giving you access to industry discounts and insider advice.
Wedding planning services coordinate all aspects of your wedding, from rehearsal dinners and the ceremony to the reception and after-party. The more comprehensive the planning help you need, the higher the cost. Common requests include assistance with wedding design, venue selection, vendor selection, rehearsals, rentals, invitations and managing events on the day of the wedding.
When to Hire a Wedding Planner
It's smart to hire your full-service wedding planner early in the planning stages. Many wedding planners have package pricing, so investing in a full-service package at the start of the process can cost the same as it would a few months in. Hiring someone as soon as you get engaged provides you with the planner's services over a longer period of time. It also means you'll get the wedding planner's professional input on venue, which can save you hours of research and potential heartache. Wedding planners know insider intel like which venues provide what services in the right price range for you. They can keep you from paying a non-refundable deposit on a wedding venue only to later find out they won't allow the outside caterer you have your heart set on or that VW photo bus you've always dreamed about.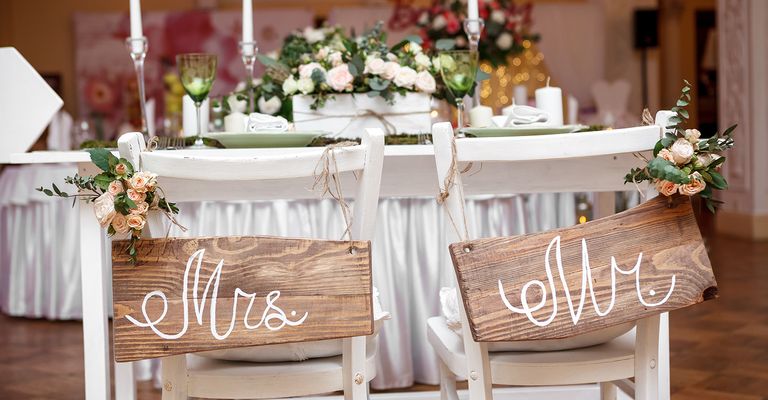 Wedding planning services range from day-of coordination to partial packages to full-service packages. Day-of coordination is the most affordable option, while full-service planning will cost the most.
Day-of coordination, starting to work with your planner during the month before your wedding, is great for couples who can afford the time to coordinate their venue, guest list, details and vendors.
Full-service coordination is best for couples who don't have time, or don't want to spend the time, to take care of every detail.
When considering what type of wedding planning service to purchase, don't just look at the price you would pay the professional planner; sit down with your future spouse and honestly discuss how many hours per week you can afford to spend on wedding planning. Put a price on your time, then measure whether the hours you would dedicate to wedding planning could be more strategically spent in other ways.
For example, if you hire a day-of coordinator for $1,000, but you and your partner put in 70 hours of planning, you are losing those 70 hours that could be spent at work, caring for your family, or having much-needed rest time. Paying a planner $2,500 for partial planning services might free up 60 hours that you'd otherwise have to spend on planning, relieving you of the equivalent of one and a half workweeks.
Wedding planner Bethany Moore of Bethany Moore Events in Chicago, Illinois, says, "Eighty percent of my day-of coordination couples say, 'I should have hired you from the very beginning,' because as a planner I save them time, stress and money by helping with the venue and caterer."
Here are the factors that affect professional wedding planner costs for your Big Day.
Service type
Wedding planning is a service, and the more hours of service you need from your planner, the higher your wedding planning cost will be. To that end, many wedding planners offer three package levels — day-of coordination, partial service, and full service — with corresponding pricing. Some planners may charge a flat rate for each package, while other planners offer a price range for each level and quote you a price within that range based on how extensive the services you need are for couples that want to DIY parts of the planning. Here are some examples of how package type affects average pricing:
Day-of service
"Day-of" service actually begins about one month prior to the wedding — but you should hire the planner as soon as you can so you're not leaving this detail to the last minute. They also may be able to offer venue recommendations.
In day-of planning, the couple:
Plans everything about the wedding themselves
Books the venue and vendors
Decides the theme and figure out decor
Coordinates the guest list and mail out invitations
Creates the seating chart and book the entertainment.
Then, about four to six weeks out, the wedding planner steps in to help finalize all the details including...
Using vendor contact information and contracts provided by the couple to confirm vendors and manage their scheduling
Creating a timeline for the day, so you know when each step of the event will occur
Many day-of coordinators include attending the rehearsal in their fee, while others will charge extra for it. Review your contract to make sure you understand exactly what the price includes before you put down your deposit.
On the day of your actual wedding:
The planner shows up early to make sure every detail is in place
They are the point of contact for the vendors and will also give them final payments
They are on site during the entire event, coordinating all the activities and ensuring a seamless production
Even if you're on a budget, pros highly recommend hiring a day-of coordinator for a flat fee so that you're not tearing out your hair trying to manage everything while you're busy trying to get married. Here are some examples of average pricing for day-of wedding services:
Partial service
When you pay for a partial planning package, your wedding planner works in partnership with you and your sweetheart from the start. You can certainly hire the planner later in the process, but it's helpful to avail yourself of their expertise as early as possible. Some partial packages specify a number of hours that the planner will work on your wedding — which you can allot to the specific areas you choose. Other wedding planners offer set services in a partial planning package. Partial planning services almost always include everything offered by a day-of coordinator. Couples typically take advantage of partial planning for help with
Catering
Rentals
Decorations
Invitations
Wait staff
Entertainment
Florist
Guest transportation and lodging
and more.
Here are some examples of average pricing for partial services:
Shine Event Design: $1,850-$2,850 which allows for oversight of three areas by the planner plus all day-of coordination activities
Event Details by Edelina: $3,260 for Level 2, partial planning services that include a minimum of 48 hours of coordination
Event Details by Edelina: $4,160 for Level 3, partial planning services that include a minimum of 63 hours of coordination
Full service
Full-service means the works. Your wedding planner can handle all the details of your wedding from day one. If you're paying for full-service wedding planning, it probably makes sense to book as soon as you're engaged, because life is about to get busy and the pro is there to help. Once you book a wedding planner and put down a deposit, you'll start meeting to brainstorm theme, colors, vision and location. Whether they're working on design, securing rentals, hiring the venue and vendors, and also handling all the paperwork, your full-service wedding planner does the legwork for you, allowing you to just make decisions. They are also present for the entire wedding day, typically with staff, to ensure flawless execution of each event detail. Here are some average pricing examples:
Budget
A major factor in a wedding planner's fees is the total budget for your wedding. Even if you're paying for full-service wedding planning, the price will be lower if you have a less elaborate event than if you have a full-blown royal affair. A simple ceremony with a few friends and family is still a lot of work to pull off, but will cost less to plan and execute than a 350-person extravaganza. This is because a higher overall budget means more total work for the planner. Size is one of two main factors that can impact your wedding budget; even a simple wedding will add up if you invite the whole town and provide rental chairs and tables, food and drink, and favors. However, a more intimate wedding can be even more costly if you provide intricate decor, high-end entertainment, and top dollar vendors. Whether your wedding is large or small, the more work the wedding planner has to do, the more their services will cost you.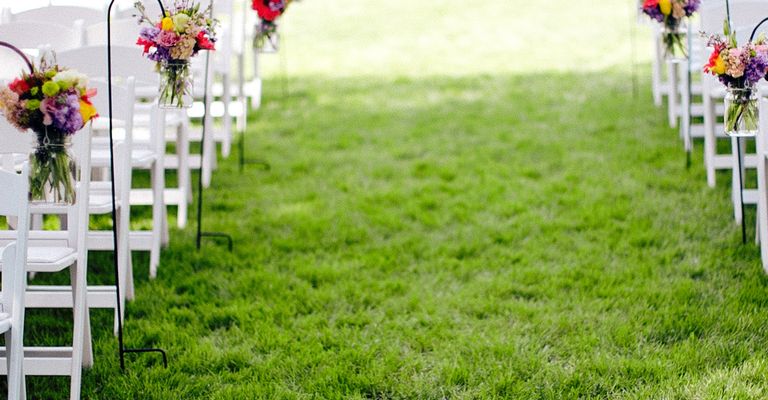 If you're feeling freaked out by the thought of figuring out your budget, take a deep breath and lean on your wedding planner. Ivory Coats with Celebrations Event Planning says you'll have the best outcomes if your wedding planner knows the maximum you are able to spend on your wedding before planning even starts. With a clear budget, you all can make better decisions about vendors, venue, and more; the planner can steer you toward good choices that you can afford without going into debt. Think of your wedding planner as your budget fairy godmother. If the word "budget" gives you nightmares, call it a "spending plan," suggests Ivory.
Consulting
A consultant or wedding coordinator is a good choice for the planning process if you have a well organized team of friends and family who will do the work for you, but just need professional guidance to get started.
Wedding planning consultations generally cost between $75 and $135 per hour. Some planners may offer discounts when consultations are purchased as a bundle.
For example:
In these cases, you are paying not only for the professional's time, but also for access to their carefully curated list of professional contacts.
Hourly
Many planners charge hourly rates for a la carte services. For example:
Event Details by Edelina charges $60 per hour in two-hour minimum blocks for services related to decorations and favors or for running wedding-related errands.
Shine Event Design also offers hourly help for couples already in the thick of planning who need help with specific services such as venue searching, in-person wedding vendor consultations, or tasting arrangements.
Shine Event Design charges $125 for the first hour and $85 for each hour thereafter.
Pro tips:
Wedding planners save couples money because they get professional discounts, and because their expertise enables them to help couples allocate money strategically to stay within budget.
Always be sure you have a clearly written contract that outlines each detail of wedding planning services and service delivery.
Read client reviews and follow up with references to make sure you're choosing the right wedding planner for you. For more, check out these tips for smart hiring.