How much does a wedding florist cost?
On average, wedding florists cost between $600 and $804 nationwide. On the low-end, a florist will cost $150-$200. On the high-end, expect to pay closer to $2,500-$2,772.
Wedding florist costs:
| | |
| --- | --- |
| National average cost | $750 |
| Average cost range | $600-$804 |
| Low-end cost | $150-$200 |
| High-end cost | $2,500-$2,772 |
Many factors affect the cost of wedding flowers including location, flower variety, types of flowers, floral decor and more. Instead of an hourly rate, wedding florists typically charge per arrangement or offer a package rate. Keep reading learn more about the cost of wedding flowers and how florists set their prices.
Get a free estimate from a great wedding florist near you.
What's in this cost guide?
Exotic flowers, high-demand flowers and flowers with a short blooming season cost much more, even at wholesale markets than flowers that are easier to access.
For example, according to Garden Gate Vintage Flowers and Events in Salt Lake City, Utah, peonies are incredibly popular but have a very short growing season and a high price. David Austin roses are another popular but pricey wedding choice. High wholesale prices to the florist translate to higher wedding flower costs to the couple.
Here are some examples of wholesale flower costs from Garden Gate Vintage Flowers and Events:
A single peony flower: $12
A dozen David Austin roses: $35 In comparison, Garden Gate Vintage Flowers and Events customers can opt to fill out bouquets with budding carnations, which look similar to rose buds bit with a dramatically different wholesale cost:
A small carnation stem: 60 cents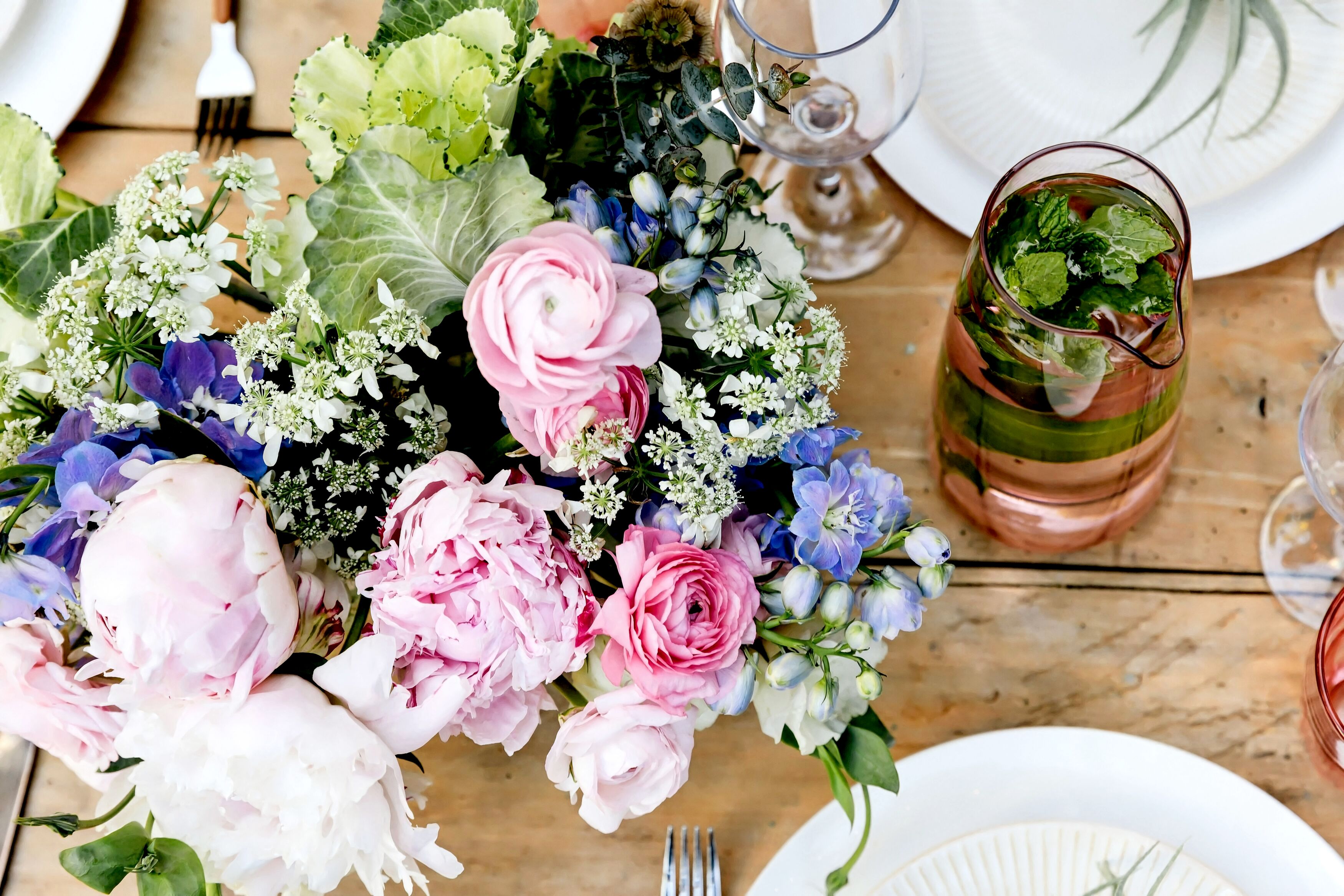 Bridal party flowers
Bridal party flowers include the bouquets of the bride and bridesmaids, boutonnieres of the groom and groomsmen, corsages for the mothers and more. It is typically most cost effective to have the same florist do the decor. The price of bridal party flowers is affected by the flower varieties, the number of arrangements and the diversity of flowers used in each arrangement.
Here's what Garden Gate Vintage Flowers and Events charges — prices include the cost of flowers, florist's labor, and wrapped and ribboned final products.
| Bridal party flowers | Total cost |
| --- | --- |
| Boutonniere | $15–$25 each (average cost $18) |
| Corsage | $35 |
| Bridesmaid bouquet | $40–$60 each (simple floral arrangements of only one or two types of flowers) |
| Simple bridal bouquet | $150 |
| Elaborate bridal bouquet | $350–$500 |
Compare prices from wedding florists near you.
Floral decor
Weddings often feature floral decor like wedding centerpieces for the ceremony and the reception. Costs will always be higher when desired flowers are out of season or are pricier than others, such as peonies. Here are examples of average costs for simple wedding floral arrangements from Garden Gate Vintage Flowers and Events.
| Floral decor | Total cost |
| --- | --- |
| Simple table floral arrangement | $20 |
| Table runner made of greens | $300–$400 each for a six-foot table |
| Greens running up and down a ceremony arch | $300–$400 |
| Altar bouquets | $500 |
Location
Geographic location affects the cost of wedding florist services. Wedding florists and floral designers typically have higher rates in places like California or New York than in smaller towns and areas with lower costs of living. In Salt Lake City, Utah, Garden Gate Vintage Flowers and Events lists the average cost for wedding flowers as $3,000, which includes bridal party flowers, wedding bouquets, and table decor with a minimal variety of floral selections.
Variety
The more variety requested in the floral arrangements, the higher the overall cost. If a florist does not own a flower shop or have direct access to a flower market, it costs less for the florist to buy just one or two flower types in bulk to create wedding flower arrangements than to buy a small number each of a diverse range of flowers.
Season
Choosing flowers in season for your perfect day can help reduce costs. For example, roses and tulips are available year round, while flowers such as peonies have a short season in late spring and early summer and will cost much more off-season.
Find the right wedding florist for your project.
Choose local, seasonal flowers: Instead of exotic blooms from far flung locales, focus on local seasonal flowers, which have a considerably lower price point.
Reuse ceremony flowers: Use ceremony flowers, such as those from the altar or aisle, at the reception. Bridesmaids can also add their ceremony bouquets to vases on each table for a reusable centerpiece.
Keep it simple: Instead of doing tons of wedding floral or flower design, limit variety and focus on a few simple flowers. Ask your wedding florist for less expensive floral alternatives.
Combine floral services with DIY elements: Use a Pinterest board to track affordable wedding centerpieces and wedding flower arrangements. Choose a few floral elements that you're comfortable covering on your own, and use a florist for more complicated floral arrangements and bouquets.
Wedding florists provide floral bouquets and arrangements for the ceremony, bridal party and reception. Floral requests often include bridal bouquets, wedding party boutonnieres, corsages, aisle runners, wedding centerpieces, beautiful arrangements for the alter, sweetheart table floral arrangements, and even wedding cake decor.
To create the wedding style of your dreams, finding the right floral designer is a crucial part of your wedding planning.
Ask your wedding planner for recommendations: If you have a wedding planner, they can be a great resource for identifying florists who are a good match for your wedding style.
Read reviews: Seek out reviews by brides who had weddings with a similar size, venue, and theme.
Look at their portfolio: Get a better sense of a florist's overall aesthetic by carefully going through their portfolio.
Know your colors and themes: Share your color palette and theme with potential florists to see if they're comfortable working with those stylistic elements.
Flower access: If you want a wide variety of flowers, make sure your florist either owns a flower shop or has access to a flower market.
Search local wedding florists and check prices.
Benefits of hiring a wedding florist
A professional wedding florist can transform the style of your reception, ceremony, bridal party, and wedding photographs. Floral decor is a prominent element in almost every part of a wedding. Hiring a professional wedding florist guarantees that you'll have an elegant, stylish and floral-filled aesthetic, and you won't have to stay up the night before bundling all of your own arrangements and bouquets.